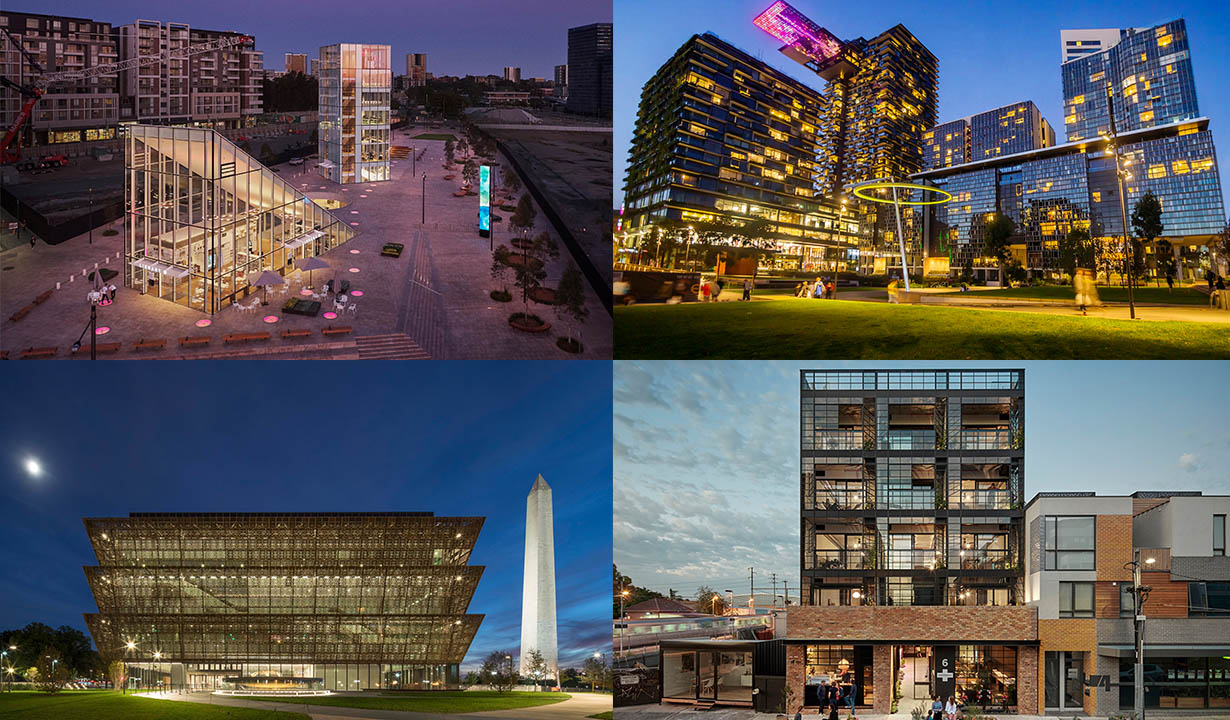 TOP FIVE – ARCHITECTURAL DESIGN
Published on: 28 February 2020
Share
Australia's Good Design Awards proudly represents the diverse spectrum of design spanning more than 28 categories and sub-categories.
The Architectural Design discipline covers Interior Design, Commercial and Residential Architecture and Urban Design and Public Spaces with some innovative projects taking out the top awards over the years.
With the 2020 Good Design Awards currently open for entry, we selected our top five Good Design Award-winning Architectural Design projects over the last five years based on the long-lasting positive impact they will have on shaping the architectural design landscape.
The list, in no particular order: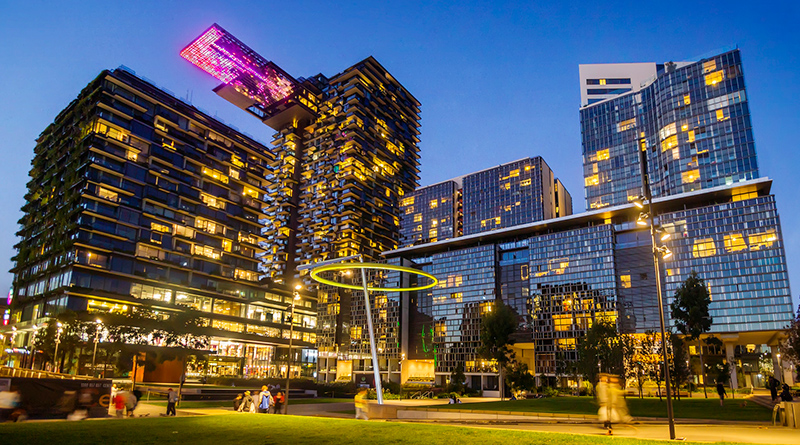 CENTRAL PARK PUBLIC DOMAIN DESIGN
2019 Good Design Award Best in Class – Architectural Design, Urban Design Category
DESIGNED BY:
Turf Design Studio
Jeppe Aagaard Andersen
COMMISSIONED BY:
Sekisui House Australia and Frasers Property Australia
Photo: Frasers Property Australia and Sekisui House Australia, Dig It Photography, Simon Wood Photography, Destination NSW, Turf Design
Good Design Awards' Jury Comments: "An impressive icon of urban design that has added much to the urban architecture, setting new benchmarks in central urban design and positively effecting and directing the social fabric of the community. The wonderful urban renewal possibilities inherent in this site have been successfully realised. The unique qualities of the existing built form and fabric of the place have been reimagined, reinvented and redefined into an exemplary city park."
Central Park's public domain exemplifies how a well-considered and legible public domain framework can both unite a site and restitch a city. A new city precinct delivered via an expanded and interconnected network of new places; streets, lanes, parks and plazas – breathing new life into what was a baron and desolate stretch of Broadway while adding to the energy and vitality of inner-city Chippendale.
JAAA+Turf were commissioned by Frasers to re-imagine the public domain of the C&U Brewery site. Their first task was to work with Foster+Partners, AJN, JPW, TZG and Tzannes Associates to review and refine the original masterplan inherited with the purchase of the site.
A large public park was always central to the masterplan intent. Orientating the park's long axis with the frontage of existing Chippendale terraces proved vital in creating a place of meaning and connectedness for the community. The park is set back from Broadway – creating an intimacy rarely achieved by a park of this size within a CBD. MORE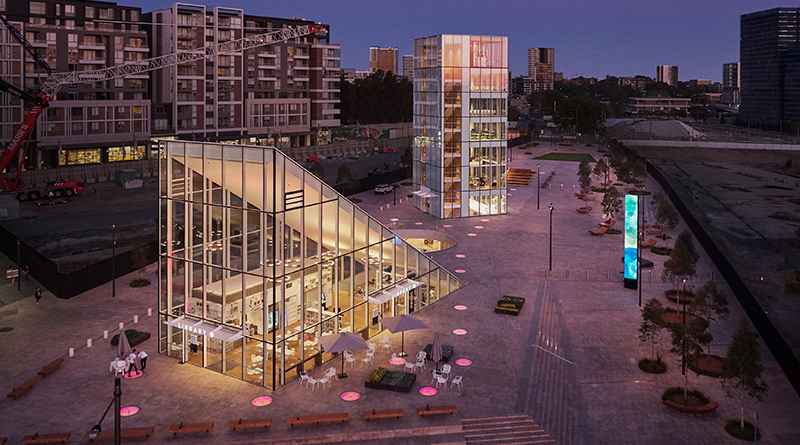 GREEN SQUARE LIBRARY
2019 Good Design Award Gold – Architectural Design, Urban Design Category
DESIGNED BY:
Studio Hollenstein in association with Stewart Architecture
COMMISSIONED BY:
City of Sydney
Photo: Tom Roe and Julian Lanoo
Good Design Awards' Jury Comments: "Green Square's success as an urban meeting place with strong community use can be largely attributed to the innovative design that integrates the external landscape and internal components such as the library. The design has defined this space at night as well as day, activating an interchange hub and providing a strong sense of social fabric. This is a really good example of better by design."
Green Square Library is an open, flexible and inclusive space which pushes the boundaries of public architecture. A fusion of building and landscape, the radical design presented an innovative response to the original competition brief. The library functions as an 'urban living room' for a healthy, growing community.
Green Square is Sydney's first new town centre in over 100 years, and the largest urban renewal zone in Australia. Green Square Library and Plaza lie at the heart of this dense new suburb, a direct response to a context where public open space is the most valuable commodity.
The brief called for two separate and distinct components — a public plaza and a library. The design responded to three specific questions: What is the future of the library? How do you make a library in a plaza? How do you create soul in an entirely new neighbourhood?
The design approach rejected the formalised institution of a library, and instead fused the two required functions. By merging the library with the fabric of the city the design preserves the public realm creating a vast public plaza, pierced by a series of jewel-like geometric forms that provide access and light to a subterranean library below.
The core strength of this simple, clear design strategy is evident in the fact that little has changed between competition submission and completed design. The design is informal and flexible to accommodate the evolving role of the library and the demands of a growing population. MORE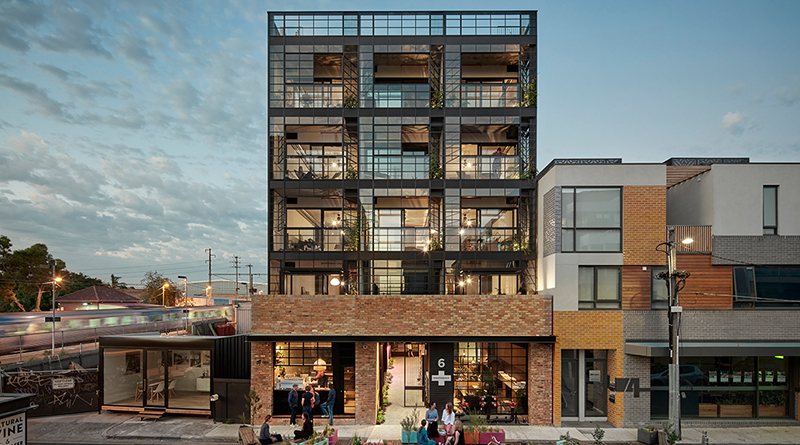 NIGHTINGALE 1
2018 Good Design Award Best in Class – Architectural Design, Commercial and Residential Category
DESIGNED BY:
Design Team – Breathe Architecture
Landscape Architects – Oculus/Openwork
COMMISSIONED BY:
Nightingale on Florence
Photo: Peter Clarke and Eve Wilson
Good Design Awards' Jury Comments: "It's rare for a project to light a genuinely new path for design to make an impact across an entire sector. A great example of the power of design thinking to unlock the potential for better, more holistically sustainable cities by redesigning the development model."
Homes built for people, not profit. Nightingale 1 was the inaugural project of the Nightingale Model – a replicable, triple bottom line housing model with an overarching priority towards social, economic and environmental sustainability.
At its heart, Nightingale was all about people. Its architecture serves as a catalyst to building community. Nightingale's form is a response to Brunswick's industrial heritage. Planning was kept simple. Materiality took precedence over form.
Purchaser engagement from early stages allowed the building to be designed with the end-user in mind. Lift lobbies are lined in natural Blackbutt timber battens, mild steel plate with coir matting signalling apartment entries. Apartments have a soft palette of recycled timber floors, off-form concrete and exposed services. The rooftop is about community, it's about the utility of living and people coming together – an outdoor dining room and a rooftop lawn area for the Nightingale children to run and play.
Nightingale is about building a place to love and call home, a place to build community. MORE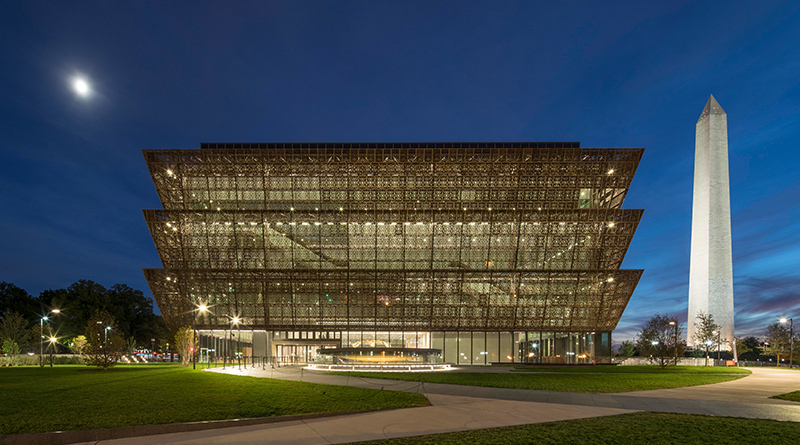 NATIONAL MUSEUM OF AFRICAN AMERICAN HISTORY AND CULTURE
2018 Good Design Award Gold, Architectural Design, Urban Design Category
DESIGNED BY:
Lead Designer: Adjaye Associates
Architect of Record: Freelon Group (Perkins + Will)
Associate Architect: DavisBrodyBond Associate
Architect: SmithGroupJJR
COMMISSIONED BY:
Smithsonian Institution National Museum of African American History and Culture
Photo: Adjaye Associates
Good Design Awards' Jury Comments: "The presence of this public building, within the public realm and public consciousness, is a beautiful strong symbol. An anti-building among its surrounding European cousins is exactly the kind of presence that African American culture should have in this context – a strong, poised, confident and different kind of building – somehow self-assured in its setting despite its difference."
The opening of the National Museum of African American History and Culture, which featured a dedication by President Obama, was named "Cultural Event of the Year" by the New York Times. Located adjacent to the Washington Monument, the museum houses exhibit galleries, administrative spaces, theatre space and collections storage space.
The parameters set by the NMAAHC Council included a number of unique requirements related to the building's atmosphere and components. The brief called for five stories above ground and three stories below ground.
In addition to meeting a series of security standards reflecting the location of the building in a central part of the capital, the architects' design had to meet LEED Gold certification standards.
Regarding the building's atmosphere and feel, the Smithsonian wanted a structure that respected the visage of the neighbouring Washington Monument but also sat firmly within the domain of the urban rather than the monumental.
The design emerged from an in-depth consideration of the location. As part of the Washington Monument Grounds, the site forms part of the National Mall, 'the nation's front yard'. NMAAHC rethinks the role of civic institutions in the 21st century, offering new modes of user experience and engagement.
It presents a new form of museum: one that prioritizes cultural narrative and identity and gives form to untold stories to establish an empowering emotional context for positive social change. As such, it operates simultaneously as a museum, a memorial and a space for cross-cultural collaboration and learning.
The museum speaks about the identity of a marginalized group that has played, and continues to play, a significant role in the United States. As NMAAHC's Director, Lonnie Bunch said, "David talked a lot about not being an American, but having an African root, and recognising how important this story was for everyone. He had really immersed himself in African-American history. He could see this project for what I wanted it to be, which was not just a museum for black people but a museum to help people of one culture understand the experience of people of a different culture. MORE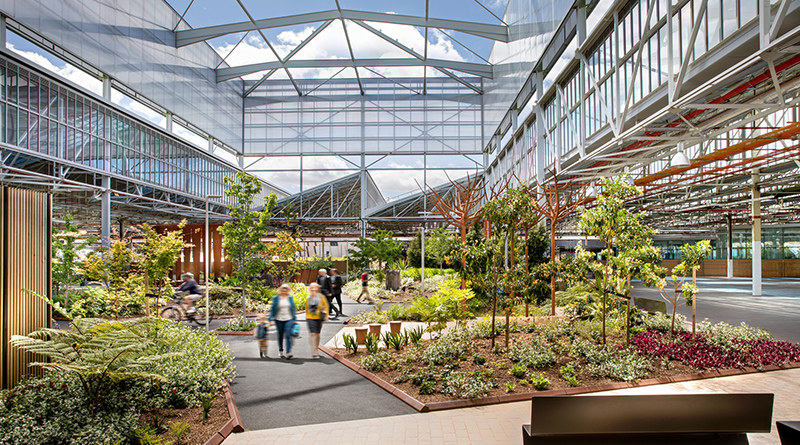 TONSLEY INNOVATION DISTRICT URBAN DESIGN AND PUBLIC SPACES
2017 Good Design Award for Sustainability – Architectural Design, Urban Design Category
DESIGNED BY:
Oxigen with Renewal South Australia
Department of State Development, City of Marion, Gray Hawk, Matt Jonsson, Electrolight, Guildhouse
KBR, WSP, Woods Bagot, Tridente Architects, Rider Levett Bucknall
COMMISSIONED BY:
Renewal SA Government of South Australia
Photo: Dan Schultz
Good Design Awards' Jury Comments: "The Jury commends the design's overall innovation in deliberate removal of delineations between the 'hard' architecture and 'soft' landscape. The quality of the internal spaces is generously civic and sets the benchmark for a new type of adaptable space and sustainable design."
Recipient of the coveted Good Design Award for Sustainability, the Tonsley Innovation District Urban Design and Public Spaces project exemplified excellence in sustainable design practice.
The site has a rich layered history and is set within a unique 11-hectare sawtooth roof amid a much bigger site, formerly the Chrysler and then Mitsubishi car factory. Before that, one of SA's earliest agricultural farms. The values built into the public realm design reference the rich and significant layers of cultural and social (employment) heritage of the site whilst promoting innovation that surpasses best practice.
The elements of design illustrate the importance of interpreting the site's pre-European, agricultural and manufacturing heritage whilst expressing a new future as an innovation district of Australia. A set of robust urban design protocols provided guidance to the implementation of projects over a number of years, rather than a fixed design program or traditional master plan. Australia's first innovation district now supports green infrastructure and its importance for future planning.
The project will evolve and unfold over time. Tonsley's unique characteristics are beginning to demonstrate how integrating strategic thinking and design as early as possible in the planning phase of a project can lead to exemplary design outcomes. The project vision is embedded within the urban design framework – low carbon and climate-resilient infrastructure, technology and systems that will demonstrate innovation in public space, governance and delivery models and partnering.
The public realm was designed as a 'gel' that holds the site together. MORE