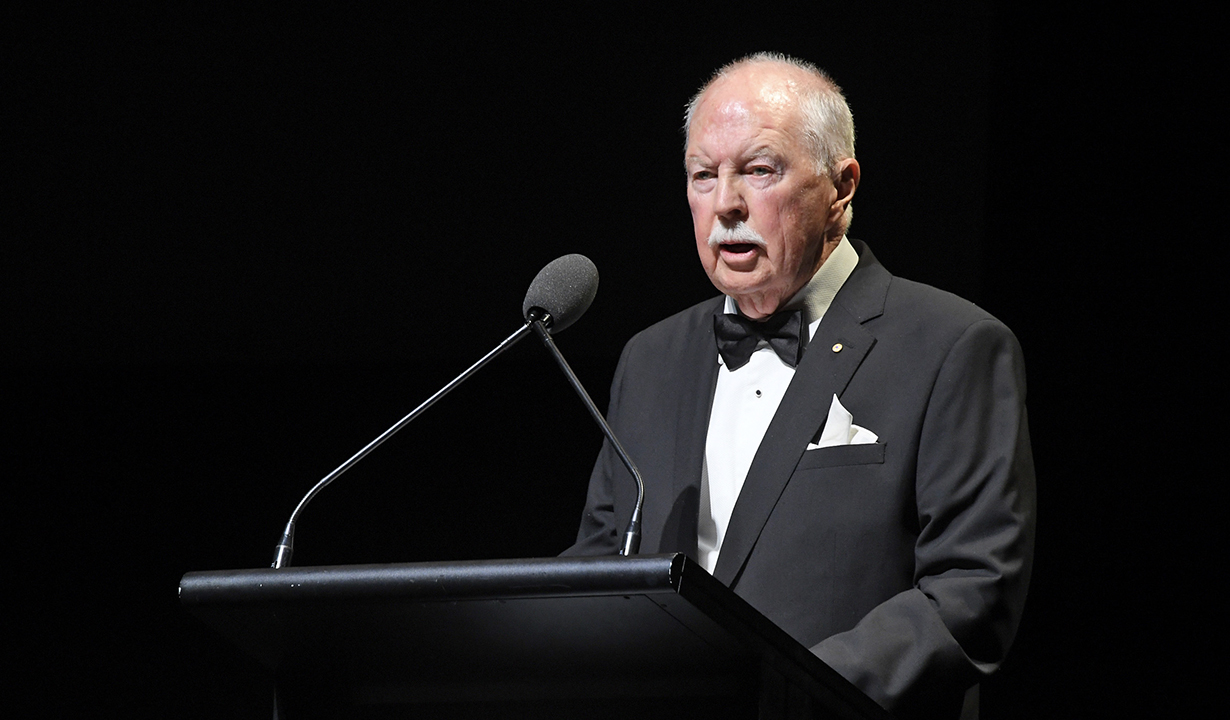 REMEMBERING MICHAEL BRYCE 1938-2021
Published on: 19 January 2021
Share
It is with great sadness we share the news that Good Design Australia's inaugural Patron, Michael Bryce sadly passed away on 16 January 2021.
Michael Bryce AM AE KSTJ was one of Australia's most celebrated designers with a career that spanned graphic design, architecture, industrial design, interior and urban design. He was a champion of design in Australia for more than 40 years, promoting the importance of design to government, business and industry and the general public.
Among many accolades and high-profile roles, Michael Bryce was appointed as the Principal Design Advisor to the Sydney 2000 Olympic Games. He designed the Olympic bid logo and played a leading advisory role on the application of the corporate branding throughout the games.
"Michael was the first Patron of Good Design Australia when the organisation separated from Standards Australia in 2010. It was a role he accepted with such great honour and a deep passion and commitment to progressing the cause for design in Australia," said Dr. Brandon Gien, CEO of Good Design Australia.
"Michael was such an amazing mentor to me and constantly reminded me he was only a phone call away if I needed his help with anything. I'll miss seeing his name come up on my phone as 'His Excellency Michael Bryce' and the long chats we would have about design," said Dr. Gien.
Michael was a driving force for Australian design and arguably did more to promote the value and importance of design in Australia than anyone else in the industry. He served as President of the Design Institute of Australia, Councillor of the Industrial Design Council of Australia which later became the Australian Design Council. He served on the Design Board of the Australia Council and as Patron of the Australian Design Alliance. He was made a Member of the Order of Australia in 2005 and inducted into the DIA Design Hall of Fame.
Good Design Australia awarded Michael with the Australian Design Prize in 2020 in recognition of his tireless efforts to champion design in Australia.
"Recently my father was awarded Australia's highest design honour – the Australian Design Prize which was established to recognise designers who have made a significant impact in Australian design across the course of their career. It came as a tremendous surprise to him to be included in the company of the creators of this country's most highly regarded products and places. But for many – no surprise at all." said Jack Bryce, Michael Bryce's Son.
"It was the influence of the Industrial Design Council of Australia that I found exciting and compelling, as it marched into boardrooms and factories of Australia with a message of 'good design is better for industrial products. A blue swing tag awarded a status for design, marking your purchase with a new set of ideals – simplicity, efficiency and colour.
"The Prince Philip Prize for design attracted TV coverage with His Royal Highness' famous response to an award for the GE plastic kettle, "but can you boil an egg in it?". Obviously not! How perceptions have changed.
Design is not nearly championed as much as it was, despite the profession's best efforts. I suppose most people would recognise my Sydney 2000 Olympics bid logo and role as Design Advisor for the Games. Although, this came with certain bureaucratic frustrations.
I championed design and its role then, and I champion it now." Michael Bryce's comments during an interview for Good Design Australia's 60th Anniversary in 2018.
Our thoughts and best wishes are with his wife, Australia's former Governor-General Dame Quentin Bryce AD CVO, his children, grandchildren, family and his colleagues, friends and admirers.
He will be missed but never, ever forgotten.