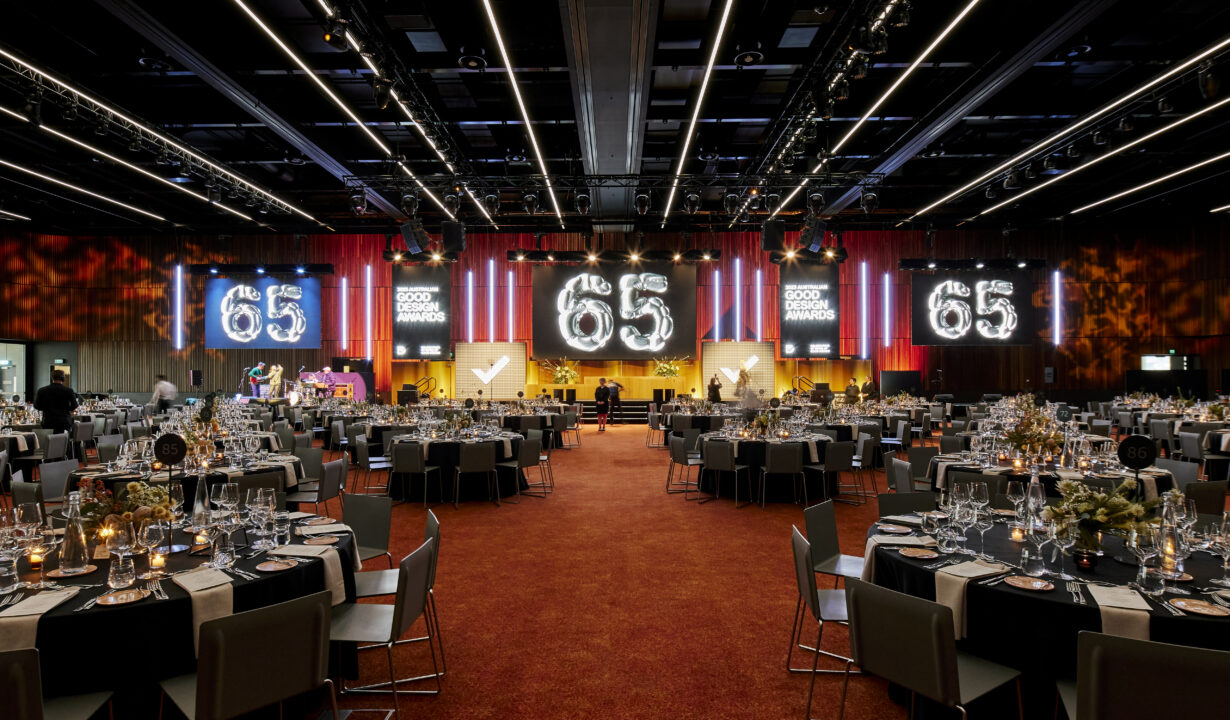 2023 Australian Good Design Awards Announced
Published on: 14 September 2023
Share
What a night, what a year! As we come down from a sparkling evening at Centrepiece in Melbourne Park last Friday 8th September that brought together the design and creative industry's brightest minds, we reflect on a year of design innovation, excellence and impact.
The prestigious annual Australian Good Design Awards program is the nation's highest design honour and has been recognising and rewarding excellence in cutting-edge design since 1958. This year was no different. Among crisp suits and flowing dresses, Good Design Australia celebrated the best of the best.
However, one incredible project rose to the top. BioScout, the autonomous agricultural disease monitoring system designed by BioScout and the team at Tiller Design, the project earned itself the prestigious Australian Good Design Award of the Year for 2023.
Read on as we dive into BioScout and explore 2023's Special Accolade recipients.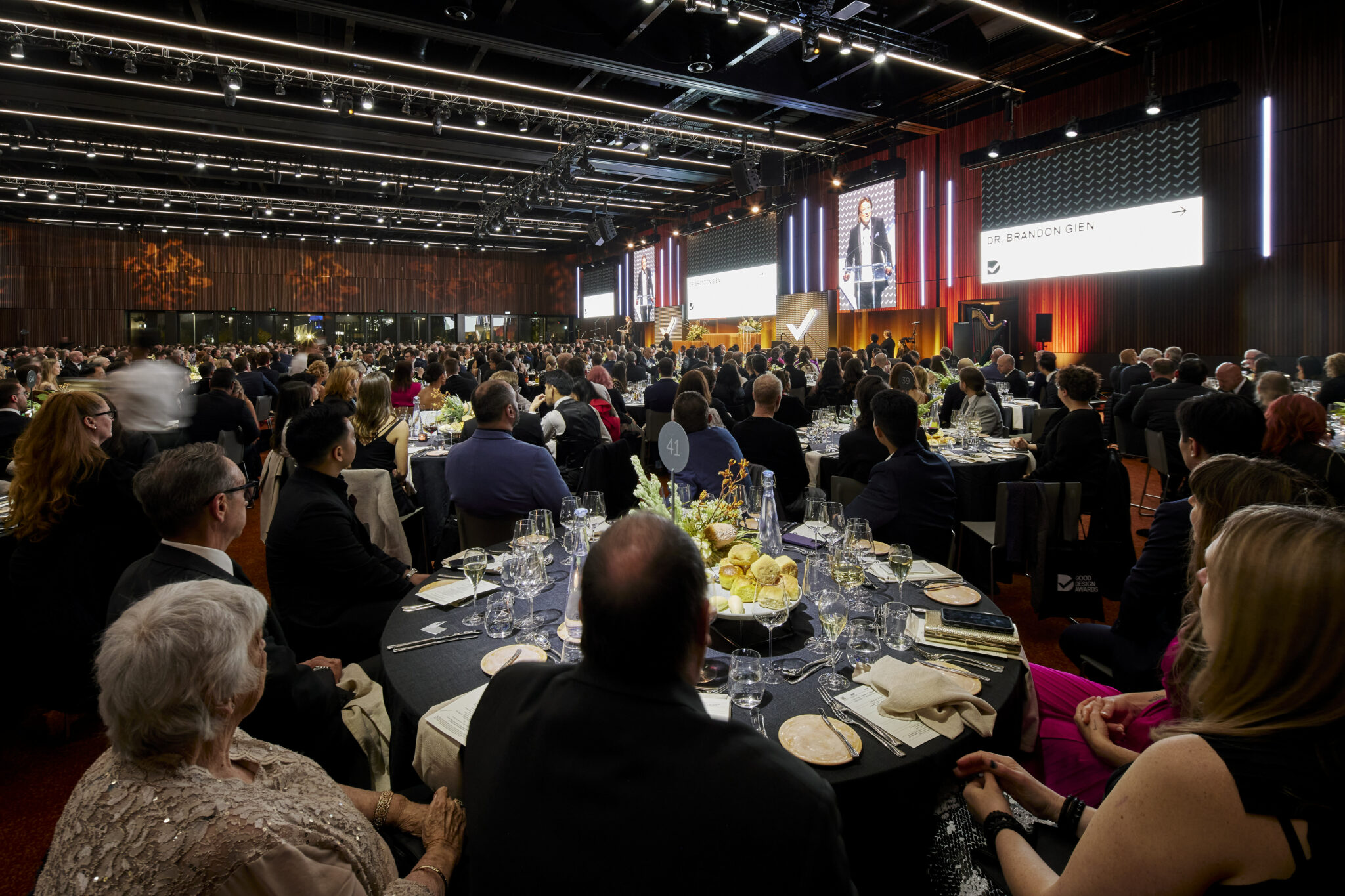 ---
BioScout – 2023 Good Design Award of the Year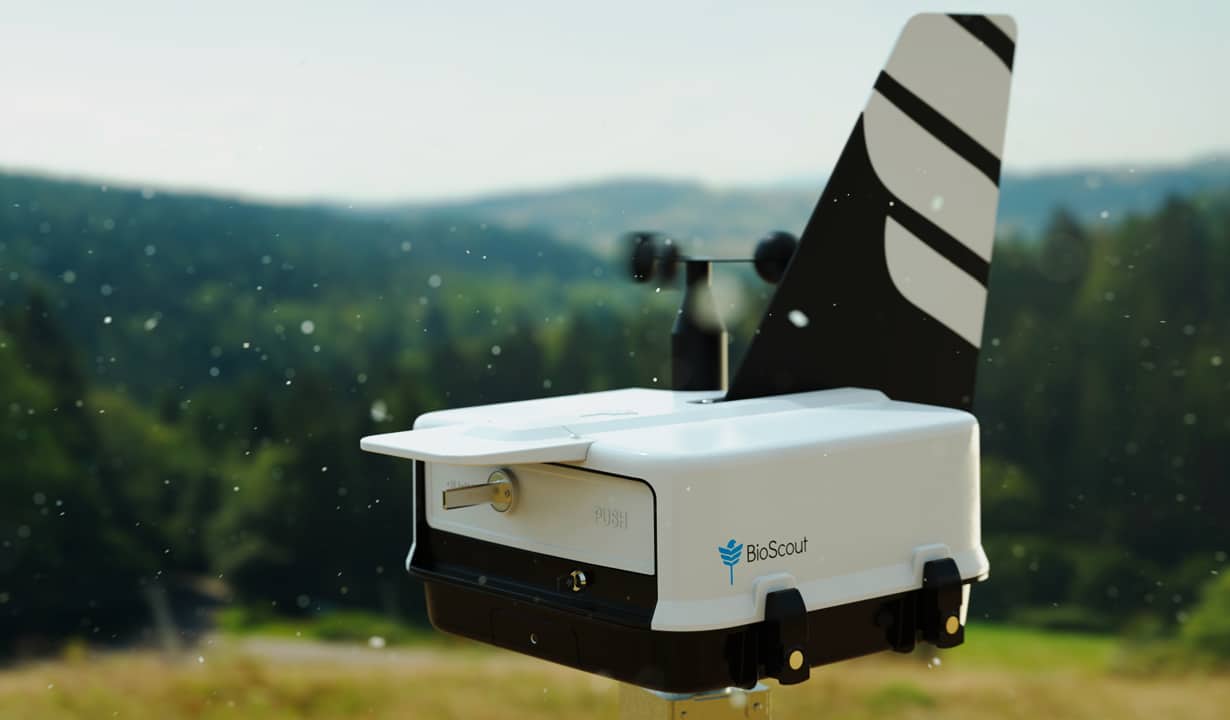 Agricultural growers traditionally rely on their own intuition and symptomatic indicators to manage crop disease. While the incredible knowledge and experience of the world's growers cannot be understated, these orthodox approaches can sometimes leave room for ailments to take hold unknowingly, or misguide overseers down damaging avenues of management and overspraying.
In the face of an increasingly organic world, growing agricultural costs and a greater understanding of the possible adverse effects of disease eradication measures, the BioScout team recognised an opportunity for a revolutionary technology to fill in the blanks.
The result was a world-first airborne disease tracking device that equips growers and agronomists with autonomous insights into a crop's microclimate. BioScout sees the unseeable in a range of complex agricultural settings and can function continuously for years without human intervention.⁠
Learn more about BioScout as Good Design Australia sits down with Lisa Gyecsek and Robert Tiller of Tiller Design.
---
Future Friendly – 2023 Good Design Team of the Year Award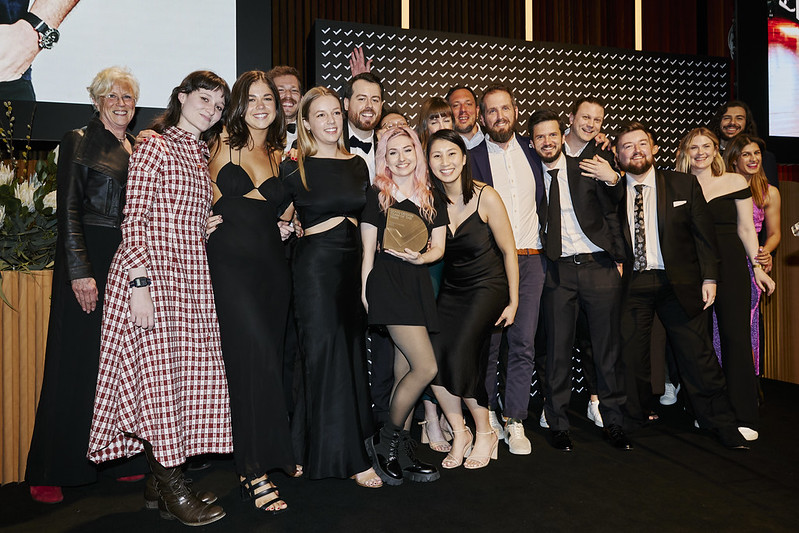 Future Friendly believes that the products and services we engage with every day directly affect the wellbeing of ourselves and our environments. This means that our society and world's greatest challenges and joys – climate change, financial wellbeing, mental health, diversity, inclusion, education – can be faced or emboldened to change lives for the better.
It's why, for almost two decades, Future Friendly's Founders Nick Gower and Jon Christensen – alongside their team – have been fuelling constructive impact by the way of design. They innovate everyday services that lead positive change at scale, combining strategy, conscious design and hands-on product and service development to make it happen.
Future Friendly's penchant for positive impact was celebrated this year with the 2023 Good Design Team of Year Award. It not only recognises the team's incredible work, but also their internal commitment to nurturing a design-led, people-first culture.
Find out more about Future Friendly from Nick and Jon in an interview ahead of the 2023 Awards Ceremony.
---
Marc Newson – 2023 Australian Design Prize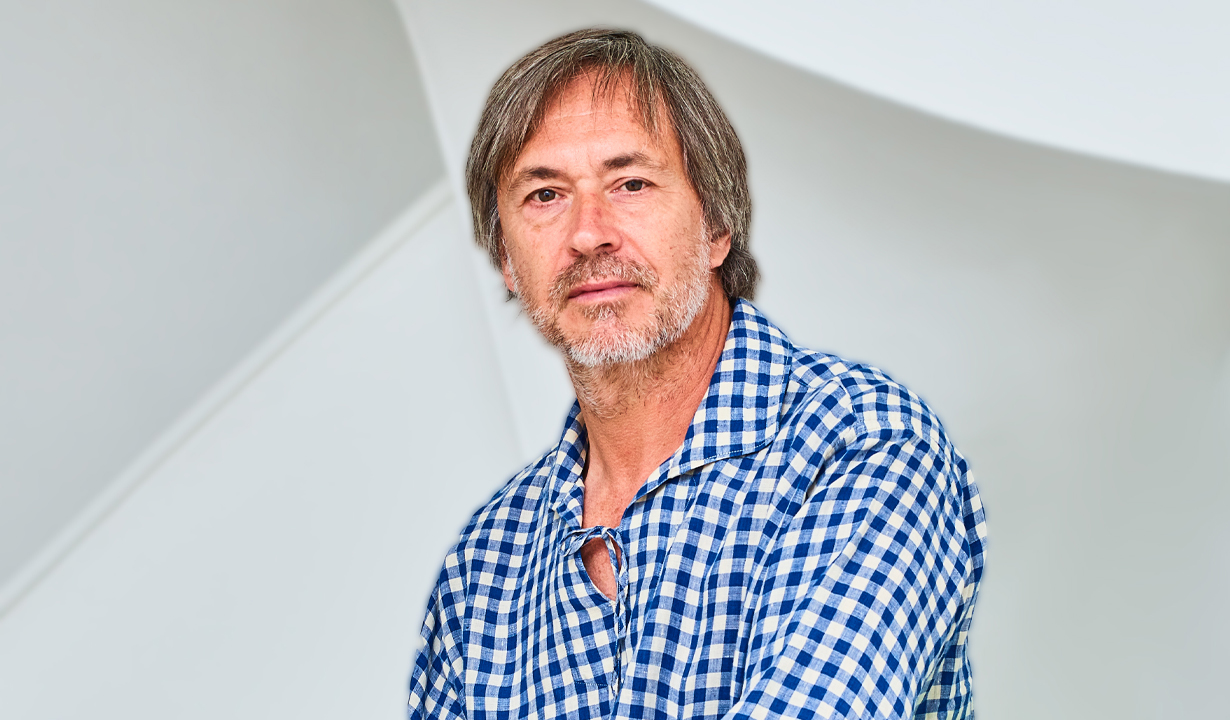 Born in Sydney before embarking on a global design career, Marc Newson is an innovator routinely noted as one of the most influential designers of our modern generation. From his roots in jewellery making at Sydney College of the Arts, to his later work alongside Qantas, Louis Vuitton and Ferrari, Marc's idiosyncratic touch has traversed industries, helping redefine design processes, possibilities and philosophies along the way.
Marc staged his first exhibition in 1986 at the age of 23, and by 25, had introduced the Black Hole Table, Embryo Chair and the Lockheed Lounge to the world. The Embryo Chair has never ceased production, whereas the Lockheed Lounge was graced by Madonna in her 1993 music video for Rain, and later set the record for the most expensive object ever sold by a living designer on the secondary market.
Many of Marc's pieces now reside in the permanent collections of major museums, with his body of work the subject of numerous publications, documentaries and radio programs. He is also the only industrial designer represented by Gagosian.
This year, he added the coveted Australian Design Prize to his mantelpiece in recognition of his ongoing contributions to Australian design.
Good Design Australia caught up with Marc to discuss the incredible accolade, his philosophies of good design, the globalised design industry and the impactful nature of design.
---
Solid Lines – 2023 Indigenous Design Award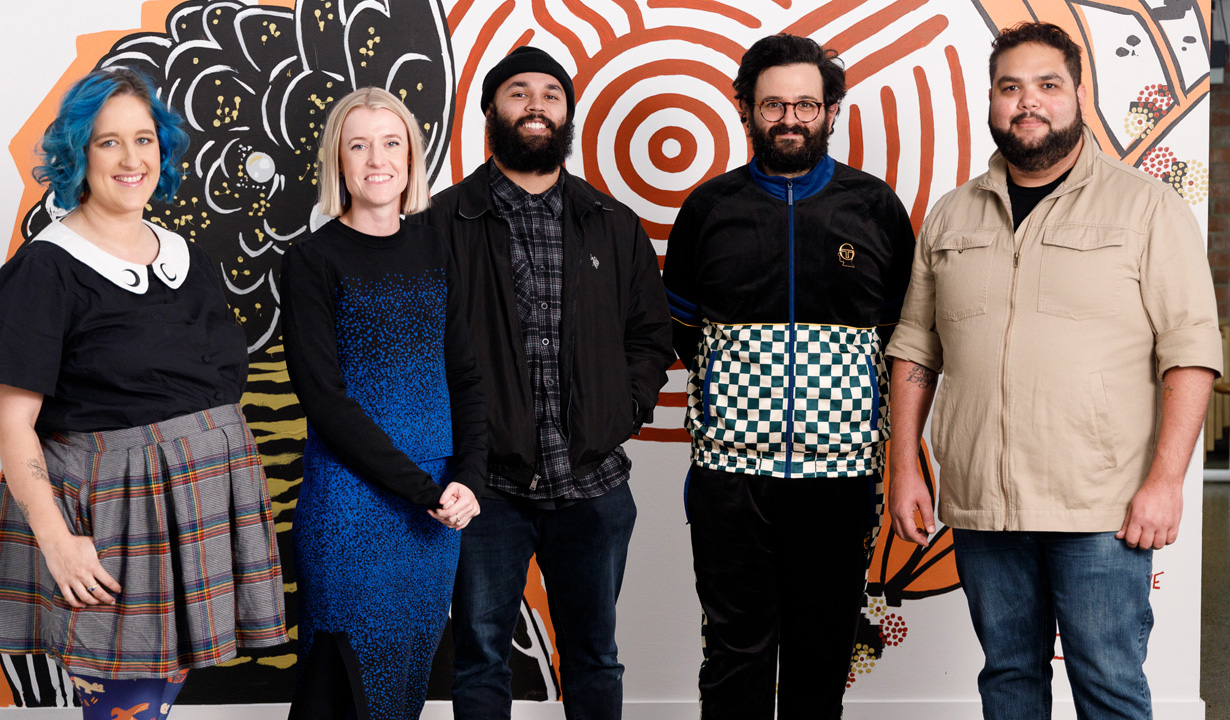 Solid Lines is all about creating solid pathways for emerging First Nations artists to find success, recognition, support and fair representation within the art and design industries. As Australia's first First Nations-led illustration agency, it's reimagining the future commerciality of Indigenous and Torres Strait Islander creativity, contributing to policy development and setting new standards within Australia's creative space along the way.
The agency innovates at a much-needed crossroads of policy, opportunity and design, representing the first phase of a long journey that champions the protection of Indigenous Cultural and Intellectual Property (ICIP). It involves the curation of beneficial partnerships and culturally safe creative opportunities that respect and give back to community.
Learn more about the incredible Solid Lines project from head designers Emrhan Tjapanangka Sultan and Dr Nicola St John.
---
Professor Veena Sahajwalla – 2023 Women in Design Award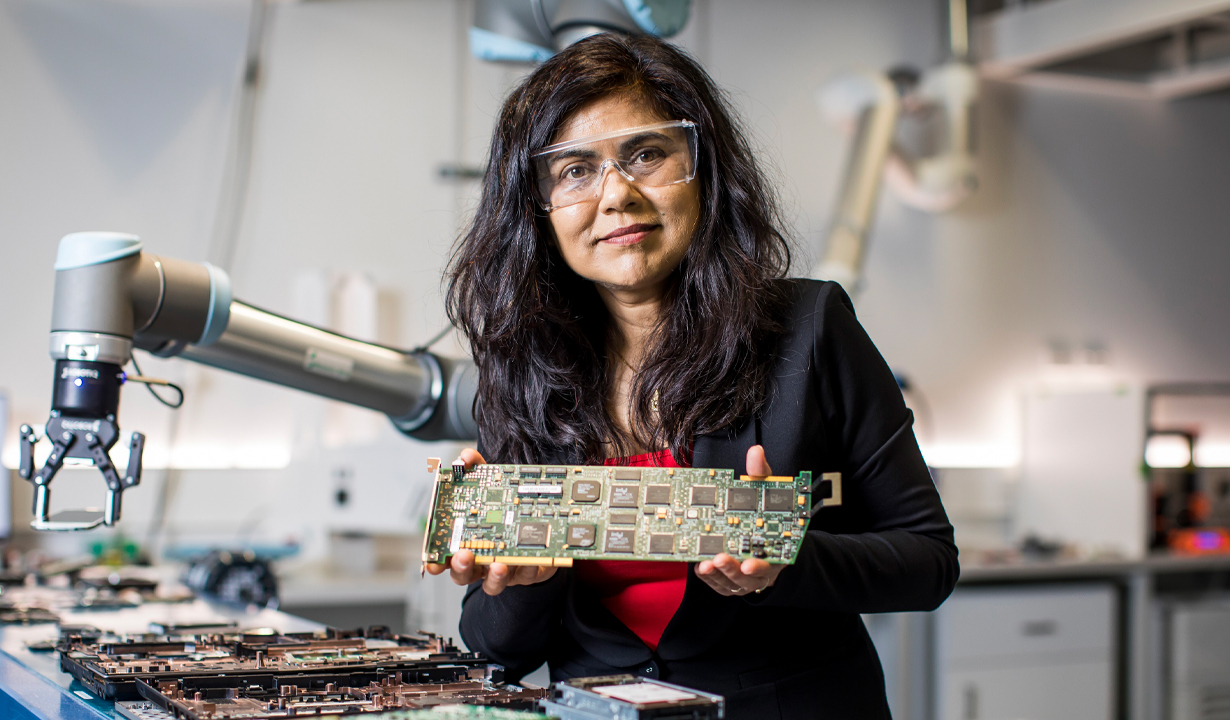 Renowned for her sustainable engineering innovations and significant contributions to a waste-free world, Prof. Veena Sahajwalla has aptly earned the sobriquet "eco-alchemist". Throughout her storied career, she has reimagined what our society sees as waste, working closely with industry to solidify recycling processes that see environmental, economical and communities priorities in perfect balance.
More than 380 peer-reviewed papers underline her trail-blazing legacy, as do multiple transformational projects and models. Her time at the SMaRT Centre steered the development of Green Steel – green alloys produced using end-of-life-plastics instead of coking coal – and the invention of the micro-factory model – small-scale factories that enable global communities to produce essential products, materials and resources from local waste. She has also launched a mentoring program for women in science called Science 50:50.
This year, Veena has been awarded the Women in Design Award as part of the 2023 Australian Good Design Awards. Good Design Australia were lucky enough to catch up with Veena ahead of the year's Awards Ceremony.
---
Bushfire Social Intelligence – 2023 Michael Bryce Patron's Award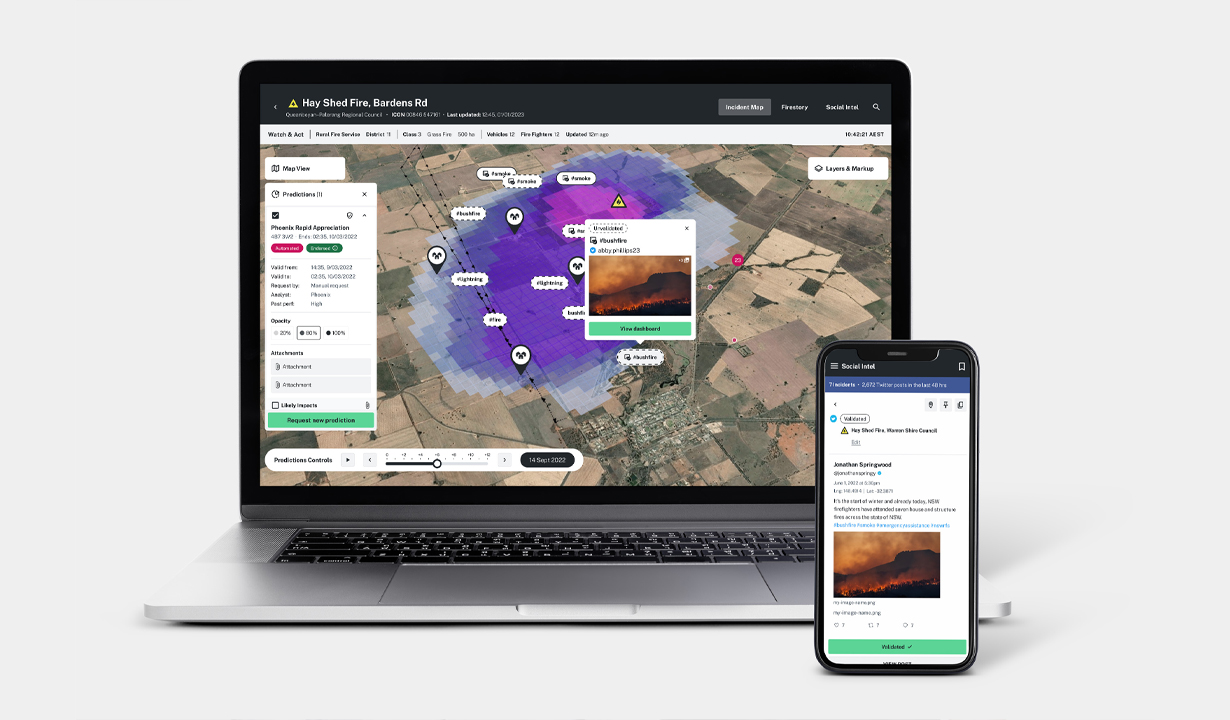 Bushfire Social Intelligence is a world-first emergency services workflow providing highly relevant public information to firefighters. The machine-learning (ML) and artificial intelligence (AI)-optimised innovation assists in early fire detection, fire behaviour analysis and response time enhancement by sifting through and making sense of social media status updates, photos and geotags automatically.
The project came to life on the heels of the catastrophic bushfire summer of 2019-2020. In this unprecedented time, more individuals than ever before forgoed the traditional "000" route to instead take to social media to share bushfire updates, stay connected and cry for help. It saw emergency services needing to quickly adapt to a new online norm and the people, processes and existing technologies of Australian fire services pushed well beyond their limits as smoke suffocated the country.
Abby Phillips, Senior Product Designer at Kablamo, and her team sought to prevent such a catastrophic event from ever happening again. The result was Bushfire Social Intelligence – the 2023 Michael Bryce Patron's Award recipient. Learn more about the life-saving project in an exclusive interview with Good Design Australia.
---
EMU – 2023 Good Design Award for Sustainability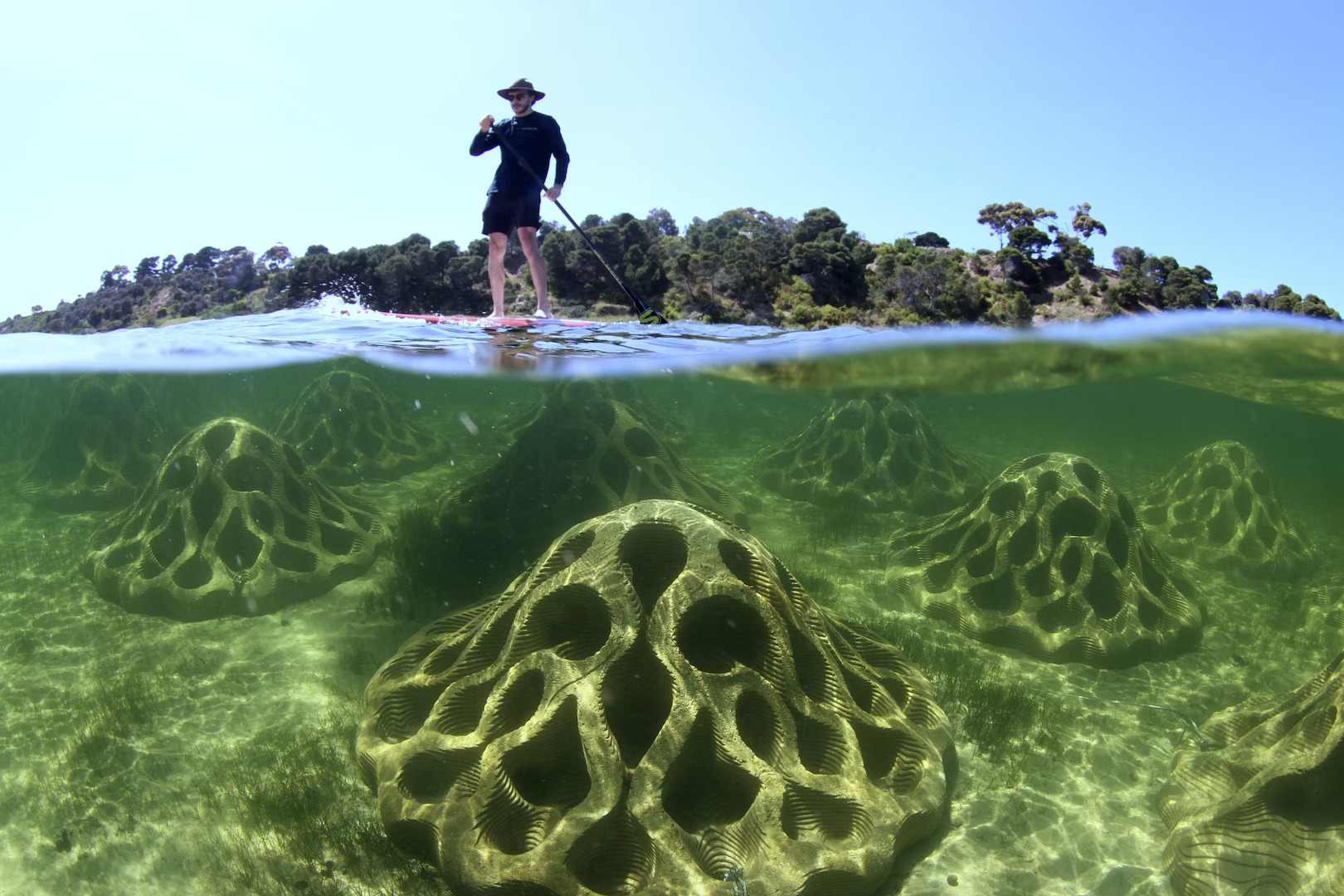 Embodying the studio's unique approach, Reef Design Lab's Erosion Mitigation Units (EMUs) are a series of swell attenuating artificial reef modules. They steer away from the hard coastal engineering approaches of the past to solidify a softer nature-based solution. Not only forming a permeable barrier to reduce the height and energy of waves, they provide a rich habitat for native sea creatures and offer an incredible sight for snorkelers.
After almost a decade of scientific research, negotiations and approvals, the first EMUs were installed at Clifton Springs on the Bellarine Peninsula in Victoria earlier this year. Each sculptured module has created a complex range of habitat niches that have welcomed all kinds of marine life, including mussels, oysters and banjo rays. In-built rock pools also provide an intertidal habitat that birds love to feed on.
The nature-inspired and ecologically-inclusive design received the 2023 Good Design Award for Sustainability. Keen to learn more about the incredible EMU project? Good Design Australia caught up with Alex ahead of the 2023 Good Design Awards Ceremony to dive into the EMU journey.
---
VIEW THE PHOTOS FROM THE 2023 AUSTRALIAN GOOD DESIGN AWARDS CEREMONY HERE.