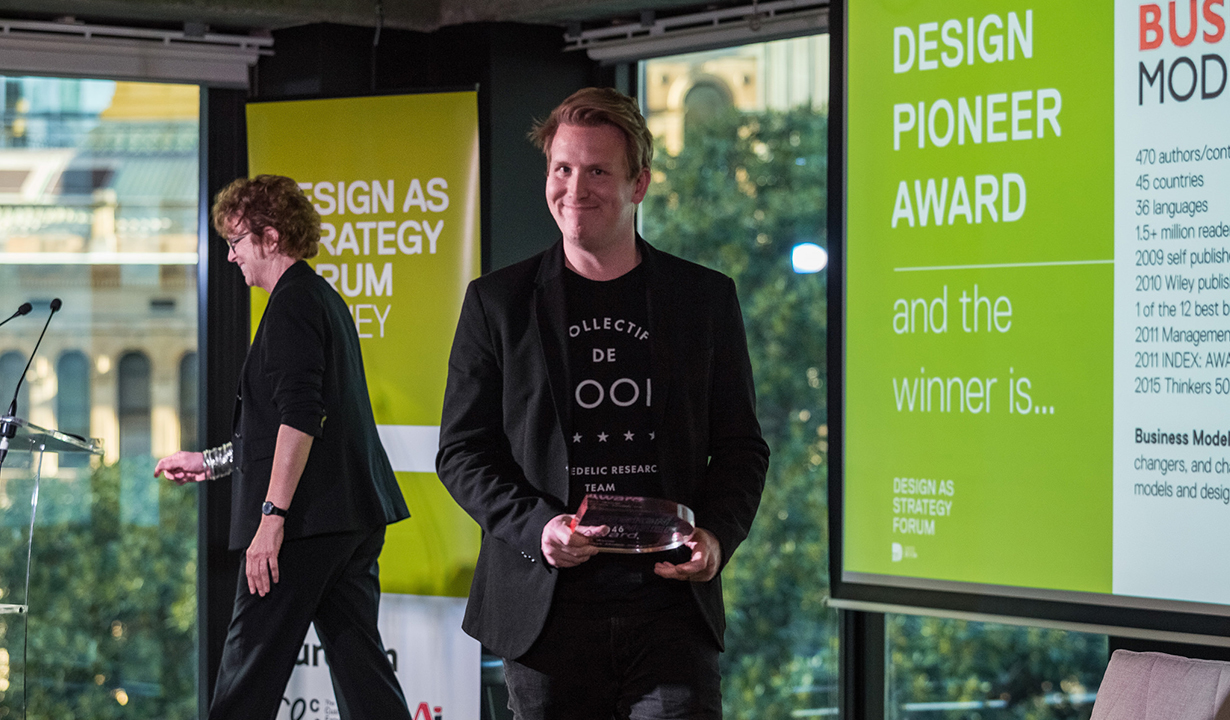 INAUGURAL DESIGN PIONEER AWARD
Published on: 3 January 2018
Share
During the annual Design as Strategy Forum, one of the most respected design and business gatherings in the Asia-Pacific region, Good Design Australia announced Business Models Inc. as the recipient of the inaugural 'Design Pioneer Award'.
The international strategy and design company was recognised for its leadership in the field of 'strategy design' and its democratisation of design thinking tools.
It has helped to kick start the role of design in strategy around the world, creating many of the tools and canvasses that are now used by startups and Fortune 500 companies alike.
Patrick van der Pijl, Founder and CEO, Business  Models Inc said "It is humbling to be recognised for the design journey that we have been on over the past decade. When we set out on this journey, we were simply exploring and testing new ways to make the design process more accessible for business people and entrepreneurs alike. It is a testament to the community of practice we have built that we are recognised for this work. Without them, none of this would have been possible."
Dr. Brandon Gien, CEO, Good Design Australia said "Business Models Inc is not only an embodiment of innovation in business, but it has also worked tirelessly to share these insights and tools with other businesses around the world.
"It is a truly worthy recipient of this accolade, and we look forward to seeing the company's many future achievements."
Since inception in 2009, Business Models Inc has worked to advance design driven strategy at all levels of business and society across the globe.
Nationally, the company has collaborated with the Commonwealth Government's Department of Employment to build human-centred design capabilities into the core of future policy development, as well as Queensland's Department of Science, Information Technology and Innovation on its $7.5 Million Advancing Regional Innovation Program.
Internationally, the company has worked for CHILL – a global best-practice example of collaborative design.