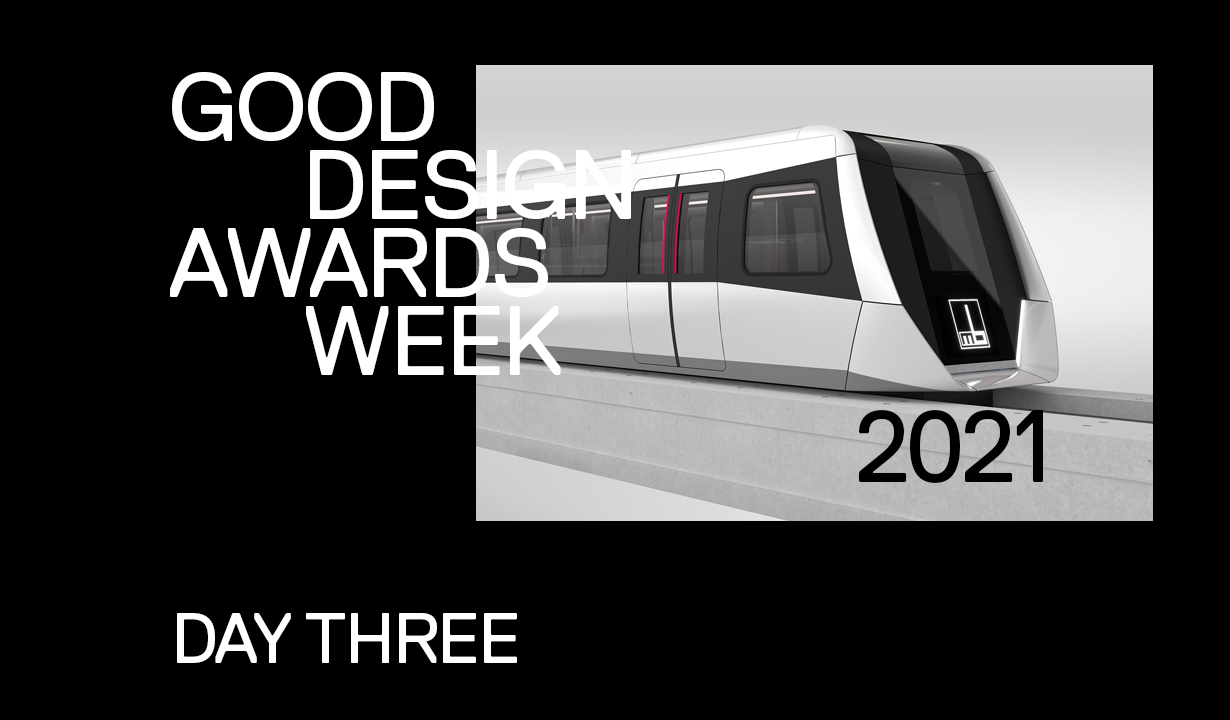 GOOD DESIGN AWARDS WEEK – DAY THREE
Published on: 12 October 2021
Share
PRODUCT DESIGN
Welcome to Day three of the 2021 Good Design Awards Week, as we announce the 2021 Australian Good Design Awards for Product Design, and Good Design Australia's Automotive Design Award for Best Interior Design and Best Exterior Design in the Automotive Design Category.
The Australian Good Design Award Best in Class accolade represents the highest level of design excellence in a sub-category and represents absolute best in class design. From a record 930 projects submitted to the Good Design Awards this year, only 28 projects qualified for the Good Design Award Best in Class accolade.
The 2021 Good Design Award Best in Class Winners are presented here. View all Good Design Award Winners and Gold Award Winners in the Product Design Category on Good Design Australia's Good Design Index.
View videos featuring the Jury and Best in Class Award winners on the Good Design Awards Week website.
2021 GOOD DESIGN AWARD BEST IN CLASS – PRODUCT DESIGN, AUTOMOTIVE AND TRANSPORT
The 2021 Australian Good Design Award Best in Class in the Product Design, Automotive and Transport category was the WHILL Model C2 Personal Mobility designed and commissioned by WHILL Inc. – a personal mobility device for everyone, including people who have difficulty walking.
Addressing the negative stigma as well as the antiquated design and function of wheelchairs, the product aims to help people overcome not only the physical, but the emotional and psychological barriers that limited mobility can impose.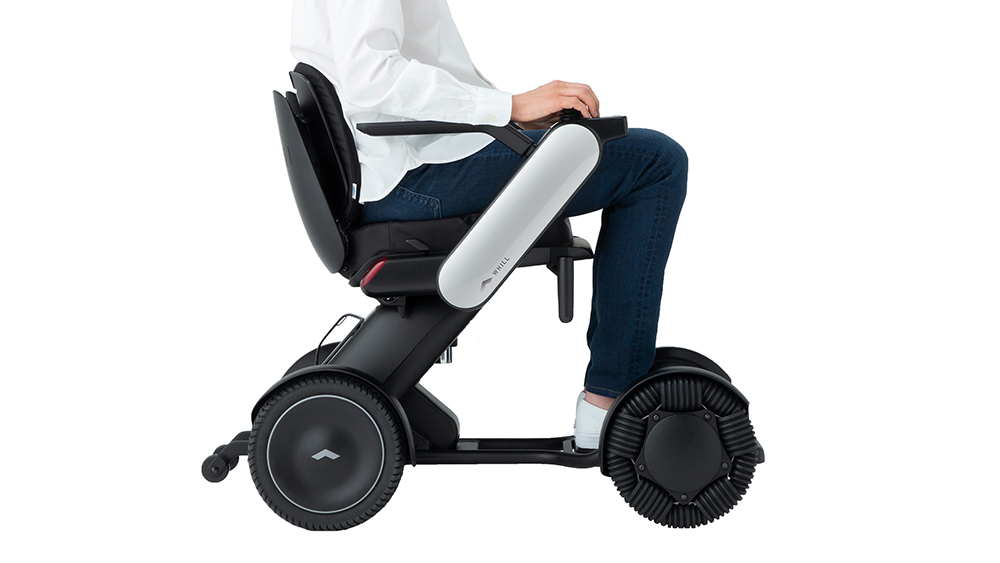 SPACE
Conventional powered wheelchairs position the user to sit in a passive posture. With its unique form, WHILL gets the user to be in a more active position, to fundamentally change the attitude of the user and perception of surrounding people through an active design language. Wheelchairs usually have about an inch of ground clearance due to its small front casters, making it difficult to maneuver curbs at store entrances and sidewalks.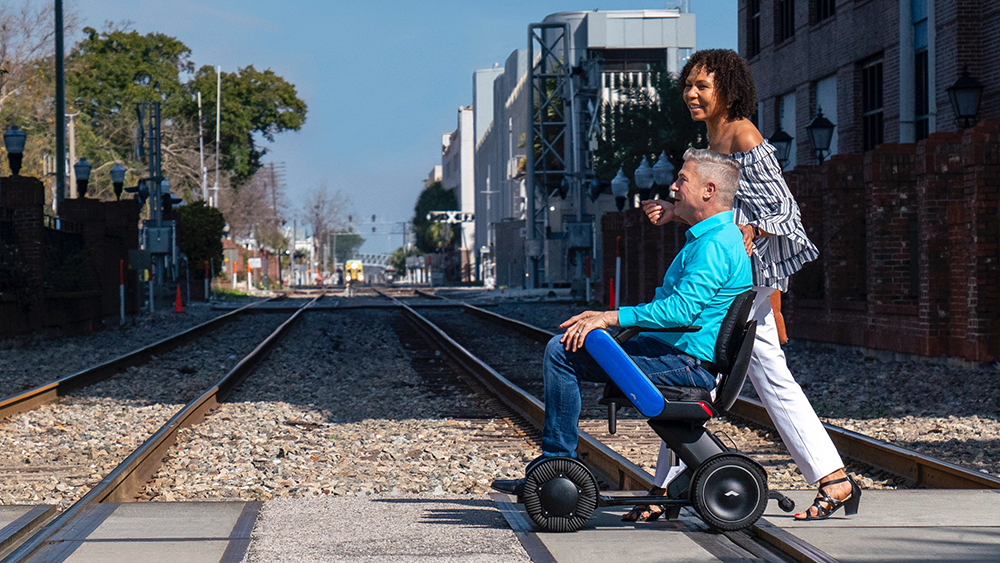 SPACE
WHILL incorporates large omni-wheels to navigate across obstacles while maintaining a tight turning radius. Rollers on the omni-wheels allow it to glide sideways for increased maneuverability. The vehicle can be disassembled for easy transportation in the trunk of a car, making for compact storage. WHILL also has a companion app to pair with a smartphone, allowing users to view battery status and range, lock the device, adjust the speed settings and drive it remotely.
Dr. Brandon Gien from Good Design Australia says, "With the world's population over the age of 60 drastically increasing over the next several decades, 900 million people worldwide in 2017, and expected to more than double to 2.1 billion people by 2050. There is a huge opportunity and need to address current and future mobility challenges."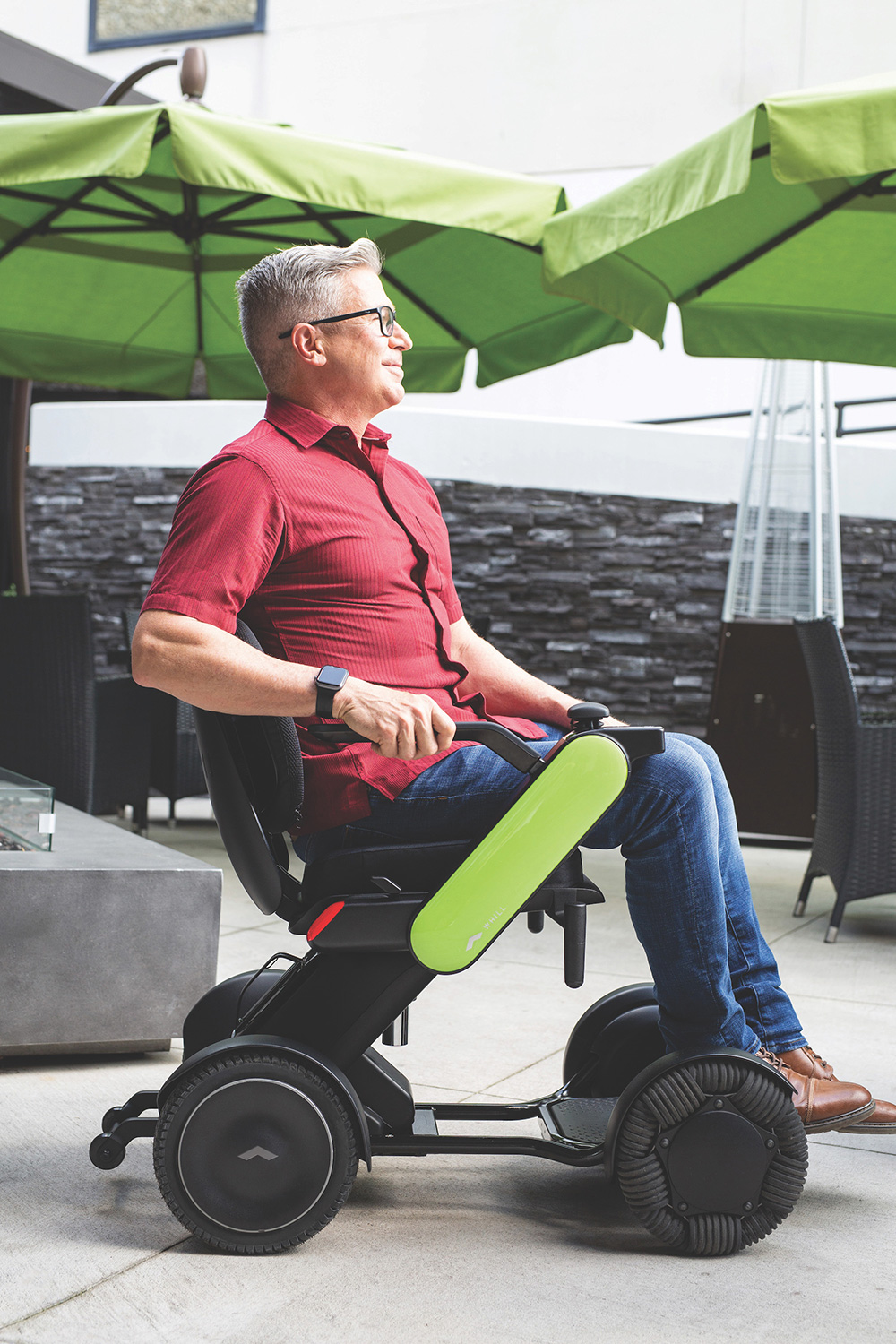 SPACE
The Good Design Awards Jury loved this product and commented: "This is a superb rethink and reinvention of the wheelchair. The design addresses many of the challenges of conventional wheelchairs. The lightweight styling is very appealing, while the ability to easily stow in a car and to readily navigate difficult terrain are major successes. The simple fact of aging populations makes the WHILL a high value-proposition design because it gives people with constrained mobility more independence and higher quality of life (through enhanced mobility, reduced stigma and more independence)."
---
2021 GOOD DESIGN AWARD BEST IN CLASS – PRODUCT DESIGN, COMMERCIAL AND INDUSTRIAL
The 2021Australian Good Design Award Best in Class in the Product Design, Commercial and Industrial category was the LAVO Green Energy Hydrogen Battery System, designed by the University of New South Wales – Hydrogen Energy Research Centre (Sydney), Providence Asset Group, Design + Industry (D+I), GHD, Varley Group, Ampcontrol, Evergen, Nedstack Fuel Cell Technology, Enapter and R&R Murphy and commissioned by LAVO.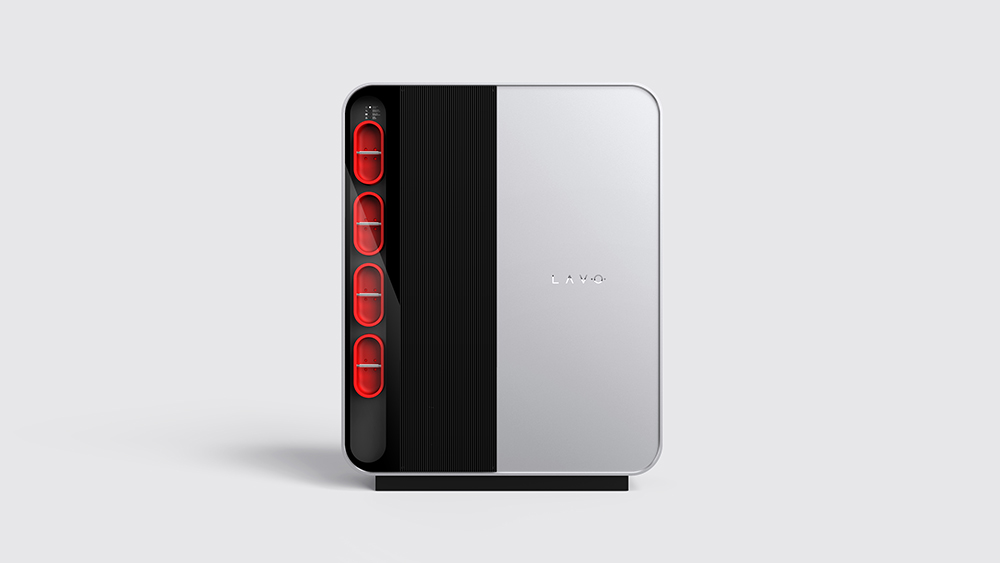 SPACE
Acting as a solar sponge, it integrates with a rooftop solar to capture and store renewable green energy for use when you need it. It is the world's first integrated hybrid hydrogen battery that combines with rooftop solar to deliver a sustainable, reliable and renewable green energy source for residential and commercial properties.
The system utilises patented LAVO Hydride to store hydrogen in metal alloy to enable the world's first, safe, long-term capture, hydrogen battery within a secure vessel. The system works by using electrolysis to split water into Oxygen and Hydrogen. Oxygen is released into the atmosphere, Hydrogen is sent for storage in LAVO, before converting back to electricity through the fuel cell.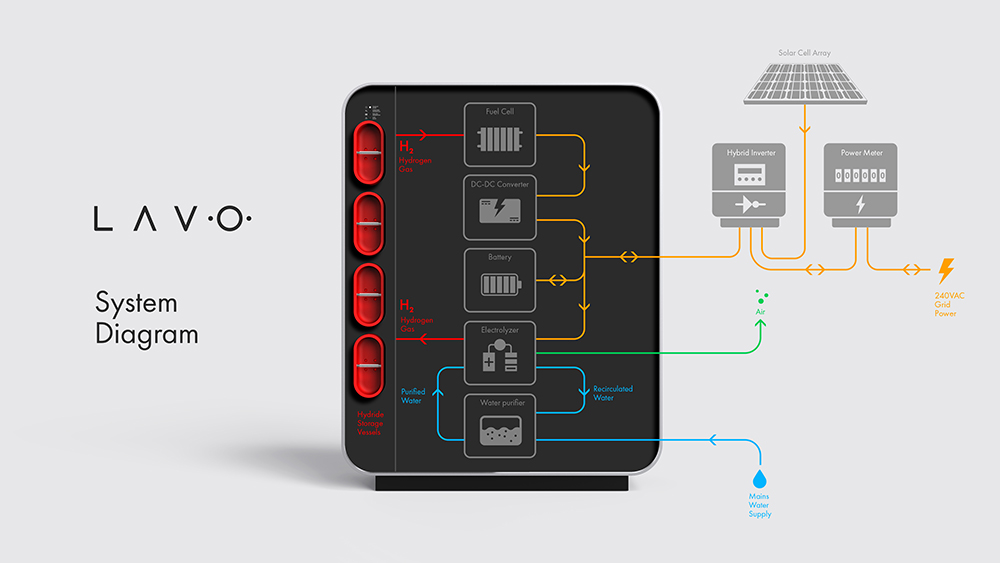 SPACE
Dr. Gien from Good Design Australia commented: "LAVO represents the capability of Australian research institutions, investors, innovators, scientists, designers, engineers and manufacturing partners to develop a world-class green energy solution to help tackle our global energy problems. LAVO provides energy security and protection in case of outages, allowing households and businesses to live green, off the grid, replace diesel generators and avoid power bills entirely. The solution is perfectly suited to complement and even replace diesel generation on the edge of the grid or in remote communities."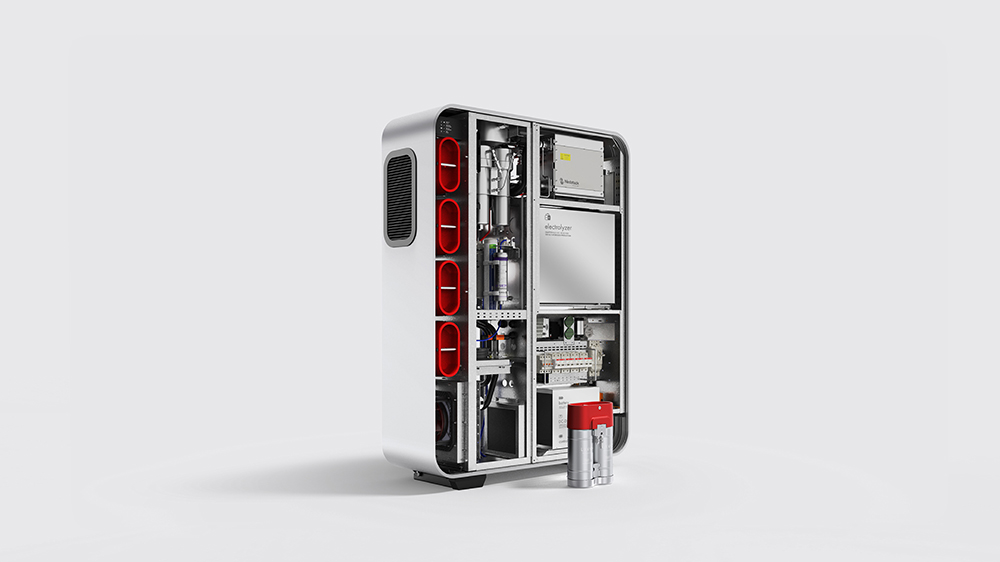 SPACE
The Good Design Awards Jury were unanimous in their decision to Award LAVO the Best in Class Award and commented: "Tackling a global energy problem, this is a remarkable innovation. It is aesthetically strong while delivering an excellent experience to the domestic market. The collaborative process across university and industry that has enabled this innovation to come to market should be commended. There are so many great innovations here that will ensure that citizens are able to use their rooftop solar more efficiently. It is clear this technology will have a lasting positive impact on our environment and help in the transition to a net-zero economy. Overall, this is a really impressive example of industrial design, clever engineering and innovative technology and a standout project that ticks every box for best in class design in this category. Well done."
---
2021 GOOD DESIGN AWARD BEST IN CLASS – PRODUCT DESIGN, CONSUMER ELECTRONICS
The 2021 Australian Good Design Award Best in Class in the Product Design, Consumer Electronics category was the Milieu Climate Smart Thermostat designed by Design+Industry and commissioned by Milieu Labs.
SPACE
Milieu allows you to monitor the environment of any room with an array of built-in sensors and control the temperature remotely using a voice assistant or the Milieu Climate app.
Milieu Climate also allows monitoring of air quality, humidity, pressure, sound, lighting, motion and occupancy, reducing overall energy consumption whilst saving on bills.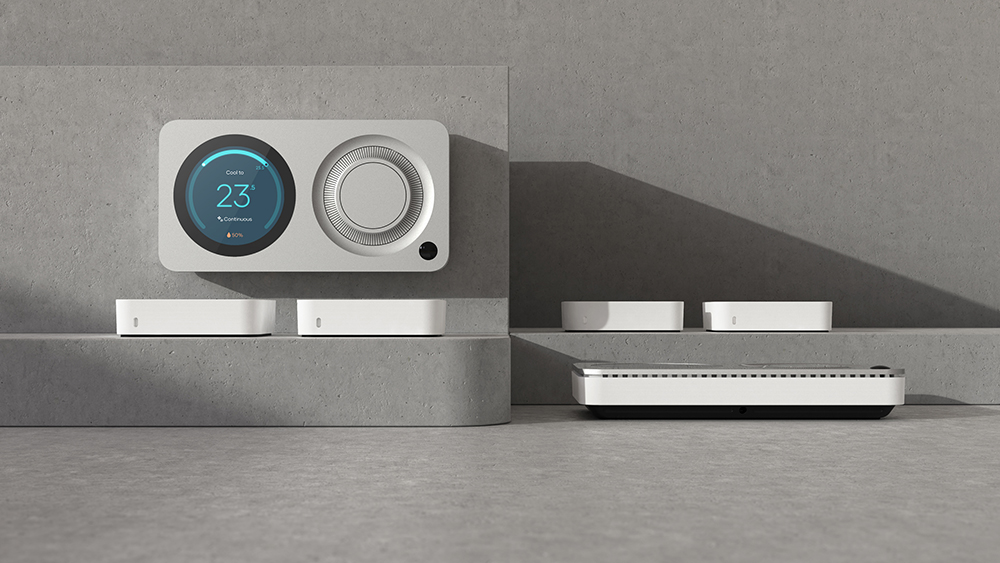 SPACE
Milieu Climate makes maximising the comfort, safety and energy efficiency of the home more intuitive than ever. The more efficient operation of home/office HVAC systems has the potential to lead to large energy savings and significantly reduce emissions over the course of one year.
The Milieu Smart thermostat shows you the air quality of a room, monitoring the health of the home, measuring volatile organic compounds, determining fresh air levels and receiving real-time environment sensor readings via the Milieu Climate app.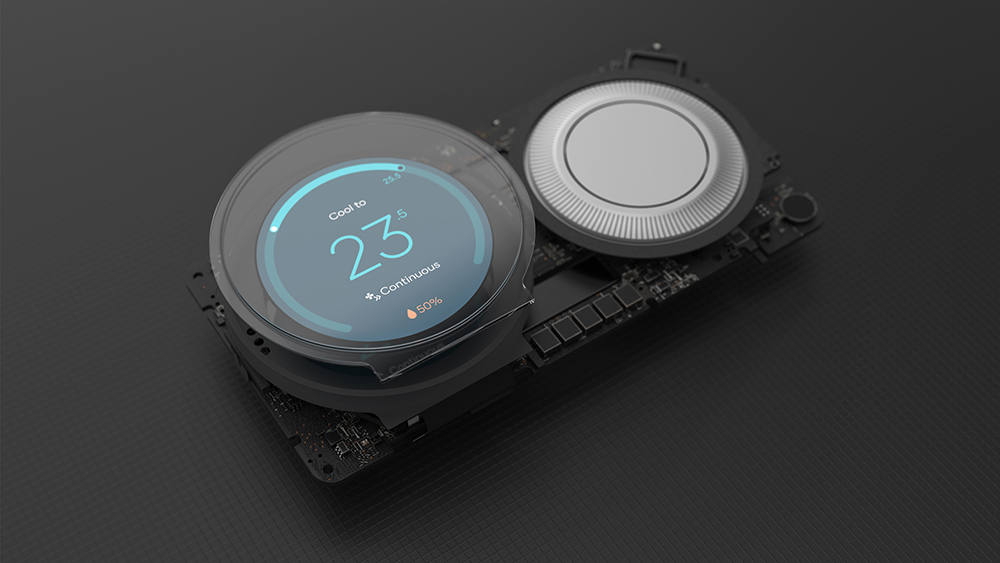 SPACE
The Good Design Awards Jury commented: "Beautiful, purposeful, impactful. Unlike other thermostats, it allows users to control not just room temperature but monitor air quality, humidity, pressure, sound, lighting, and motion/occupancy. It is a highly complex piece of electronics, wrapped in a beautiful 'clean' design that reduces energy consumption and saves on bills. It has been thoughtfully resolved in everything from the product and interaction design all the way through to the communication design of all supporting materials and video. It really is at the forefront of where our connected homes are going and a shining example of design excellence. Well done."
---
2021 GOOD DESIGN AWARD BEST IN CLASS – PRODUCT DESIGN, DOMESTIC APPLIANCES
The 2021 Australian Good Design Award Best in Class in the Product Design, Domestic Appliances category are the Kenwood Titanium Chef Patissier XL Kitchen Machine and the Presto Salon Hairbrush Cleaner.
The Kenwood Chef Patissier designed by the Kenwood Design Team for Kenwood Limited creates complex recipes by making tricky basking tasks as simple as pushing a button. More than just a mixer, this machine will help bakers to excel at even the most complex bakers, delivering expert results effortlessly.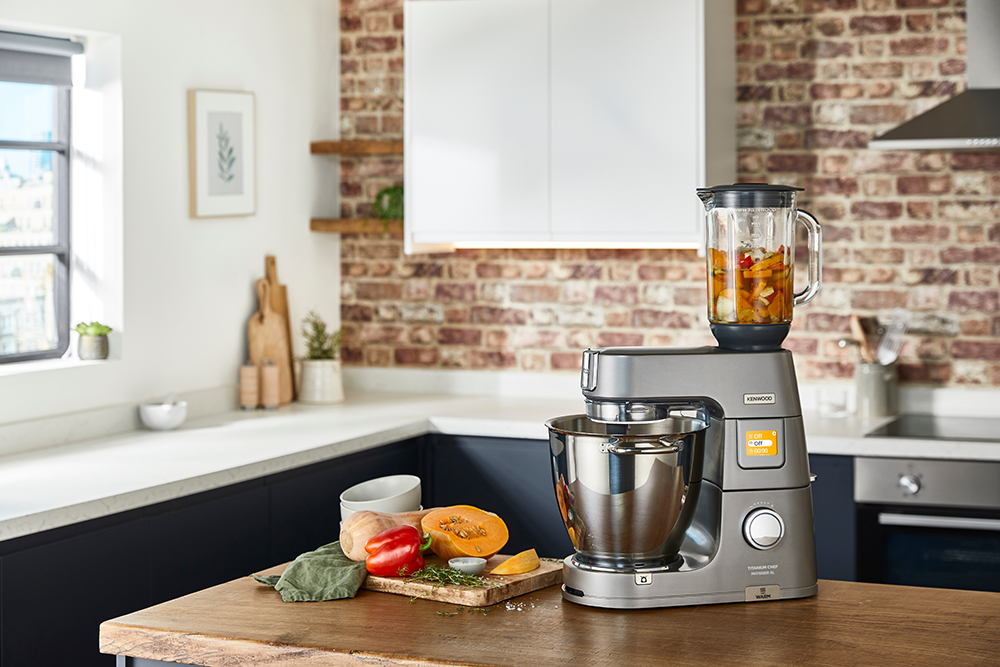 SPACE
Value analysis research was conducted by Kenwood to identify what bakers care about. Designers were able to bring these to life, creating desirability through innovation, developing new baker relevant features. The Titanium Chef Patissier XL personifies superiority and durability, providing confidence and inspiring bakers to create complex bakes. The design holds true to its Kenwood 'C' shape, housing an abundance of relevant baking features. Imperative to this design success was to ensure simplicity in use and to balance this, all the main features have been aligned on two major axes centered on the bowl and the control dial.
Features of the Kenwood Chef Patissier include 7L EasyWarm Bowl, SimpleTouch presets, nesting DuoBowl, EasyWeigh scales and a BakeAssist touchscreen.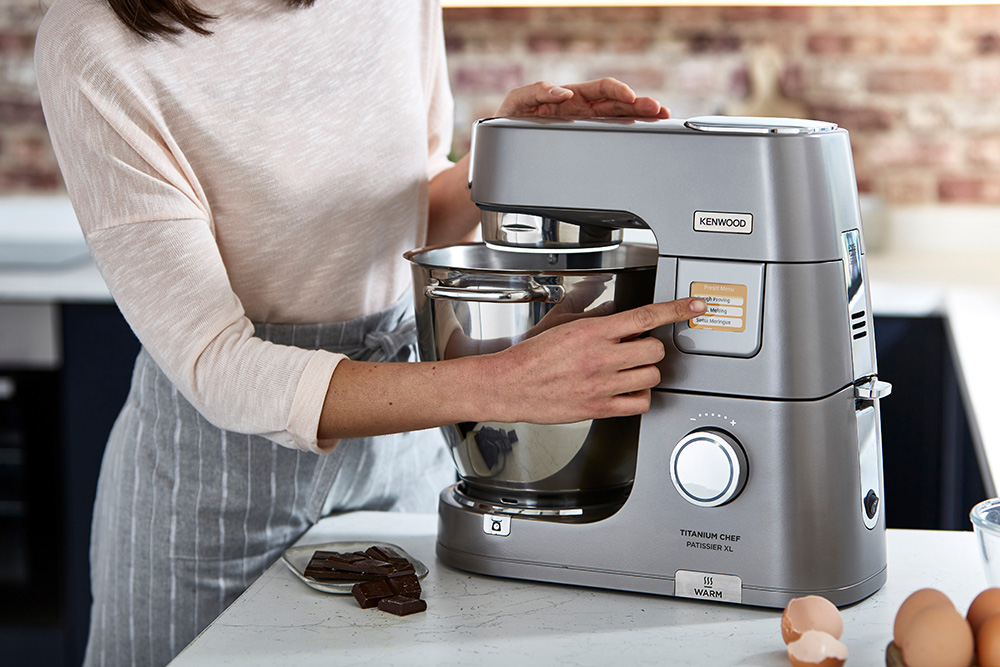 SPACE
Dr. Gien says "Kenwood is an expert in food preparation products, combining a deep love of good food and good design with a complete understanding of how people like to cook and eat. It is this expertise that led to the design of the Titanium Chef Patissier XL, giving culinary devotees the confidence to imagine, learn and create complex bakes from scratch.
This new design enhances the Kenwood range with a superior and innovative benchtop mixer expanding new market opportunities to Kenwood."
The Good Design Awards Jury commented: "This device follows the 'less is more' approach, proving it's better than a mixer-cooker combination. The touch screen user interface with one-stage processes such as chocolate melting or dough proving are a great way to help the user achieve an excellent result. It's a clean device that feels reliable. Overall, this is a really impressive example of industrial design and engineering and a standout project for Best in Class Design in these Awards. Well done."
---
2021 GOOD DESIGN AWARD BEST IN CLASS – PRODUCT DESIGN, DOMESTIC APPLIANCES
The Presto Salon Hairbrush Cleaner also received the Australian Good Design Award Best in Class in the Product Design, Domestic Appliance category. This innovative electric brush cleaner, designed by Outerspace Design and commissioned by Comfortel, makes it easy to remove hair from hair brushes, solving the manual task of hairbrushing cleaning resulting in a faster, easier, more thorough and more hygienic experience for hair stylists and their clients.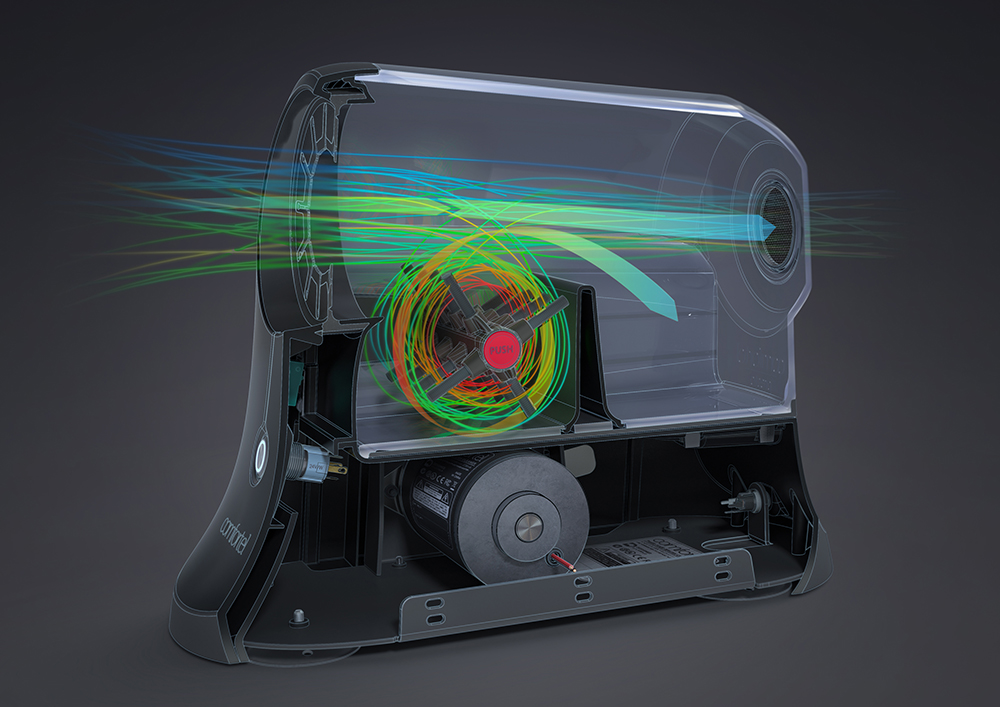 SPACE
The Comfortel Presto Brush Cleaner works by inserting a brush and cleaning with rotating synthetic fibres. The interplay of the rotating bristles, hair catchment and rear vent creates a patented cyclonic airflow which efficiently collects both hair and hair care product particles that are often hard to remove from the brush. The debris is ejected and trapped in the removable canister enabling touch-free disposal when full. This effective cleaning tools leaves brushes free of hair and product debris, allowing the salong to sterilize with ease. The modern curves and ergonomic shape make it a stylish addition to any salon.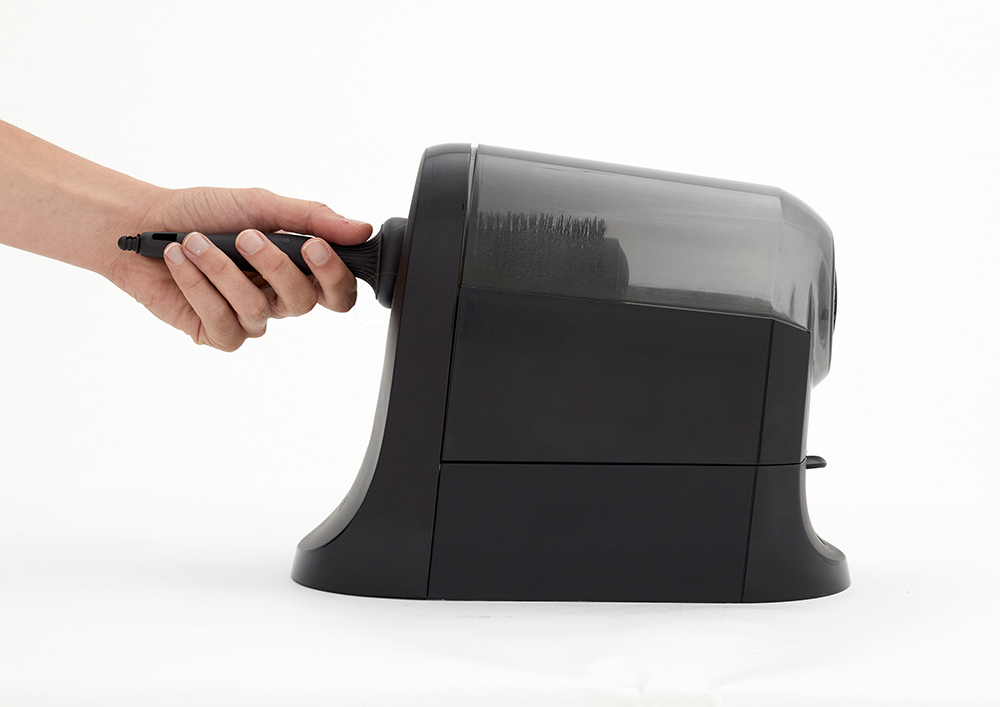 SPACE
Dr. Brandon Gien commented "Presto is a unique product with a universal design language making it intuitive to understand and use. It has created export sales in new markets and created commercial and distribution opportunities in countries around the world. The transformation of brush cleaning from a frustrating inconvenience to an enjoyable activity, makes it easy for stylists to clean their brushes and sterilize frequently. Hygiene concern is at an all-time high, and Presto helps minimise cross-contamination enabling salons to operate safely, providing peace of mind for salon owners, stylists and clients."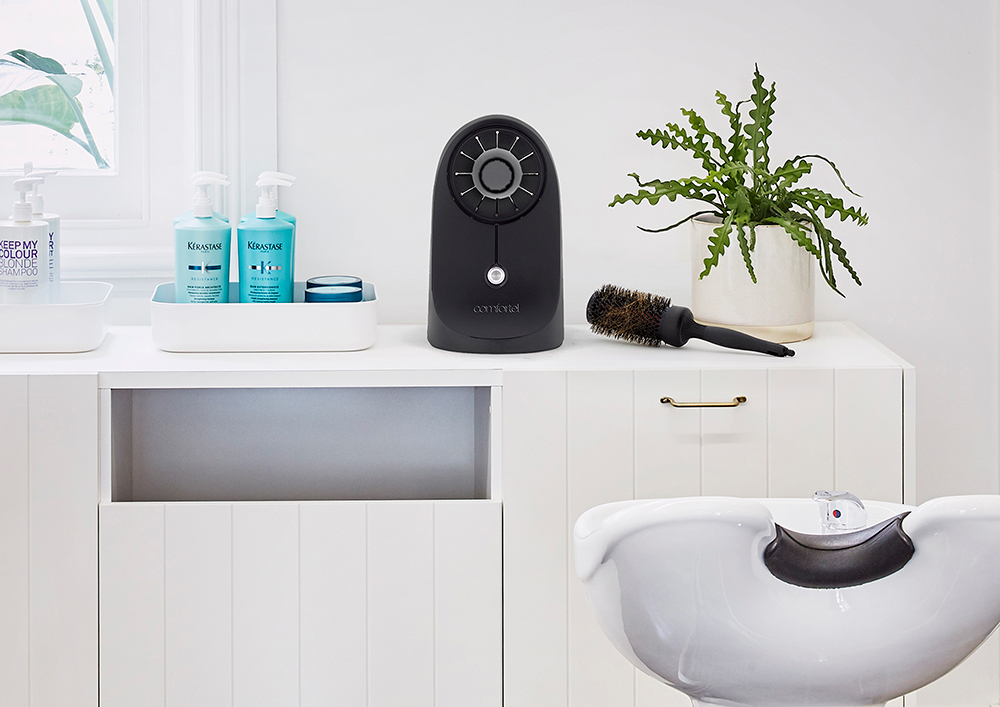 SPACE
The Good Design Awards Jury commented: "Presto looks like a good solution to a common problem. By deeply understanding the end-user and salon environment, the design process has resulted in a unique product that addresses a pain point for stylists. This device could save time and make the hair salon a cleaner, safer place to work. There is a true need for this in salons. Overall, this is a really impressive example of design and engineering and a standout project that ticks every box for design excellence in this category."
---
2021 GOOD DESIGN AWARD BEST IN CLASS – PRODUCT DESIGN, FURNITURE AND LIGHTING
Receiving the Australian Good Design Award Best in Class in the Product Design, Furniture and Lighting category was Stool Dolly, designed by BoardGrove Architects and commissioned by MPavillion. Responding to the need for physical distancing in times of the pandemic, Stool Dolly considers how individuals can informally create separation through spatial means.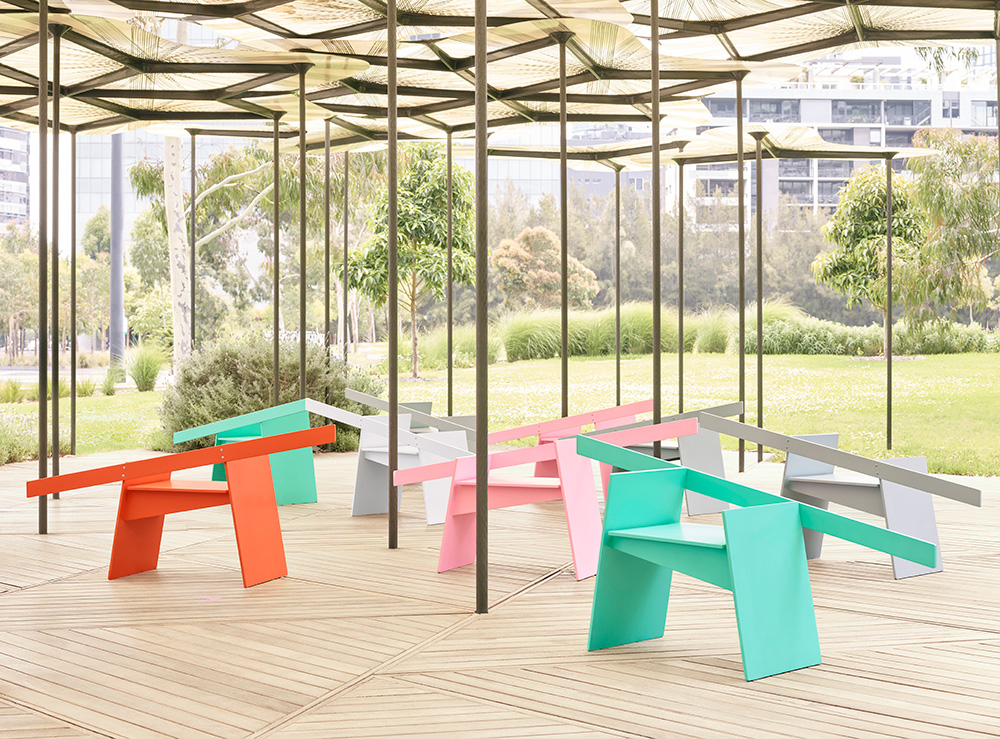 SPACE
Reminiscent of paper dolls connected by outstretched limbs, each Stool Dolly can be positioned at arms length (1.5m) or interlocked, while still feeling a sense of togetherness and connection. The colourful palette of the stools evoke a sense of positivity and delight. Stool Dolly is stackable and versatile, easily reconfigurable to suit different event types and interlockable to allow groups to sit next to each other. Stool Dolly is made from ply, which means it is lightweight and durable, with a smooth paint finish allowing for easy disinfection.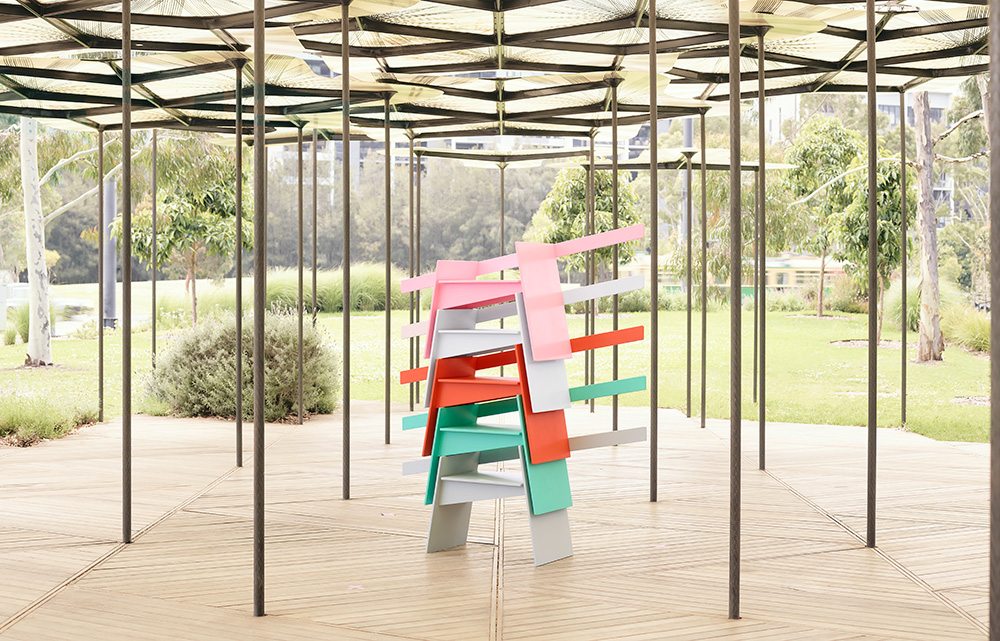 SPACE
Dr. Gien says "Stool Dolly's interconnected design creates a genuine sense of intimacy and closeness at a time when people are being forced to stay apart. It innovatively allows people to gather as a community whilst still abiding by physical distancing rules. The whimsical and colourful design brings a light-hearted joy during a time of stress and uncertainty. The significant positive social impact of the Stool Dolly design was very apparent, giving people a feeling of safety and security, whilst diminishing the sense of social anxiety caused by the pandemic."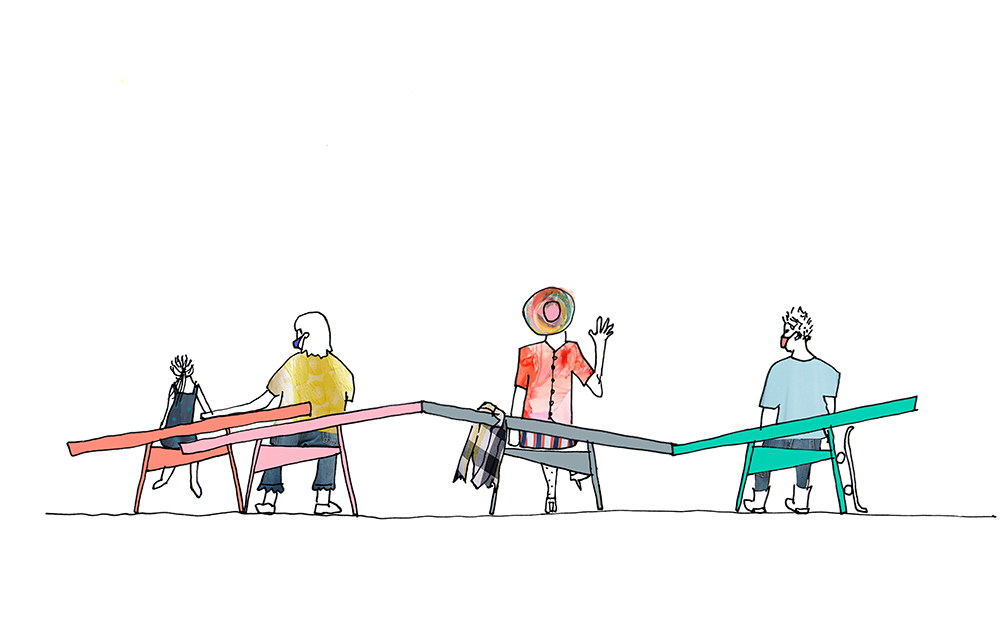 SPACE
The Good Design Awards Jury loved this project and commented: "The Stool Dolly is a brilliant response to COVID-related design solutions. It's a playful design that will be well received, and is a lovely notion and sweet resolution to a very current and ongoing issue. Overall, this is a really impressive example of design and a standout project that ticks every box for good design in the furniture and lighting design category. Well done."
---
2021 GOOD DESIGN AWARD BEST IN CLASS – PRODUCT DESIGN, HARDWARE AND BUILDING
The Australian Good Design Award Best in Class in the Product Design, Hardware and Building category was CustomFlow C90, designed by Matthias Weiss, John Duncan and Matthew Dingle for FormFlow.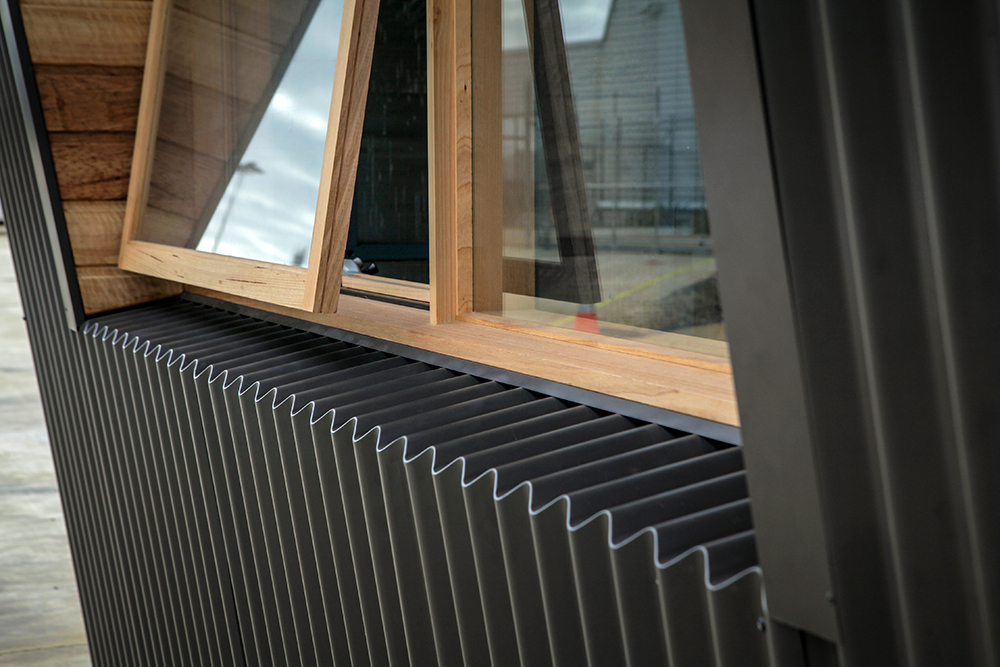 SPACE
The CustomFlow C90 is an ingeniously designed discrete bend in corrugated sheeting used in buildings. It has been designed to produce an airtight, structural connection at corners that enhances fire proofing and enables new solutions for sustainable and low-cost building fabrication. Current timber framing leaves gaps in the building portfolio at the corners and the roof ridges where capping pieces need to be installed. This makes the building prone to ember attack during bushfires and facilitates air flow which reduces energy performance.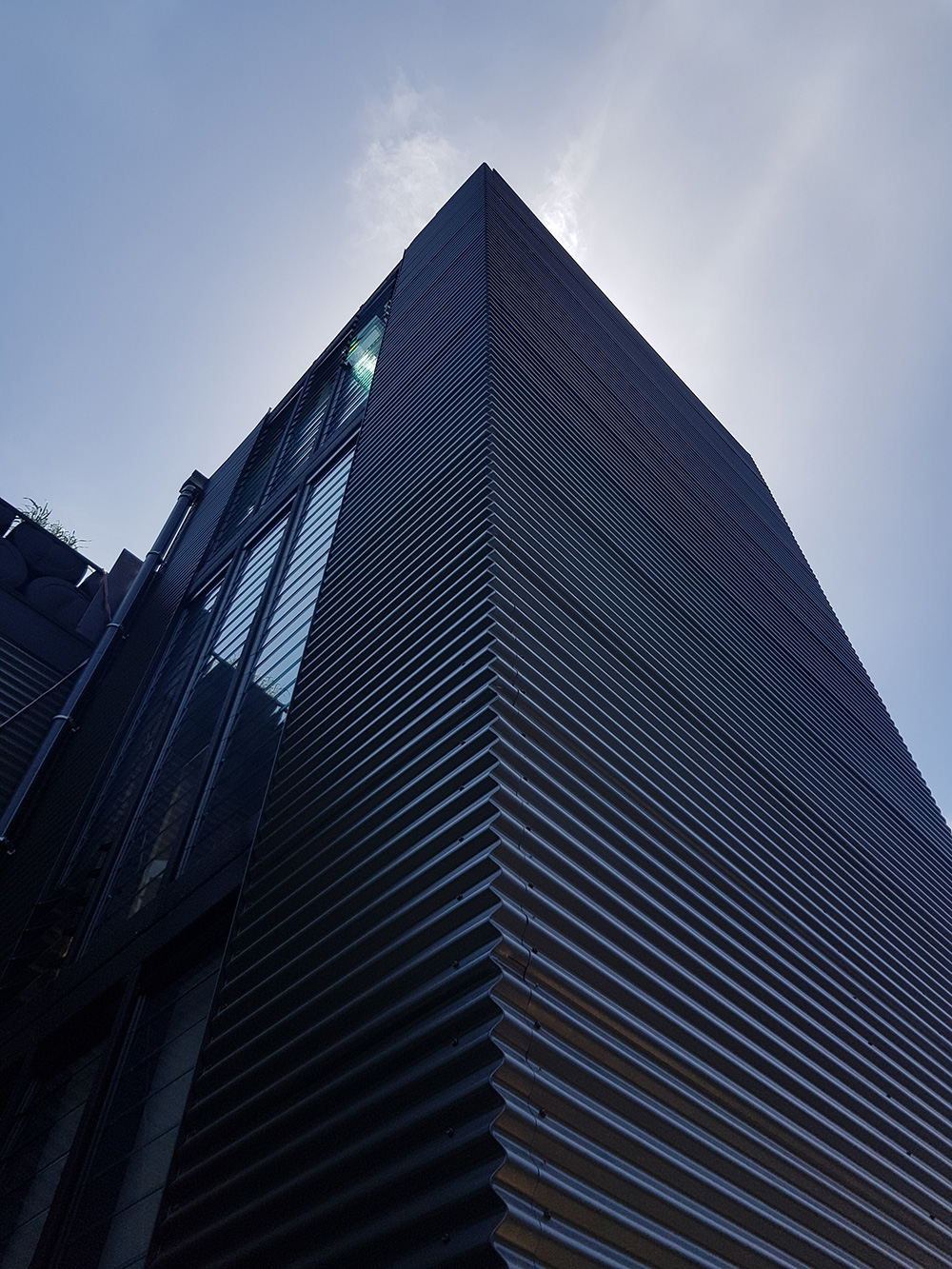 SPACE
The aim of The CustomFlow was to develop a new building product that enhances fire and energy performance while at the same time facilitating new solutions for low cost and sustainable building manufacture.
Based on the C90, FormFlow has developed new building systems that address housing affordability and provide shelter for disadvantaged and marginalised groups by making building construction more efficient, faster and at a lower cost. The C90 transforms corrugated iron, a product ubiquitous in Australia, into a structural and aesthetically pleasing building element that enables the development of innovative new building solutions.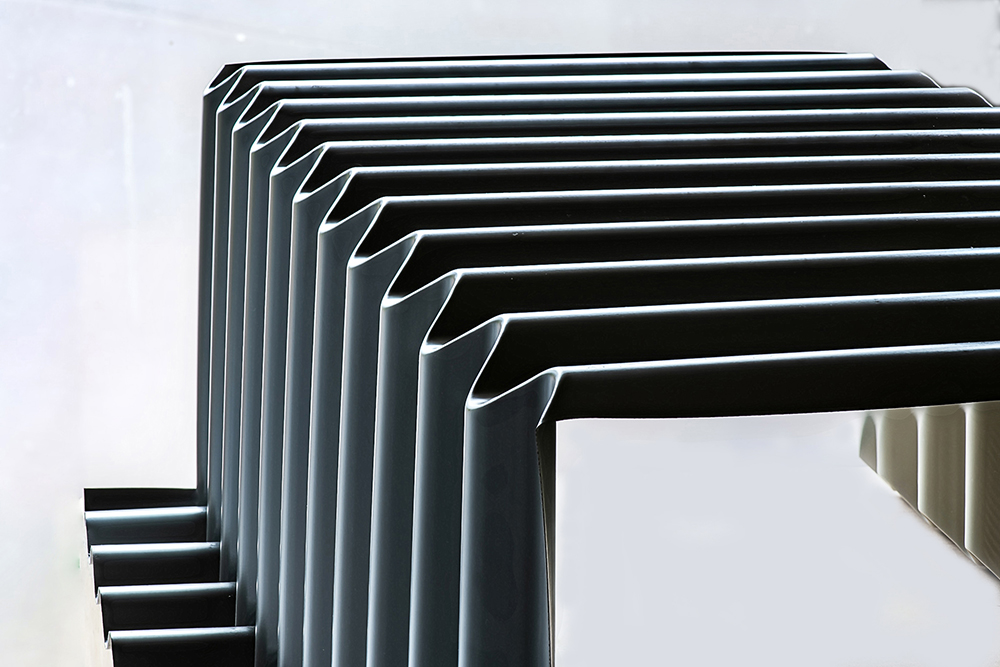 SPACE
It delivers a sustainable competitive advantage to Australian companies that can be leveraged internationally. Environmentally, it eliminates gaps in the external envelope of buildings to improve thermal efficiency, decrease environmental impact and reduce the threat of ember attacks during bushfires.
The Good Design Awards Jury commented: "This is a great use of material that will reduce construction time, finishing and extend the life of joints and structures. It's an innovative product with many potential applications due to its unique aesthetic and structural properties. Overall, the product is elegant and deceptively simple and worthy of the highest level of recognition in this category. Well done."
---
2021 GOOD DESIGN AWARD BEST IN CLASS – PRODUCT DESIGN, HOUSEWARES AND OBJECTS
The Australian Good Design Award Best in Class in the Product Design, Housewares and Objects category was the PEAK Inverted Incense Burner designed by SKEEHAN Studio for ROU House. This beautifully designed object for the home and office conceals the incense stick inside a minimal, handcrafted aluminium vessel, with the polished brass lid allowing for a gentle flow of smoke and fragrance to emerge.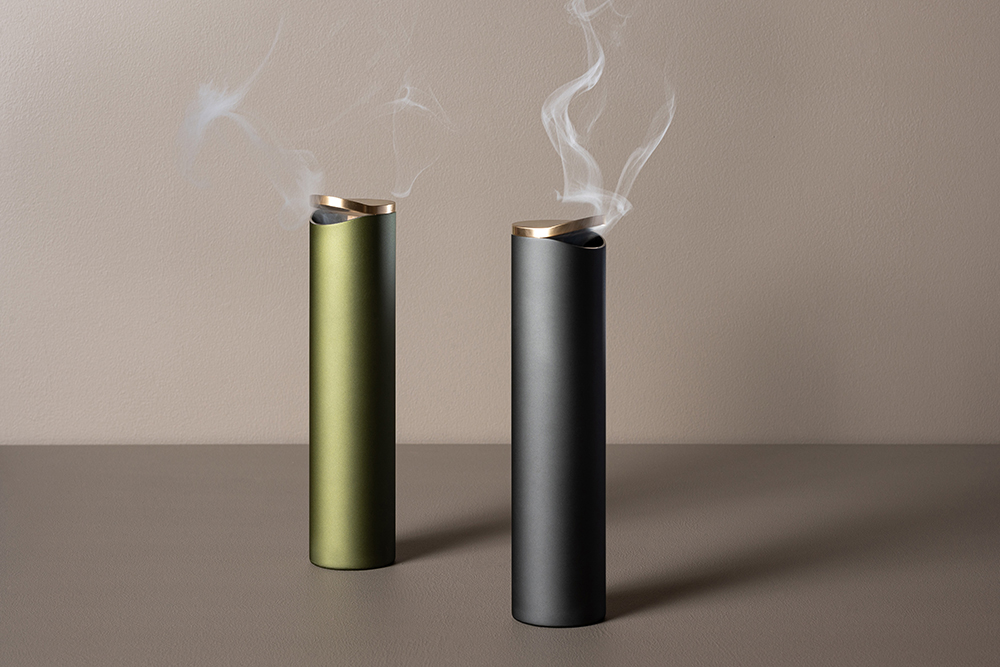 SPACE
Dr. Gien says "The objective of PEAK was to reimagine the way incense behaves with the built environment, by considering the ritual process of burning incense and creating a unique object that celebrates materiality, local manufacturing and the value of good design. The object responds to the way we behave in an ever-changing built environment, demonstrating a user-centred approach to object design, placing the function and user interaction at the core of the concept."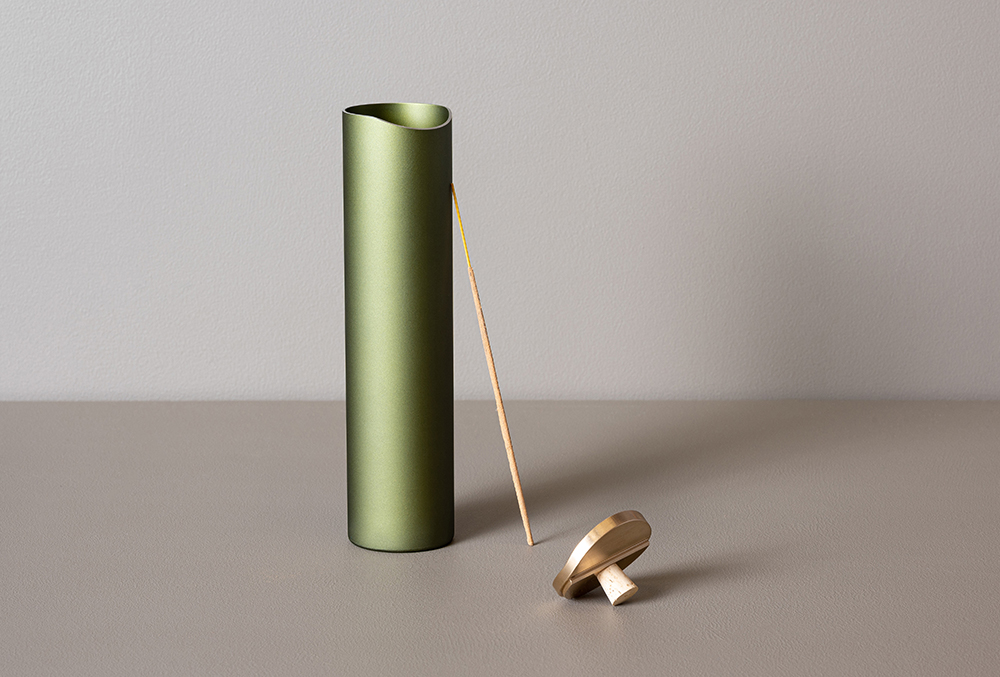 SPACE
The homewares space is heavily saturated with an array of products that often build on previous typologies and perceived functions. The PEAK Inverted Incense Burner flips this narrative and delivers a truly unique sensory experience.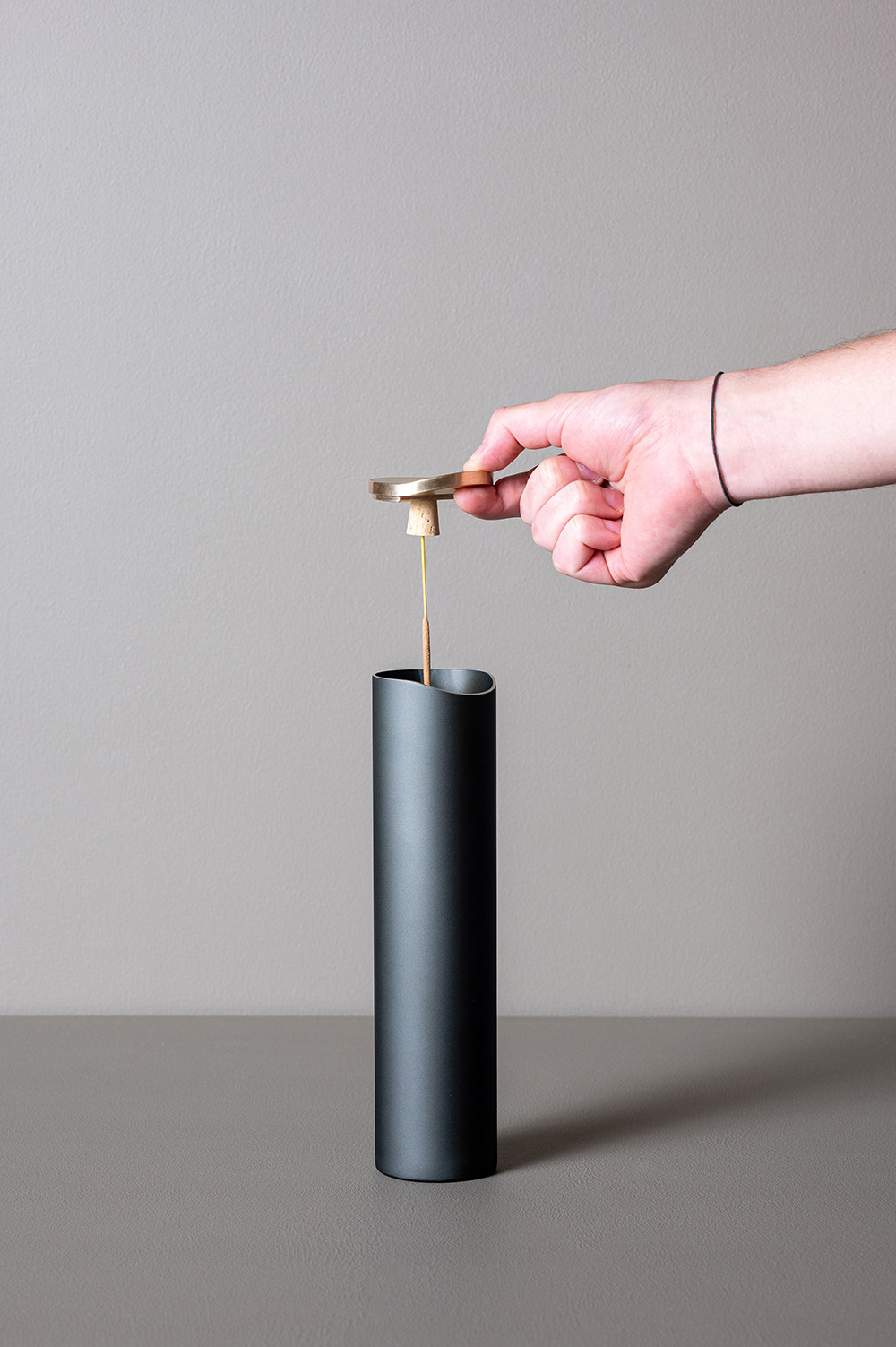 SPACE
The Good Design Awards Jury commented: "The Peak Inverted Incense Burner is a unique and elegant design. The beautiful form and great function are simple and perfect. The way the lid almost peels back from the cylinder to let vapour release feels well-considered and uncomplicated. Overall, this is a really impressive example of beautiful and simple design and a clear standout project in this category."
---
2021 GOOD DESIGN AWARD BEST IN CLASS – PRODUCT DESIGN, MEDICAL AND SCIENTIFIC
Receiving an Australian Good Design Award Best in Class in the Product Design, Medical and Scientific category was the Rediroom, an Instant Patient Isolation Room designed by Care Strategic and Design+Industry and commissioned by GAMA Healthcare.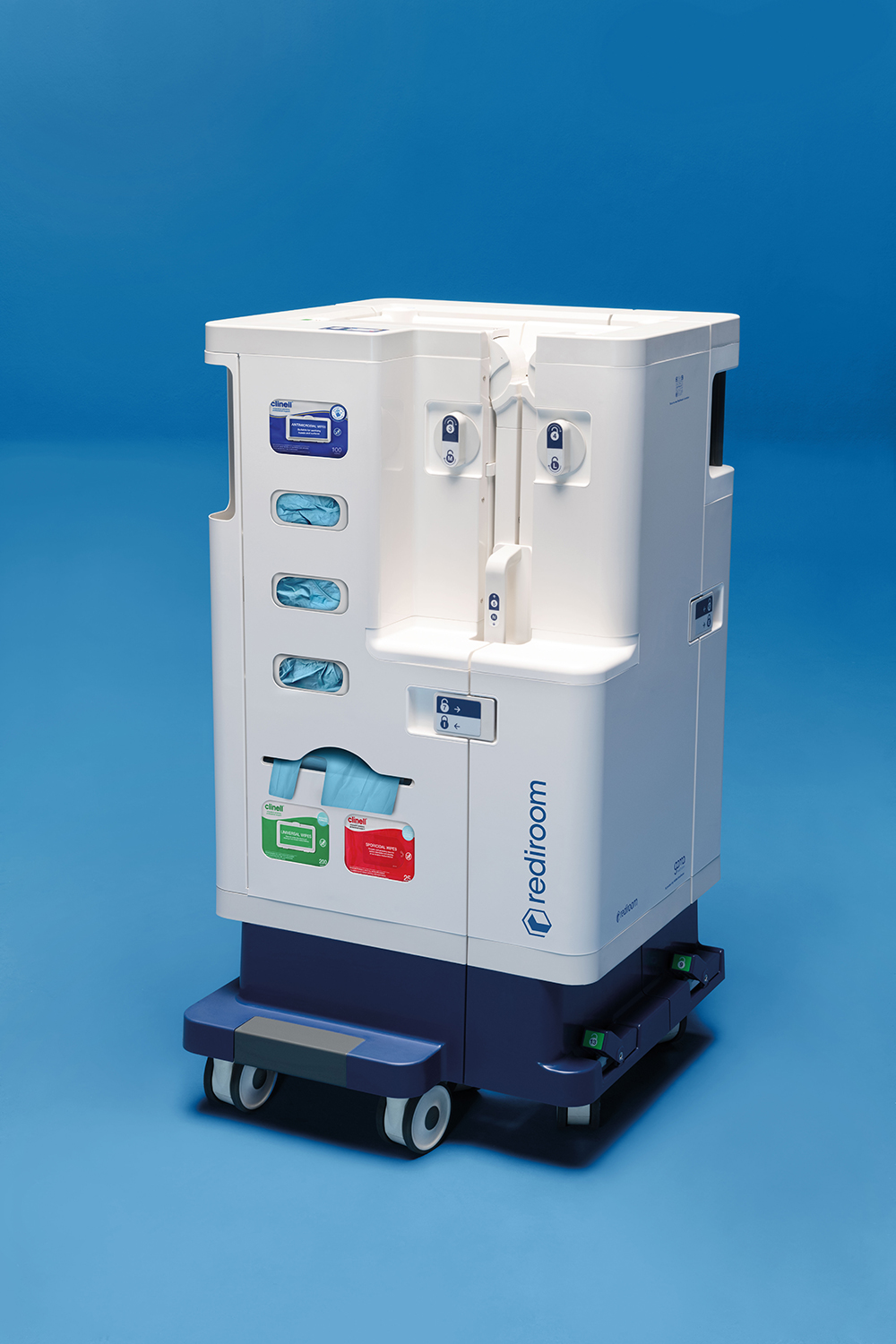 SPACE
Rediroom allows hospitals to add an extra isolation room in under 5 minutes, helping them deal with outbreaks and stop the spread of infection. A single person can transform Rediroom from a mobile cart into an air-filtered, fully operational isolation room in under 5 minutes. The room provides a physical barrier, a host of smart design features and HEPA-filtration to remove 99.5% of infectious droplets from filtered air. 1 in every 10 patients in an Australian hospital has a healthcare-associated infection. Despite this, the rise of antibiotic resistance and our experiences with the COVID-19 pandemic, we still have a shortage of isolation spaces in healthcare facilities, forcing infectious patients to be cared for in an open ward, spreading infections to those around them.
Rediroom is the world's first mobile isolation room, transforming from a mobile PPE cart into a fully operational patient isolation room around an existing bed space. It can also be deployed whilst the patient is still in bed, safely isolating bed bound patients. The mobility of Rediroom allows hospitals to increase their isolation capacity wherever it is needed, rather than sending patients to a spare isolation bed on an unrelated ward as is common practice.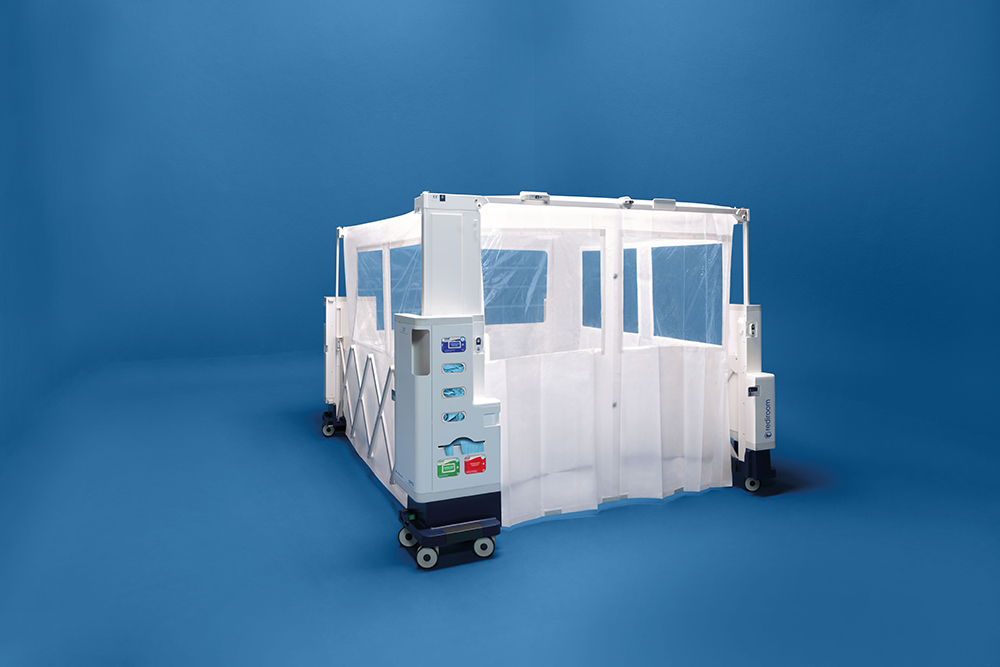 SPACE
Dr. Gien commented on this project: "Rediroom offers protection from the most common infections. The physical barrier and hands-free entry and exit helps limit the spread of contact pathogens and reduces the risk of hand transmission. In-built HEPA and carbon air filters remove 99.5% of respiratory droplets down to 0.3 micrometres before returning infectious air to the open ward, which is more efficient than an N95 respirator. A truly innovative product with world-class industrial design and engineering."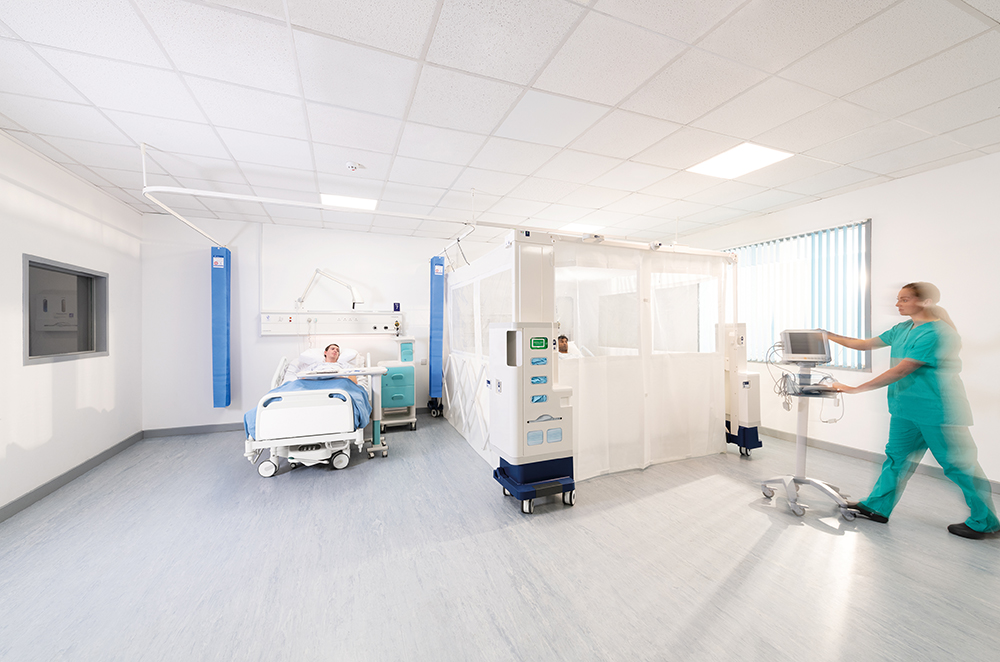 SPACE
The Good Design Awards Jury commented: "This is a timely and clever design that has the potential for enormous impact. Minimising cross-contamination in hospitals is a global aim, particularly at the present time. The simple process of setting up the room, usage of colour-coded and numbered tabs is really intuitive. The HEPA filtration and ease of sterilising are critical features that have been addressed. The design also solves common challenges such as portability, being able to easily see the patient, and ensuring the entry/exit stays closed. Amazing!"
---
2021 GOOD DESIGN AWARD BEST IN CLASS – PRODUCT DESIGN, SPORT AND LIFESTYLE
Receiving the Australian Good Design Award Best in Class in the Product Design, Sport and Lifestyle category are the Fliteboard ULTRA and SCUTE Fishing Rod Case.
The Fliteboard ULTRA is an electric hydrofoil that gives the sensation of flying over water, custom-designed for extreme performance for advanced riders. The product was designed by Fliteboard, Katapult Design and Tekt Industries and commissioned by David Trewern.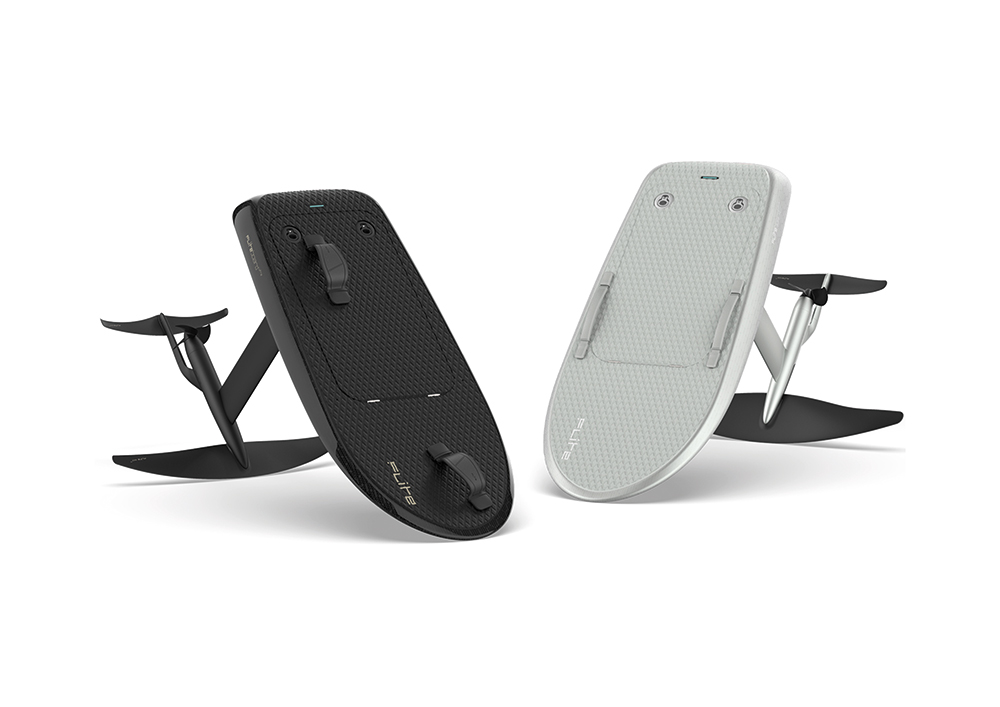 SPACE
At 4"2', ULTRA's reduced swing weight, chined rails and refined hydrodynamic fuselage are game changes. With adjustable, factory fitted foot straps, this board delivers expert riders improved performance and responsiveness.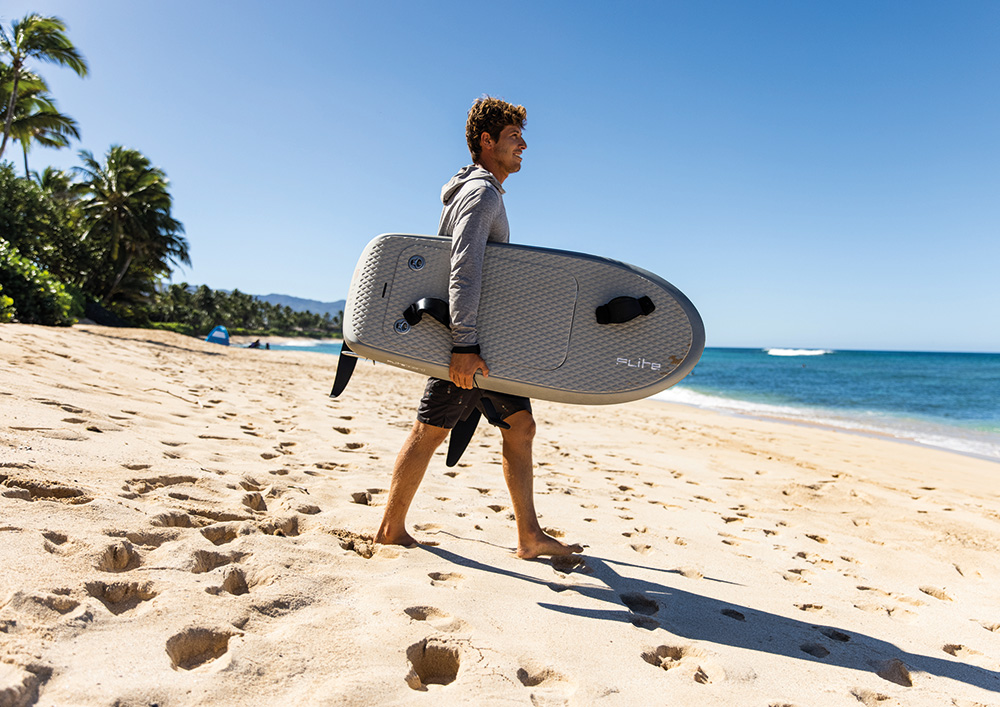 SPACE
Re-designed eFoil electronics enable direct, wireless communication between the handset controller and the eFoil. The subsequent removal of the external receiver and data cabling created a simpler UX, improved production outputs and addressed reliability issues. Revolutionary new wings allow advanced riders to achieve maximum speed, turns, wave riding, jumps and more.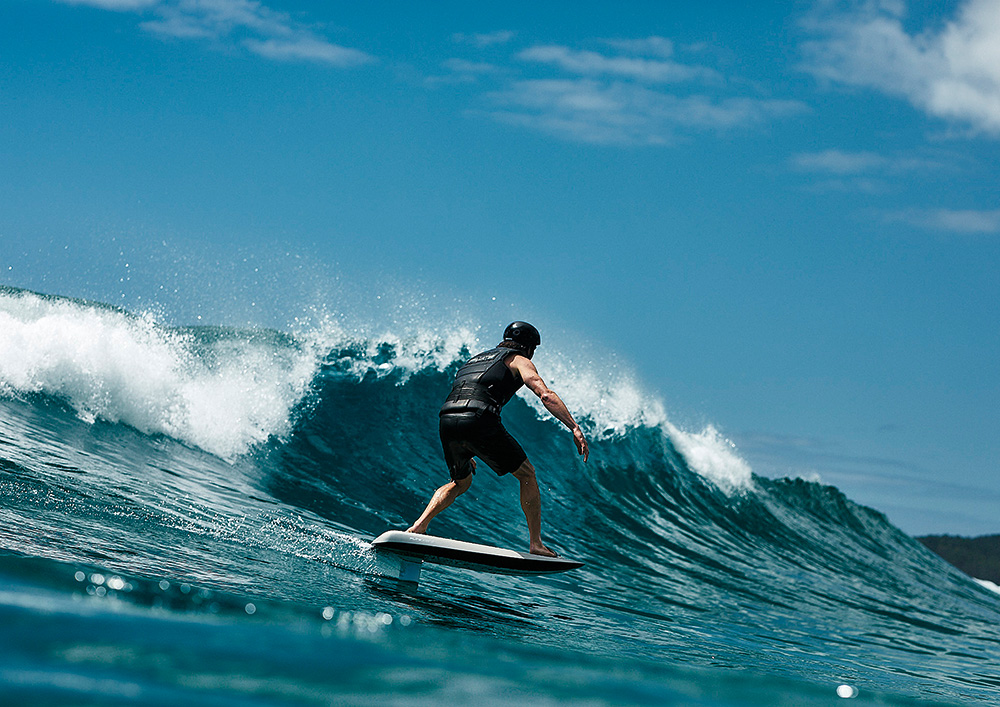 SPACE
Dr. Gien from Good Design Australia commented on the Fliteboard ULTRA: "From the outset, Fliteboard's aim was to create the world's best eFoil. This singular focus has taken the company from a start-up with a vision to a global leader, pushing boundaries for electric hydrofoils. Their investment in professional design, simplification, safety and performance has been met with outstanding feedback. A talented and passionate Fliteboard team has been built to deliver strong after sales support to a growing, global customer base.
Fliteboard is emission free, wake free and virtually silent, helping accelerate the shift towards a more environmentally friendly powered marine craft. This is design excellence having an impact at every level and should be applauded."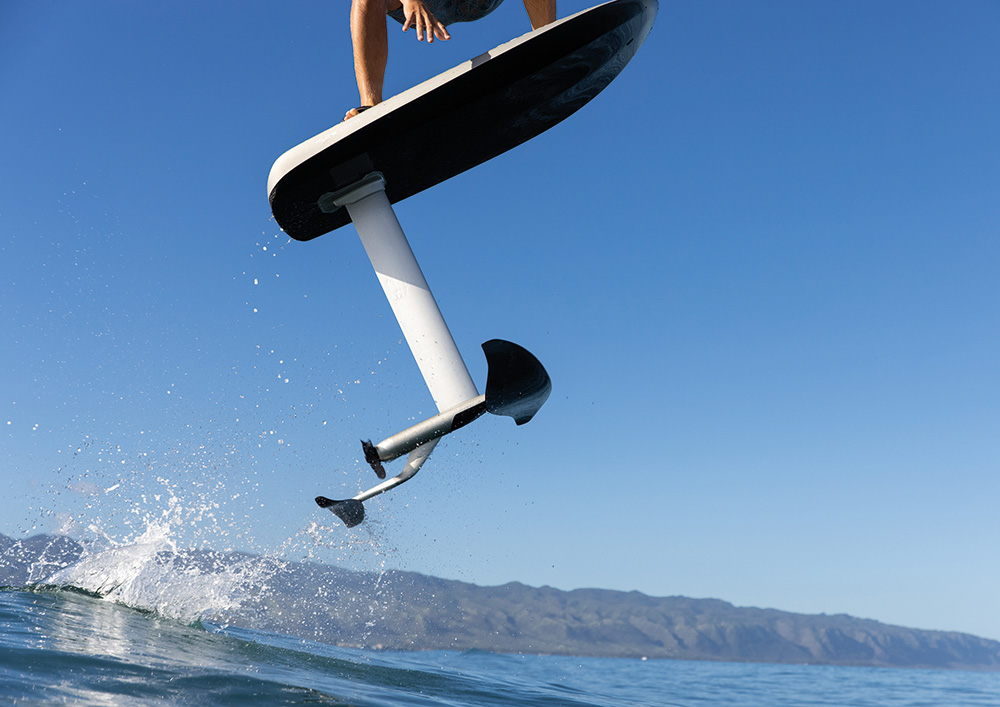 SPACE
The Good Design Awards Jury commented: "This electric hydrofoil is smaller, lighter, and more responsive than its beautifully designed and manufactured – Australian Good Design Award-winning predecessor. The design improvements have resolved the desire to support more extreme performance for advanced riders. The designers should also be commended on the 'limp home mode', which switches on when the battery is low. It's clear that a lot of design and development has gone into making this work, and this very innovative product, could become quite widely used. Well done."
---
2021 GOOD DESIGN AWARD BEST IN CLASS – PRODUCT DESIGN, SPORT AND LIFESTYLE
Also receiving the Best in Class Award in the Product Design, Sport and Lifestyle category is the SCUTE Fishing Rod Case.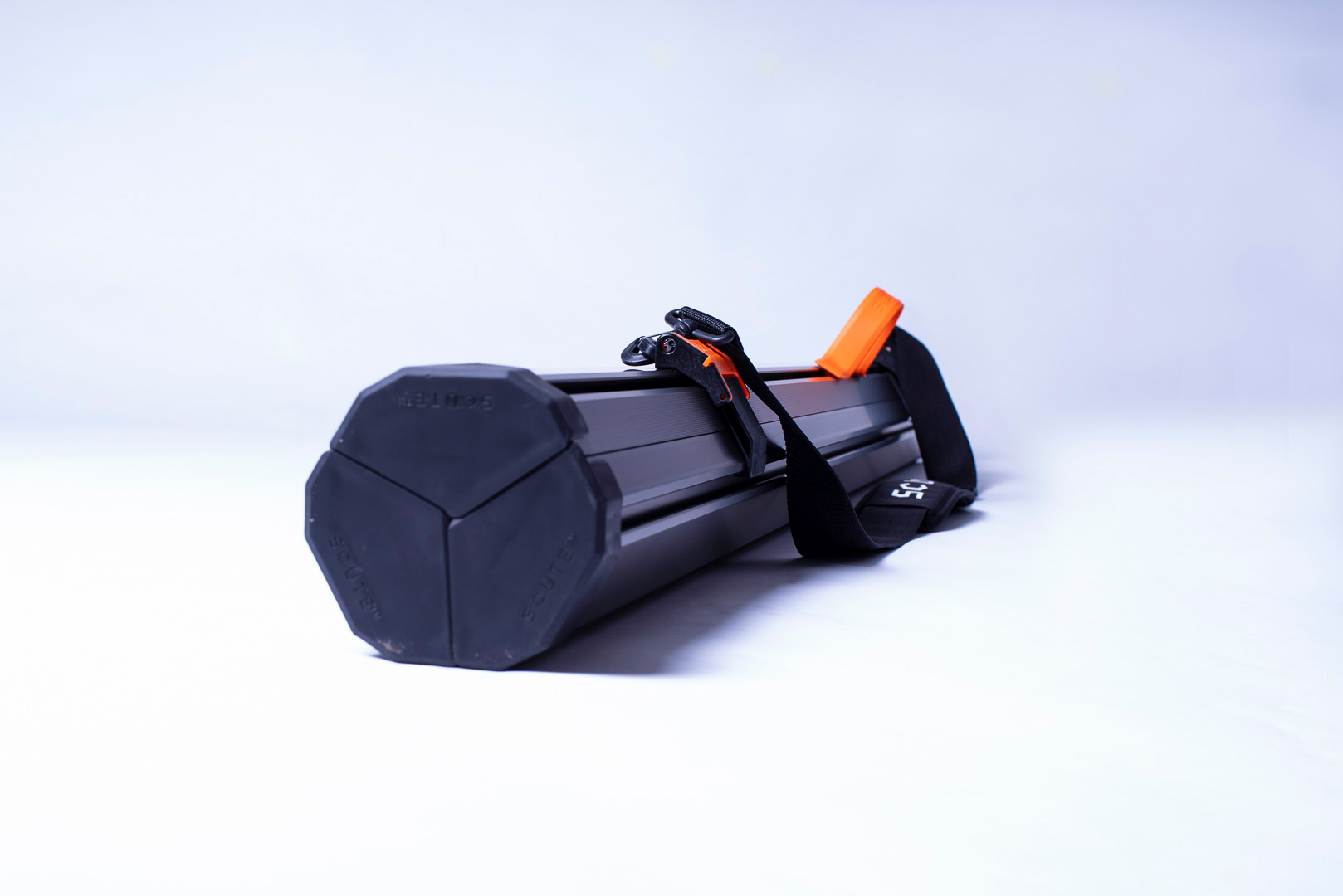 SPACE
The SCUTE Fishing Rod Case, designed by Wade Kalajzich and Adam Goodrum, is designed for rod storage and transport, providing secure rod storage in-situ or during travel for 6 rods, ensuring maximum rod life and performance. SCUTE's design combines practical and useful features not available in any other fishing rod case.
Most available fishing rod cases are 'end opening', resulting in being difficult to pack and require all rods to be unloaded or loaded at the same time. Available 'end opening' and 'side opening' cases have ineffective rod restraint and rod separation, meaning the rods are easily damaged.
SCUTE reinvented the fishing rod case and designed a fishing rod case that is strong, lightweight, restrains and separates individual rods, is easily adjustable without tools, is lockable, quick to load and unload with car rack storage systems. The result is a rod protection system that goes well beyond a case for rods, it is the permanent rod storage solution for home, car and air travel.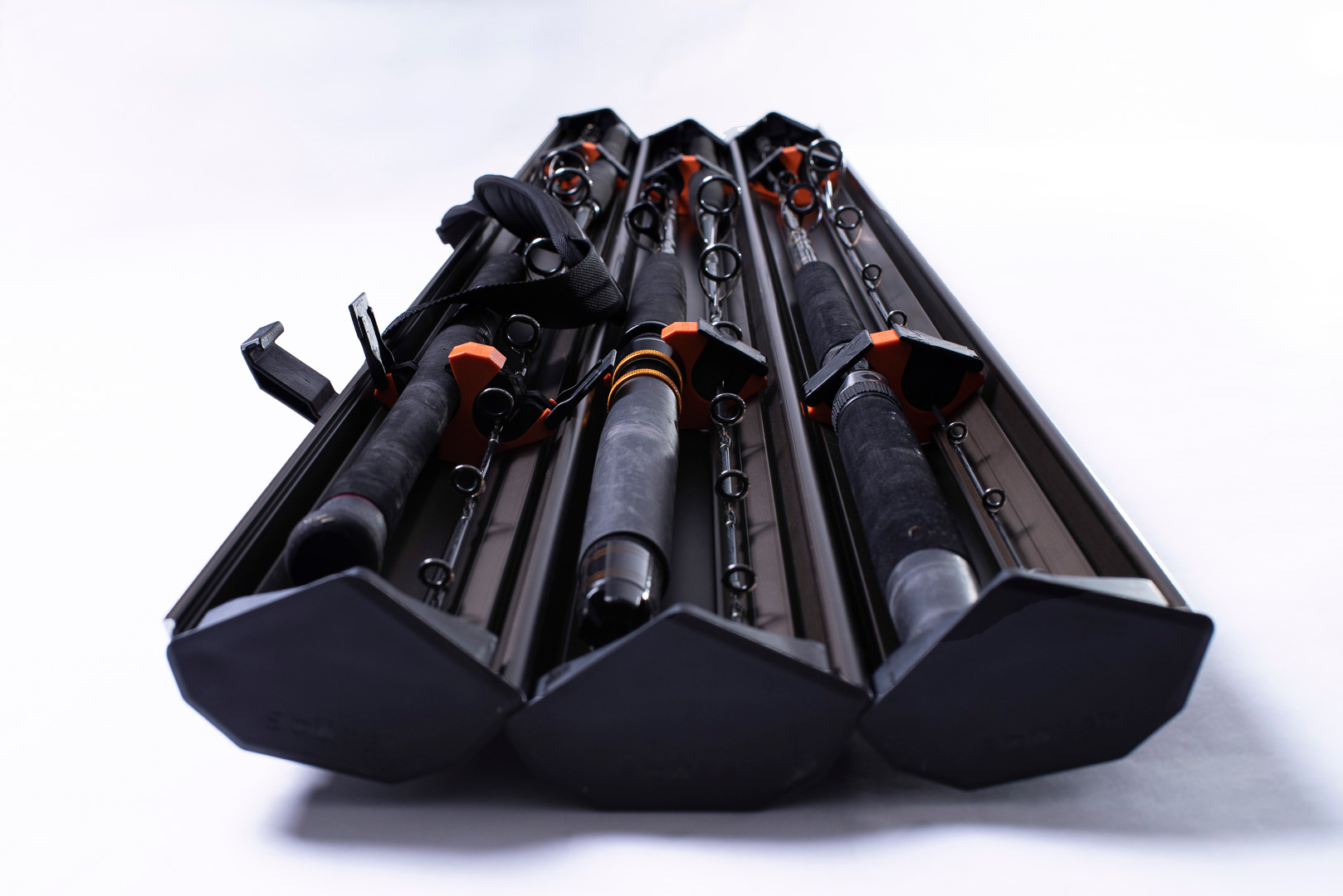 SPACE
The SCUTE design solution is based on two proprietary aluminium extrusions. The extruded profiles have two key features; interlocking edges and a double sided channel. The interlocking edge creates two full length hinges which are extremely strong and allows SCUTE to open into a 'wide' side opening position. The double-sided track provides a 'full length' mounting structure for all internal and external fittings without additional machining. In addition to their utility, these two features eliminate a large amount of post-processing in comparison to using standard hinges and fitting mountings which require machining, and fixing hardware.
SCUTE is Australian designed and made, using minimal labour in the manufacturing process for local manufacturing efficiency. The case is available in any length up to 4 metres long, with capacity for its small diameter and has an integrated vehicle mounting and locking system. SCUTE is easily repairable however is made to last a lifetime, and is easily dismantled and recycled, and is packed in recyclable and compostable packing.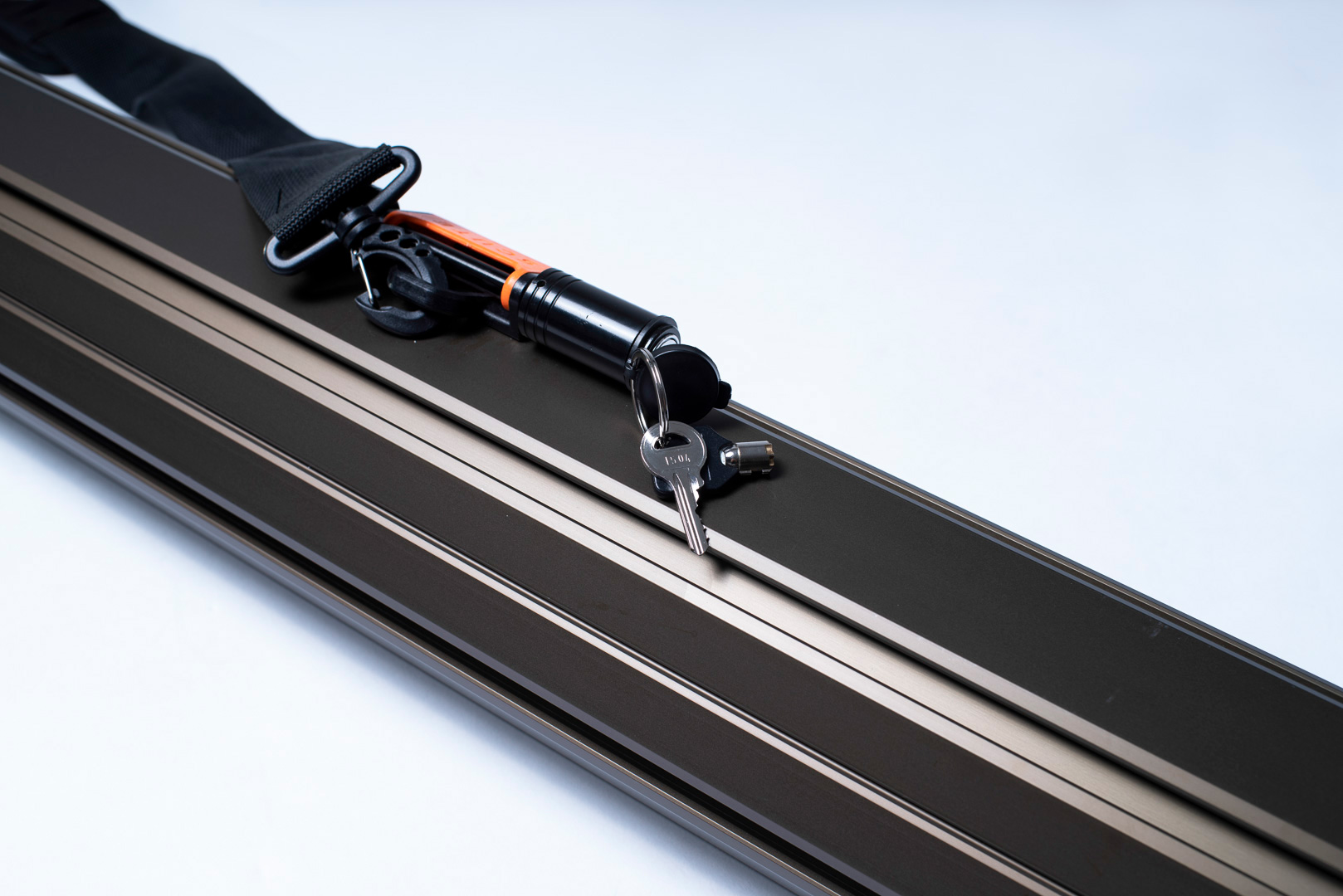 SPACE
The Good Design Awards Jury commented: "SCUTE showcases a clever use of materials and a carefully considered design process. This beautifully designed and constructed aluminium extrusion fishing rod case is strong, lightweight, and separates individual rods. With no glue, screws or welding, it is easy to disassemble and 100% recyclable. The product is also highly adjustable and customizable without compromising on daily use. SCUTE solves the serious shortcomings of previous products in the category."
---
2021 AUTOMOTIVE DESIGN AWARD – BEST INTERIOR DESIGN
Also honoured with the Automotive Design Award for Best Interior Design in the Automotive Design Category was the Hyundai IONIQ 5. The Hyundai IONIQ 5, designed by the Hyundai Global Design Center, is a futuristic Electric Vehicle designed to redefine mobility through its advanced long-range, rapid recharge battery-electric powertrain and cleverly packaged, abundantly spacious cabin. The zero-emission IONIQ 5 aims to dramatically advance the UX while creating impact to drive the uptake and development of EVs.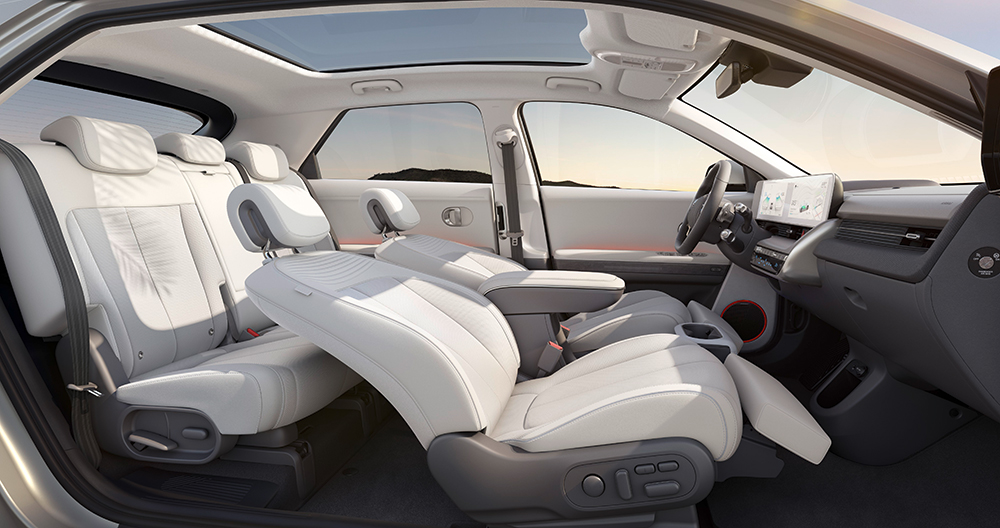 SPACE
IONIQ 5 hits the brief with a futuristic SUV reinterpretation of Hyundai's 1974 Turin Show Pony Fastback, the precursor to its first-ever production vehicle. The compact EV powertrain makes possible a roomy, family-oriented interior with sliding rear seats, slim seats, and a sliding console that maximises flexibility. Zero-emission IONIQ 5 brings ultra-rapid charging, 80% in 18 min (100km range in 5 mins), with a battery range of around 500km. The IONIQ 5 delivers an intuitive experience, with the smooth, quiet and responsive benefits of an EV.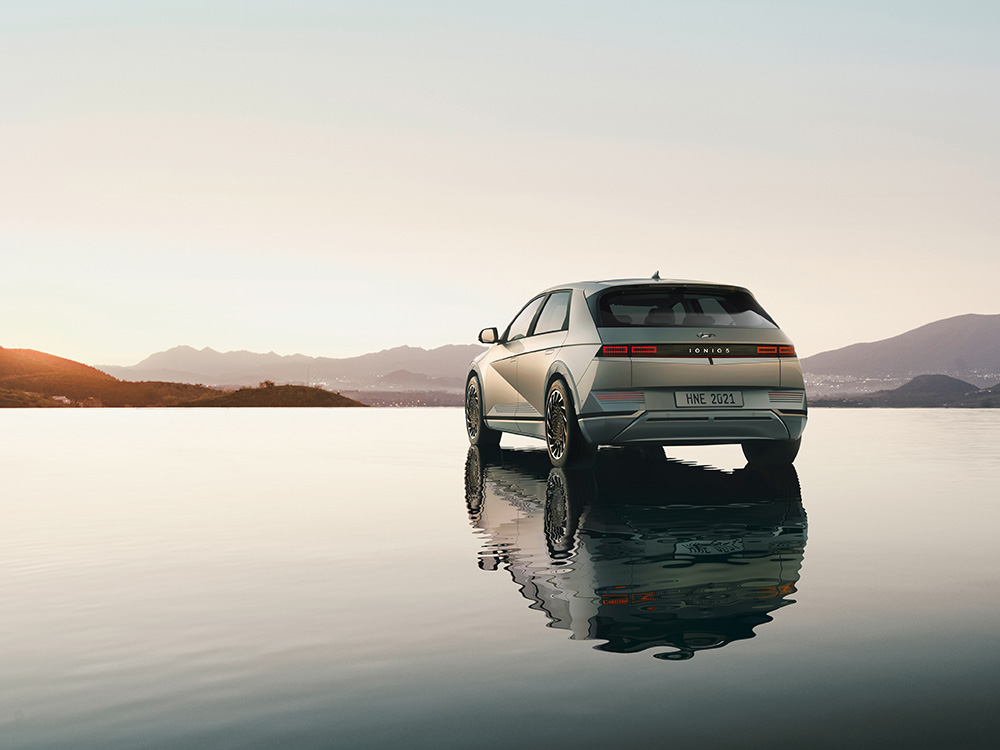 SPACE
The zero-emission IONIQ 5's environmental impact is minimised through efficient EV technology, as well as through Hyundai's commitment to developing a sustainable EV battery reuse and recycling ecosystem, decreasing the pollution from motor vehicles.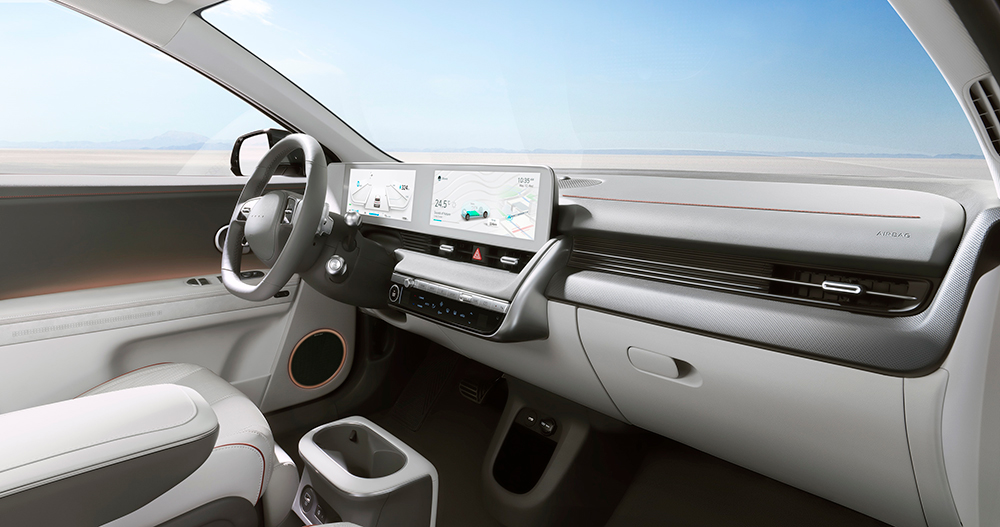 SPACE
The Good Design Awards Jury commented: "This car represents a step change in Hyundai design language and is a great example of how an EV drivetrain can liberate both exterior and interior designers. The smooth, elegant and highly technical looking exterior looks like it could wear the badge of a more expensive prestige marque such as Audi, and instantly signals this is a high-tech EV. The exterior design looks muscular and dynamic in side view, while the interior is fresh, hi-tech and light filled, making good use of the extra packaging space afforded by its EV drivetrain.
The narrow grille and pinched headlights give the front end an expressive, almost robot-like visage, which supports the hi-tech narrative. Love the clean, uncluttered lines of the dash and the effort that's gone into tidying up the usual array of switches and buttons. Technical highlights such as ultra-rapid charging capability and impressive battery range show real advancement in terms of EV capability.
The use of eco-friendly materials such as bio-paint and eco-process leather are also positive for the environment, as is the extensive use of recyclable metals and plastics. Other technical highlights include a very low drag coefficient, vehicle to load (power source) capability and world-first support of multi-charging standards. Overall a great design, which transforms the Hyundai brand into the future."
---
2021 AUTOMOTIVE DESIGN AWARD – BEST EXTERIOR DESIGN
Receiving the Automotive Design Award for Best Exterior Design was the GMC Hummer Electric Vehicle. The GMC Hummer Electric Vehicle, designed by the GM Design Team for General Motors, reimagines an iconic silhouette as a fully electric supertruck.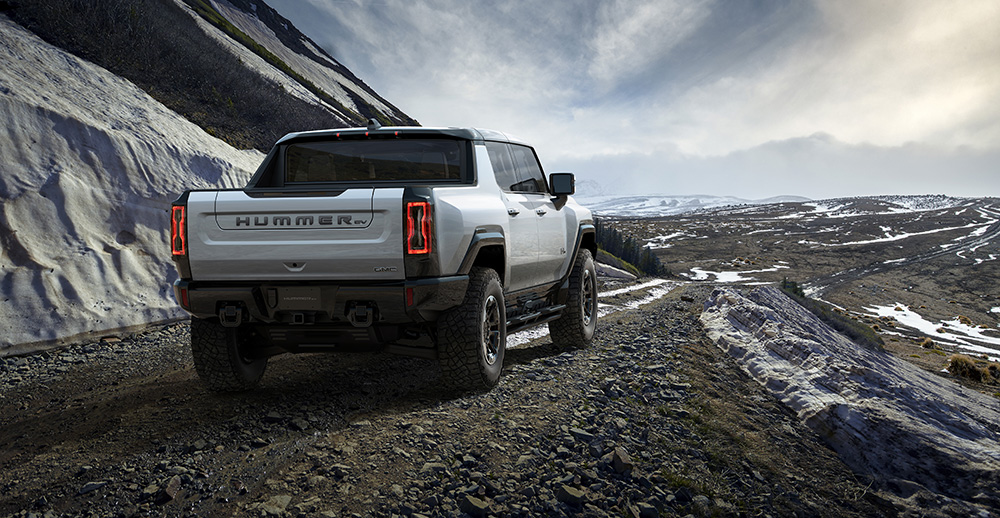 SPACE
Completed in a 15-month design process and powered by GM's new Ultium battery system, they offer capability, luxury, modern design and extreme off-road capability.
GMC wanted to create an aesthetic that would drive the entire design team to think in a future state. The design mantra became "Off-Road Aerospace", driving the aesthetic on both the interior and exterior. This single focus and a streamlined decision-making process enabled a faster design development process. Unique lighting solutions, based on micro-cone technology, advanced the light signature and the face of the new GMC Hummer EV, with the vehicles' functional attributes in performance, both on and off road, contributing to the success of the supertruck.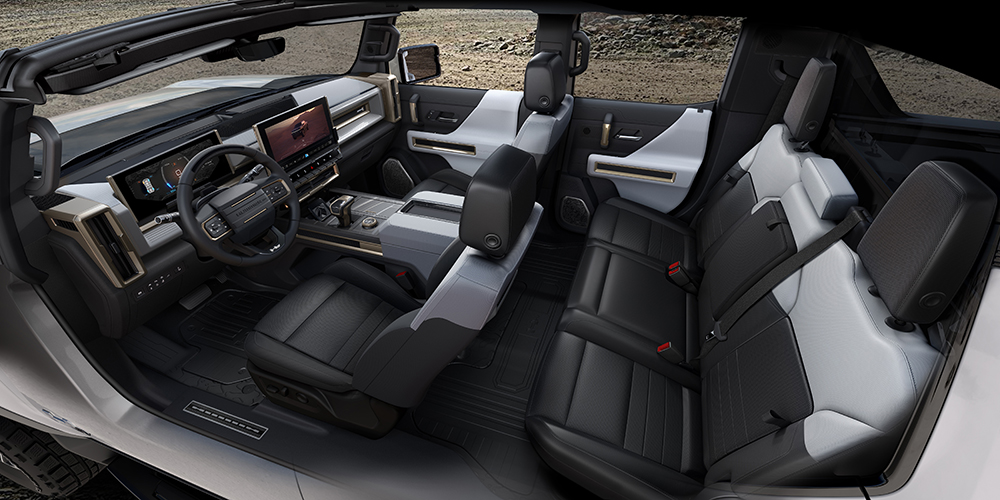 SPACE
The recognition of GMC's "Quiet Revolution" is helping change the stigma around the Hummer name, reinforcing that their iconic vehicles are fully electric with zero emissions. GMC received record website traffic following the reveals, with the first edition of the GMC Hummer EV selling out within 10 minutes.
The Good Design Awards Jury commented: "This powerful and sophisticated design reimagines the iconic Hummer with a modern design sensibility. As before, the Hummer exudes strength and purpose but in this iteration is far more sophisticated and hi-tech. It's an intriguing combination of rugged off-road capability, luxury, and modern design. There is clever use of new lighting technology on the exterior which highlights the sophisticated new design signature. There are too many cool features to mention but the innovative and useful 'crabwalk' really stands out, as do the lightweight removable infinity panels and 'frunk' storage, which enable an open-air driving experience."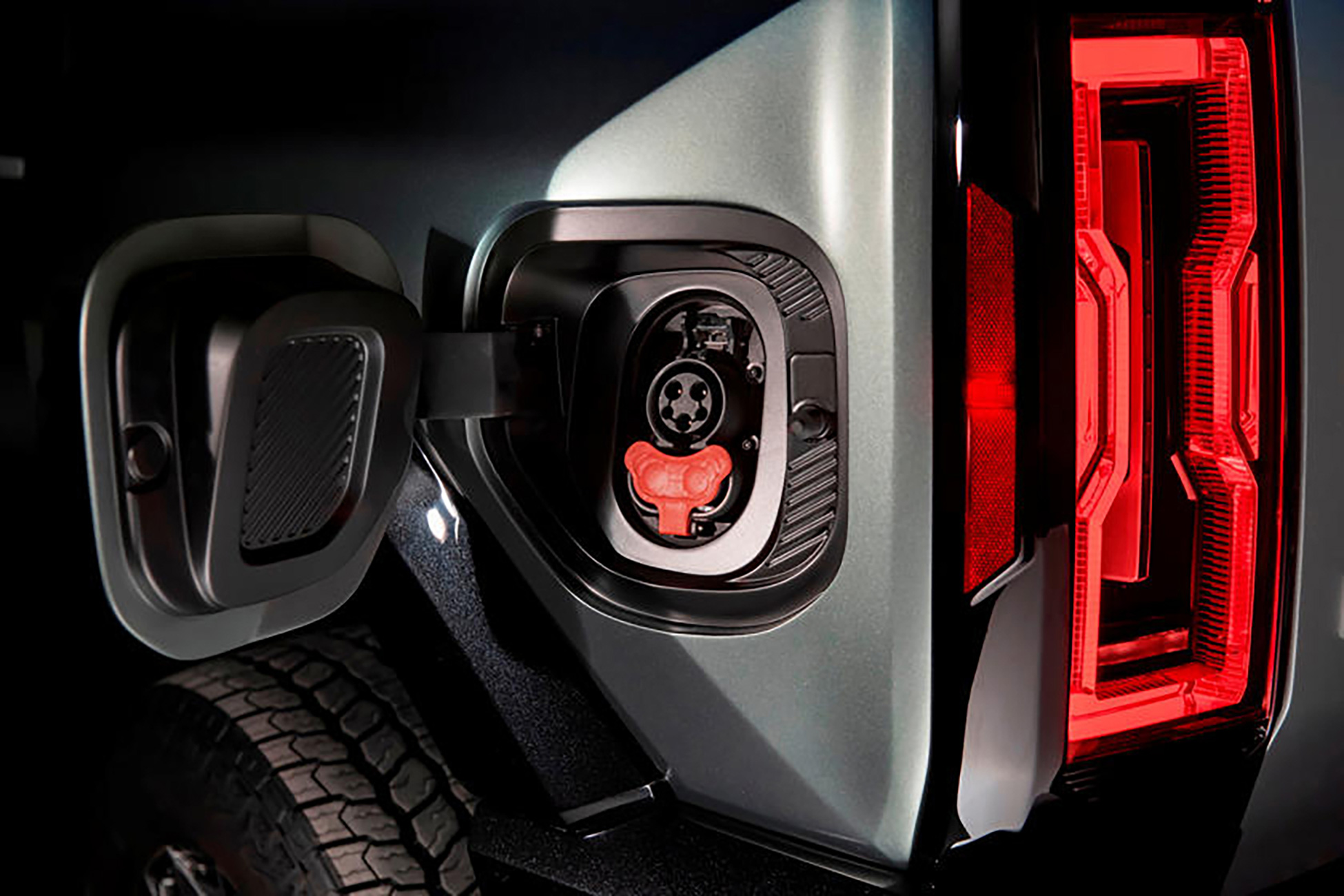 SPACE
"The generously proportioned interior has plenty of its own design highlights, including the clever melding of purposeful features like toggle switches, with the highly technical screen and instrument cluster. This new fully electric model will not just help change the stigma around the Hummer name, but potentially also help accelerate the uptake of Evs by convincing conventional pickup truck buyers to see that EVs can be cool. The fact GM is building this new product in its new zero-emissions plant is also a major step forwards in terms of sustainability." concluded the Good Design Awards Jury.
---
DOWNLOAD HIGH-RESOLUTION IMAGES OF AUSTRALIAN GOOD DESIGN AWARD WINNERS HERE FOR PRODUCT DESIGN