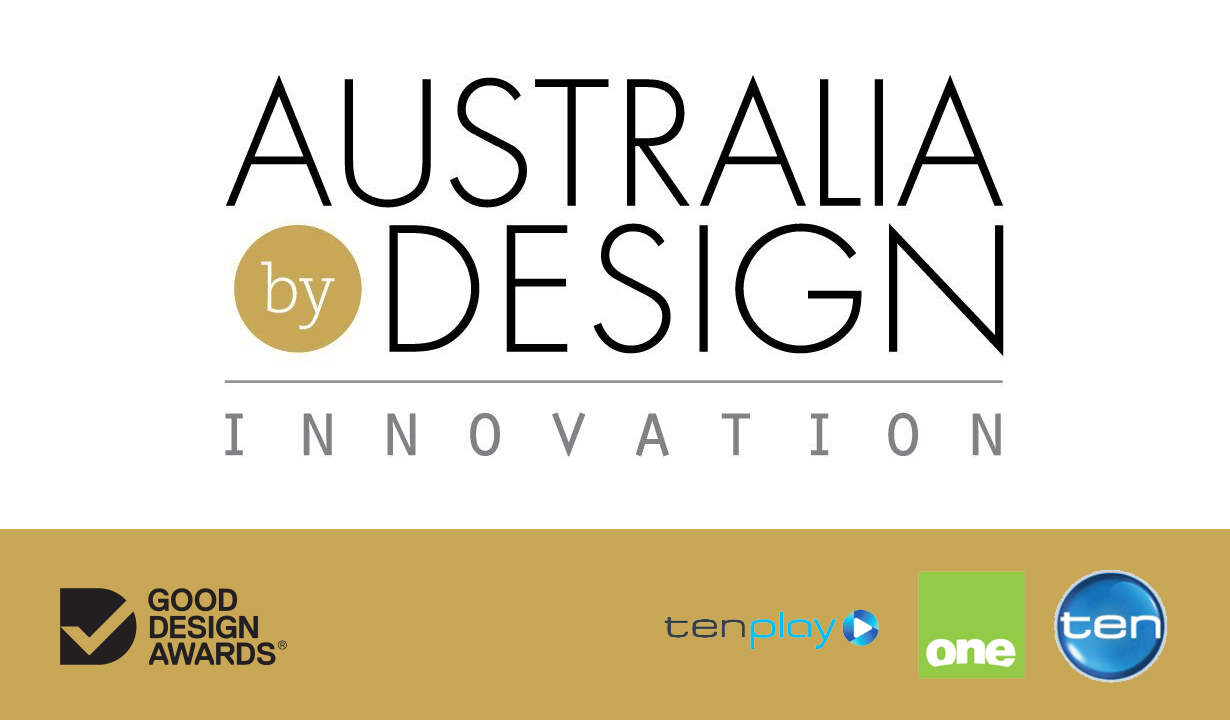 NEW SERIES TV PREMIERE
Published on: 5 October 2017
Share
Australia's top innovators and Industrial Designers join forces on new national TV Show 'Australia By Design Innovation'
Australia's leading innovation experts will be on the judging panel for the new television series Australia By Design Innovation, airing on Channel TEN and ONE.
The series featuring six episodes, each half an hour long, will showcase 40 of the best innovations and designs drawn from the national Good Design Awards.
What is Australia By Design Innovation?
Australia By Design Innovation is a brand new television series that aims to bring good design into the hearts and minds of Australians. Reminiscent of popular shows such as Beyond 2000 and The New Inventors, Australia By Design Innovation will feature eight different innovations in each episode, one or more of these innovations are chosen to go through to the final episode to be featured as the top 10 best innovations of the year.
The final episode counts down the best top 10 innovations drawn from the series. It will be up to the show's expert panel of judges to decide which innovation will be declared Australia's top innovation of the year.
Who is involved?
Fresh from his duties as host of the Australia by Design Architecture series, renowned Australian architect Tim Horton has been announced as the series host for 2017. "Innovation at its most simple is about bringing an idea to market, but the power comes when you link design to creativity which allows that innovation to answer a need we didn't know we had," Mr Horton said.
Alongside Tim Horton, the key presenters are Dr Brandon Gien CEO, Good Design Australia and Terri Winter Founder, Top3 by Design, "Australia by Design Innovation features some of the best and brightest ideas in Australia – everything from solar powered BBQs, shark repellent surfboards, to a new life saving smoke detector for the bush. The series uncovers the inspirational stories behind these amazing innovations and how good design has turned them into brilliant products and services" Dr Gien explained.
The Australia By Design Innovation judging panel consists of Australia's top industrial designers and leading innovators that include Sam Lanyon, Executive Director and co-founder of Planet Innovation a global leader in Medtech innovation, Peter Freedman AM Founder and Chairman of RØDE Microphones Australia's number one manufacturer of audio equipment, Ben Cooper, Managing Director of Tricky Jigsaw a division of M&C Saatchi and Edward Khoury, Founder and Managing Director of leading WA industrial design firm Form Designs Australia.
Australia By Design Innovation will be airing on TEN from 2:00pm Saturday, October 28 and on ONE from 3.30pm Sunday October 29 for six consecutive weeks.
For media enquiries and interviews with Tim Horton or Dr. Brandon Gien please contact:
Tony Maughan, Partnership Producer, MWC Media
M: +61 409 504 030 E: [email protected]
Preview the show HERE