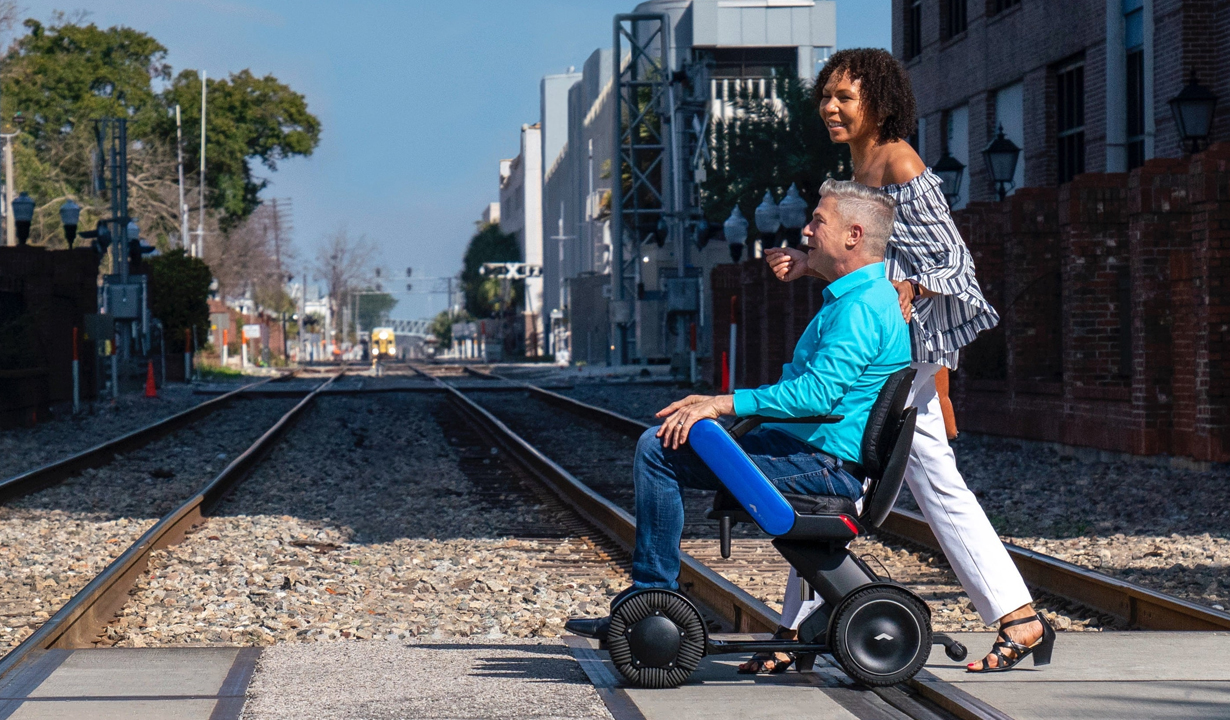 2021 GOOD DESIGN AWARD OF THE YEAR
Published on: 12 November 2021
Share
Intelligent Personal EV for empowered mobility wins Australian Good Design Award of the Year 2021.
Feature by Freya Lombardo
We all hit stumbling blocks from time to time. For most of us, these are metaphorical challenges for our psyches to surmount. However, for those with mobility issues, navigating daily life and the simplest of tasks presents literal obstacles that can feel like mountains.
When the designers at WHILL heard their wheelchair-bound friend say – "I've given up on even going to the grocery store just two blocks away" – they knew it was time to put their combined expertise across transportation and engineering to the test.
Not only was their friend exhausted by the physical difficulty of traversing from A to B, let alone beyond, they could see the toll that being self-conscious and feeling less than capable was having emotionally. They also knew he was by no means alone.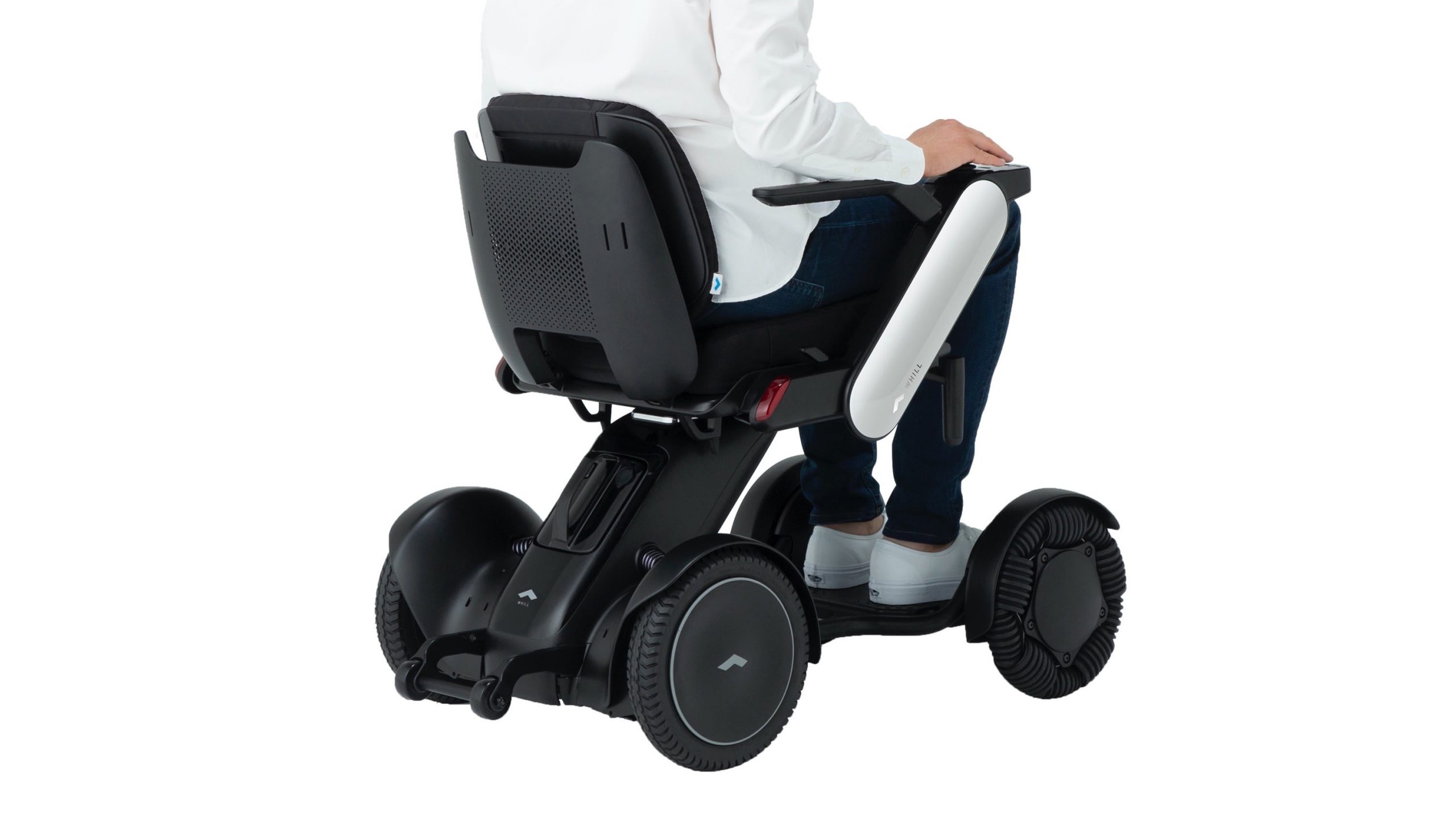 Currently, there are more than one billion people who live with disabilities[1] in the world and over 75 million people who need a wheelchair on a daily basis[2]. The world's population is also ageing rapidly. From 900 million in 2017, the number of people over 60 is expected to more than double to 2.1 billion people by 2050. Given we are still a long way from truly inclusive smart cities – and environments that are accessible to all – there is a huge opportunity to tackle the needs of current and future mobility challenged people.
"We wanted to address the negative stigma as well as the antiquated design and function of wheelchairs and scooters with a personal mobility device that could help people overcome the physical, emotional and psychological barriers that limited mobility can impose," explains WHILL CEO Satoshi Sugie.
The design team at WHILL took an empathetic approach to re-engineering the wheelchair for the 21st century, fusing innovative design and smart technology. Conventional wheelchairs were designed as 'medical devices' for 'patients', and are completely outmoded for people wishing to be fully integrated in society. The Model C2 continues WHILL's quest to empower personal mobility. This model significantly updates the functionality and features of its Model C predecessor at a lower price point.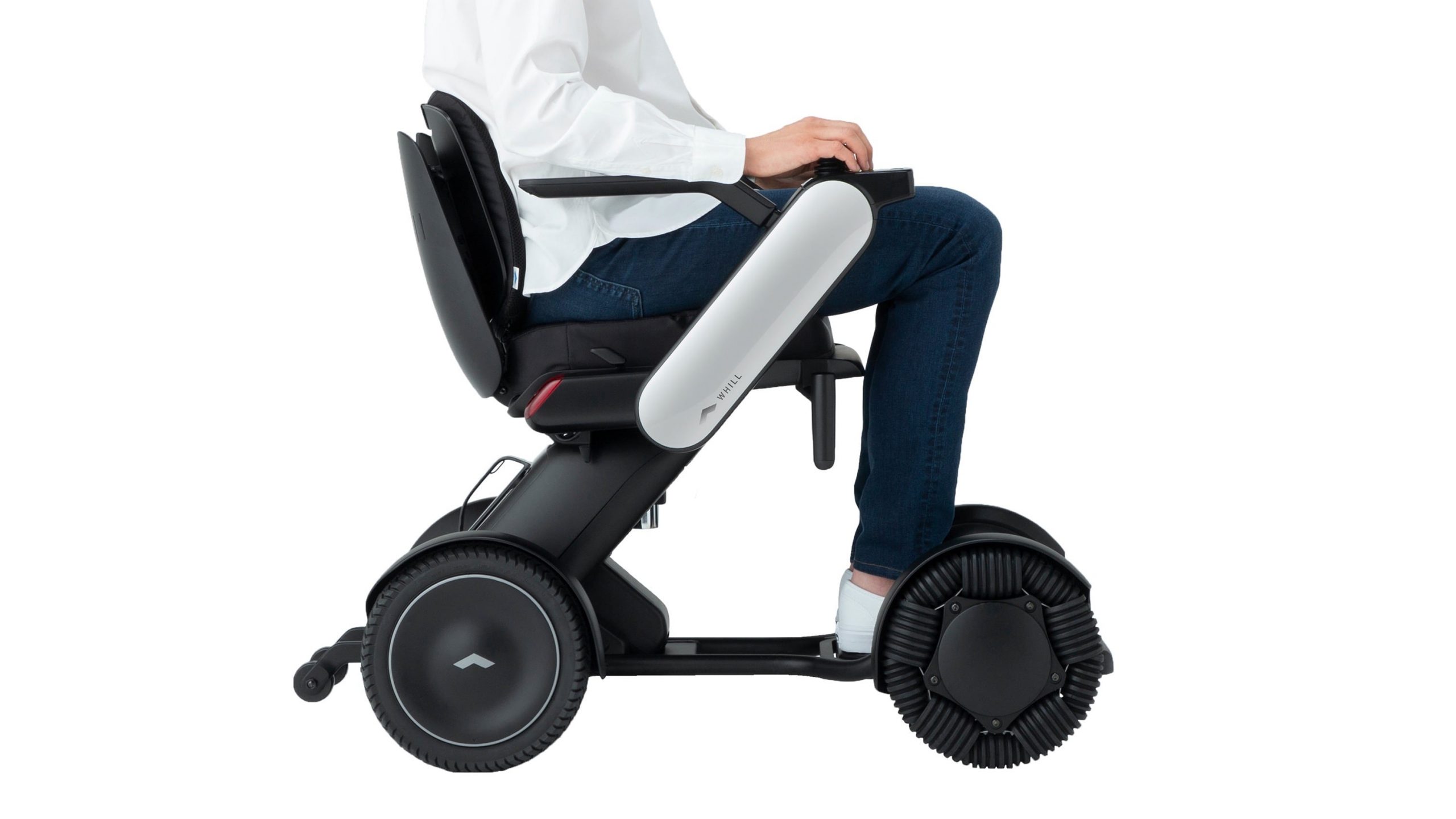 WHILL's Model C2 Personal Mobility EV received Australia's Good Design Award of the Year 2021 and impressed the jury as "an excellent resolution of a product where designers can really make a difference and help to make people's lives better."
Both powerful and agile, WHILL's Model C2 is exhilarating and fun to drive. From socializing with friends and family to exploring the great outdoors, the Model C2 empowers users to enjoy their world freely, indoors and out. Finally, there is a personal mobility EV that boosts users' confidence, independence and feeling of being in control.
FORM AND FUNCTION
With its clean lines, minimal form and ergonomics, the Model C2 puts users in an active rather than passive posture. This simple shift helps boost user confidence and encourages a can-do lifestyle.
"The intent is to fundamentally change the attitude of the user and perception of surrounding people through an active design language," says Sugie.
The Model C2 boasts two motors powered by a rechargeable lithium-ion battery that can be removed and charged in a regular household outlet. WHILL's Model C2 can travel approximately 18kms on a 5-hour charge, giving users ample power to go about their day.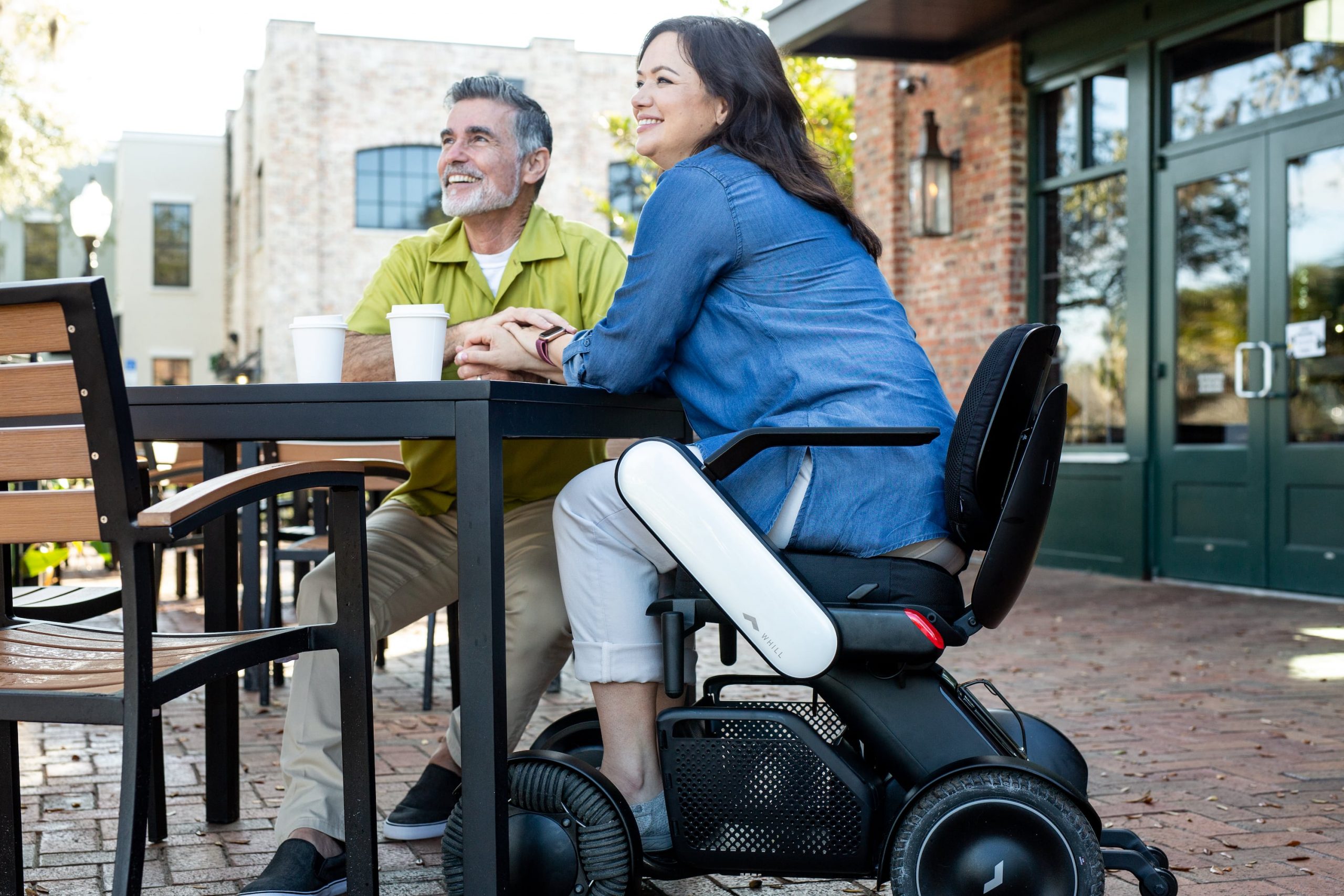 Large patented omni-wheels can traverse diverse, uneven terrain and climb over obstacles up to 5cm in height with ease, all while maintaining a tight turning radius. Rollers on the omni-wheels allow it to glide sideways for increased manoeuvrability. The C2 can accelerate to 8km/h, and its LED screen shows speed and remaining battery power. It can also tackle inclines of up to 10 degrees and will climb steeper terrain with safety warnings for the user. The low-profile joystick gives users excellent control without wrist fatigue. Seat height and back are fully adjustable. Comfort is ensured with premium cushioning and adjustability to guard against pressure sores. With a total weight of 52kg, the Model C2 easily disassembles into three main components for easy transport in a car boot.
SMART TECHNOLOGY
Added control comes in the form of an integrated app and security features. Users can summon their chair from their smartphone and remotely control it. The C2 can be locked and unlocked using the smartphone app to prevent theft or misuse. Technical support and troubleshooting are also available through the app.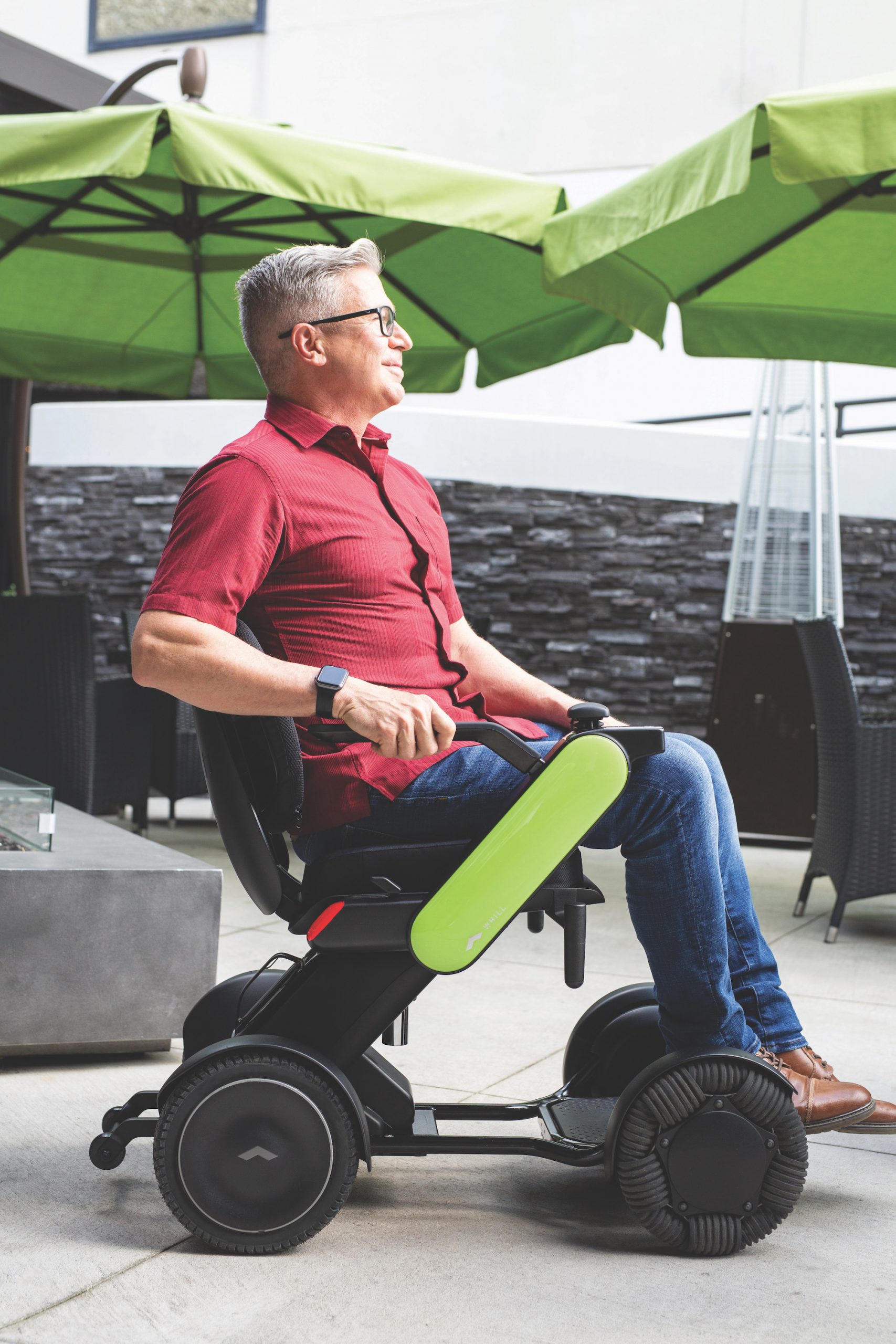 SAFETY
The Model C2 is able to drive straight on tilted paths, preventing it from skidding and drifting. Rear wheel suspension absorbs the impact when driving over bumpy roads or obstacles. There is also a small speaker, from which emanates a voice advising the user if they exceed any of the chairs limits. The tail light is clearly visible even with a bag hung over the back support, keeping the user safe at night and in low light. Its waterproof performance is IPX4 for practice daily use.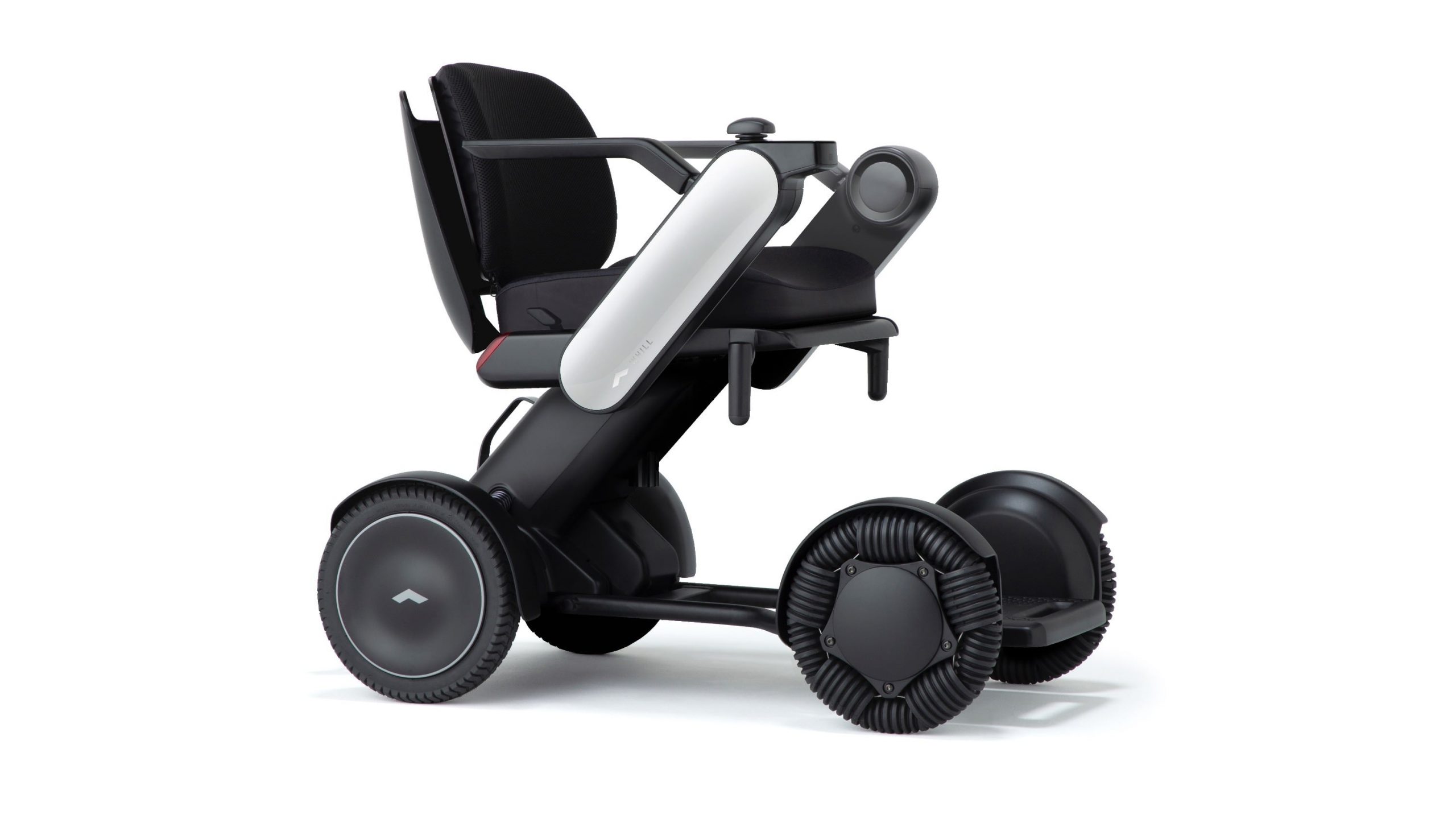 JURY COMMENTS (ENGINEERING DESIGN AND PRODUCT DESIGN): WHILL MODEL C2
"A very attractive and cleverly designed product that addresses a clear need. It elegantly reinvents the current clunky, medical-look of most personal mobility vehicles we see in Australia today. It is a great looking device, with a clean, minimalist, aesthetic. The fact the electric motors are hidden out of sight in the wheel and chassis contributes to the clean look.
The use of large omni-wheels to aid in navigating obstacles, tightening the turning circle and enabling sideways movement is clever. The more active seating position will no doubt be greatly appreciated by users as it puts them on a more equal level with able bodied people, such as when seated at a table. Also has a great looking app that not only will bring a chair to the person, but also hints at autonomous ability.
The market for such a product is already huge but set to grow significantly, so it addresses a clear need and has obvious commercial potential, provided it is priced well. This entry is an excellent resolution of a product where designers can really make a difference and help to make people's lives better. A superb rethink and reinvention of the wheelchair.
The design addresses many of the challenges of conventional wheelchairs. The lightweight styling is very appealing, while the ability to easily stow in a car and to readily navigate difficult terrain are major successes. The simple fact of ageing populations makes the WHILL a high value-proposition design because it gives people with constrained mobility more independence and higher quality of life (through enhanced mobility, reduced stigma and more independence)."
---
[1] According to the World Health Organization (WHO) a disabled person is anyone who has "a problem in body function or structure, an activity limitation, has a difficulty in executing a task or action; with a participation restriction".
[2] Source: https://www.inclusivecitymaker.com/disabled-people-in-the-world-in-2021-facts-and-figures/