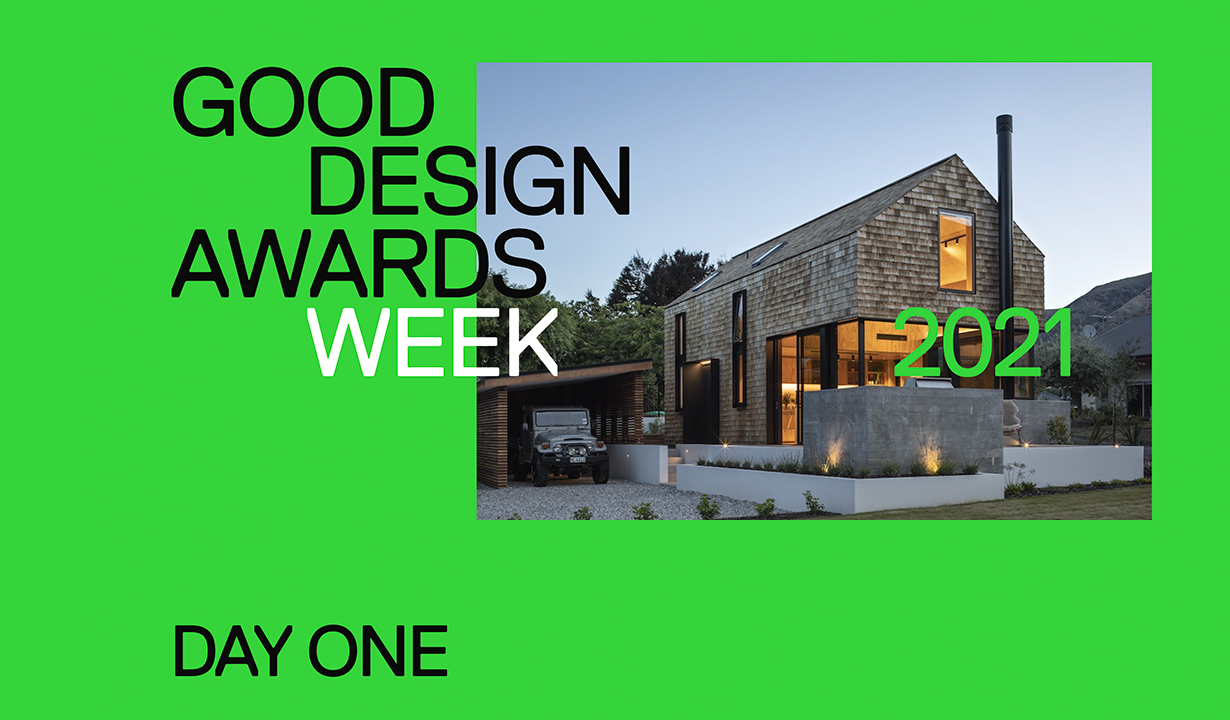 GOOD DESIGN AWARDS WEEK – DAY ONE
Published on: 11 October 2021
Share
Welcome to the 2021 Good Design Awards Week, kicking off with the announcement of the 2021 Australian Good Design Awards for Architectural Design, Precinct Design and Service Design categories.
Also announced today are Good Design Australia's Special Accolades including the Powerhouse Design Award, Greener Spaces Better Places Award and the Design Institute of Australia Award.
The prestigious annual Australian Good Design Awards program is the nation's highest design honour and has been recognising and rewarding excellence in cutting-edge design and breakthrough innovation since 1958.
The Awards recognise design excellence across broad sectors and industries and cover everything from the design of products we use each and every day, the services we interact with, the places and spaces we occupy, to the design of the processes and systems that underpin business, industries and economies right through to projects in the social innovation space.
The program celebrates the best in design and architecture across 12 main design disciplines spanning more than 30 categories. The 2021 Awards involved more than 70 design experts from Australia and around the world who evaluated a record 930 applications.
All entries in the Awards are evaluated against criteria for Good Design (has it been professionally designed?), Design Innovation (is it innovative and ground-breaking design?) and Design Impact (will it have a positive impact on society, the economy and our environment?).
The Australian Good Design Award Best in Class accolade represents the highest level of design excellence in a sub-category and represents absolute best in class design. From a record 930 projects submitted to the Good Design Awards this year, only 28 projects qualified for the Good Design Award Best in Class accolade.
ARCHITECTURAL DESIGN
The 2021 Australian Good Design Award Best in Class for Architectural Design, Commercial and Residential has been awarded to the Puntukurnu Aboriginal Medical Service Newman Clinic Healthcare Hub designed by ​​Kaunitz Yeung Architecture and commissioned by Puntukurnu Aboriginal Medical Service.
The PAMS Healthcare Hub Newman, designed by ​​Kaunitz Yeung Architecture and commissioned by Puntukurnu Aboriginal Medical Service is the first primary healthcare facility of any type to be constructed in Newman, 1,200 kilometers north of Perth, to provide central healthcare services to the many communities in the Western Desert of Western Australia.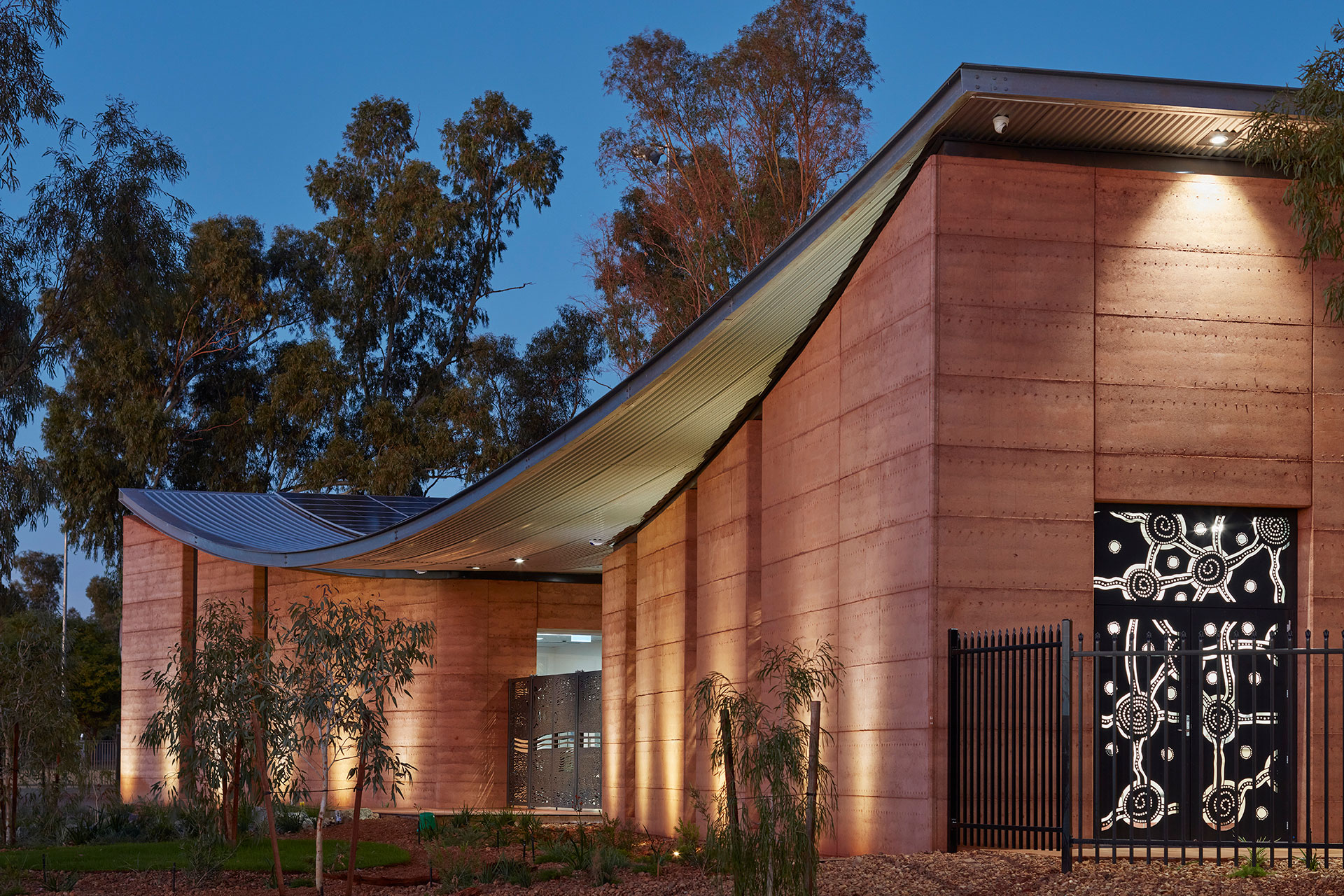 The town, with a majority Aboriginal population, is the main town in the Shire of East Pilbara, with a population of 15,000. The project services the entire region with a particular focus on the local Martu and Nibali Aboriginal people. For the first time, Aboriginal people will have access to community-controlled and culturally appropriate health services with the Newman establishment.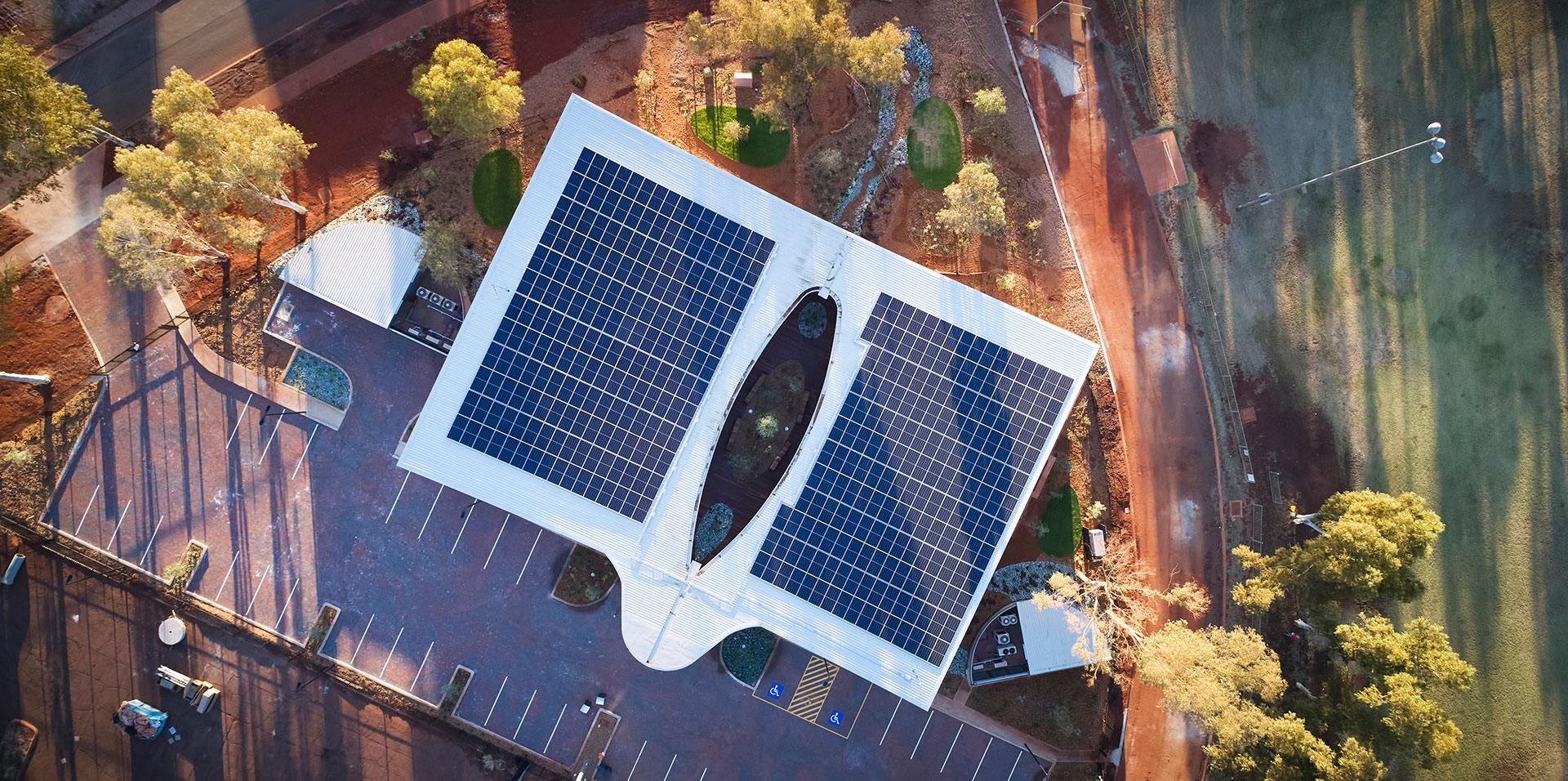 The project required a best practice regional primary health care facility to be the physical embodiment of the client ethos, placing wellness at the center of the community. Newman is community-focused, connected to Country, by incorporating culture and providing high standard care.
The clinic includes general practice, child and maternal health, dental treatment and allied health facilities for visiting clinicians from Perth. The primary aim of this clinic was to minimise the large cost and negative mental health impacts of the Martu and Niaboli people leaving their country and family for treatment in Perth, by providing them with healthcare services in their region.
The architect spent significant time in these communities over many years, which facilitated iterative consultation and a genuine co-design process with the community and specific user groups. Importantly, it enabled impromptu 'yarning', the process in which respectful relationships are built and to preserve and pass on cultural knowledge, enabling all voices to be heard.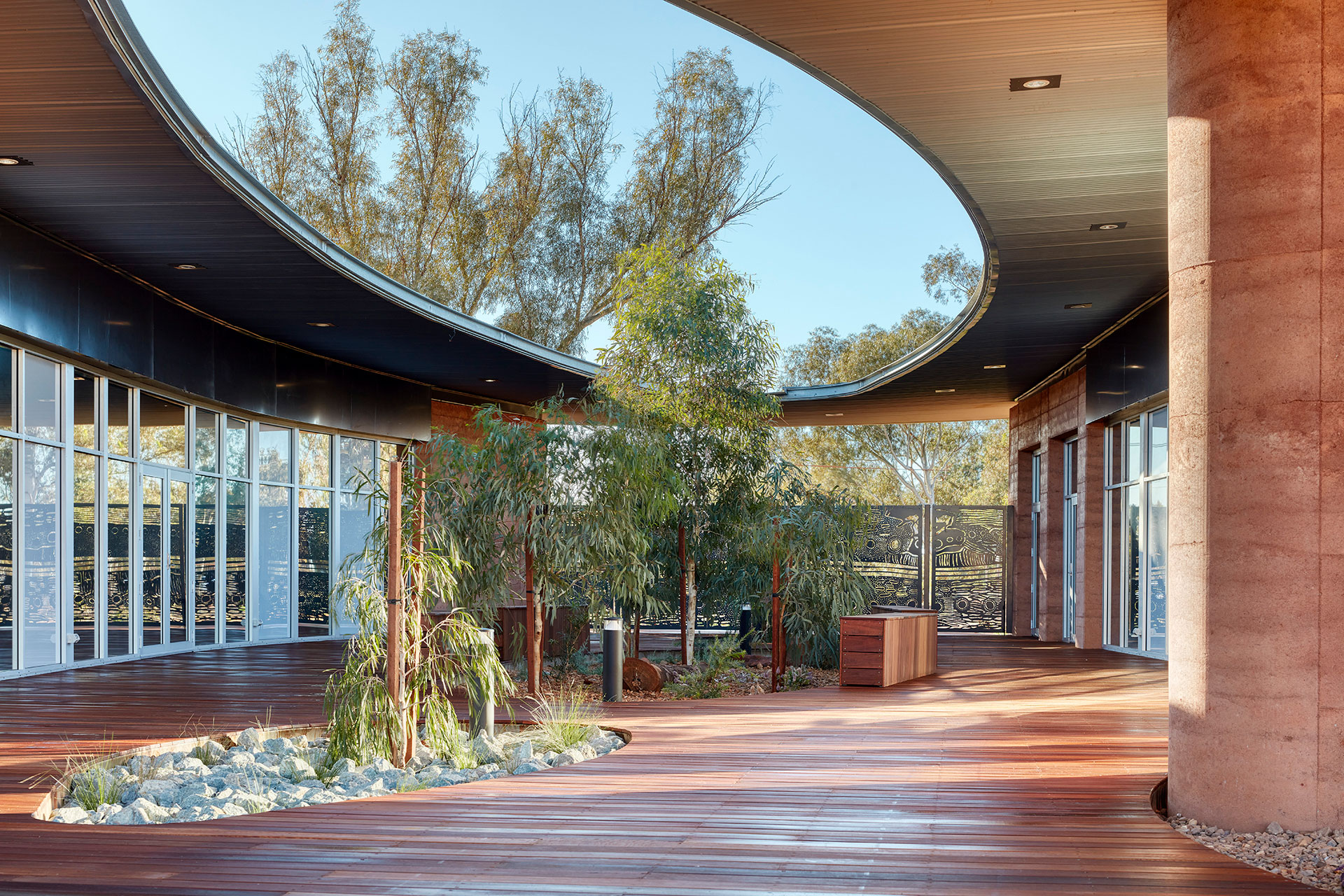 The result is a fine-tuning of the architecture that resonates with the community, enriching the architecture by making it subtly more appropriate to people, place and culture.
The building is predominantly rammed earth, with the original building material abundant, free and sustainable. The earth used for the project came completely from the site, reducing the embodied energy of the building, which would have otherwise been clad in manufactured materials transported from Perth or concrete. However, its value to the project is much more profound than this. Rammed earth creates a human and intuitive connection to its place.
The material is similar to its country, reflecting different light and absorbing rain, which has been extremely significant for Aboriginal people. The landscaping ecologically repairs the degraded site with endemic species and shades the building. Additionally, Newman features a 150kW rooftop photovoltaic array. As a region with 330 days of sun a year, the solar is anticipated to provide 100% of the building's electricity when the sun is shining, as well as increasing the photovoltaic capacity of the Newman postcode by 13%.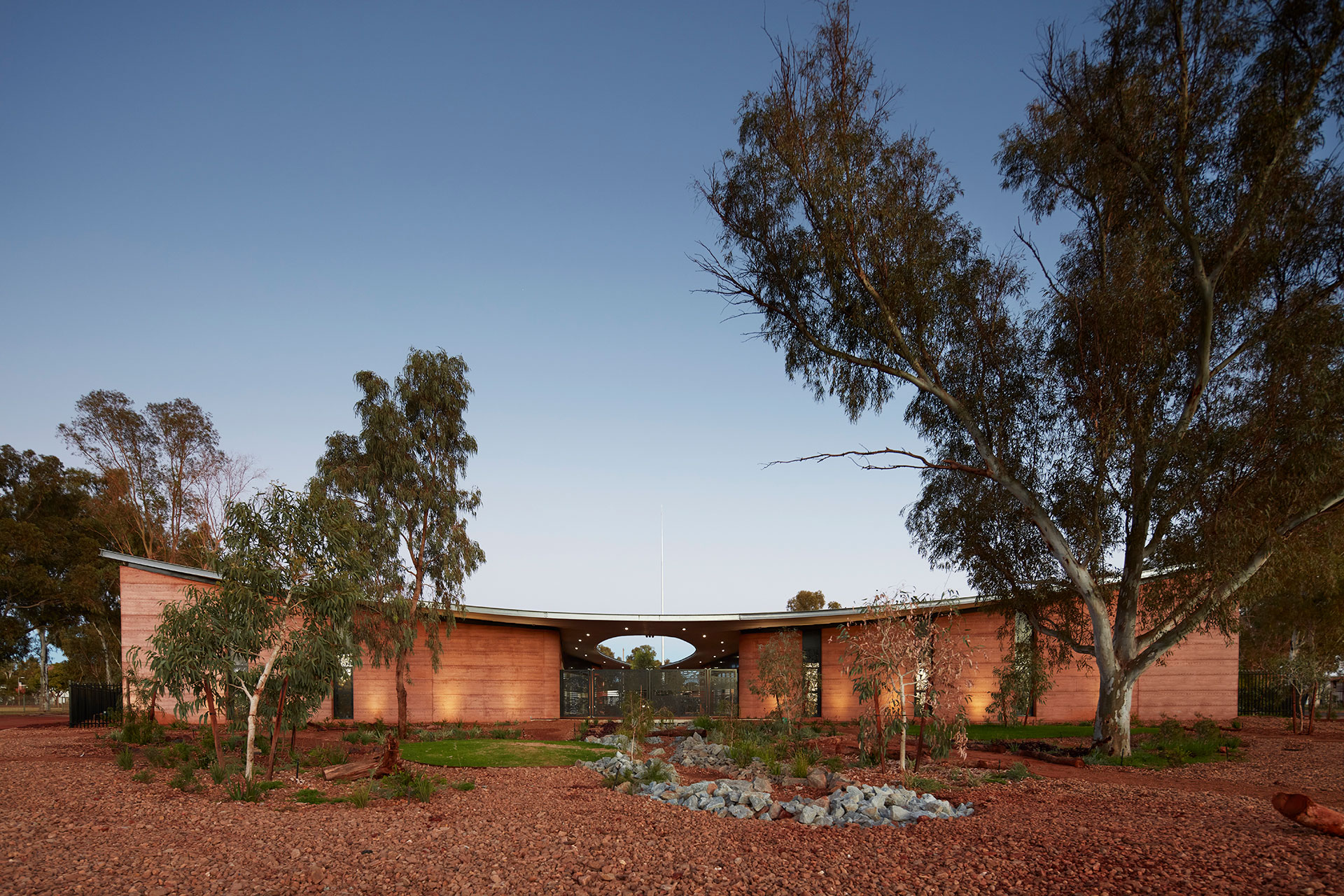 The Good Design Awards Jury commented: "The designers should be commended for delivering such a beautifully designed, environmentally sustainable, and culturally appropriate health facility in one of the most remote and hottest towns in Australia. The building has been sensitively co-designed with the traditional owners of the land. This consultative design process and the inclusion of local artists and communities have come together to create a successful place dedicated to the wellbeing of the people it serves. Well done."
The clinic places the community at the center of health delivery, whilst providing additional clinical space focused on the acute health issues of the community. The strategic plan is focused on community and inclusion with the aim of increasing presentation rates to improve preventative health. Newman is a place that puts wellness at the center of the community.
Dr. Brandon Gien, CEO of Good Design Australia and Chair of the Awards says, "The architectural output of this development is imperative, it is required to enable a state-of-the-art facility that is connected to people, Country and culture. In this way, Newman will support high levels of care whilst being imbued with humanity and embraced by the community."
---
2021 Australian Good Design Award Best in Class for Architectural Design, Interior Design was the SRG House designed by Fox Johnston and commissioned by Katrina and Conrad Johnston.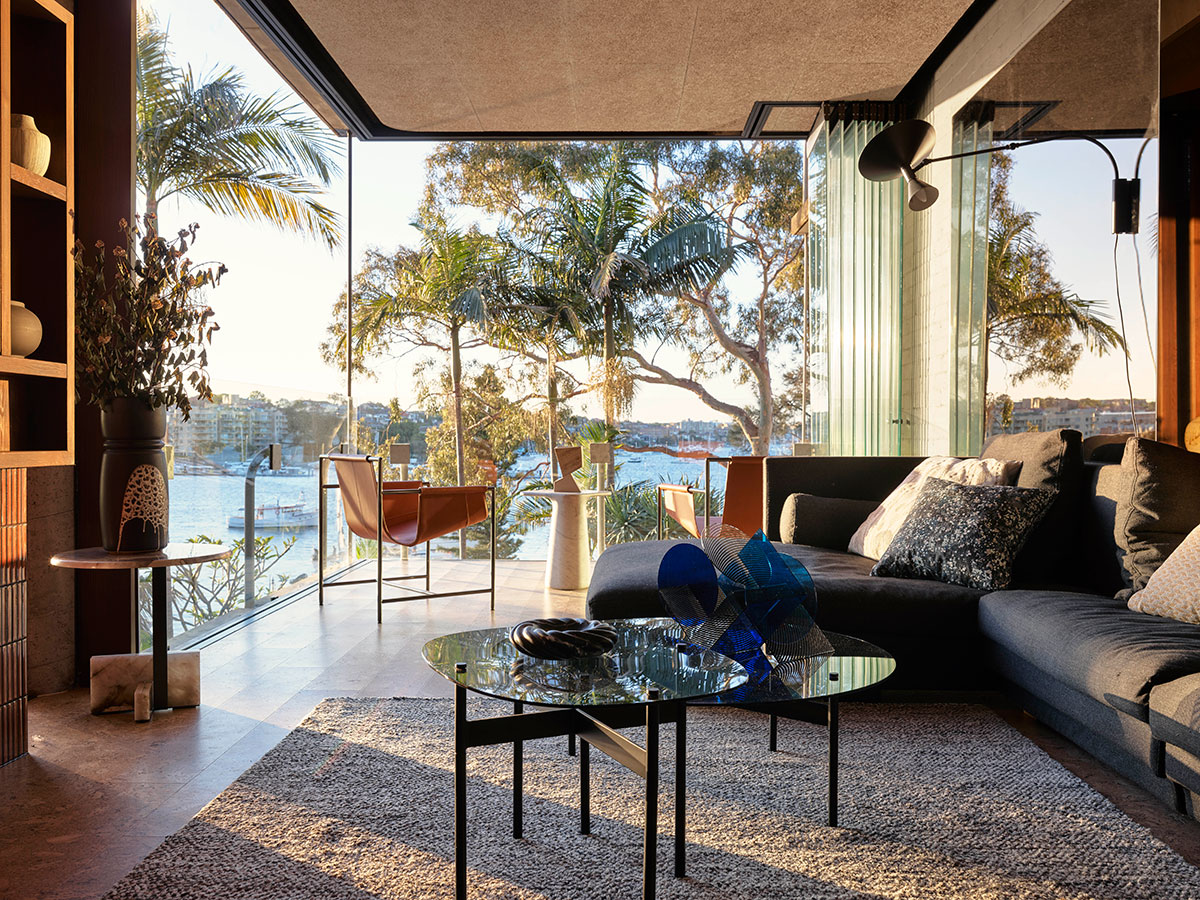 The SRG House is a clever repurposing of an existing 1970s heritage semi of unorthodox geometry into a stunning multi-generational living experience on the edge of Sydney Harbour. Within the original building, extra rooms were created, the structure and links to the landscape strengthened, and original materials referenced in a modern way.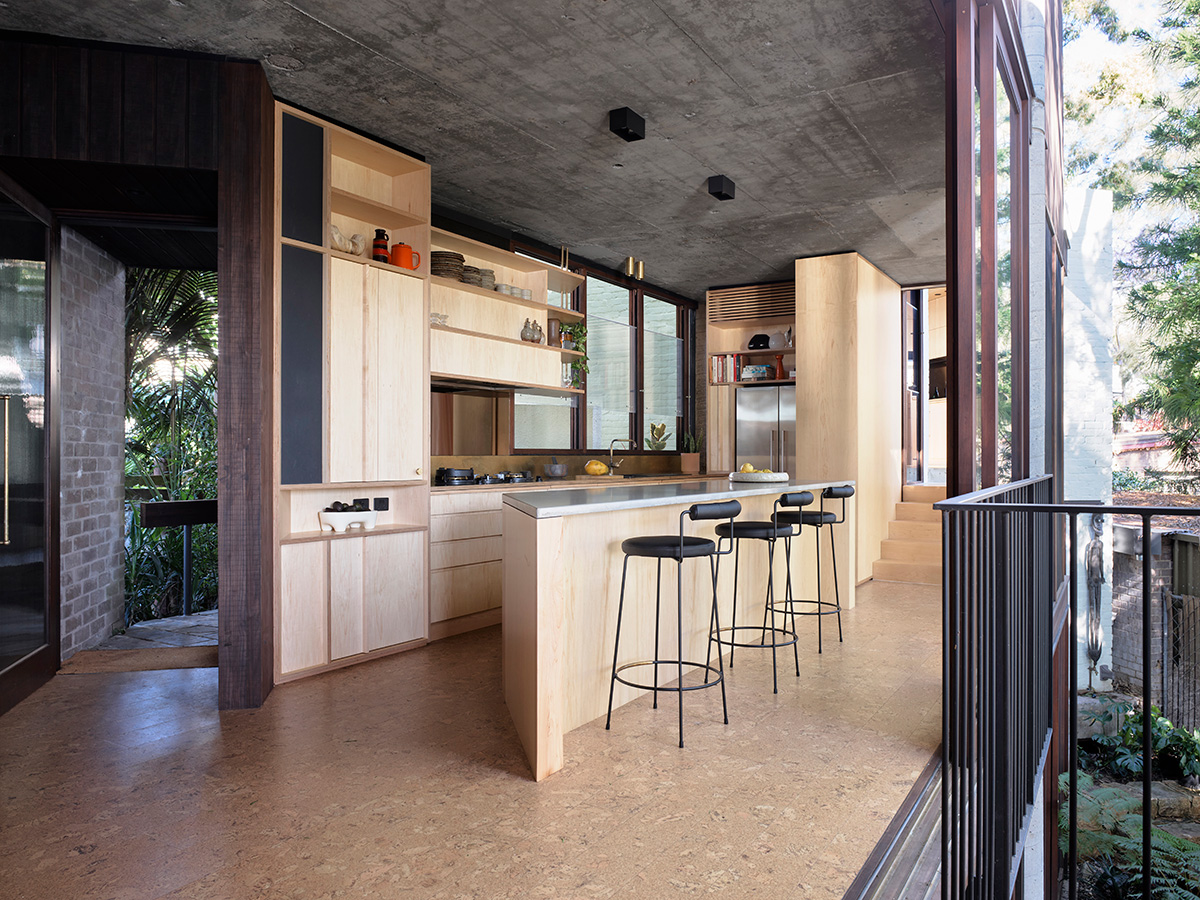 A new self-contained apartment adjoining the garage adds multi-generational accommodation. Originally designed as the Sydney pied-à-terre for visiting architect Sir Roy Grounds, it was not fit for purposes as a permanent family residence. Renovations sensitively conserve the original structure while adding space, amenity and connections to the court garden and harbour.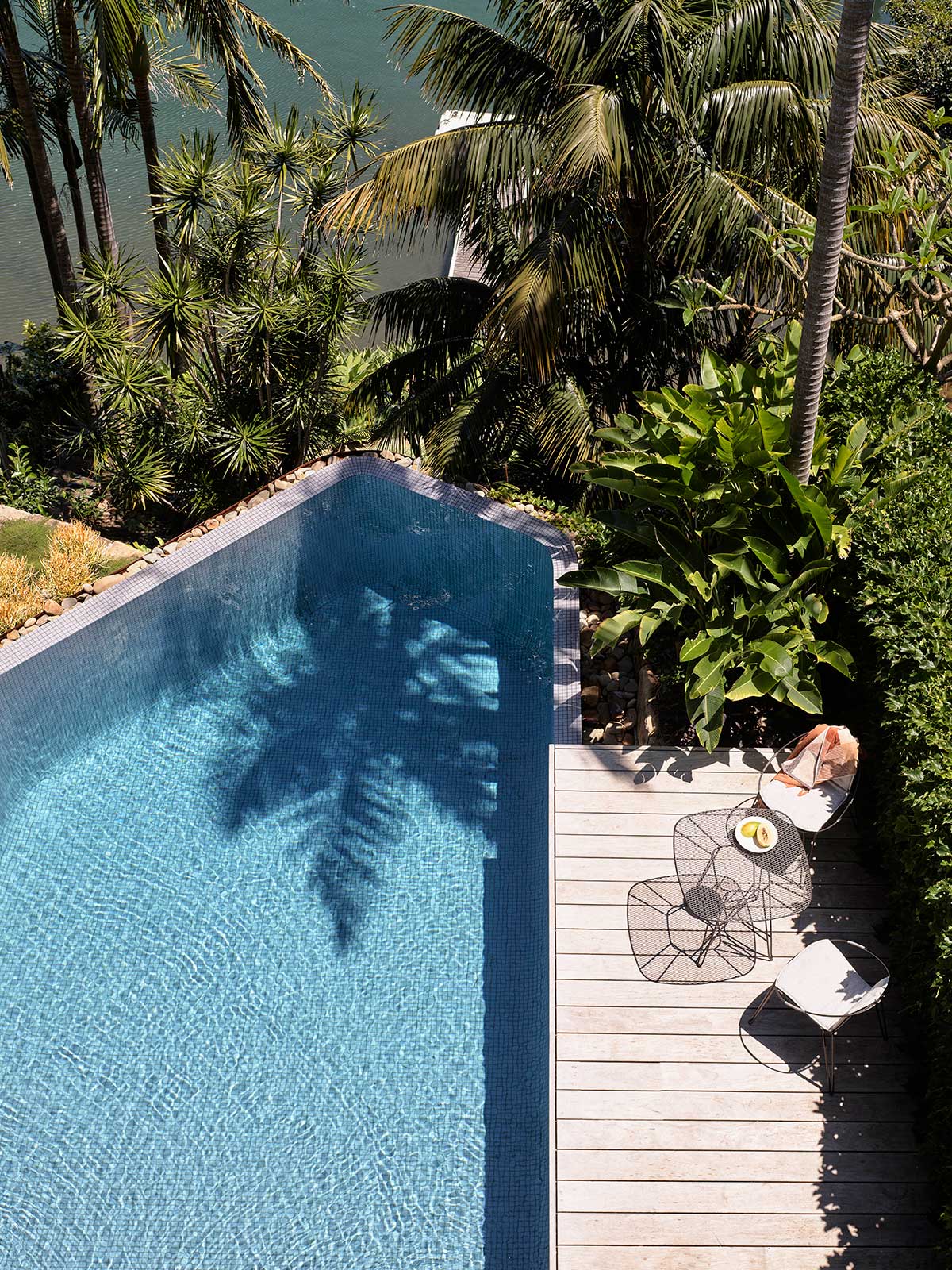 Dr. Brandon Gien commented on the project saying: "This project illustrates how well-designed buildings of the past can be reborn through conservation and reuse, saving embodied carbon and avoiding material waste, to serve not only as private homes, but cultural markers.
Beyond its architectural legacy, the project makes an environmental and ethical point of conservation and reuse. By restoring as much original structure as possible, embodied carbon has been saved, and the unnecessary duplication of materials avoided. Its environmental kit has dramatically reduced energy consumption, despite more people living here. Socially, the impact of bringing two generations together into one property is immeasurable."
The Good Design Awards Jury commented: "A superb revitalisation of an existing quality piece of architecture. It is respectful of the original design, has a clear sense of place and engagement with its harbour context, and will ensure a long future for this quality home. Well done."
---
PRECINCT DESIGN
Also honoured with an Australian Good Design Award Best in Class for Precinct Design was Prahran Square.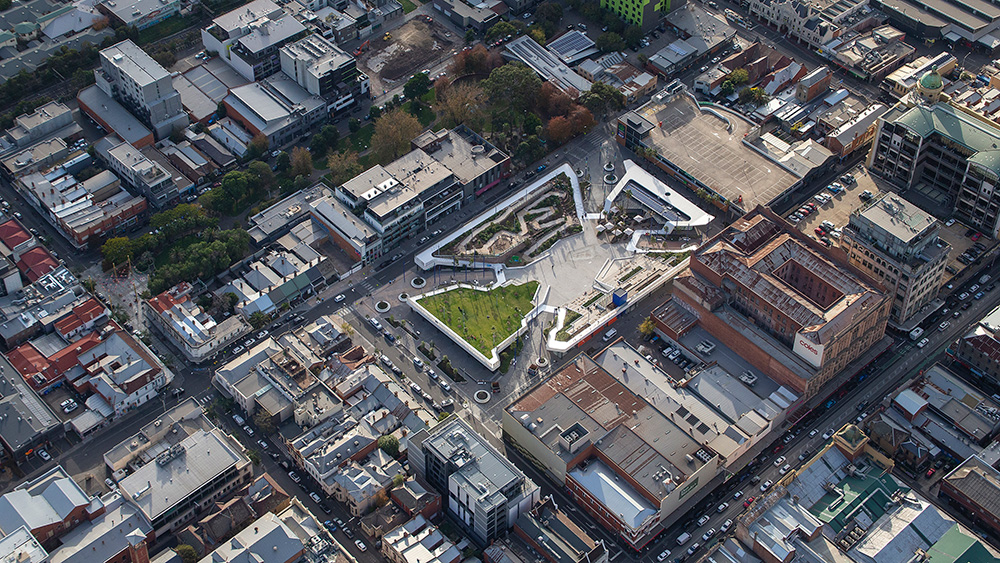 Prahran Square, designed by Lyons and ASPECT Studios (Landscape Architecture) and commissioned by the City of Stonnington is one of the largest national open-air plaza projects, marking a symbolic transformation for the community. The pre-existing car park was transformed into a diverse realm, accommodating the ebb and flow of each day through multi-model landscape spaces, creating a unique framework for community use and occupation.
Prahran Square incorporates an urban park, square, streets, car park and retail spaces, and is designed for intimate encounters to large-scale events.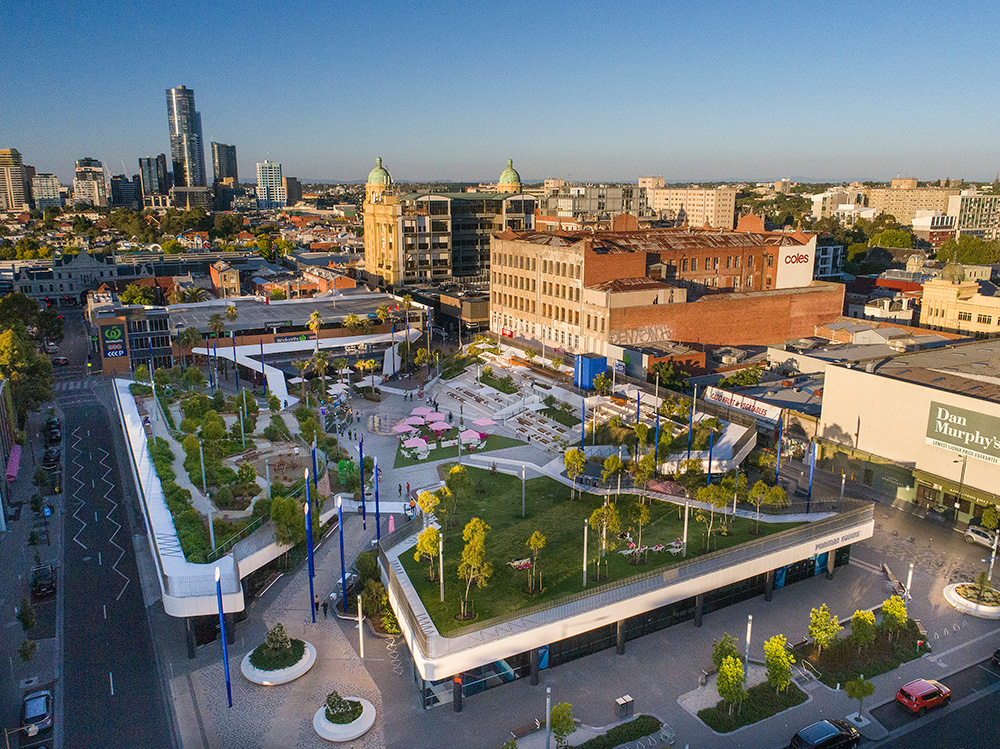 The purpose of the Square was to create a meaningful and functional public space. The previous car park was a breeding ground for antisocial behavior and was reimaged into a diverse public realm for the community. The design for Prahran Square had to meet two critical client objectives: creating a safe and flexible public open space and providing a solution for increased local car parking. The aim was also to make the most of opportunities to collaborate with both the community and artists to create a space that would appeal to a broad range of people and artists.
Dr. Gien from Good Design Australia says, "The space ebbs and flows with the mood of each day and the people that occupy it, allowing the community to define its meaning. This flexibility and accessibility is key in creating a safe public realm. By giving space back to the people, Prahran Square has already transformed a community by making it their own."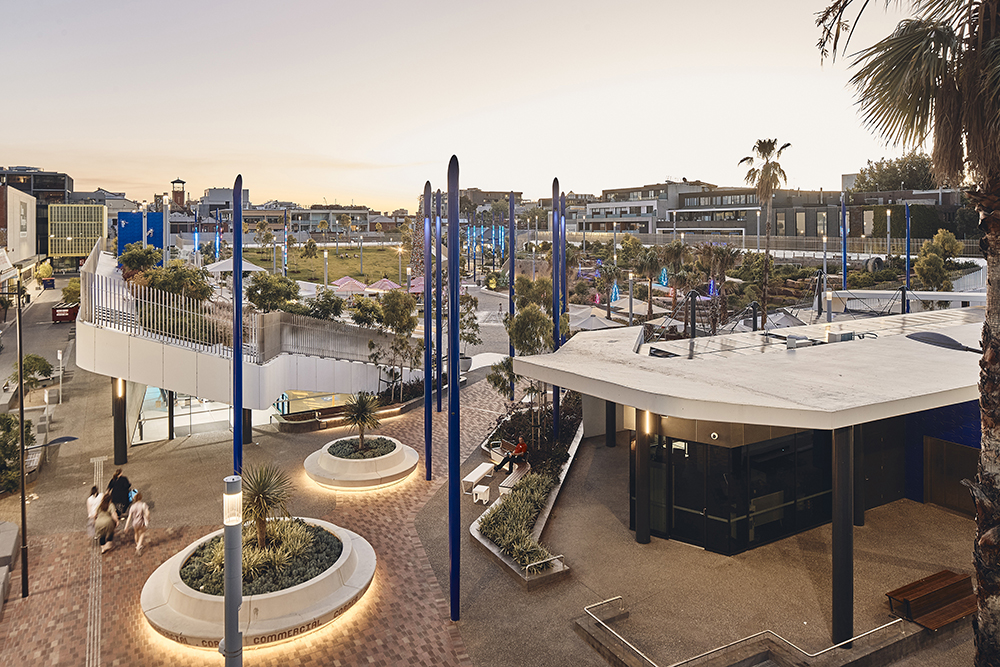 The Good Design Awards Jury commented: "Prahran Square has been repurposed into a lively community hub through its transformation from a car park to a plaza. This is now a people place. A new village heart in a highly urban setting, it has certainly added to the neighbourhood significantly as a place of health and wellbeing and as a connector for the community.
The holistic design strategy has created a very special piece of city building that will have an impact not just from a local precinct perspective but at a national and global level. There are lessons to be drawn from this work that need to be captured and discussed. A really impressive example of good precinct design and a standout project that ticks every box for design excellence in this category. Well done."
---
SERVICE DESIGN
The Australian Good Design Award Best in Class for Service Design was given to two standout projects including the Community of Experts and Innovate Curriculum: School-based Design Thinking for Sustainable Futures.
The Commercial Services winner was Community of Experts designed and commissioned by Optus, a project dedicated to reinventing what it means to give amazing customer care with good design at its core.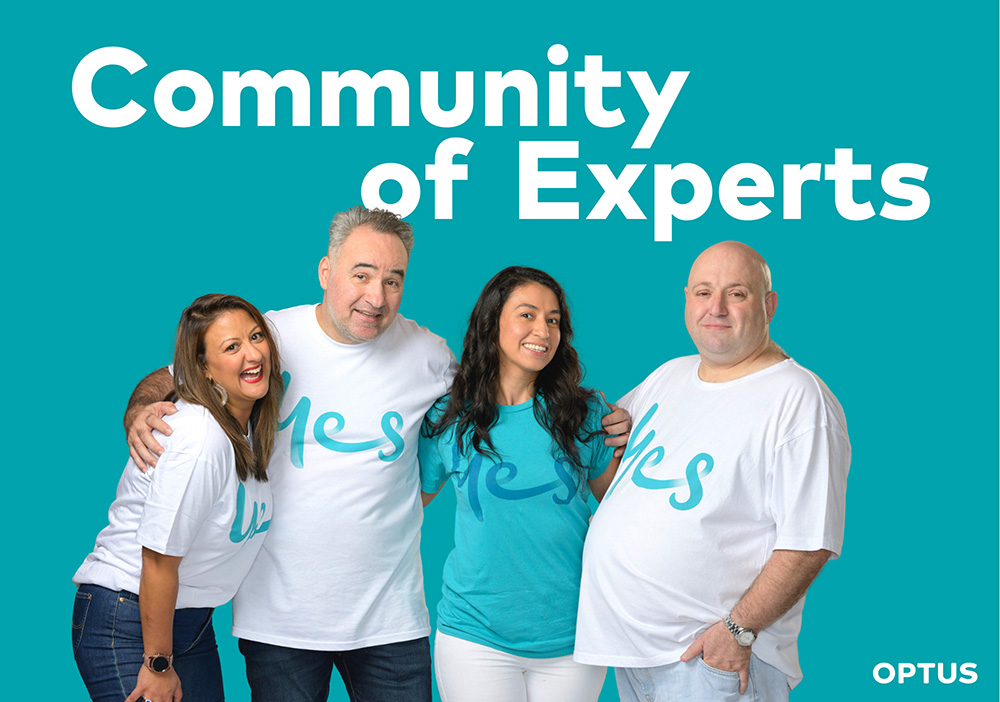 Community of Experts is Optus' largest-ever operational transformation, intent on creating lasting customer relationships. The project was designed to exceed all expectations, and to give their customers the best care experience imaginable. Traditional contact centres are notorious for giving customers the run-around, forcing them to navigate complicated phone menus and get bounced between representatives with specialised knowledge.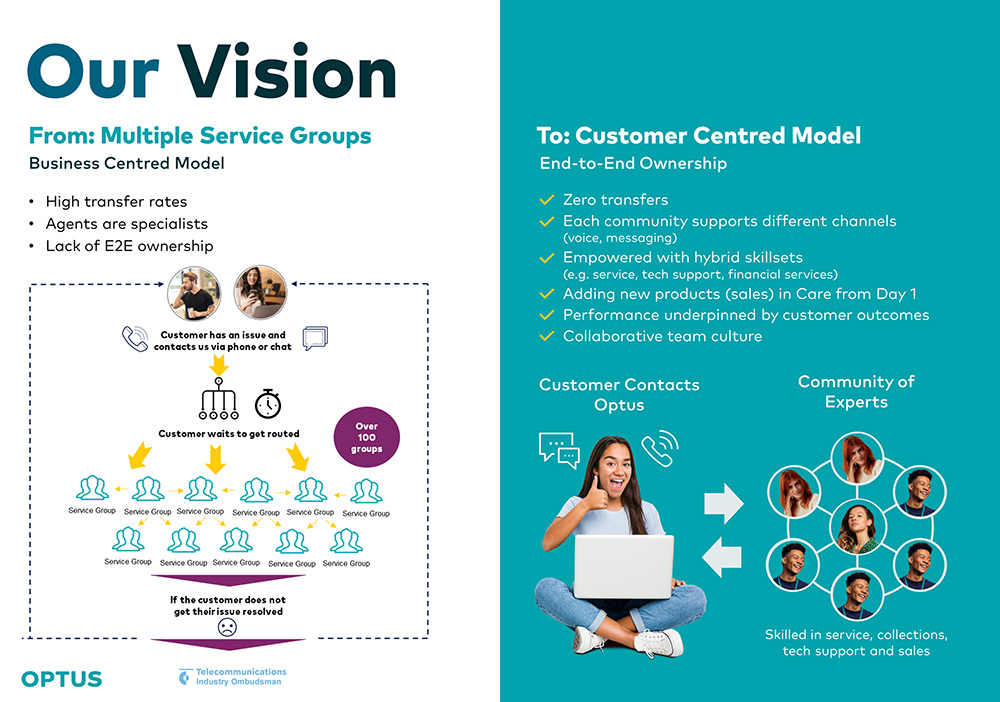 With the objective to become Australia's most loved everyday brand by creating lasting customer relationships, Community of Experts created multi-disciplinary, collaborative teams to solve customer needs, including contract renewal, billing assistance, or answering product questions.
Dr. Gien says "It is a truly customer-centric model and an industry-changing transformation, where every customer is matched to a dedicated team empowered to solve their needs. This is a great example of user-centered design being baked into the complexities of call centers and the end result sets a benchmark for others to follow."
Customers return to the same Community of Experts, with the expert handling the call or message responsible for the customer's enquiry end-to-end. After implementing Community of Experts, Optus recorded sharp jumps in performance, especially true for customer experience, with some communities experiencing record-high NPS, issue resolutions and record-low transfer rates, as well as improving their employee engagement scores.
The Good Design Awards Jury commented: "The team should be commended for a well-executed and holistic service design strategy and design implementation program. What stood out were the clear results from this program — record-high NPS and other performance scores, including high employee engagement. This will make for a powerful case study on the value of design. This is a great customer-centric outcome worthy of the highest accolade in this category. Well done."
---
The Education Services winner was Innovate Curriculum: School-based Design Thinking for Sustainable Futures. The program was designed by The Ed Institute and commissioned by the ACT Government and teaches young people how to use design thinking and systems-level innovation to tackle the biggest challenges of society. Students create solutions that work for their local school community, but have the potential to scale for global impact.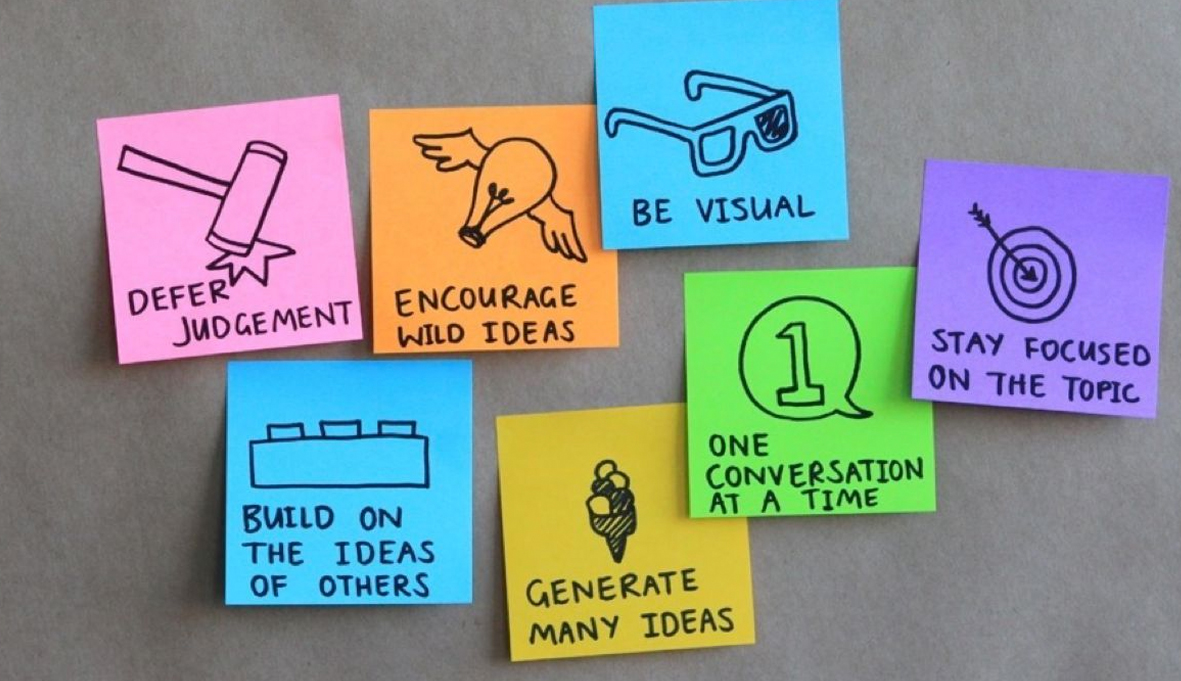 The world is facing major sustainability challenges already being felt in people's day-to-day lives and education is critical to how society responds to these challenges. School systems are eager to adapt their learning to recognise the changing needs of society, environment and the fourth industrial revolution, but don't also have the resources to do so, particularly in communities experiencing vulnerability.
The Innovate Curriculum helps young people aged 12+ zoom into the human experiences and motivations underlying their sustainability challenge and zoom out to understand the wider system. Through a combination of human-centred design and systems thinking, groups of learners research the issue, ideate locally implementable, globally scalable solutions, and prototype, pitch and deliver the idea with the highest potential.
The first implementation of the Innovate Curriculum was co-designed with the ACT Government and piloted in early 2021 by a Canberra school, receiving strong teacher and student engagement, inspiring powerful thinking on the topic of sustainable transport. The curriculum is supported by detailed lesson plans, guides and materials for teachers, to enable them to teach the curriculum in person or remotely. It has been created to span both humanities and STEM dimensions.
The curriculum has been designed to be student-led, with educators teaching theory before becoming facilitators of hands-on practice.
CEO of Good Design Australia, Dr. Brandon Gien, said "Innovate adapts to any sustainability challenge with content from the frontiers of public good design, engaging and empowering students and educators alike. This is a terrific project and such a tangible way to embed design thinking skills in the minds of the next generation of change-makers and innovators. I can't wait to see this rolled out across all schools in Australia."
The Good Design Awards Jury commented: "An extremely well-executed education platform. What is really impressive is the design process the team adopted to go from MVP to a scalable model and engage stakeholders along the journey. By teaching young people how to use design thinking and systems-level innovation to tackle societal issues, like sustainability, it accelerates their role as tomorrow's leaders, change-makers and disruptors. Amazing to think that this tool has made it into our school system and the positive impact it will have on helping to embed design at the core of our education system – bravo!"
---
2021 POWERHOUSE DESIGN AWARD
Honoured with the Powerhouse Design Award was Ceres Tag – Animal Monitoring Technology designed and developed by Ceres Tag, CSIRO Data 61, Clandestine Group and Yomura Technologies and commissioned by Ceres Tag.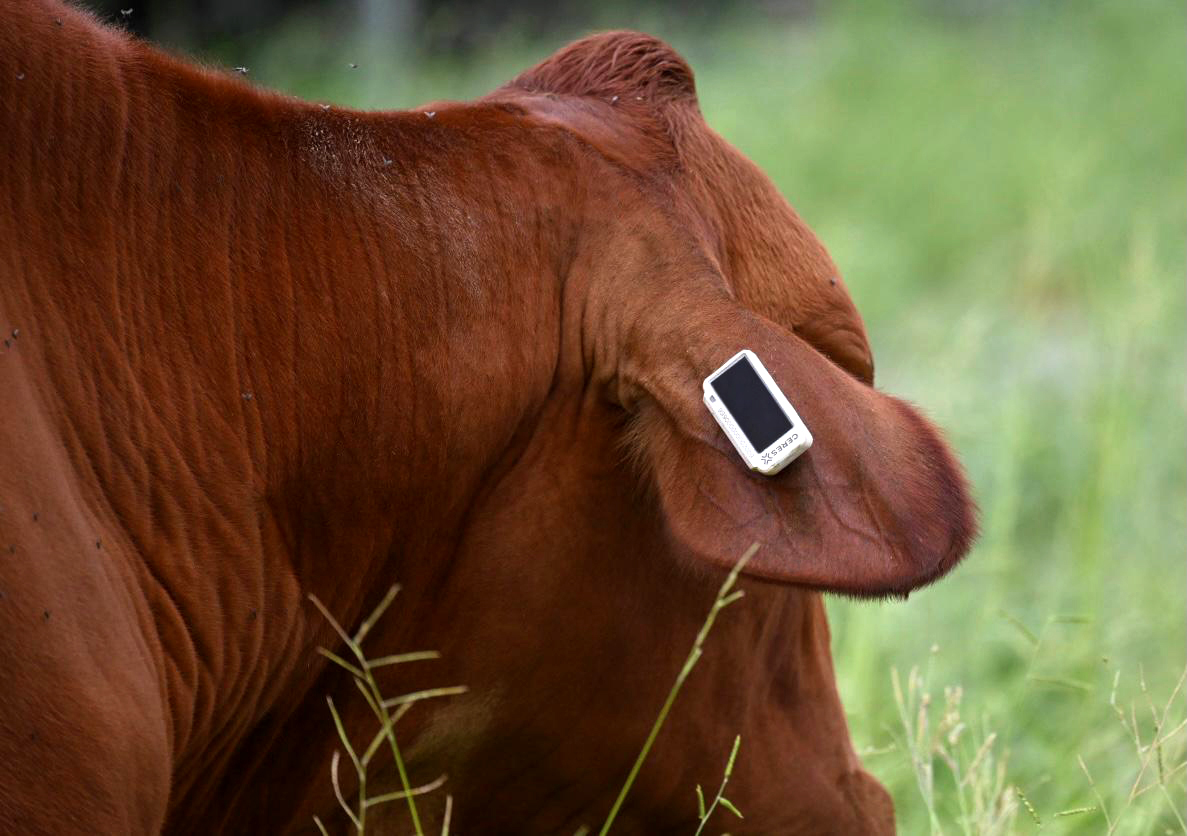 It is one of the world's most comprehensive animal monitoring platforms and is the world's first direct to satellite animal information platform. Their proprietary smart ear tag monitors for biosecurity, health, welfare, performance and traceability provenance of the supply chain network, including theft detection.
Ceres Tag addresses the need for producers to deliver more food, fibre and fodder to a growing population whilst suffering reduced access to arable land and freshwater, effectively helping with the problem of farming efficiency. Requiring no infrastructure, maintenance, subscription or battery replacement, Ceres Tag will operate in nearly any environment.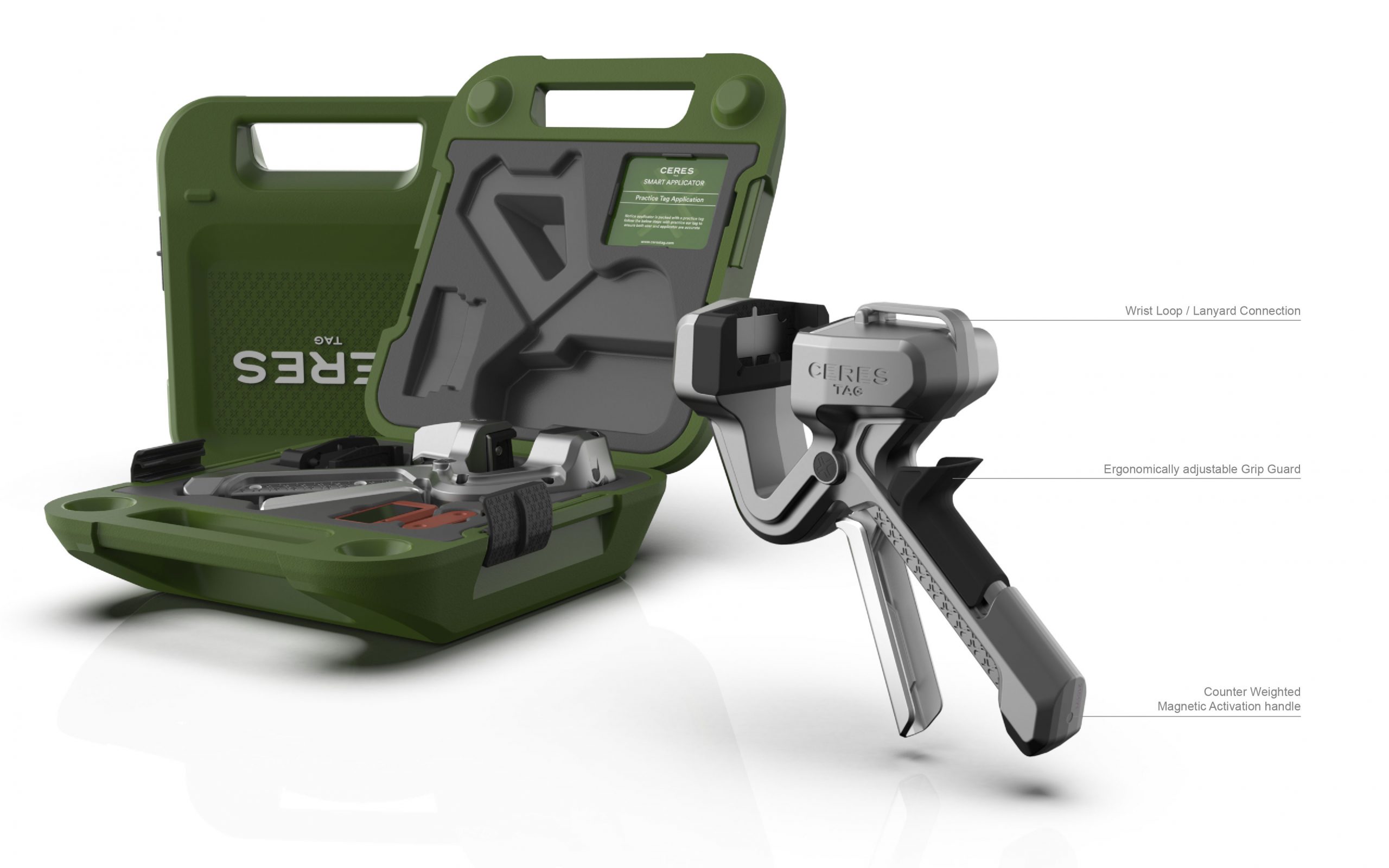 Good Design Awards Jury commented: "Plug and play aspect is powerful as this circumnavigates complex install processes. The form and user interface is clean and easy to navigate and the incredibly long battery life (10 years) is a fantastic feature. The no infrastructure, no maintenance, no subscription aspect of the design also respects farmers' fluctuating income cycles. This design solution can improve farm efficiency, management and make life easier for farmers."
The automated plug and play direct to satellite information platform with e-commerce purchasing from the website will deliver a proven and tested product ready for market.
Environmentally, Ceres Tag allows farmers to understand livestock habits and proactively manage their resources. This data feedback is critical in optimised regenerative farming and sustainable agriculture. Farming is an unpredictable and tough job, with farmers more at risk of suicide than any other occupation in Australia.
CEO of Good Design Australia, Dr. Brandon Gien said, "The direct to satellite aspect of the ear tag is innovative and presents an improvement on existing offerings. Customisation of the information is a big positive for those who manage livestock as it enables farmers to adapt the data acquisition to their requirements.
Ceres Tag's positive social impact provides incredible levels of relief and efficiency regarding farm animal health, location and security. Beyond the direct commercial benefits of remote security, health and supply chain traceability, Ceres Tags encrypted tracking provides proof of on-farm livestock assets opening up lines of much-needed finance and insurance protection.
---
2021 GREENER SPACES BETTER PLACES AWARD
Receiving the Greener Spaces Better Places Award was Warralily: Armstrong Creek Green Spine, designed by GbLA, SMEC and Neil Craigie and Associates and commissioned by the Armstrong Creek Development Corporation.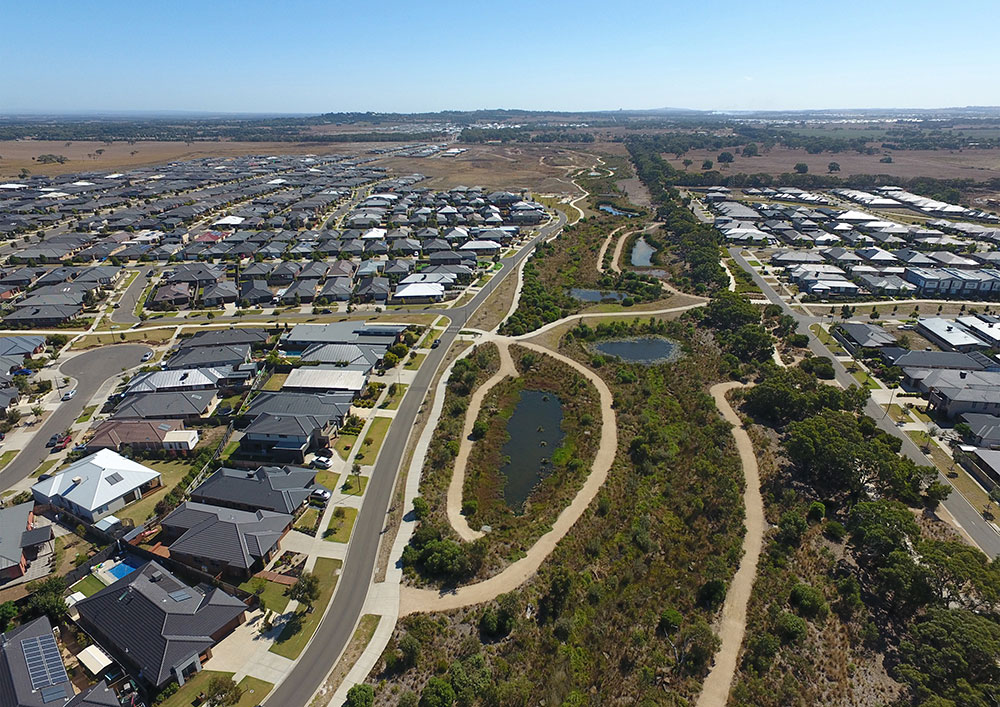 The project provides a strong framework and corridor for community connectivity to parks, wetlands, environmental areas, schools, community facilities and retail precincts. The Green Spine has transferred a degraded creek corridor into a thriving ecosystem, significantly improving water quality entering the RAMSAR listed Lake Connewarre.
The challenge was to transform a highly degraded creek corridor into a flourishing natural environment, rich in biodiversity, creating social, economic and community connections needed in the development of a successful master-planned community. The Warralily 'Green Spine' successfully creates an integrated approach to water and habitat management, improved biodiversity, an enduring legacy of community recreation and connectivity to social and economic assets. The reconstructed creek has capacity for 1:100 year flood volumes and a series of wetlands treating stormwater flows.
Remnant native vegetation is protected within the creek corridor, integrated with greenways and conservation reserves. Over 1 million indigenous plants have been planted, creating 22 Hectares of new habitat. 15kms of shared paths and boardwalks connect the community to 3 playgrounds, including Mirambeena Park, an all-abilities play space, exercise stations and site-responsive artworks.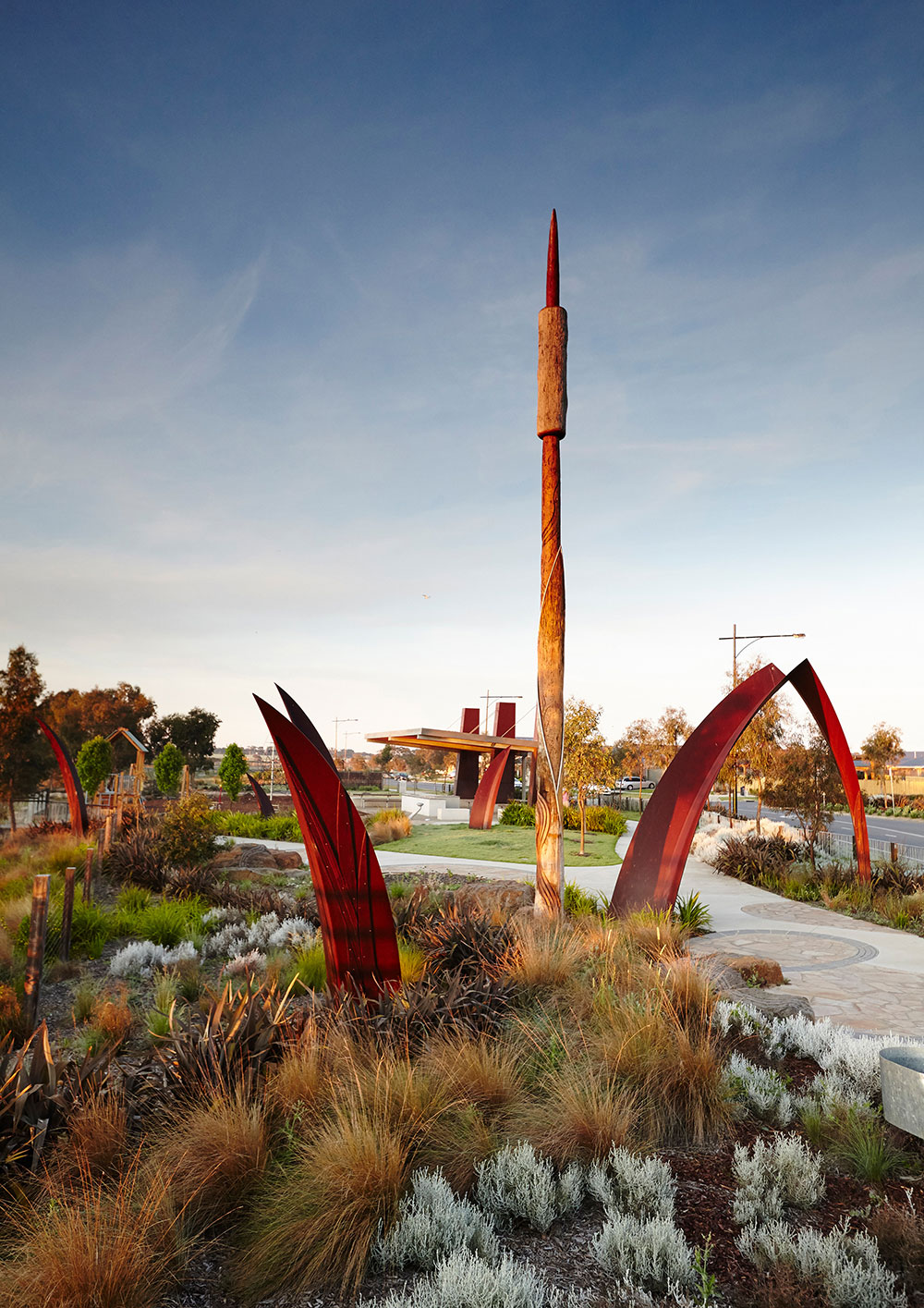 The Good Design Awards Jury commented: "This landscape-led large-scale vision has successfully transformed a degraded creek into a thriving ecosystem that is rich in biodiversity as well as creating social, economic and community connections. The creation of new playspaces and incorporation of art and environmental aspects adds to the quality. It now plays an important role as the lungs of the fast-developing master-planned community within the ever-changing Armstrong Creek Growth Corridor. It is the backbone of this community and an incredible asset to have on its doorstep. Well done."
---
---
DOWNLOAD HIGH-RESOLUTION IMAGES OF GOOD DESIGN AWARD WINNERS BELOW:
CERES TAG – ANIMAL MONITORING TECHNOLOGY
WARRALILY: ARMSTRONG CREEK GREEN SPINE
---