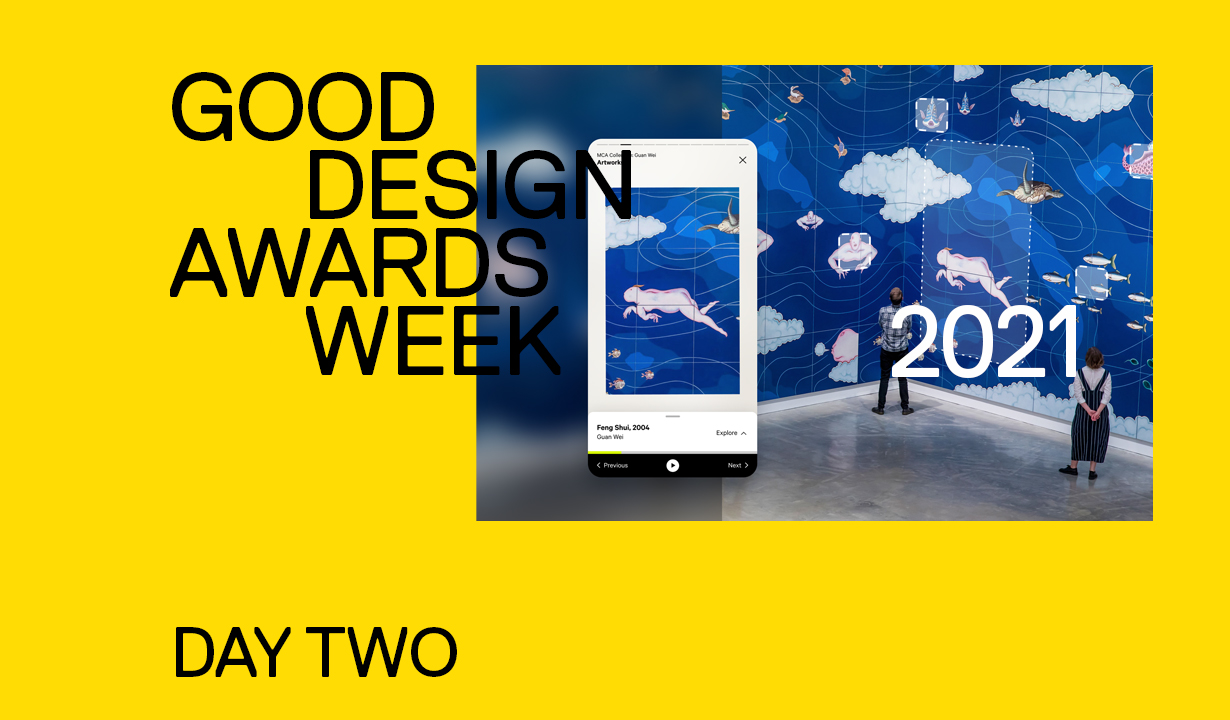 GOOD DESIGN AWARDS WEEK – DAY TWO
Published on: 11 October 2021
Share
Welcome to Day Two of the 2021 Good Design Awards Week, as we announce the 2021 Australian Good Design Awards for Design Research, Design Strategy, Digital Design, Fashion Impact and Awards for Next Gen category, presented by RØDE Microphones and the Indigenous Designer Award for 2021, proudly presented by RMIT University. 
The Australian Good Design Award Best in Class accolade represents the highest level of design excellence in a sub-category and represents absolute best in class design. From a record 930 projects submitted to the Good Design Awards this year, only 28 projects qualified for the Good Design Award Best in Class accolade.
DESIGN RESEARCH
The 2021 Australian Good Design Award Best in Class for Design Research was The Human Side of Natural Disaster Experience. The project was designed by Symplicit and Thriving Communities Partnership and commissioned by Energy Queensland and Suncorp.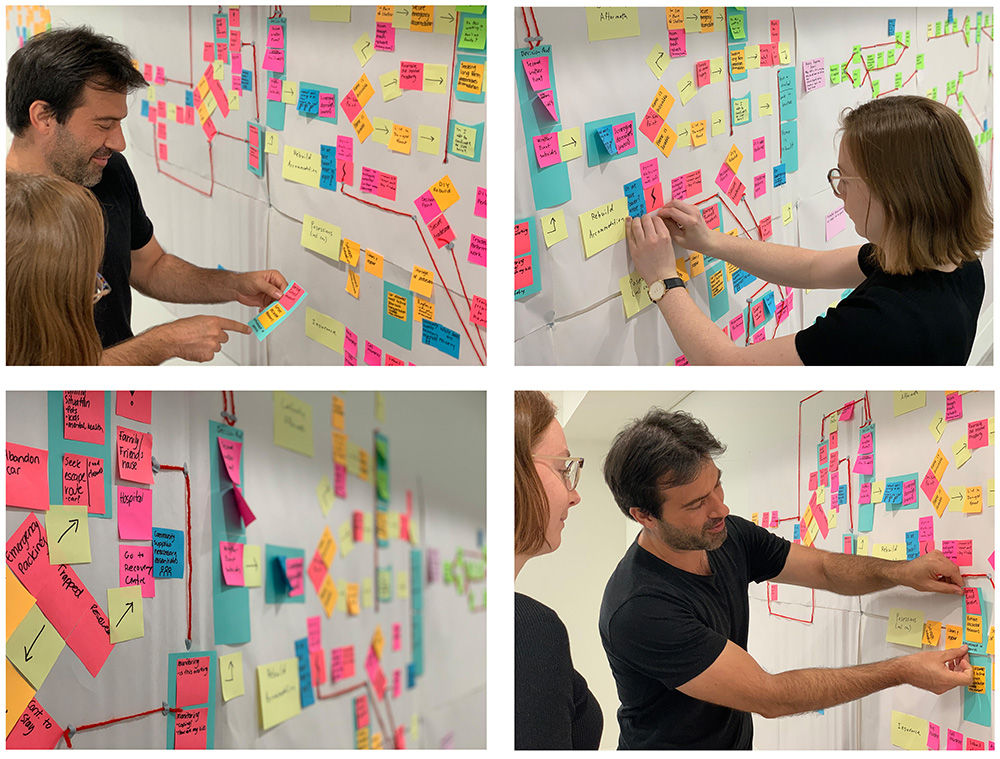 Following the North Queensland Monsoon Disaster of 2019, Thriving Communities Partnership (TCP) set out to understand and evaluate how the service and support ecosystem impacted the local community's experience and how it influenced their ability to respond and recover. The purpose of this initiative was to identify actionable, cross-sector, people-centred improvements that support communities to recover and thrive when faced with disaster.
This project applied a human-centred design approach, typically applied to single products or services, to design a new way to understand a whole-of-community journey. Deep contextual interviews conducted with residents and small business owners impacted by the North Queensland Monsoonand generated more than 2000 data points which were able to create new analysis methods in response.
Dr. Brandon Gien from Good Design Australia said, "This is a brilliant example of design research with real world outcomes. The implementation of the journey maps will improve the recovery process when natural disasters strike by supporting communities and response teams."
The two community journey maps were designed to illustrate the positive and negative impacts on community resilience and the community stories highlighted key experiences to build empathy and simplify the complexity for research users. A brilliant project all round."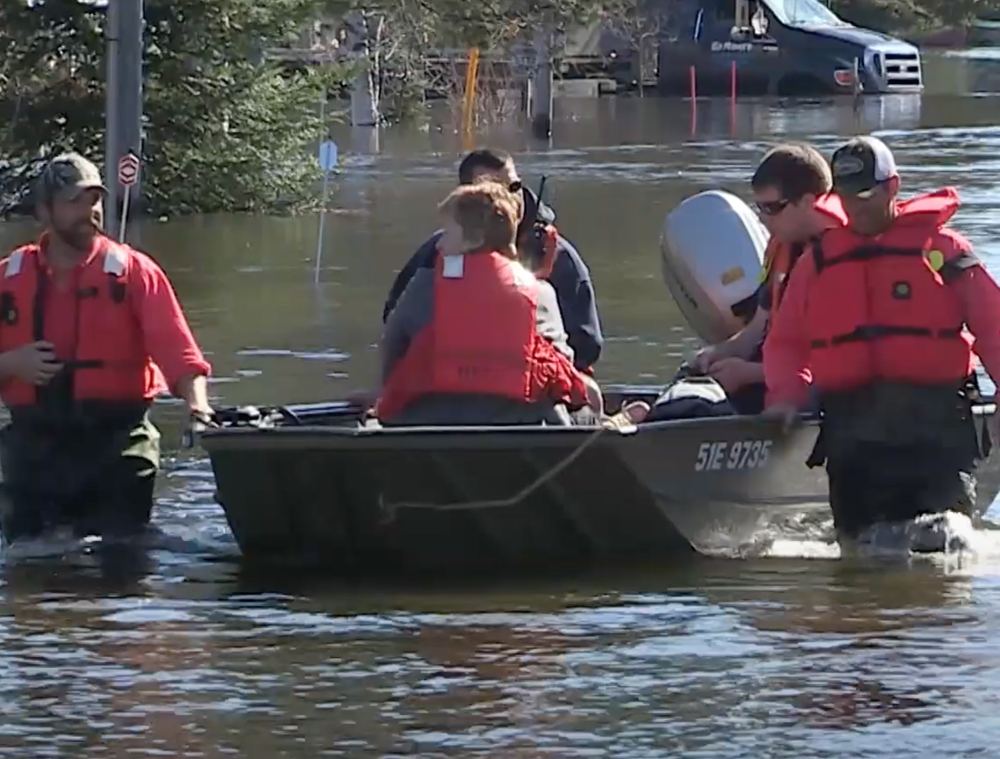 By using people-centred narratives to demonstrate the interconnectedness of residents, small business owners and organisations, a common starting point for understanding and developing change was achieved. 10 organisations were involved in this development, and over 120 organisations have engaged with the findings, journey maps and case studies by committing to actions including developing inclusive communications and aligning responses to ensure everyone can access the support they need to recover.
The Good Design Awards Jury commented: "This important piece of design-led research aimed to understand the impact of natural disaster from the perspective of individuals, small business, first respondent and front-line services and identify improvements needed. It resulted in real tangible outcomes, that in time, will impact people's lives for the better.
Taking a human-centered design approach, all angles and voices were considered. The collaborative focus also brought affected organisations together across sectors, building trust and loyalty which will stand them in good stead in any future emergencies. The implementation of this research, in part or as a whole, will have significant social, commercial, and environmental impact. It is to be commended."
---
DESIGN STRATEGY
Also honoured with the 2021 Australian Good Design Award Best in Class for Design Strategy was Deloitte with their Responsive Space Operations Centre project, designed by Deloitte Experience Design, Deloitte Monitor and Deloitte Cyber Risk and commissioned by Saber Astronautics and the Australian Space Agency.
Saber Astronautics was selected by the Australian Space Agency to establish the first Mission Control Centre for Australia. This Responsiveness Space Operations Centre (RSOC) is located within the Australian Space Discovery Centre (ASDC) as a commercial enterprise in order to grow the market and manage space operations as a sovereign capability.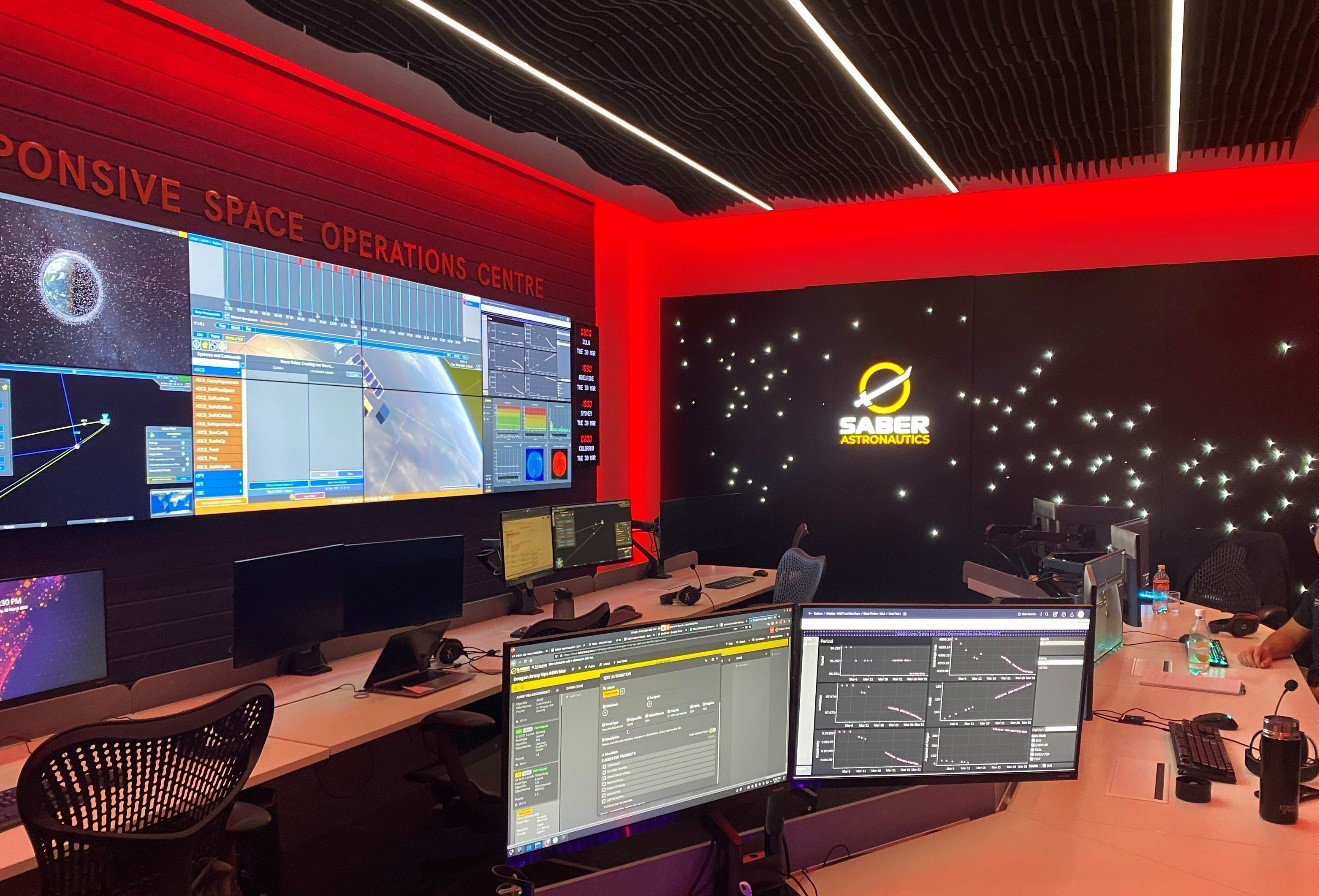 The space sector is an emerging industry in Australia and one of six priority areas identified by the Australian Government's $1.3 billion Modern Manufacturing Strategy to build comparative advantage and strategic importance in Australia's manufacturing sector. Deloitte was engaged by Saber Astronautic to assist with the go-to-market strategy, commercial and operations model and customer and public facing experience strategy. Located within the publicly accessible ASDC, there was a need to ensure that the physical environment not only met with the operational requirements of Saber's public/private business model, but the expectations and needs of different audience groups including customers, suppliers, STEM students and the general public.
Saber Astronautics embarked on a journey to design how their Responsive Space Operations Centre (RSOC) will become the leading mission control centre in Australia to drive the democratisation of space. The Deloitte strategy addressed how Saber will harness the ASDC adjacency so that Saber Astronautics becomes a household name for space, determined the critical operational components to deliver to RSOC key services/products to customers and what is required to support the operations, as well as how they will protect against cyber attacks, with capabilities needed to protect the centre, solutions and technologies.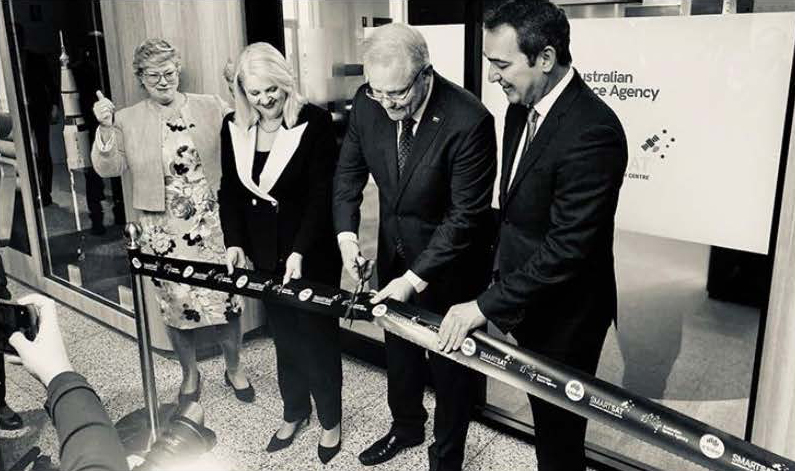 Dr. Brandon Gien from Good Design Australia commented: "The space industry has huge potential for growth across enterprise, jobs, skills and technology. This project will deliver sovereign capabilities in the fabrication, launching and operations of satellites and support growth of Australia's space industry. The Center will support national and international joint missions, including NASA's planned Mission to Mars.
Satellite data is essential across industry and will directly support abilities across agriculture, transport, insurance, education, health and other applications. The planned measures of success for the Centre include establishing a financially self-sustaining operating model by June 2022, enabling over 100 space companies through successful flights by 2025 and make Australia a global centre for space operations research and development."
The Good Design Awards Jury commented: "Such a thorough approach to design strategy will underpin the future success of this Mission Control Centre. The centre will not only deliver sovereign capabilities in the fabrication, launching and operations of satellites but support missions including NASA's planned Missions to Mars. Truly out of this world! The Space industry will be a core driver of growth which will underpin Australia's future prosperity.
This application outlines how design can be successfully embedded into the strategy of a key element of the industry – the design of the Responsive Space Operations Centre (RSOC). This is a great example of the role and value of design in enabling Australia's sovereign capability in a future growth industry. Well done."
---
DIGITAL DESIGN
Proudly presented by SAE Creative Media Institute.
The 2021 Australian Good Design Award Best in Class for Digital Design were Roadset, Action Audio and MCA.Art.
The Apps and Software winner was RoadSet designed by Type + Pixel and commissioned by the Australian Road Safety Foundation. Despite the millions spent on road safety awareness, road trauma remains the leading cause of death among young Australians. RoadSet transforms the way road safety education is delivered to appeal to teens.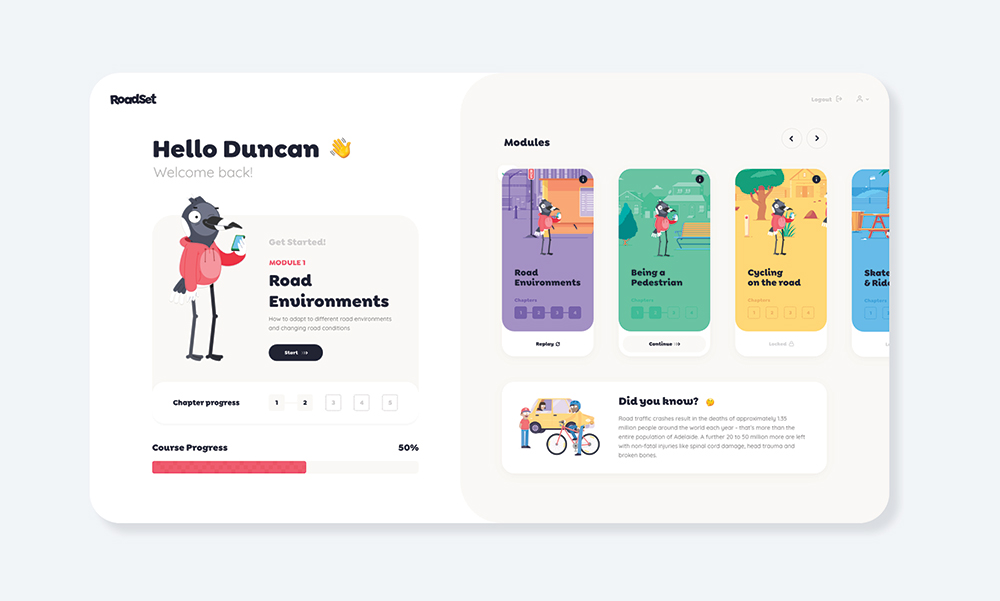 Deep consumer research was conducted and revealed that teens learn differently to adults. Their brains are wired towards the positive, forever seeking the dopamine hit they get from feelings of reward and pleasure. It is also why they are easily distracted, hate being preached to and are addicted to their smartphones.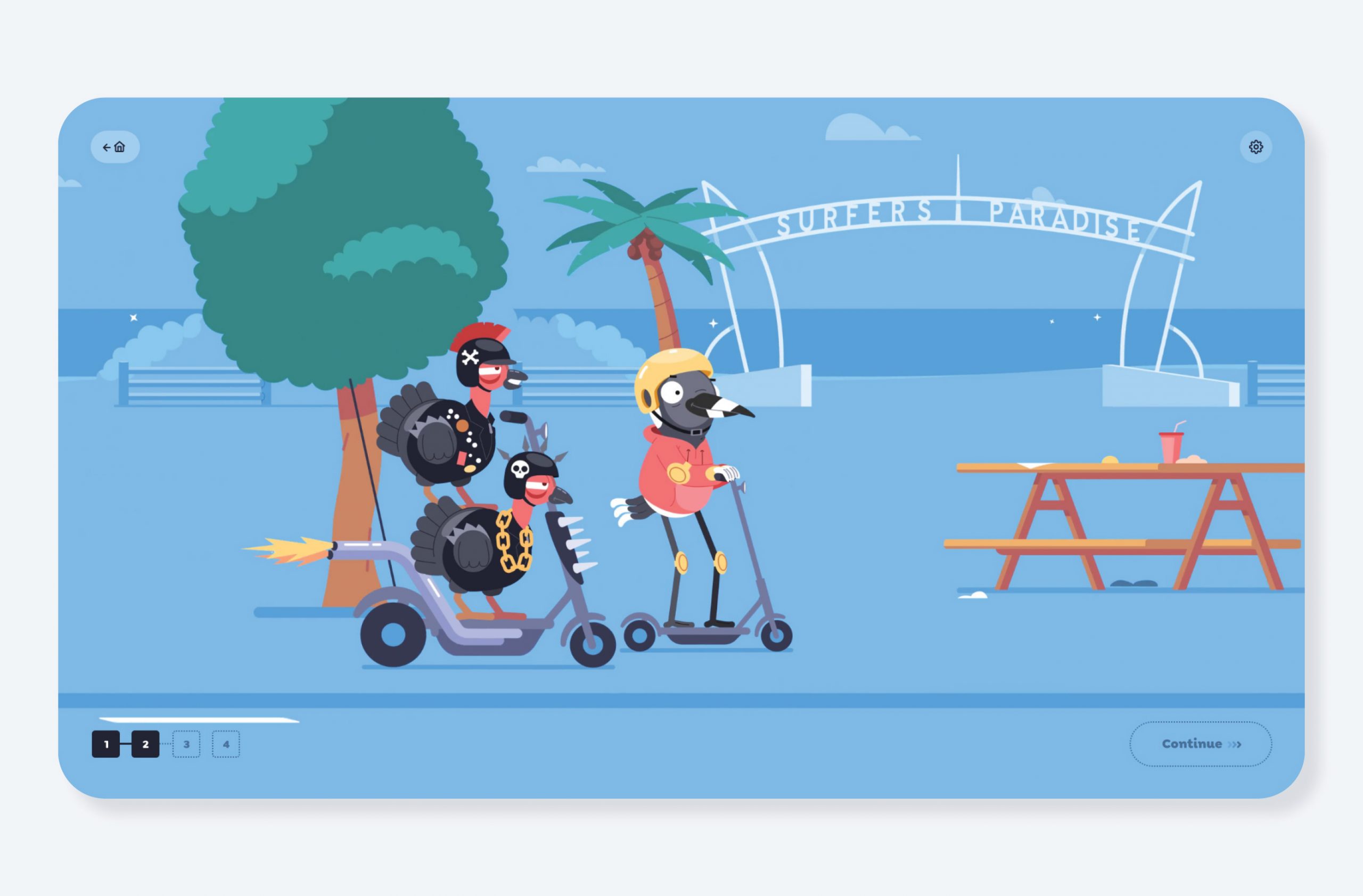 RoadSet designed a solution that embraced these behaviours and psychological drivers instead of overlooking them, involving teens in their design process, swapping scaremongering, passing learning and preaching for a narrative-driven approach, for relatable characters and conversational tone-of-voice.
This created immersive interactions that gamified the experience and empowered them to learn independently, helping young people become better road users and making Australian roads safer for everyone.
Dr. Gien commented: "RoadSet is such an excellent example of best in class digital design. It combines playful animation with gamified interactions to deliver immersive, engaging content across 10 easy-to-digest modules. In just 6 months, over 40% of secondary schools signed up, with students' understanding of their road safety responsibilities jumping from 4 to 8 out of 10."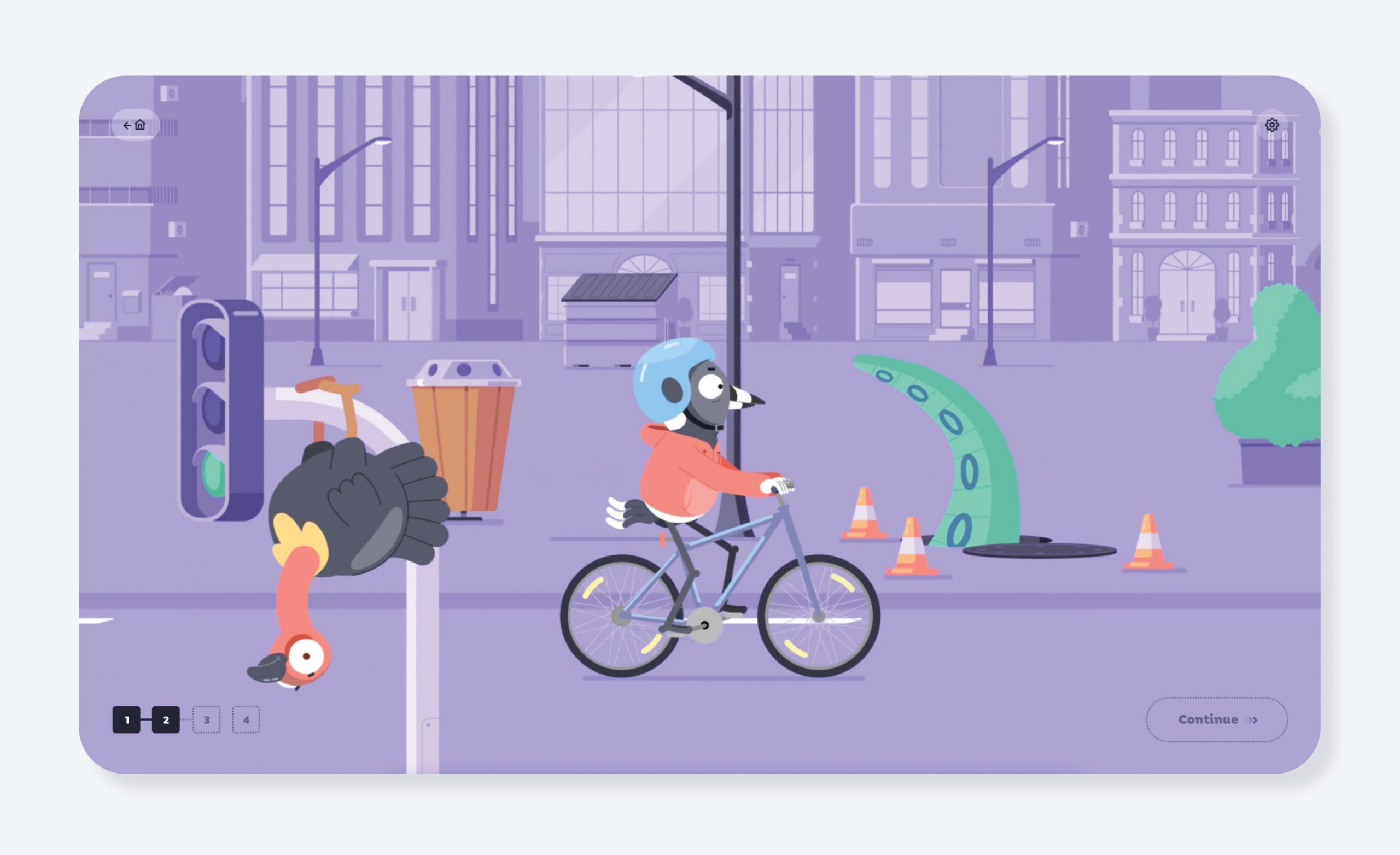 The Good Design Awards Jury loved this project commenting: "It is immediately evident how much care, attention and skill has gone into this initiative which is seemingly getting a great response. The UI feels fresh and fun with terrific illustrations that help to deliver an important narrative in a way that doesn't feel prescriptive or judgmental. The overall visual aesthetic is fun, colourful, non-derivative, with mindful nods to the Australian environment, and really suits the online medium. Such great humour – the designers have gone the extra mile with animations, character design and character development. Well-integrated interaction controls, flow and navigation, creative interactive formats (swipe cards, multiple-choice as text messages, treasure-hunt pattern) and masterful voiceovers and copy in just the right tone. A lovely, well-designed project that will help young people become better road users – making Australian roads safer for everyone."
---
The 2021 Australian Good Design Award Best in Class for Interface Design was Action Audio, a new way for people who are blind or vision impaired to follow the sports they love.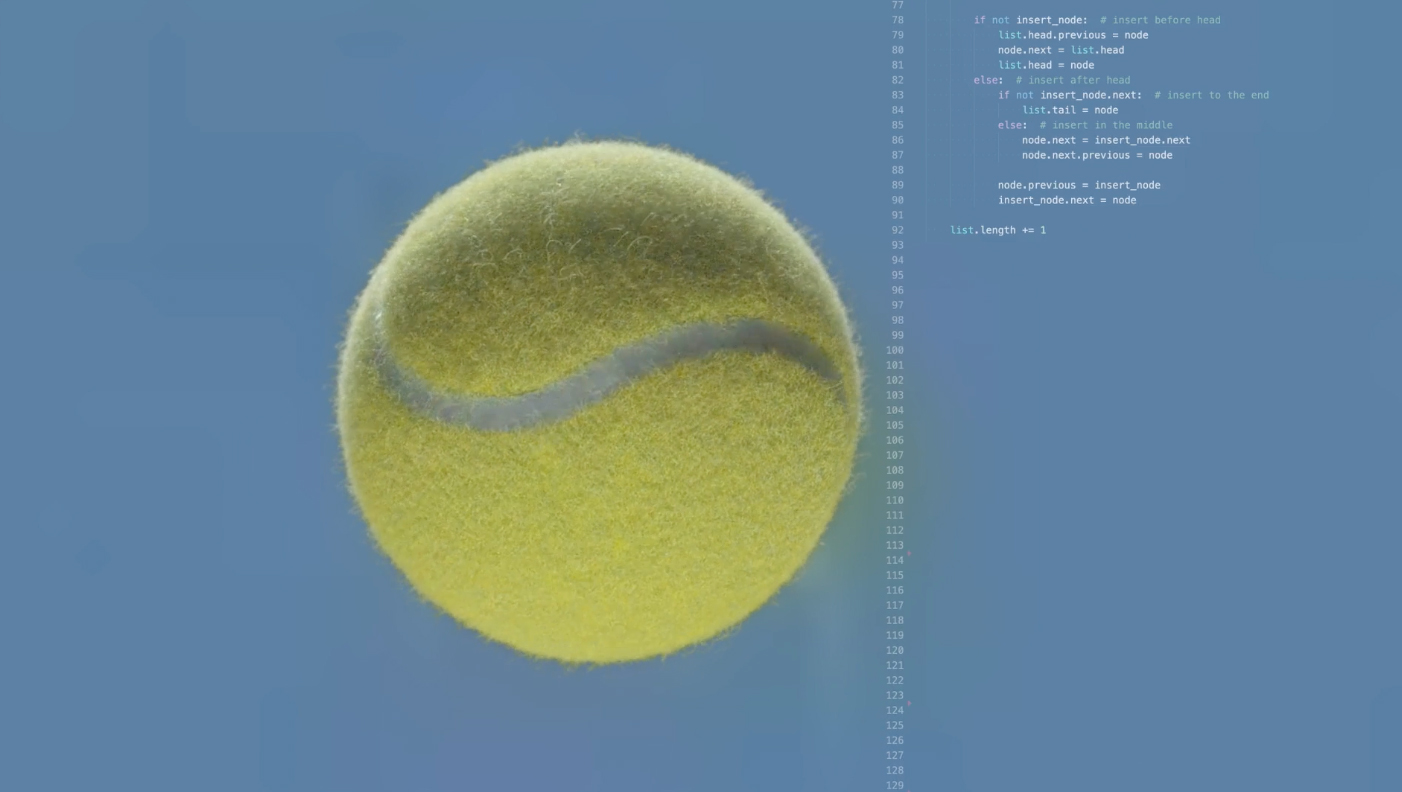 This ground-breaking accessibility system was designed and developed by AKQA, Tennis Australia, Monash University, Blind Tennis Association, Blind Sports and Recreation Victoria and commissioned by AKQA, Tennis Australia and Monash University. Action Audio brings real-time ball and player movements to life through spatial audio and received global media attention when launched at the 2021 Australian Open Tennis Tournament. The system uses data from ball-tracking technologies, translating it through a series of sound design principles so on-court events were 'viewable' through audio.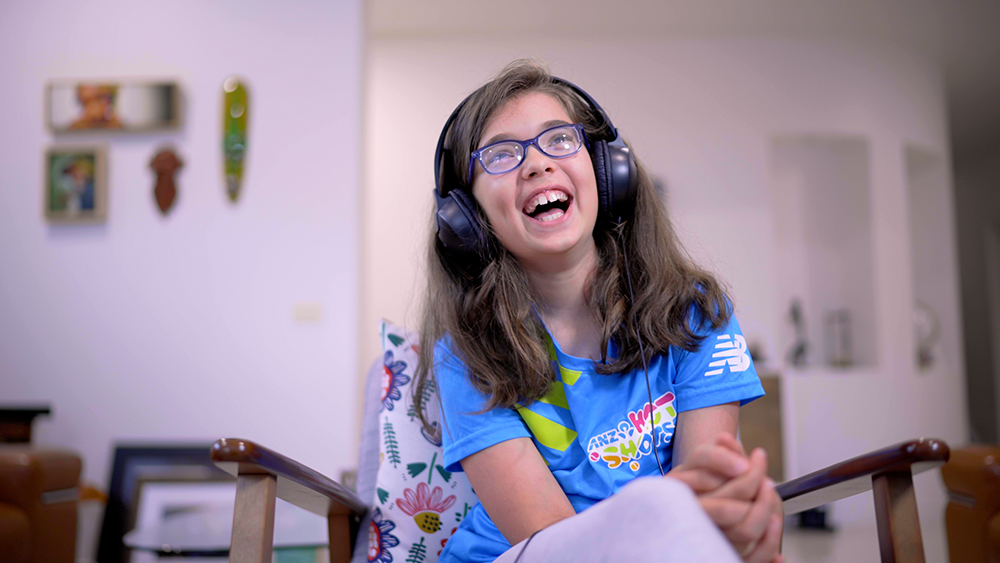 CEO of Good Design Australia, Dr Brandon Gien, says, "This is an exemplar of best in class inclusive design. Action Audio was co-designed with blind and vision-impaired sports fans to ensure the experience is as legible and enjoyable as possible. Easily one of the most impactful projects in these Awards and a stunning example of good design making a positive difference to people's lives."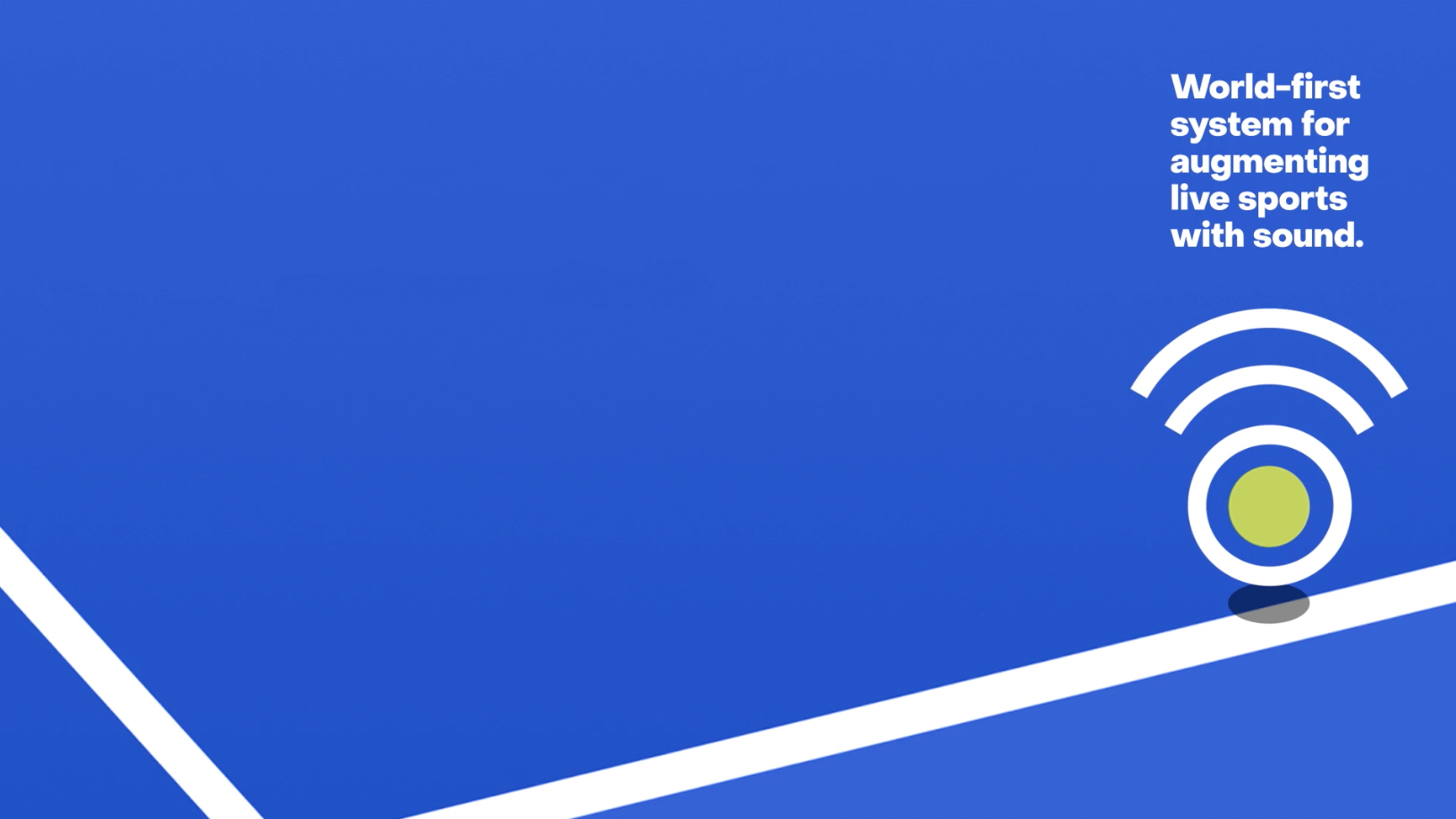 The Good Design Awards Jury loved this project and had the following to say: "The innovation, benefits and impact are obvious. This project is well considered and executed, leveraging existing technology which is commendable. It's fascinating to see audio pushed as an interface in itself here. It is not only an exemplar of inclusive design, but it sets up a new format that has so much potential for so many other uses. This will become something that we will all reference as Australian digital design excellence in the future and deserves to be recognised at the highest level in the Australian Good Design Awards – well done."
---
The 2021 Australian Good Design Award Best in Class for Web Design and Development was MCA.Art designed by Pollen, Livdeo and the MCA Digital Team and commissioned by the Museum of Contemporary Art Australia.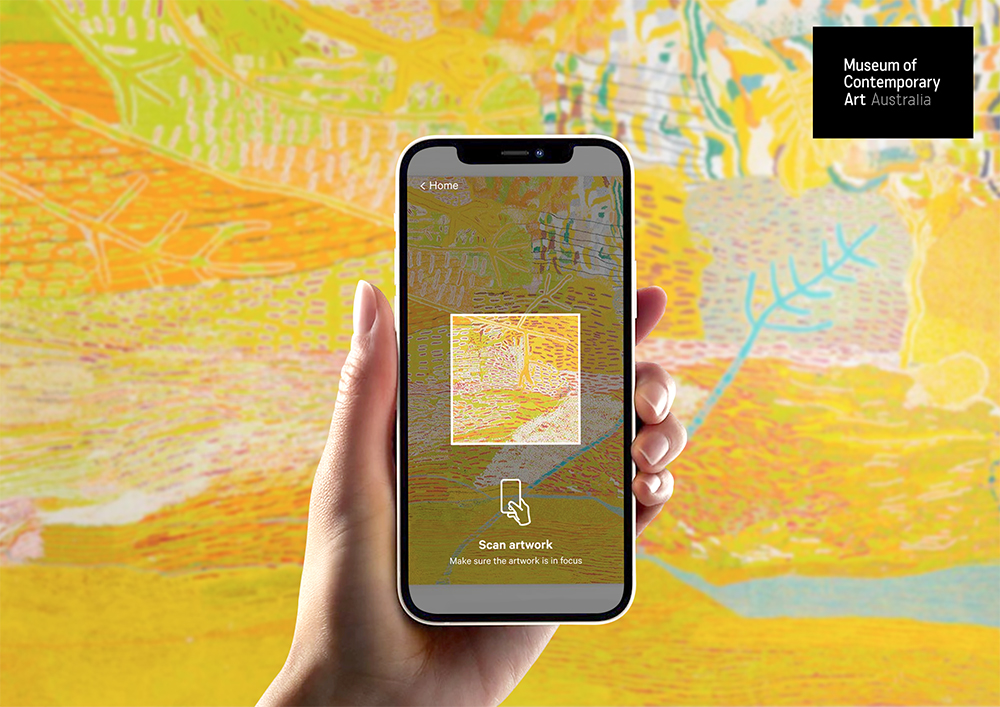 Creating a new layer to the visitor experience, MCA.Art offers visitors to the Museum of Contemporary Art Australia (MCA) an easy-to-use, interactive guide of artworks directly to their devices through a web browser. Visitors can scan artworks to prompt audio and video guides featuring artists and curators' profiles as well as learning activities for kids. It is accessible to people with access needs, and available in multiple languages. Bringing the stories behind the artworks to live, MCA.Art creates a new layer to the MCA experience.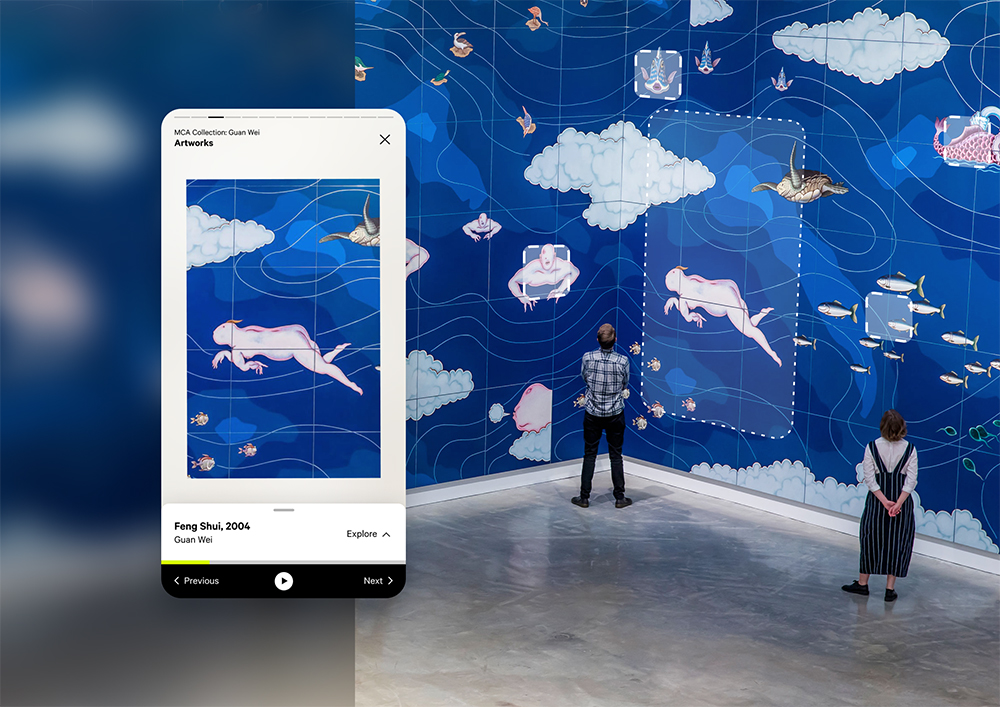 Artists have embraced the tool helping to create the content and finding it gives them new ways to express the concepts at play in their works. Art is for everyone, and MCA.Art is a key initiative in helping make this possible, by providing audio guides, captioned videos and dedicated Australian sign language (AUSLAN) tours. People have enthusiastically shared their joy in using this new way of experiencing art.
Dr. Gien says "MCA.Art is inclusive for all, regardless of ability and augments the in-gallery experience, successfully enhancing, not competing with the art itself. Just brilliant design all round."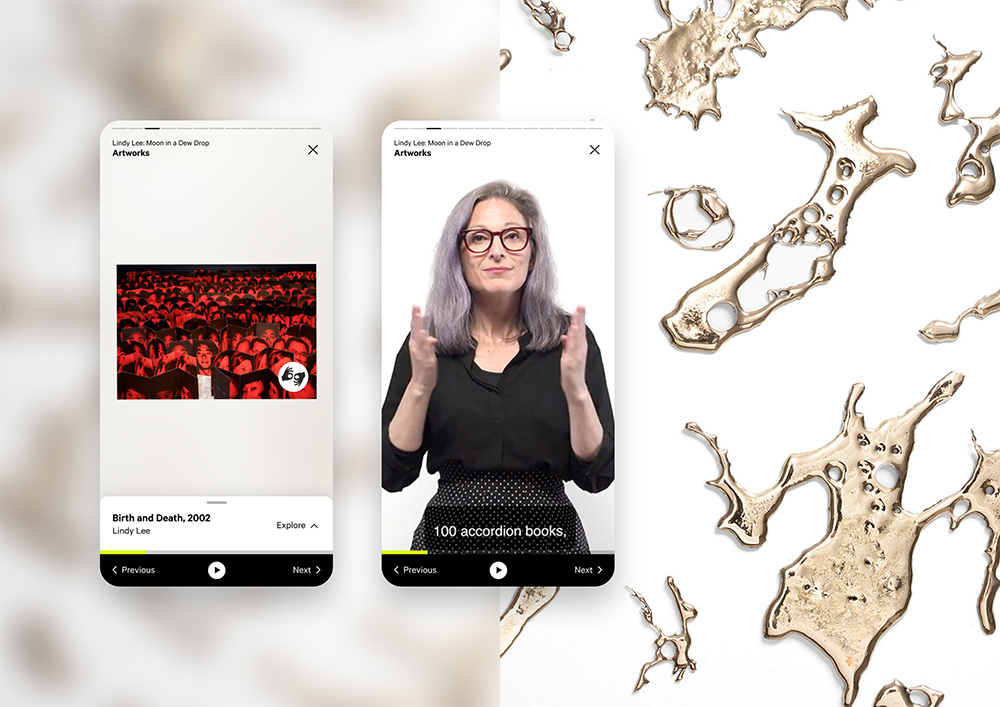 The Good Design Awards Jury commented: "Such a great online translation and augmentation of a physical museum/art gallery experience. Great care has gone into breakpoint design and layouts, as well as succinct accessible copy and icon language. Even the finer details of paintings and sculptures are visible through the powerful zoom. The 360 VR videos take it to the next level! This is clearly best in class design that sets a benchmark for others to follow – bravo, great stuff."
---
FASHION IMPACT
Receiving the Australian Good Design Award Gold Award for Fashion Impact was REBORN by HoMie designed by ​​Marcus Crook, Chloe Turner and Corin Corcoran.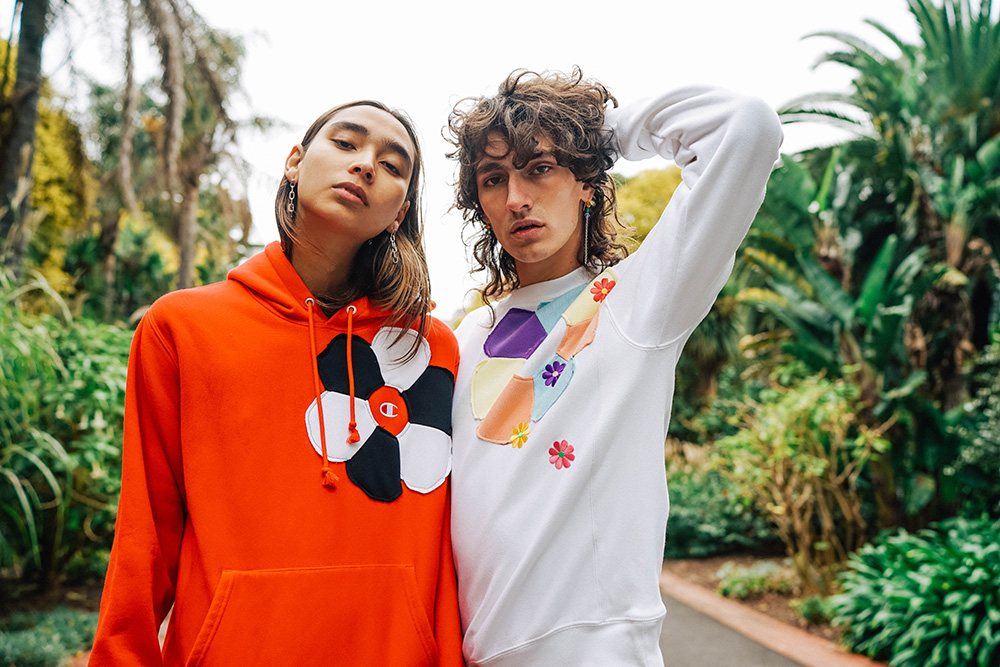 REBORN by HoMie transforms garments destined for landfill into desirable one-off pieces, raising money for charity and saving them from landfill. Pre-loved, or unsold garments are hand-cut, sewn and altered in Melbourne, creating unique pieces that encourage a radical rethinking of the industry. Fashion is the second largest polluter in the world behind the oil and gas industry. It takes 2,700 litres of water to manufacture one t-shirt. Australia discards 500 million kilograms of textiles per year – the problem is immense. Streetwear brands are particularly culpable as they perpetuate and profit from a hype and fast-fashion culture.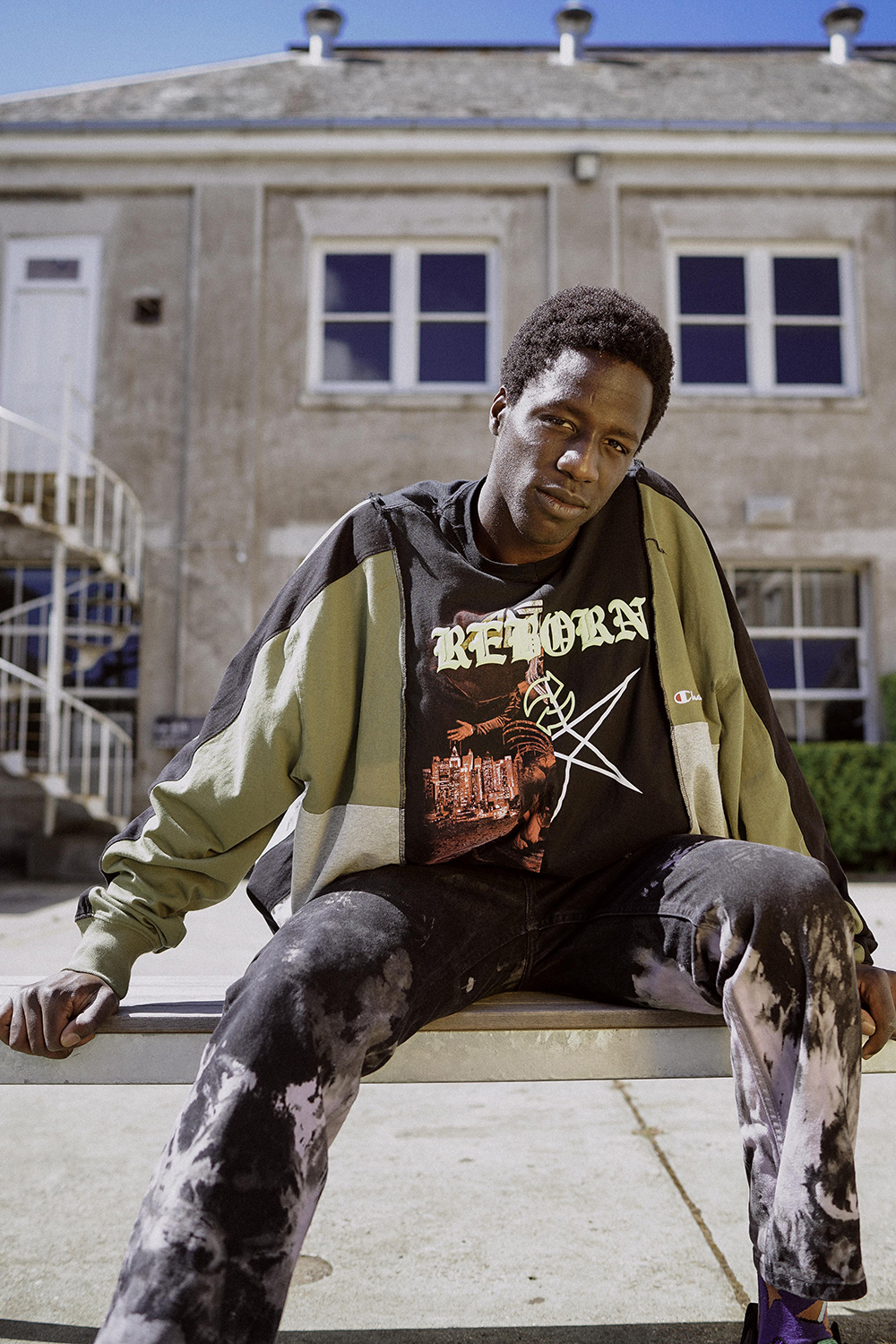 The REBORN business model inspires and provides attainable opportunities to reduce the fashion industry's contribution towards climate change, and to meaningfully support the community. HoMie creates partnerships with like-minded brands, then provides them with charitable tax invoices for their donation of excess stock. REBORN uses in-house design and manufacturing to produce on-off, upcycled garments, made from clothing that would otherwise fill our landfills. REBORN creates content and exposure for the collaboration, inspiring customers to make ethical choices by providing a cool, sustainable, offering.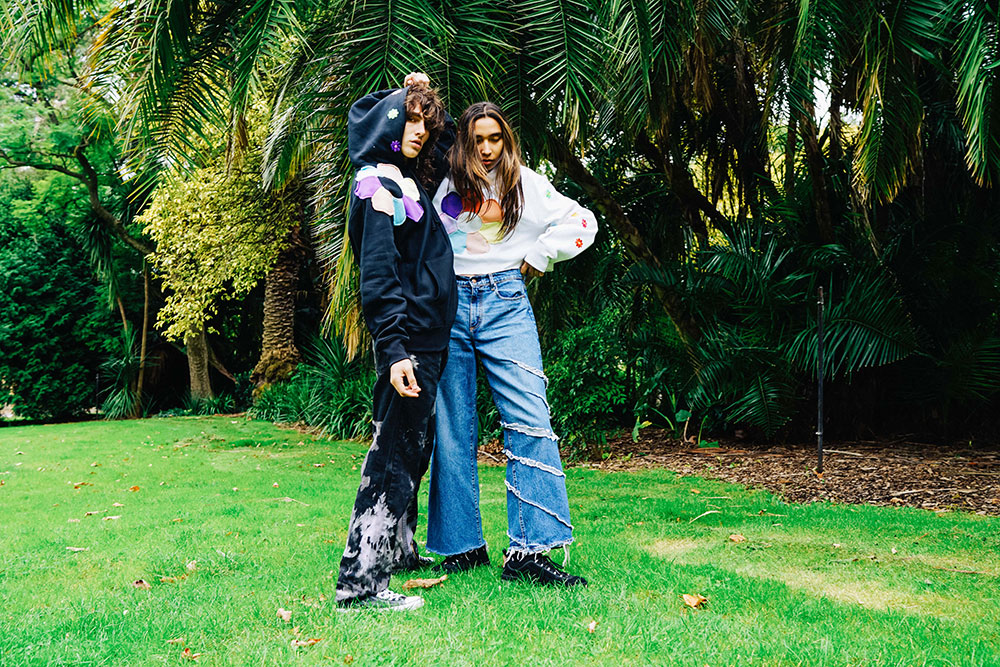 Dr. Gien commented: "REBORN by HoMie is an entirely unique concept that satisfies all fundamental criteria for good design. It is deeply functional, unisex clohing. It is aesthetic and popular, collections frequently selling out within 20 minutes. To think Australians throw away approximately 500 million kilograms of textiles per year is just crazy. We need a radical rethink of our consumption patterns in fashion and textiles and I hope this trailblazing project helps to inspire others in the fashion sector to think differently."
In addition to its environmental sustainability, the organisation employs young people affected by homelessness or hardship to manufacture garments, with profits going to projects to further support those young individuals, to equip them with the skills, confidence and experiences to be more work-ready and better prepared for their future.
HoMie's objective is to make it 'cool to care', by running two social impact programs, The HoMie Pathway Alliance, HoMie's own accredited retail training and education paid internship for young people aged 16 to 25 affected by homelessness or hardship; as well as their monthly VIP Shopping Days, where young people are welcomed into the store to shop complimentary HoMie garments, beauty services and lunch. REBORN's impact on the community continues to grow as all of their profits go towards these social impact programs.
The Good Design Awards Jury commented: "Loud, proud and built around an intertwined core of both social and environmental impact, the REBORN by HoMie project is an elegant and attention-grabbing approach to solving the landfill crisis. But perhaps the most beautiful thing about the project is actually invisible – the business model which rescues old stock destined for landfill and provides a tax credit to the brands making the donation – a truly scalable, win-win-win for everyone involved. This is a really impressive example of design for impact and a standout project that ticks every box for good design in this category. Well done."
---
NEXT GEN
Proudly presented by RØDE Microphones.
Receiving the Australian Good Design Award Best in Class Award for Next Gen was Mufid. The project was designed by ​​HY William Chan, Constanza Cardinali, Inti Bonomo, John Scott and the World Innovation Summit for Education and commissioned by the Qatar Foundation. 
Mufid, the Arabic word for "useful", is a world-first technology and education toolkit empowering young migrants in refugee camps to improve their environment through the circular economy. Developed with refugees, plastic waste is transformed into 3D-printing filament to create shelter construction elements. Beneficiaries gain design and STEM skills for economic empowerment in host communities.
The Global Refugee Crisis impacts youth disproportionately due to a lack of education and employment opportunities, as over half of the global refugee population is young people.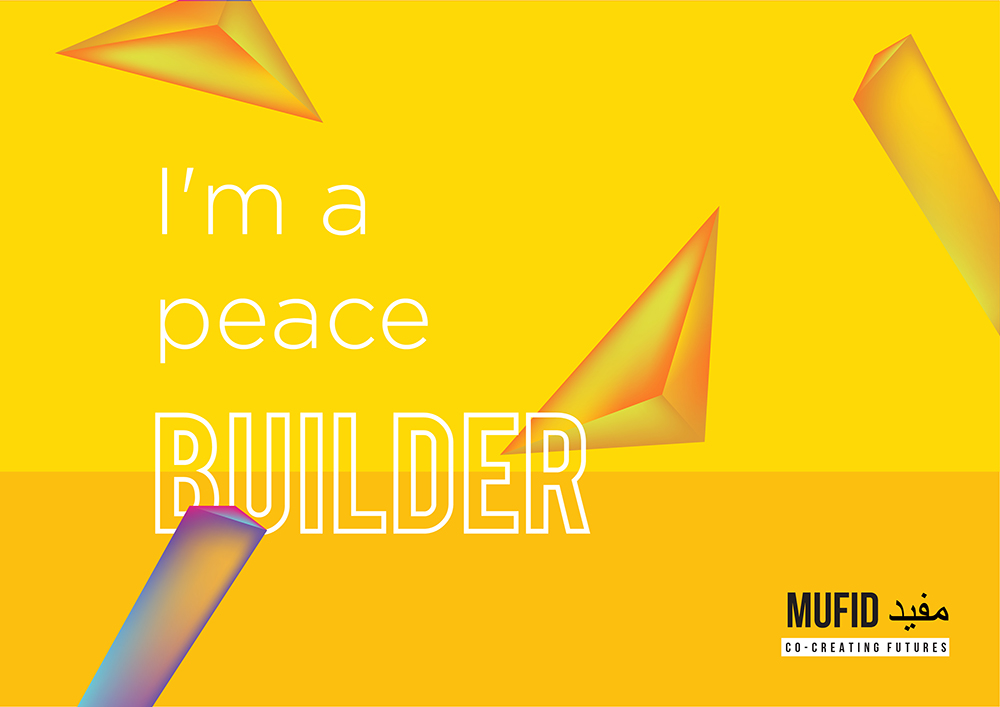 With 85% of jobs in 2030 yet to be invented, the World Economic Forum states that technology, mathematics, architecture and engineering support the future skill sets required. This challenge is compounded by the inadequate living environment of refugee camps, which become the new hoes of asylum seekers globally.
Dr. Brandon Gien of Good Design Australia says: "As a protracted crisis, refugees increasingly live in camps long-term. The opportunity exists to disrupt the traditional charity and humanitarian aid model of 'top down' handouts and short-term, emergency-based solutions through design thinking and social impact innovation and that's exactly what this ground-breaking project does."
Mufid trains refugees in design thinking by applying STEM skill sets to refugee camp contexts. Through action-based learning, we empower refugees with future-oriented soft and technical skills for the evolving employment market. Their approach feeds into existing initiatives in digital fabrication, sustainability and the circular economy by reducing environmental impact in communities. Mufid tackles plastic waste in camps. Using the open-source desktop tool, discarded plastic is upcycled into 3D-printing filament, allowing useful construction elements to be designed and 3D printed. Refugees co-design meaningful, physical solutions as 'architects' of their own environment and future.
Mufid leverages open source technologies toward the agency and empowerment of vulnerable communities. By making additive manufacturing and 3D-printing more accessible and inclusive to refugees, the project generates social capital and future skills, ultimately envisioning refugee camps as innovation hubs. The UX design focuses on dignity by involving local youths from host communities to collaborate with the refugee population.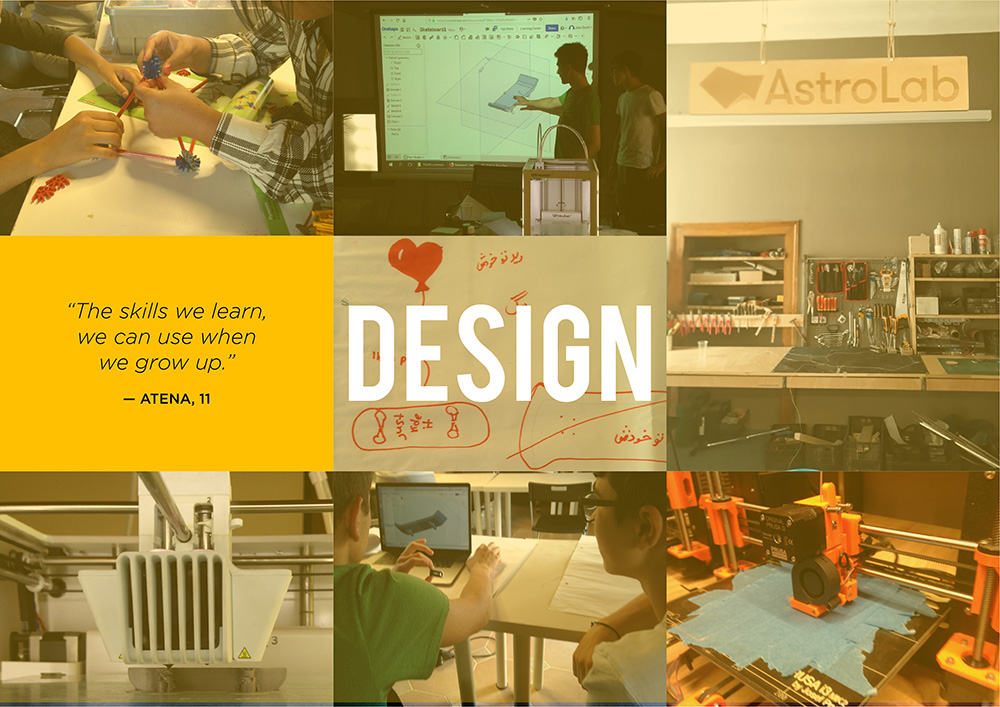 The commercial model operates by partnering with local architecture firms already engaged with the refugee crisis. Outcomes have included the design and printing of building and structural hardware. The environmental-based curriculum teaches sustainability, waste, material and economic value through upcycling plastic.
UNICEF is collaborating with Mufid to provide young refugees with access to technological innovation in UNICEF's fieldwork and in-country education programs. Through this open-source, inclusive accessibility and participatory design, the partnership strengthens the child-rights based approach to building capacity and empowerment of young people.
The Jury loved this project and had the following comments: "A program that is design-led to address numerous social issues — refugee inclusion, education, circular economy adoption, environmental impact and social development. Incredibly innovative and has the potential to be impactful on a global scale. This is a really impressive example of design for impact and a standout project that ticks every box for good design in this category. Well done."
---
INDIGENOUS DESIGNER AWARD
Proudly presented by RMIT University.
The Indigenous Designer Award recognises and celebrates the important contribution that Australia's Aboriginal and Torres Strait Islander designers make to Australia Design across the spectrum of design disciplines and practice. 
The 2021 Indigenous Designer Award is presented to Kevin 'Uncle Gavi' Duncan with Turf Design Studio for their project Gosford Leagues Club Park – designed by Turf Design Studio, Kevin 'Uncle Gavi' Duncan, Civille – WSUD, ElectroLight, WordPlay and commissioned by Hunter and Central Coast Development Corporation.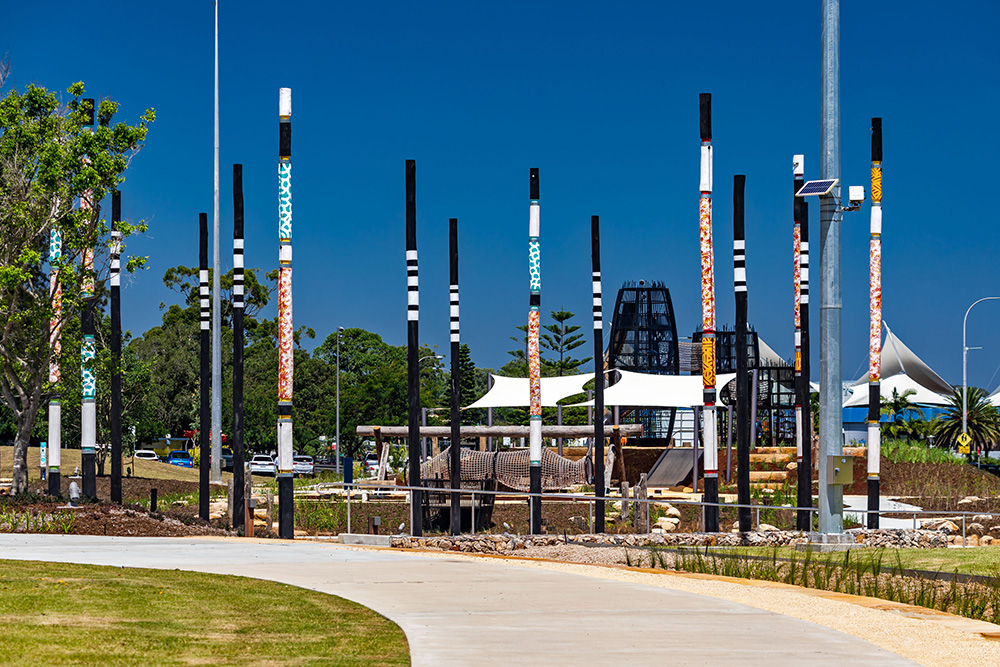 This project is fundamentally about connection; to environment; to Country and to community – making a place for all. As the premier new public space for Gosford, the diversity of spaces and their adaptability for a range of uses will provide for everything from the everyday stroll to the annual event.
The park incorporates several unique and innovative design elements that set Gosford Leagues Club Park apart from other regional play spaces, notably a natural tidal water play zone. The team worked closely with the local Aboriginal land council to create a space that is imbued with the culture and history of the region's original inhabitants. Elements of wild play, including logs, rocks and ropes provide a play passage between the Tidal Terrace and three adjacent playgrounds with sculptural play equipment. The 'Tidal Terrace' will be a dynamic wild play area that fills and empties in unison with the tidal water levels within Brisbane Water adjacent to the site.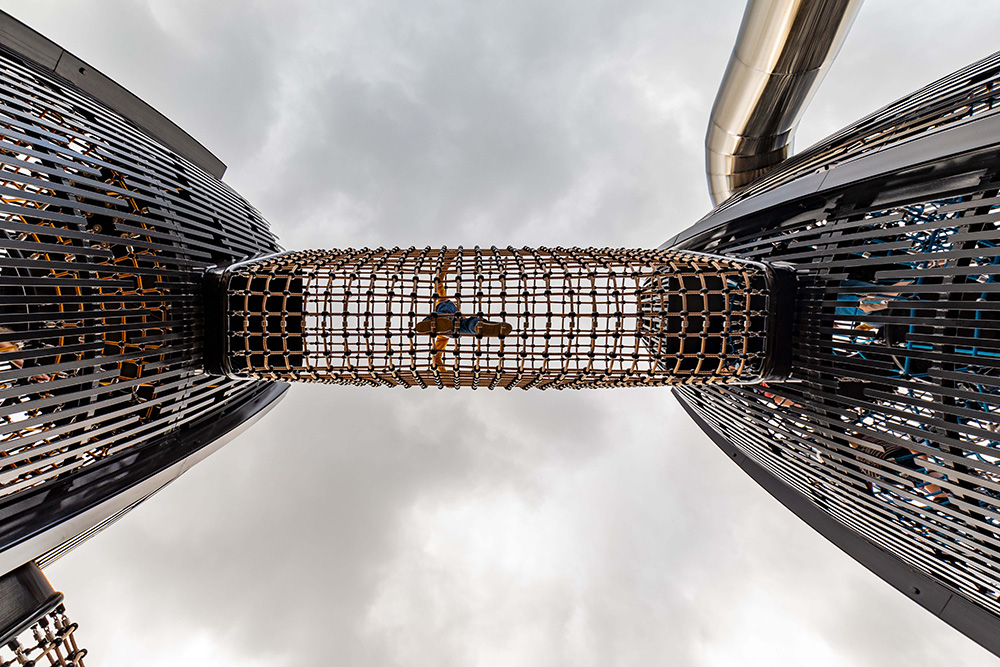 The Good Design Awards Jury commented: "This project is a tour de force in integrated design thinking and has delivered a new public space that is clearly loved by all ages who use it. It draws culture and creativity into the space and creates a place for the community to be healthy and active. Elements including the tidal Terrace, 'Seed Pod' play towers and the 'Fish Trap' demonstrate real innovation. Its application is not just local but global. The intent was to deliver connection to Country, to community and to the environment. This has been achieved completely and is a testament to the collaboration between client, consultant and community. Well done."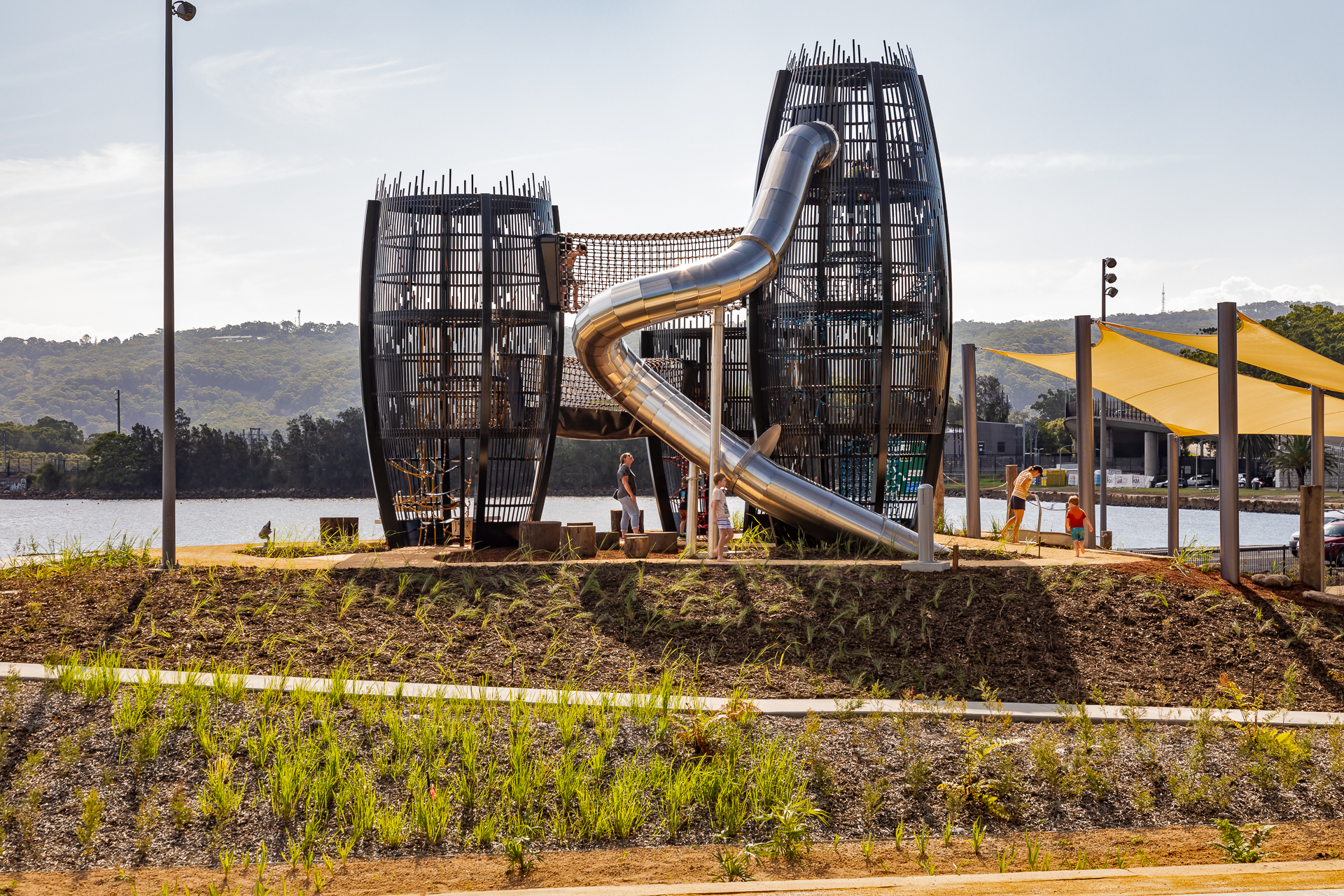 ---
DOWNLOAD HIGH-RESOLUTION IMAGES OF GOOD DESIGN AWARD WINNERS BELOW:
---