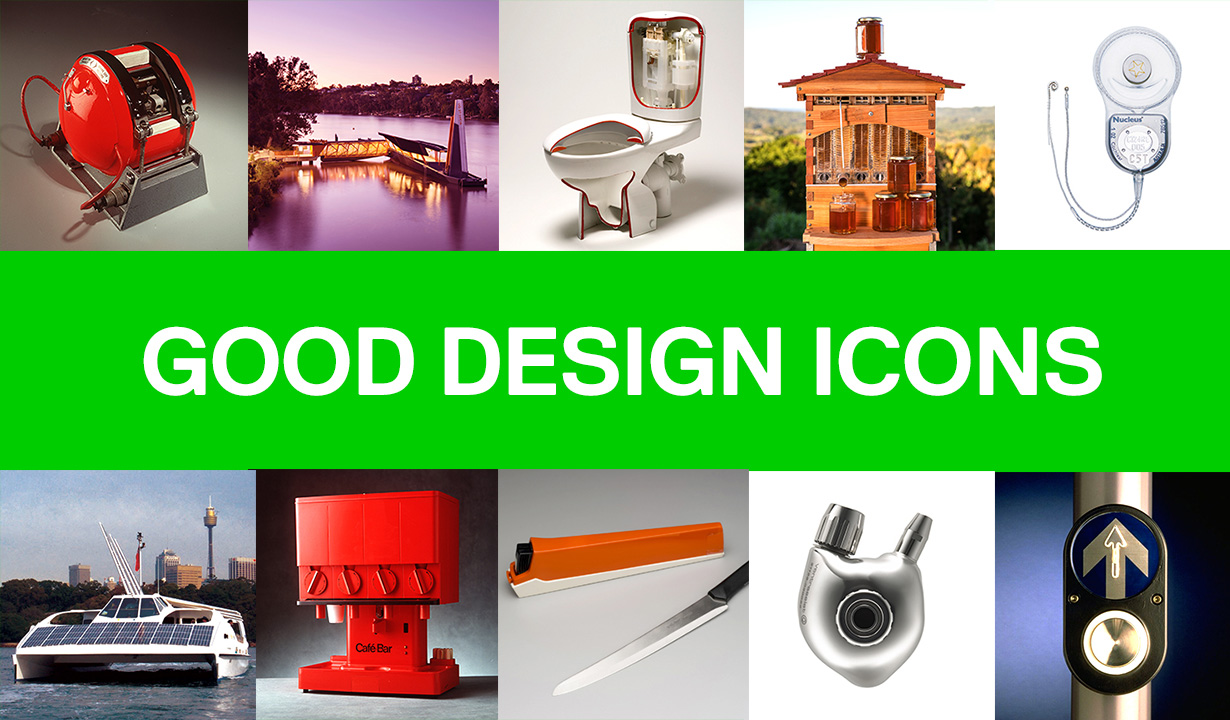 TEN AUSTRALIAN DESIGN ICONS
Published on: 28 February 2018
Share
From the black box to an artificial heart, ten Australian designs that have changed the world. As the Good Design Awards celebrates its 60th anniversary, Good Design Australia picks out its top ten award-winning products from the last six decades.
1960 – Black Box Flight Recorder
In the mid 1950s a series of fatal crashes involving the world's first passenger airline, known as the Comet, raised questions about how to improve future air travel safety.
Australian research scientist David Warren, then working at the Aeronautical Research Laboratory in Melbourne, came up with a simple idea: why not invent a recording device that could be retrieved from the wreckage?
In 1960 Australia became the first country to make cockpit recording mandatory, through Warren's device known as the "black box". Today it remains critical for airlines worldwide.
1972 – Wiltshire Staysharp Knife
Few things are more frustrating than a blunt knife – something that Dennis Jackson, a designer at Melbourne's Wiltshire Cutlery, knew.
In 1972 Wiltshire Cutlery launched a knife that could sharpen itself, using a spring-loaded sharpening block that sat inside a sheath. Helping to sell the knifes was fashion model and Aussie mum Maggie Tabberer whose ads, writes the Museum of Applied Arts & Sciences (MAAS), "instantly created the perception that [the Staysharp Knife] was fashionable, practical and desirable."
Since then, according to MAAS "more than eight million Staysharp knives have been sold, with patents and design registrations in 37 countries."
1974 – Café Bar Compact
In the good old days, if you wanted a cuppa you'd have to make it yourself – or call in the tea lady.
Then came the Café-Bar Compact, offering boiled water, hot chocolate and instant coffee, delivered with powdered milk and sugar through a butterfly valve.
First designed for factory floors, Aussie company Café-Bar soon saw potential in an expanding marketplace with a plethora of thirsty customers: the office.
The ability to chat to colleagues while making a coffee "transformed workplace culture," says Good Design Australia CEO, Dr Brandon Gien.
1982 – Caroma DuoSet Toilet
Australia is one of the driest continents in the planet, with water hard-to-come-by.
One solution to that problem was the two-button toilet, then a world first. Created in 1980 with $130,000 of government money by Bruce Thompson, a worker at South Australian bathroom accessories company Caroma, the toilet had both a half-flush and full-flush option.
Saving 32,000 litres of water per household annually, the dual-flush toilet soon become compulsory in new Australian buildings – and an upmarket version is still used today.
1984 – Audio Tactile Pedestrian Detector Button
Hundreds of thousands of Australians push the PB/5 pedestrian button every single day.
Released by Nielsen Design Associates in 1984, it was created to enable those suffering from hearing and sight impairments to cross the road safely.
Combining a buzzer, vibrating panel and braille direction arrow, it uses both visual, tactile, and sound cues to signal a green light.
It has since been exported around the world. "Like the dual-flush toilet it has stood the test of time," says Dr Gien.
2000 – Nucleus® 24 Contour Cochlear Implant
Technical advancements for this new cochlear implant included an electrode designed to provide more direct stimulation and a removable magnet for MRIs.
When Nucleus won the Australian Design Award of the Year in 2000, one of the implant's very first patients gave an acceptance speech.
Grabbing the microphone, on the verge of tears, she said: "The only reason I can hear you clap is because of these amazing people on stage".
Seven hundred people in Sydney's Town Hall, where the Awards were held, gave her a standing ovation.
As Dr Gien comments: "For that night, that moment, those people were super heroes."
2001 – Solar Sailor Tourism Ferry
The brainchild of Dr Robert Dane, who came up with the idea after watching dragonflies rest in the sun, the Solar Sailor is a seaworthy boat – powered by nothing but solar and wind.
Designed as a leisure ferry, capable of carrying a hundred people at any one time, it was operated by Captain Cook Cruises in Sydney Harbour for a decade.
Dr Dane has since set up the company OCIUS (Latin for "fleet") with the view of commercialising eco-friendly boat technology for shipping containers and other large vessels.
2006 – VentrAssist 'Artificial Heart'
In Australia patients needing a heart transplant are often on waiting lists for nine or more months – creating a ticking time bomb with lives on the line.
Australian medical device maker Ventracor sought to remedy this by creating the VentrAssist: a battery-powered alternative to the heart, surgically implanted just under the aorta. LVADs (or left ventricular assist devices) mimic the function of the heart. But most have complicated designs making them both prone to failure and with "a tendency to make blood pool and clot, leading to strokes," wrote New Scientist in 2004, meaning "LVADs are usually only used as a last resort."
The Ventracor, in comparison, has only one moving part – making it both more reliable and resistant to wear and tear. The device, six times smaller than the standard LVAD, buys time until a transplant can be found. And, in a strange twist, patients inserted with the VentrAssist do not have a pulse.
2016 – Flow Hive
Created by father-son team Cedar Anderson and Stuart Anderson, the Flow Hive started in a backyard (literally) with the initial design paid for by crowdfunding.
The beehive is simple: you turn a handle and honey, ready to use without requiring heating, processing or refining, is released from a tap without disturbing the bees.
"The bee populations around the world are decreasing; if our bee populations end up disappearing that's the end of civilisation.
Is this going to solve our problem?" asks Dr Gien. "Absolutely not. But what it will do is allow more and more people to have beehives – even if it increases bee populations by half a percent that's a great thing."
2017 – Flood Resilient and Accessible Ferry Terminals for Brisbane
In 2010-2011 devastating floods hit Queensland and Brisbane, leaving thirty-five people dead and $2.38 billion in damages.
One of the leading culprits were city ferry terminals: snapped off their moorings, these vast structures destroyed everything in their wake.
To prevent this from happening again, Cox Architecture and engineering firm Aurecon designed the Flood Resilient ferry terminal.
Able to be returned to use shortly after a flood, the terminal incorporates a single pier that deflects debris away from the platoon and an upstream fender which absorbs flood impact.
In floodwaters, a detachable buoyant gangway can unhinge itself from the terminal – potentially saving property, and lives, along the way.
Good Design Australia celebrates 60 years of promoting excellence in design and innovation in 2018.
Read our full history here.