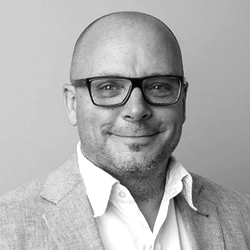 CEO and Founder
Frost* collective
Vince has a celebrated creative career spanning more than 25 years; his award-winning work continues to have an impact across the globe.
Before starting Frost*design in London in 1994, Vince was the youngest associate director at UK multi-disciplinary design firm Pentagram. In 2004, he relocated to Sydney and, as CEO and executive creative director of Frost*design, has led a wide range of transformative projects for clients including Deutsch Bank, Qantas, Frasers Property and the Sydney Opera House.
As a member of ISTD and AGI, a board member of D&AD, and author of the book Design Your Life, Vince judges and lectures globally to diverse audiences on the value of design and the difference it can make in our modern world towards enriching people's lives.