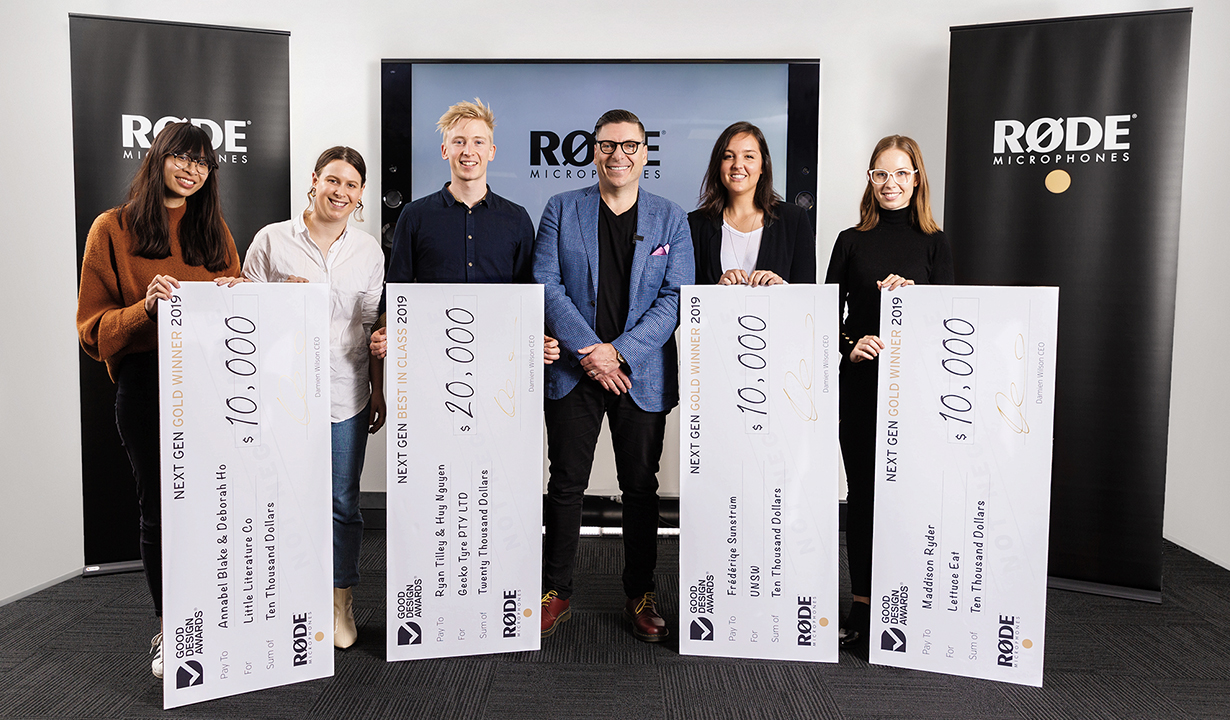 RØDE Awards $50K to Next Gen Winners
Good Design Australia is proud to announce that our Next Gen Category Partner RØDE Microphones will be awarding a total of $50,000 AUD to the winners of the Next Gen category for the 2020 Good Design Awards. We believe this to be the largest cash prize offered for a student awards program in Australia. 
The Next Gen category is open to young designers under the age of 30 in Australia and New Zealand and recognises innovation, sustainability, technology and design excellence across a range of design disciplines. RØDE Founder and Chairman Peter Freedman AM is a devoted supporter of the Good Design Awards and has been the principal sponsor of the Next Gen category for the past four years.
RØDE announced they would be increasing the prize money in a surprise announcement at the 2019 Good Design Awards Ceremony last year and the 2019 Winners were thrilled to receive their share of the generous total prize money. They were awarded at RØDE's HQ in Sydney during an event on August 30 2019, which followed the official Good Design Awards ceremony in July. The three Gold winners were awarded $10,000 each, while the Best in Class winners received a cheque for $20,000 for their Gecko Traxx project. 
"It was a real pleasure to present the Next Gen winners with their prizes," says RØDE CEO Damien Wilson, "and to support Peter's vision for fostering young creatives and innovators. Peter was very impressed by all of the winners, as were we all here at RØDE, and we hope their prize money helps them on their journeys ahead."
The 2019 winning entries were Lettuce Eat, a series of plates made from dehydrated lettuce sourced from supermarket waste, designed by Maddison Ryder from Melbourne; Continuity, a non-invasive glucose responsive insulin, developed by Frédérique Sunstrüm from Sydney; Talu Tales, an interactive storytelling game that uses STEM education techniques to teach children, developed and designed by Annabel Blake and Deborah Ho from Little Literature Co. in Sydney; and finally the Best In Class winner, Gecko Traxx, a portable and affordable wheelchair accessory that enables off-road access for manual wheelchair users, designed by Ryan Tilley and Huy Nguyen from Melbourne.
For 2020 the prize money will be split differently to allow more winners to receive a piece of the huge $50,0000. 2020 cash prizes will be split as follows:
Good Design Best in Class Winner = $20,000 (only 1 winner)
Good Design Award Gold Winner = $7,000 each (3 winners)
Good Design Award Winner = $1,000 each (9 winners)
RØDE has pledged that their support of the Next Gen category will continue next year and into the future.
For press enquiries regarding RØDE or The Freedman Group, contact Nick Stillman Nick.Stillman@rode.com
About RØDE Microphones and The Freedman Group:
RØDE Microphones designs and manufactures high-quality microphones, interfaces and related accessories for studio, live and location use. Its products are designed and primarily manufactured in Sydney, Australia and exported to over 117 countries globally. RØDE is part of The Freedman Group, with APHEX, Event and SoundField. Freedman Electronics celebrated its 50th anniversary in 2017.