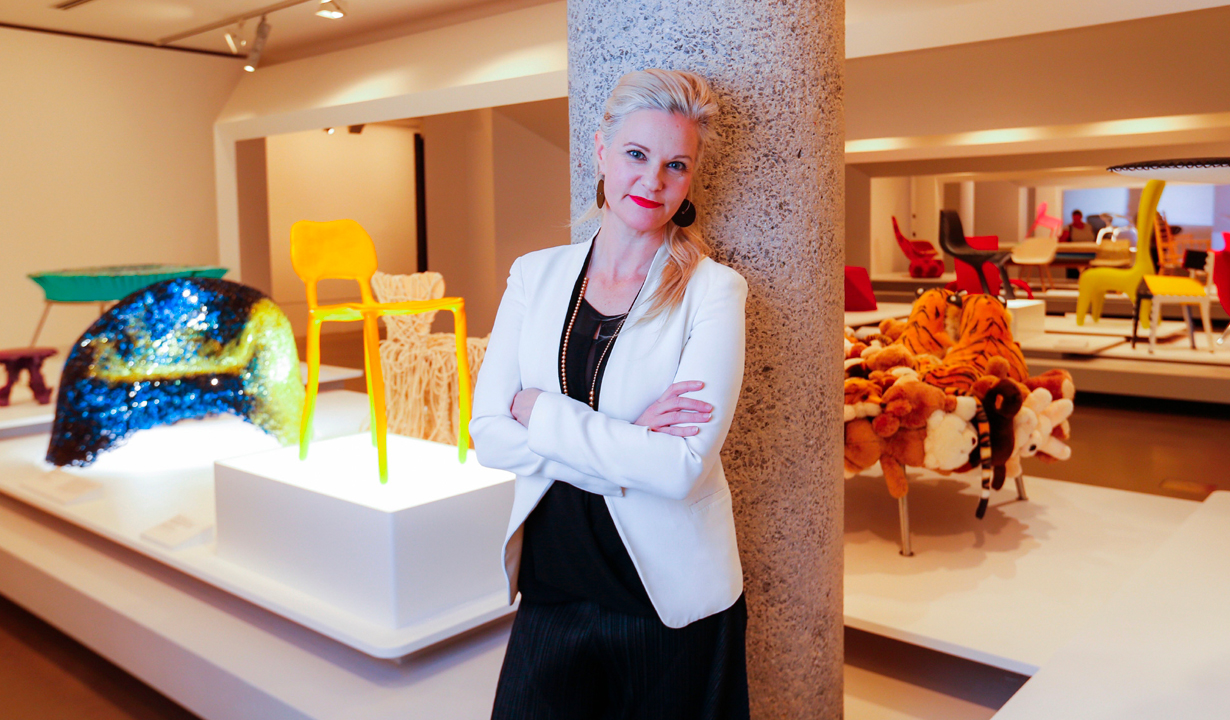 Hugh D.T Williamson Curator of Contemporary Design and Architecture
National Gallery of Victoria (NGV)
A designer, artist and curator, Simone LeAmon has established a career as one of Australia's foremost design professionals. Championing the importance of design and creativity, and the work of our creative communities for near to three decades, her field of influence extends beyond our shores. LeAmon's accumulated activities have brought her global recognition and significantly, fostered vital understanding of the contemporary design scene in Australia in view of a broad international audience.
Simone was the recipient of the 2021 Good Design Australia's Women in Design Award.
In 2015, LeAmon was appointed the inaugural Hugh D.T Williamson Curator of Contemporary Design and Architecture at the National Gallery of Victoria following two decades as an artist and designer. LeAmon has co-curated an extensive program of exhibitions and collecting of Australian and international contemporary design including the annual Melbourne Design Week.
Curatorial activities at NGV include the Melbourne Design Fair (2022-3); Melbourne Now (2023); NGV Triennial (curatorium) (2017 & 2020); Lucy McRae: Body Architect (2019); Black Bamboo: Contemporary Bamboo Furniture Design From Mer (2019); Designing Women (2018); and, Rigg Design Prize (2015, 2018, 2022). In 2013 LeAmon was guest curator and co-exhibition designer for the design component of NGV's inaugural Melbourne Now.
LeAmon has co-founded two design studios, n+1 equals interdisciplinary studio (1998-2003) with Charles Anderson and Simone LeAmon Design and Creative Strategy (2003-2015). Between 2013-16 LeAmon conducted a collaborative practice with architect Edmund Carter. She is Adjunct Professor in the School of Design and Social Context at RMIT University.
Responsible for a vast array of commercial and cultural production, including product and furniture design, interior design, contemporary jewellery and speculative design. Projects include the crescent design for the Australian Islamic Centre, Hobsons Bay, Vic, for Elevli Plus and Glenn Murcutt; Lighting products for Rakumba Lighting (Vic); Bespoke lift interiors for the Juilliard Group (Aus); and, the noted Bowling Arm bangles sold globally. Between 2007-2010 Simone was the creative director for Australian manufacturer PLANEX.

Simone's art and design work has been exhibited in numerous solo and group exhibitions including: Unexpected Pleasures, Design Museum London (2012); Freestyle: New Australian Design for Living, Triennale di Milano (2008); Anytime Soon, 1000 Eventi Milano (2005); Quiet Collision, Viafarini Gallery Milano and MOTO Showroom, Gertrude Contemporary Arts Spaces, Melbourne (2003).