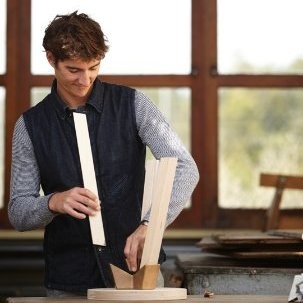 Designer
Studio Henry Wilson
I am a designer living and working in Sydney.
I studied at the Australian National University School of Art in Canberra, graduating with first class honours in visual arts, specialising in woodwork.
During my time at ANU I went on exchange to Rhode Island School of Design. I then moved to Europe to do my Masters at the Design Academy Eindhoven before returning to Sydney to set up my own studio in 2012.
My work combines a rational, democratic utility with an element of sculptural expression. There is a clear form and function in my products, but it's important they also have feeling.
I am interested in the awkward beauty that comes from something made by hand. I like to explore how imperfection can be introduced into an industrial process, to make something at scale that retains a sense of individual charm.