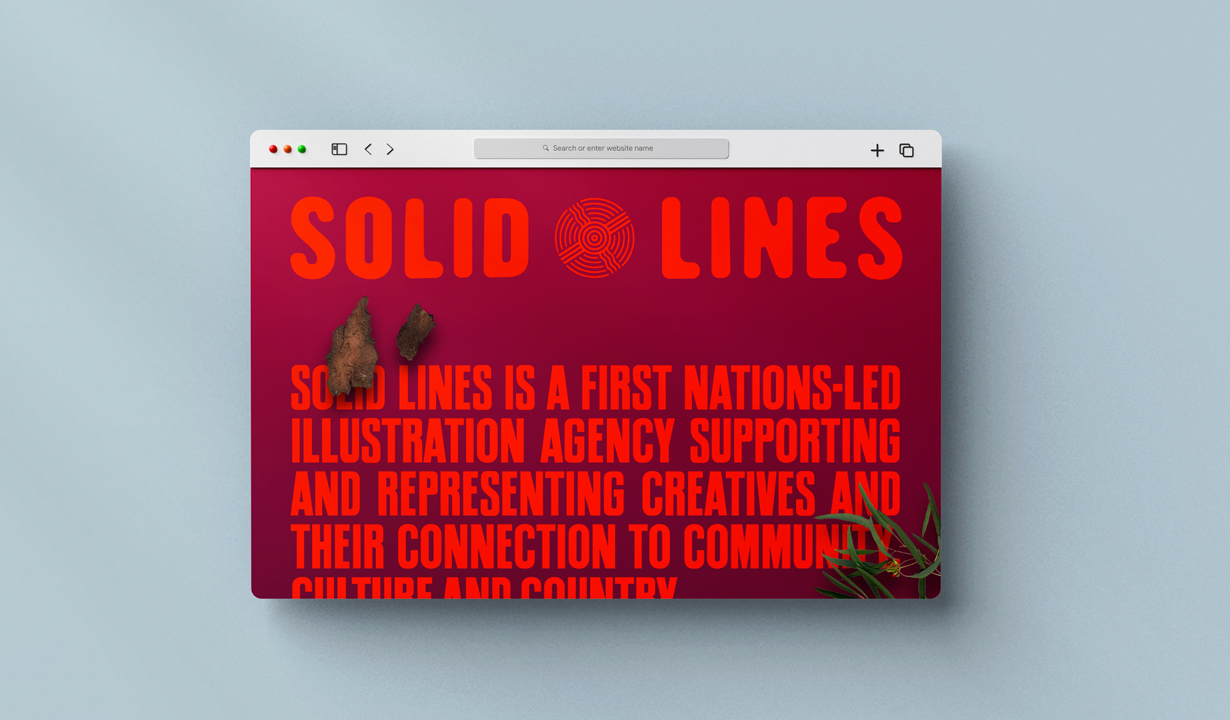 Solid Lines – 2023 Indigenous Design Award
Published on: 9 September 2023
Share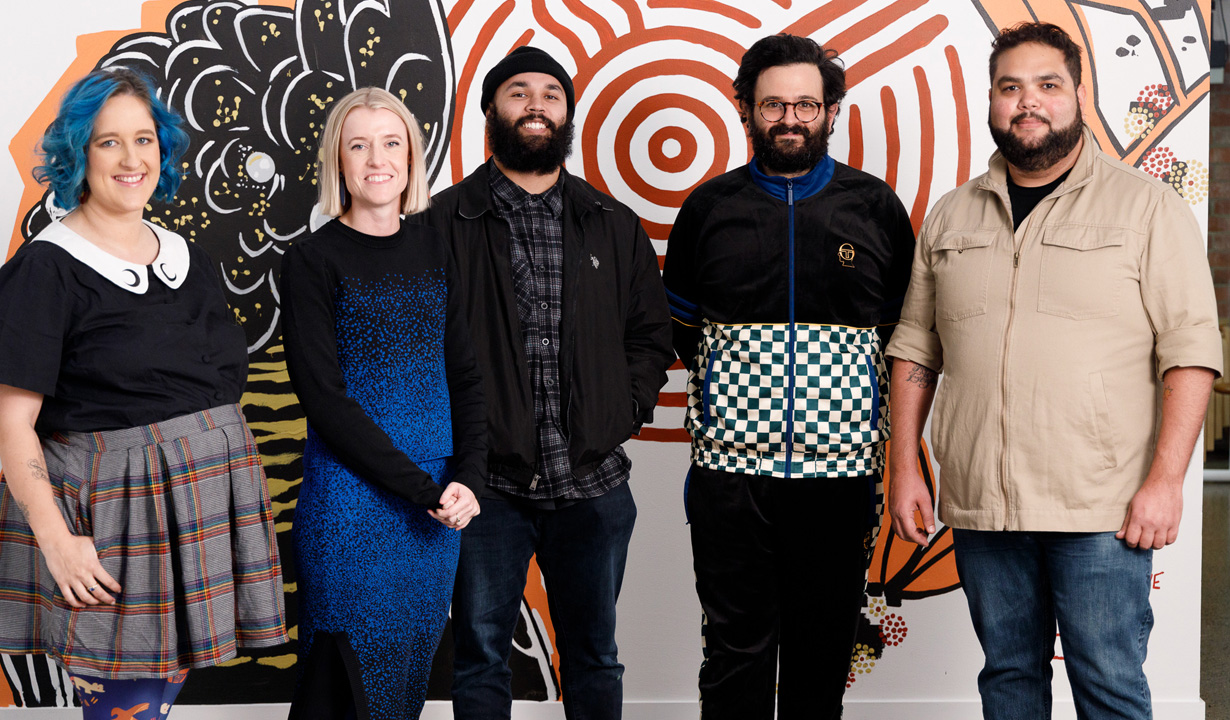 PROUDLY PRESENTED BY RMIT UNIVERSITY, THE INDIGENOUS DESIGN AWARD RECOGNISES AND CELEBRATES THE IMPORTANT CONTRIBUTION THAT AUSTRALIA'S ABORIGINAL AND TORRES STRAIT ISLANDER DESIGNERS MAKE ACROSS THE SPECTRUM OF AUSTRALIAN DESIGN.
THE AWARD WELCOMES NOMINATIONS OF INDIGENOUS INDIVIDUALS AS WELL AS PROJECTS WHERE AT LEAST ONE MEMBER OF THE DESIGN TEAM IDENTIFIES AS ABORIGINAL OR TORRES STRAIT ISLANDER. RMIT AND INDIGENOUS COMMUNITY REPRESENTATIVES EVALUATE NOMINATED SUBMISSIONS AND SELECT THE OVERALL WINNER FOR THE AWARD BASED ON SPECIFIC EVALUATION CRITERIA.
Solid Lines is all about creating solid pathways for emerging First Nations artists to find success, recognition, support and fair representation within the art and design industries. As Australia's first First Nations-led illustration agency, it's reimagining the future commerciality of Indigenous and Torres Strait Islander creativity, contributing to policy development and setting new standards within Australia's creative space along the way.
However, as head designers Emrhan Tjapanangka Sultan and Dr Nicola St John tell Good Design Australia, they aren't pathways easily forged. The art and design industries are often ignorant of First Nations ways of working, and there are few existing platforms that represent First Nations creatives on their own terms, in culturally safe and supported ways.
Solid Lines agency therefore innovates at a much-needed crossroads of policy, opportunity and design, representing the first phase of a long journey that champions the protection of Indigenous Cultural and Intellectual Property (ICIP). It involves the curation of beneficial partnerships and culturally safe creative opportunities that respect and give back to community.
Good Design Australia sat down with Emrhan and Nicola ahead of the announcement of Solid Lines as the 2023 recipient of the Indigenous Design Award. 
---
Good Design Australia: Before we dive into where Solid Lines is now, let's jump backwards a bit to define the challenge it faces head-on.
Dr Nicola St John: The idea and the concept of Solid Lines really came from conversations Emrhan and I had around the lack of representation and access for First Nations creatives in these more commercially oriented, design-based industries. There weren't these safe and supportive pathways to support First Nations artists to gain access to such spaces. What do you reckon Em?
Emrhan Tjapanangka Sultan: The artists that we spoke to at the very beginning stages of the artist consultation process felt like they weren't being represented culturally, specifically around intellectual property. We found that a lot of agencies owned the rights to a lot of the artworks that were being designed by these artists. So, we wanted to make sure that what we set up with Solid Lines supported artists to own their own works. 
GDA: To ensure artists always had something to hang their hat on?
NSJ: Yes. When you think of Western or Eurocentric licensing practices, artwork licences or brand copyright for example, it's quite different to how First Nations artists and communities would like to do it. So Solid Lines was really built around developing a licensing policy that protected First Nations artists and their cultural heritage.
We worked with a First Nations lawyer to develop the ICIP. It helps protect First Nations artists when clients are licensing First Nations work or working with First Nations artists, and it ensures that clients aren't inadvertently stealing First Nations art or knowledge or culture, or trying to copyright things that can't be owned, in a commercial sense.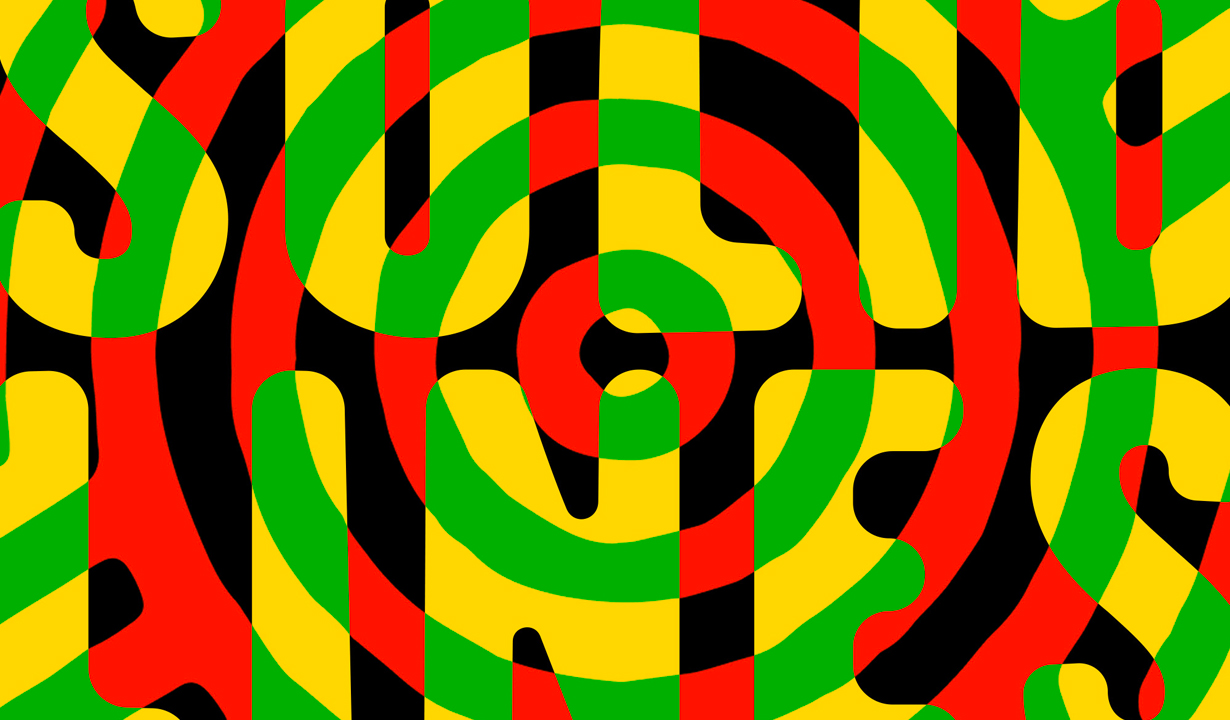 GDA: Solid Lines is evolving through somewhat of a phase-by-phase journey. Where are we now, and where is it headed?
ETS: We're in stage one at the moment – the nesting period. We just celebrated our first anniversary, actually, and are looking at going into phase two pretty soon which will continue to establish Solid Lines as a standalone First Nations-owned business.
GDA: The last phase sees Solid Lines become a First Nations owned, operated and controlled business, but giving back to community is another integral part of the business structure. How will this work?
NSJ: Giving back to community and having a community at the heart of everything that we do at Solid Lines was something that came out of our collaborative approach to developing the agency directly alongside artists. All the artists are really keen to invest back into community and provide access and representation for the next generation of artists coming through as well. 
So a percentage of all of the profits go back into our Community Development Fund. It'll allow us to develop programmes that  reinvest back into communities where the artists are from, but also other communities around Australia  where First Nation creatives might not have access to digital design skills or design education or pathways into these commercial industries. So we're really excited to be able to start that next phase of the business.
ETS: We also want the agency to be really transparent with the artists, which is why it was really important for us to have those conversations with the artists to find out from them what was fair. We've heard too many stories of artists feeling like they were being ripped off by agencies within the industry, so being really transparent around where the funds are going and how they've been spent is important.
GDA: There's a phenomenal quote from artist Coree Thorpe on the Solid Lines website. It notes: "Aboriginal art is always evolving and we're evolving as well. We don't want to be pigeonholed as Aboriginal artists, but be acknowledged as contemporary artists in our own right". Is this transformational shift something that Solid Lines is pining for?
ETS: Absolutely. I think when we're looking at protecting our artistic culture, you see a lot of fake art coming in from overseas. A lot of people also, when they think about Aboriginal art, think of the traditional style dot paintings or the top end style artwork that's become really popular. We really wanted to kind of encourage understanding that there's more to the Aboriginal art space. We have Aboriginal artists in different graphic design industries, visual artists, muralists – we wanted to expand on that as well.
Something that I'm really passionate about as well is opening up pathways for, and working with, younger artists who may not have grown up deeply connected to their culture. They're still on a journey and inventing themselves as artists. With a bi of guidance they're able to learn a bit more about their culture and the types of art styles that belong to their people.
NSJ: Solid Lines is really trying to change the face of Australia's design industry. And for me, I think design is a powerful way to represent national identity and stories as an industry. So Solid Lines is kind of really shifting that narrative. It's shifting the story of what Australian design is, what it represents, what its values are. Also, I guess, what it can look like. It's all about creating a much more diverse and representative agency of what Australian design actually is that draws on all that rich heritage and knowledge of our first peoples.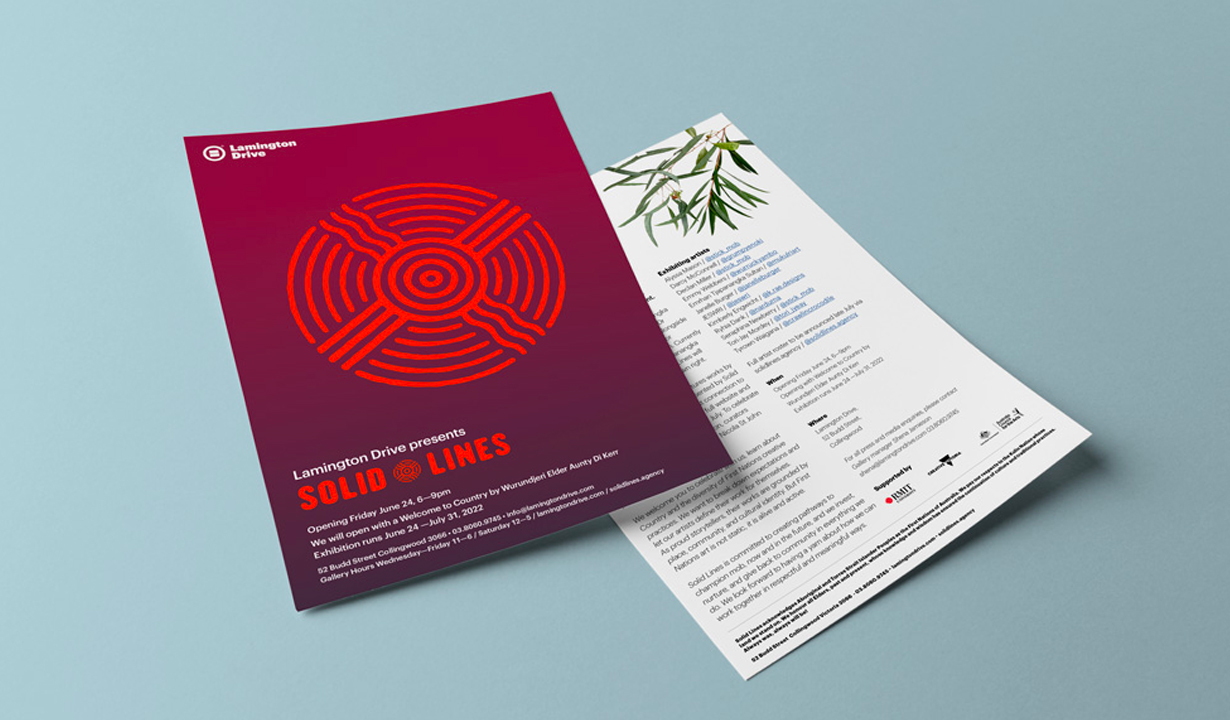 GDA: To get very meta, knowing that Good Design Australia defines "good design" as ideas, products, services, that show potential to lead a better, safer and more prosperous future for all, how would you both describe "good design" yourselves?
NSJ: That is a hard question. I think maybe "good design" is something that tells an important story and offers an accurate representation of culture, or enables one to express themselves and their cultural heritage. Good design supports culture.
ETS: And that extends to the world stage as well. Something that I would like to see in other countries is the blueprint of Solid Lines being established for other First Nations or Indigenous peoples so their cultures can be protected as well. For example, you see throughout the US and Canadian markets a lot of Native American style artworks being manipulated. So, I'd like to see good design and the Solid Lines blueprint supporting culture around the world.
---
VIEW ALL 2023 GOOD DESIGN AWARD WINNERS HERE