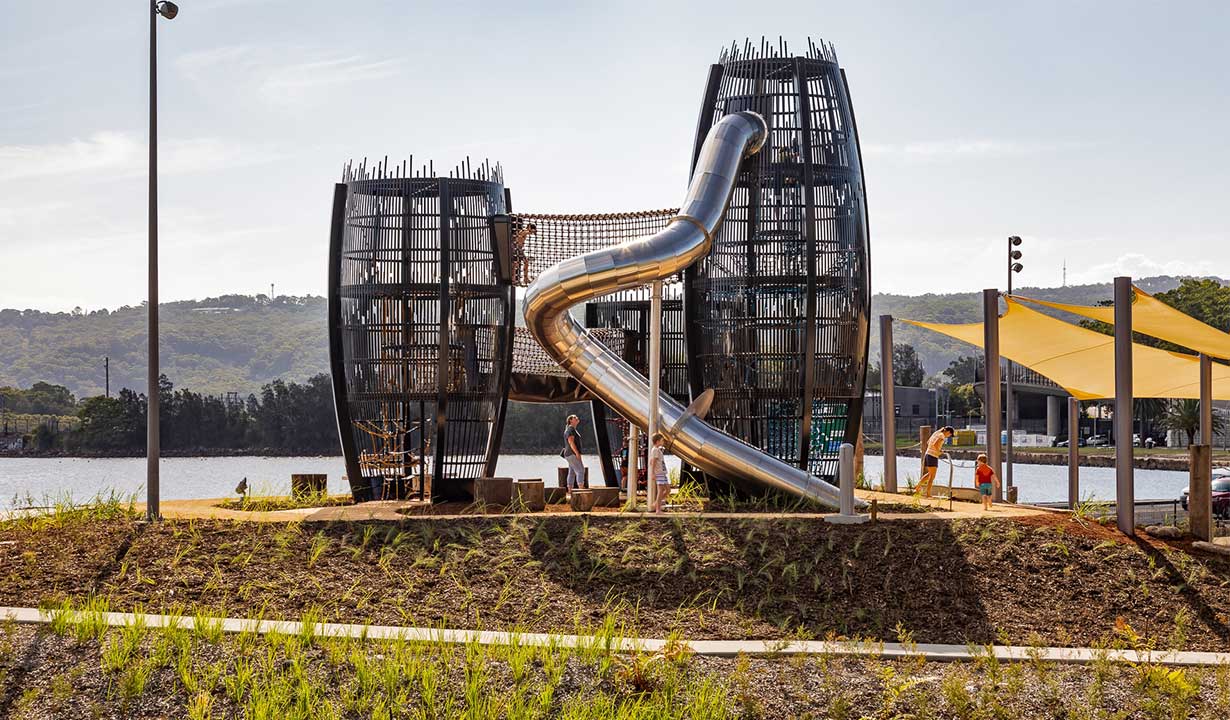 Indigenous Design Award
Published on: 31 March 2022
Share
RISING TIDES: HOW A VIBRANT WATERPARK, PLAY SPACE AND COMMUNITY HUB RECONNECTS THE CITY OF GOSFORD WITH ITS PRE-EUROPEAN HISTORY AND ECOLOGY AND CELEBRATES INDIGENOUS CULTURE.
Content: Freya Lombardo
Time travel. It's a concept that has intrigued everyone from children to science-fiction authors and filmmakers as well as cosmologists and astrophysicists. Is it impossible? Or could it be possible? What if we mentioned you can travel back in time? Say, hundreds to 60,000 years? No wormholes required.
You can do just that by venturing to Gosford on Greater Sydney's Central Coast, where you'll discover an exciting new waterfront 'wild play' space that delights young and old. Gosford Leagues Club Park, commissioned by the Hunter and Central Coast Development Corporation, was honoured with Good Design Australia's Indigenous Design Award and reinstates environmental aspects of ancient Aboriginal culture and 'Country'.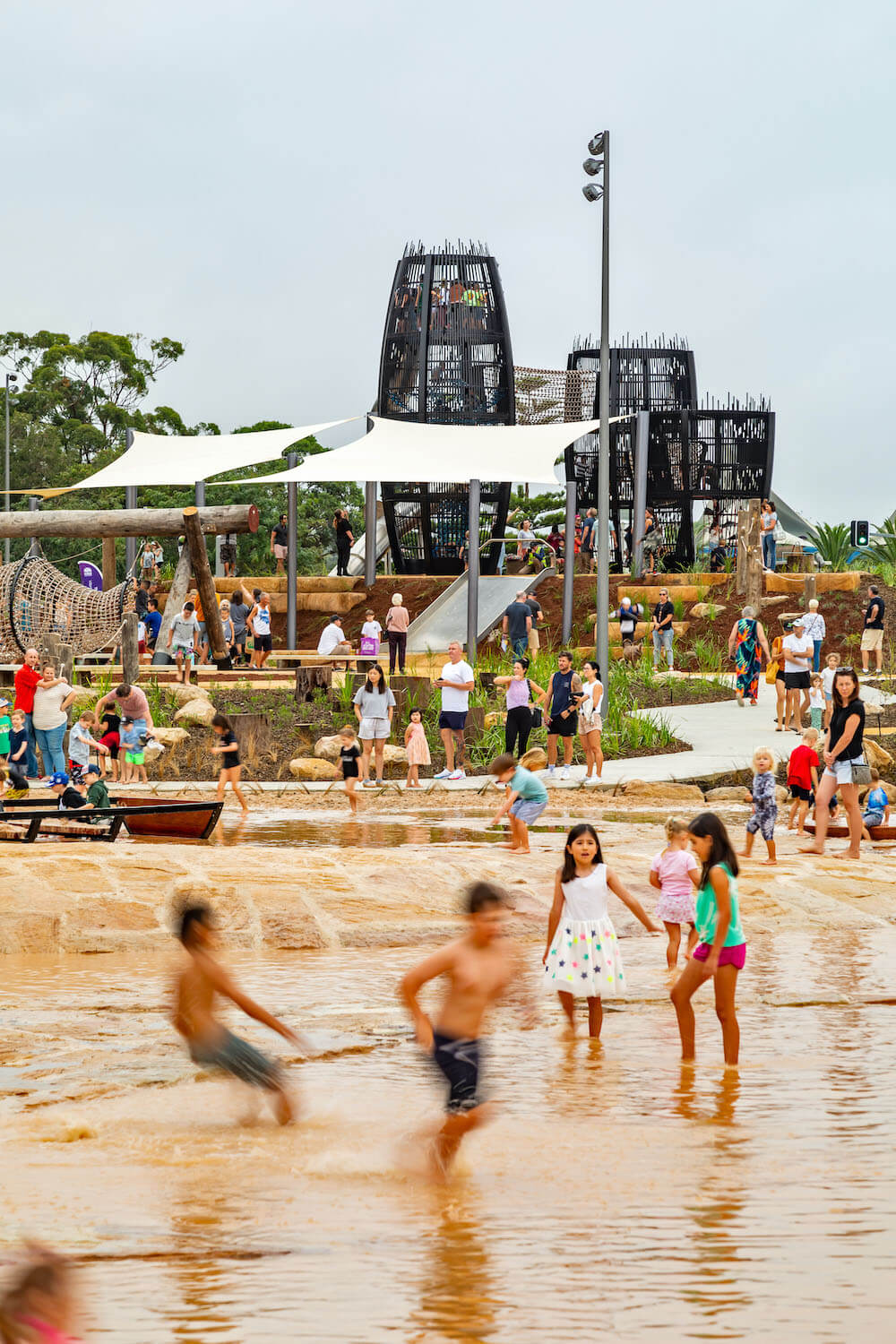 Here, landscape architects Turf Design Studio and Aboriginal elder Kevin 'Uncle Gavi' Duncan collaborated with Civillle, ElectroLight, WSUD, and WordPlay to create a nature-inspired playground that incorporates innovative design elements, most notably a 'Tidal Terrace'. This unique water play zone references the shoreline that the region's original inhabitants would have experienced thousands of years ago and links the new park with Brisbane Waters. It is a powerful gesture that reconnects Gosford to its ecologies, histories, and Indigenous culture.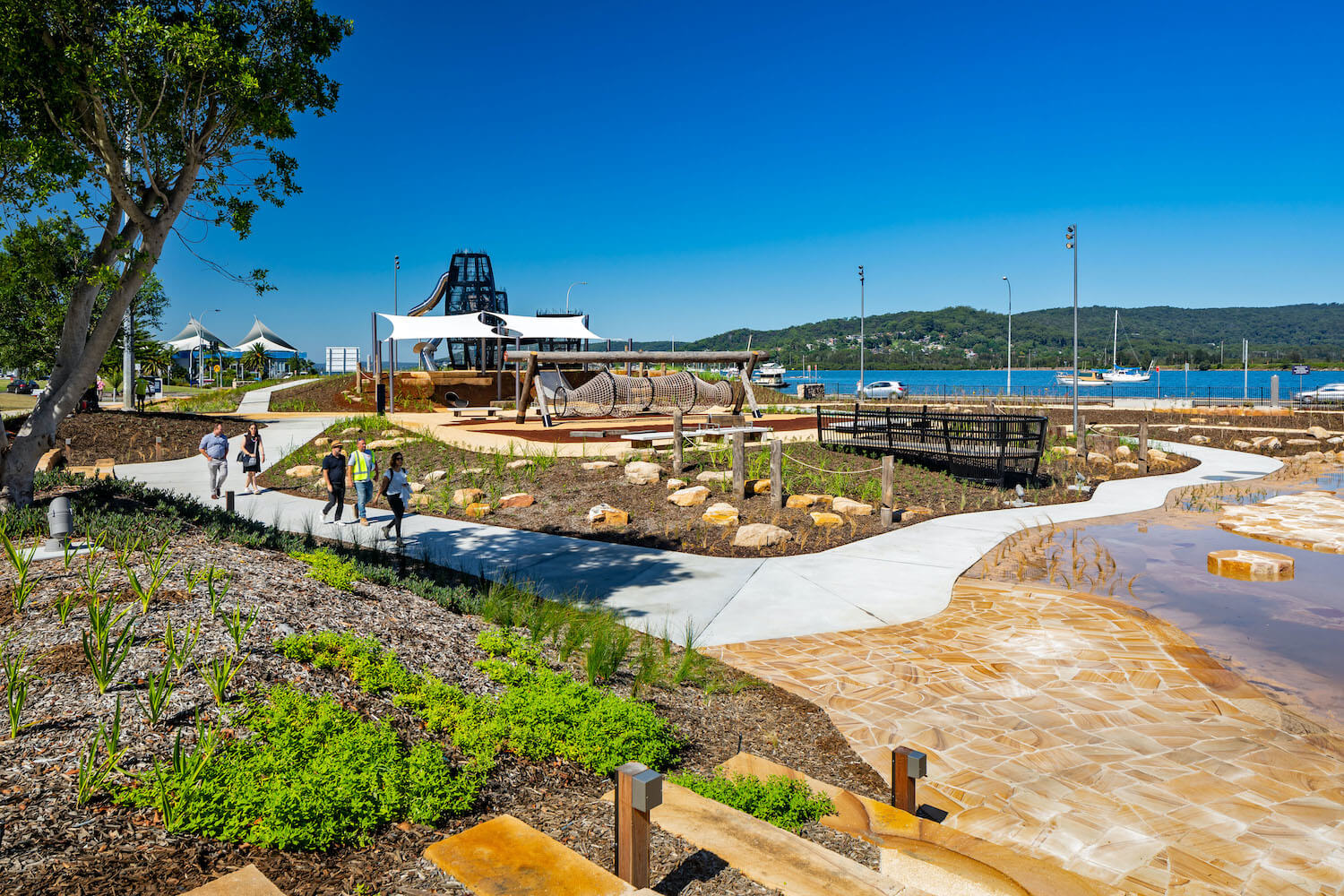 Turf Design Studio Director Mike Horne says discovery of the early shoreline on historical surveys, located deep within the park and long buried, strongly influenced the park narrative and its overall physical form.
"We saw an opportunity to not simply interpret, but also restore this lost shoreline in a kind of archaeological dig, revealing the bay floor as an estuarine wild play area, a 'Tidal Terrace' – a place to play, to learn, to connect to nature," he explains.
Mike mentions that by "working with the Darkinjung, we learnt the site was once an important camp, a place of trade and cultural exchange, a meeting ground between the Darkinjung clans and with adjoining nations such as the Gadigal, Gomeroi and Wiraduri".
A series of workshops also conferred the importance of 'Country', both land and sea, as resource and spiritual connection.For instance, elder and artist Kevin 'Uncle Gavi' Duncan shared important local rock carvings and asked if these could be incorporated in the park.
The Tidal Terrace brings the bay into the park through a shallow waterway. As the tide ebbs and flows, the water alternately reveals and subsumes large sandstone 'islands' that resemble mythic sea creatures inspired by the rock carvings in the nearby Bulgandry Aboriginal art site on the Central Coast.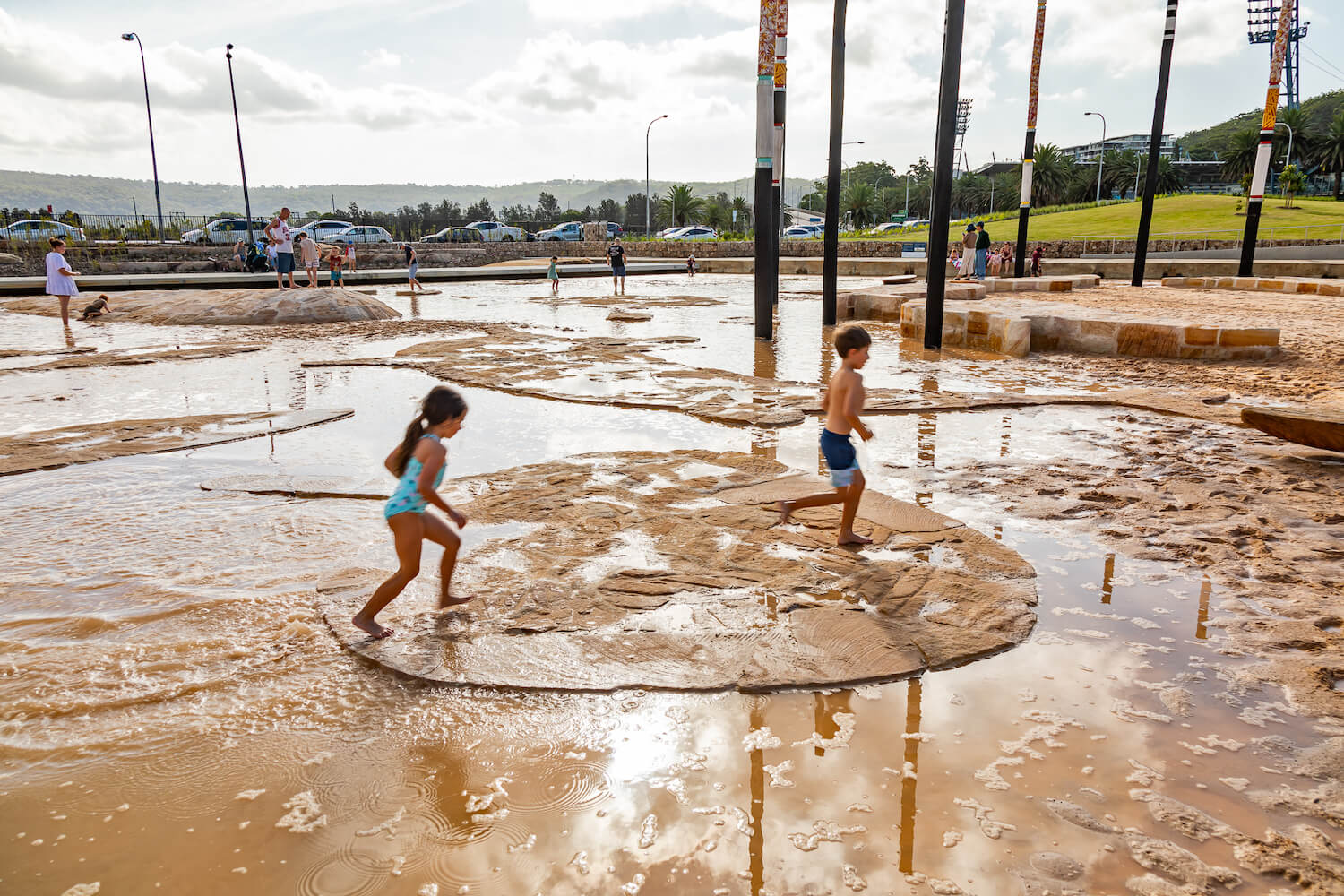 Darkinjung oral history recounts this place as an important point of first contact between the Darkinjung and Europeans. "There are journal entries from 1788 that say that when Governor Arthur Phillips's survey parties were mapping the Brisbane waters and came up to Gosford, they found a marina of canoes here and a populated campsite. We wanted to tell the story of that moment in time," says Mike.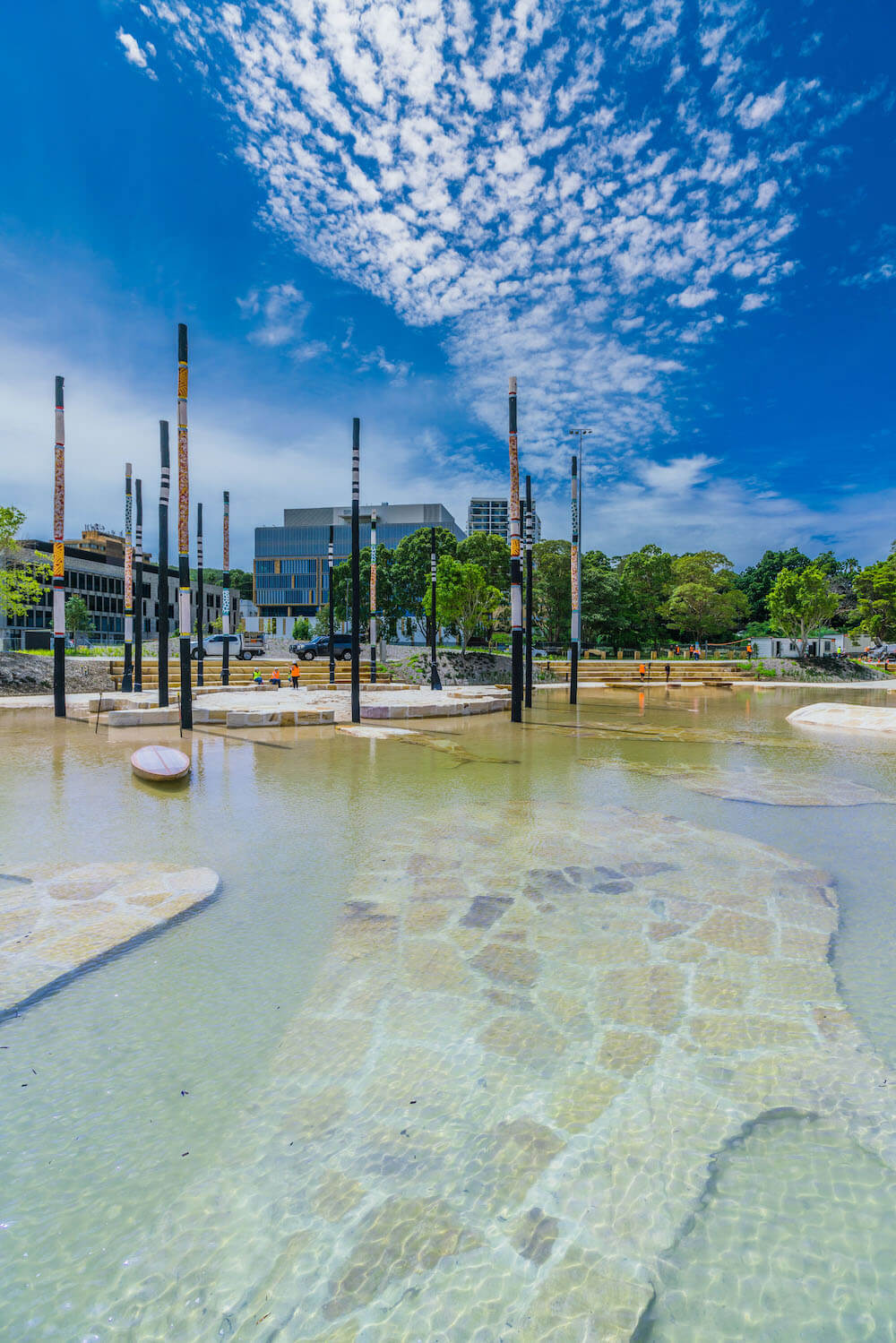 The Tidal Terrace became a place to interpret these songlines and stories – the camp, first contact and carvings – in a new meeting ground for all. The terrace fills with seawater at every high tide, creating a dynamic water park in which to explore, enjoy and learn. At its heart is a central community node, Norimbah – a dance ground, defined by timber totems of both clans and nations. This raised island in the Tidal Terrace forms a circular gathering place that is perfect for community get-togethers, entertainment and education.  
While the Tidal Terrace is the park's focal point, play opportunities for all abilities extend into adjoining spaces. Located nearby, atop an adjacent rise, three 'Seed Pod' timber-battened towers offer expansive views across the region and are designed to encourage unstructured play, climbing and exploration. Children can ascend the towers and clamber through the rope tunnels before riding the twisting slide back to the ground.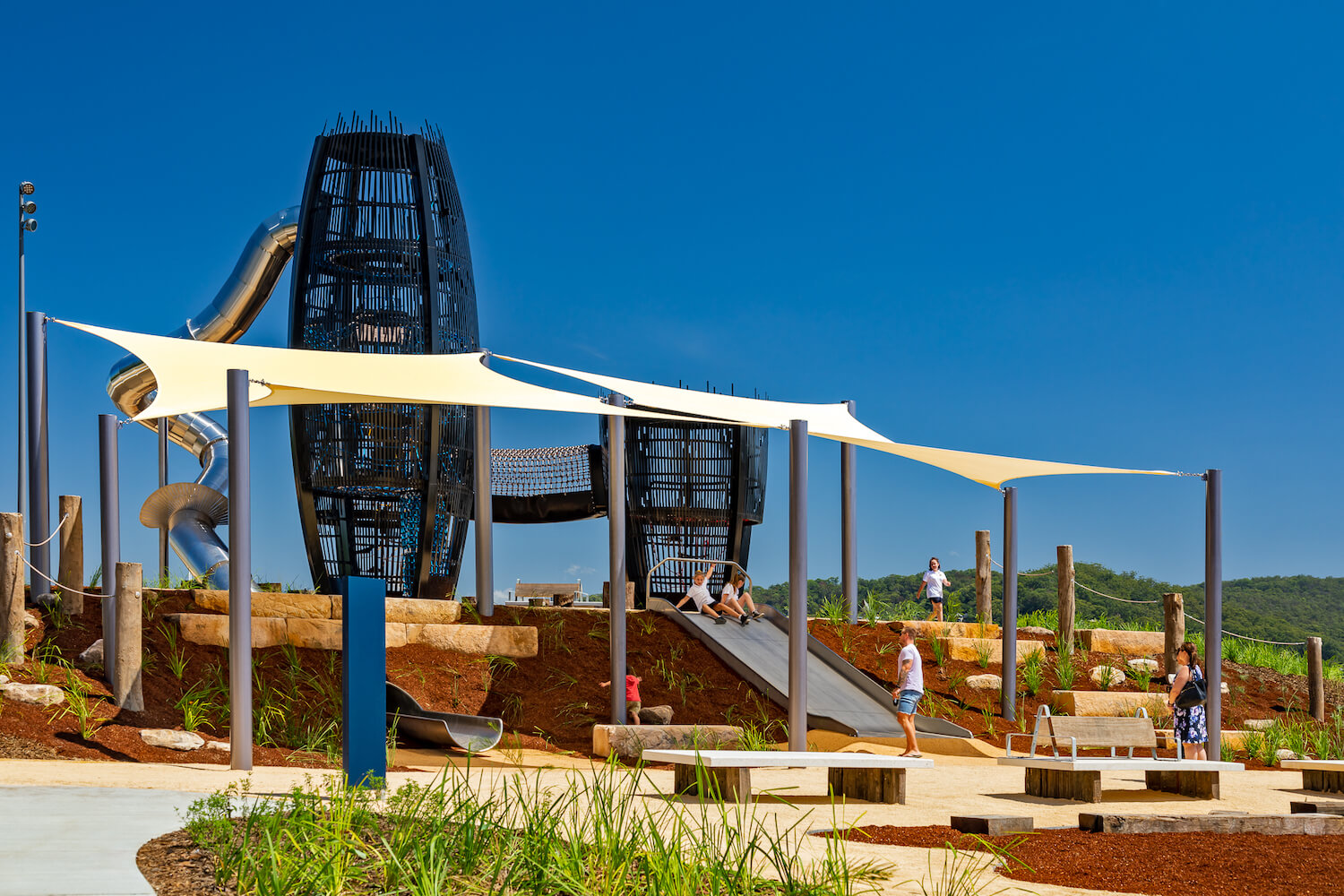 A communal rope structure dubbed the 'Fish Trap' recalls innovative methods of Indigenous aquaculture while inviting immersive, imaginative play as it sways in space. To the north of the Tidal Terrace is Ray Maher Field, an open lawn framed by mature Date Palms, capable of accommodating everything from kicking a ball to a major civic event. To the east, Baker Street is extended as a pedestrian zone shared with slow moving vehicles, providing access to neighbouring buildings as well as key spaces, adjoining BBQs, picnic facilities, showers, amenities building and exercise area.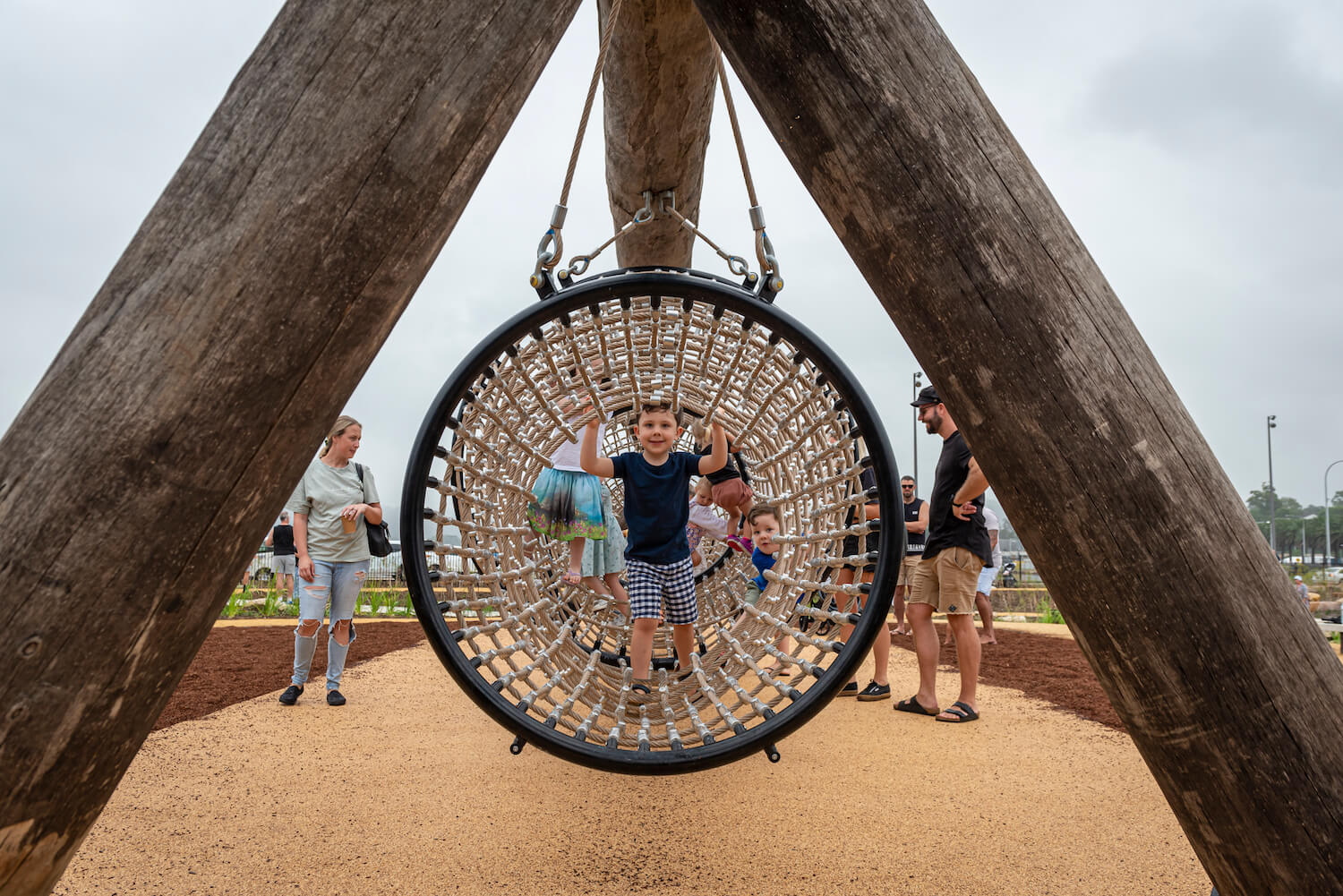 The time-honoured maxim that 'a rising tide lifts all boats' certainly applies here.
Through extensive community consultation with the Darkinjung Local Aboriginal Land Council, Turf Design Studio and their collaborators have embedded ancient Indigenous culture in the park's core setting a new benchmark for activating public spaces.
Gosford Leagues Club Park offers us all a chance to travel back in (dream) time to a waterfront where you can literally experience the tide turning toward a deeper appreciation of Aboriginal history and culture. It is a stellar example where design elevates place – by connecting to environment, to Country, and to community – creating an adaptable and welcoming space for all.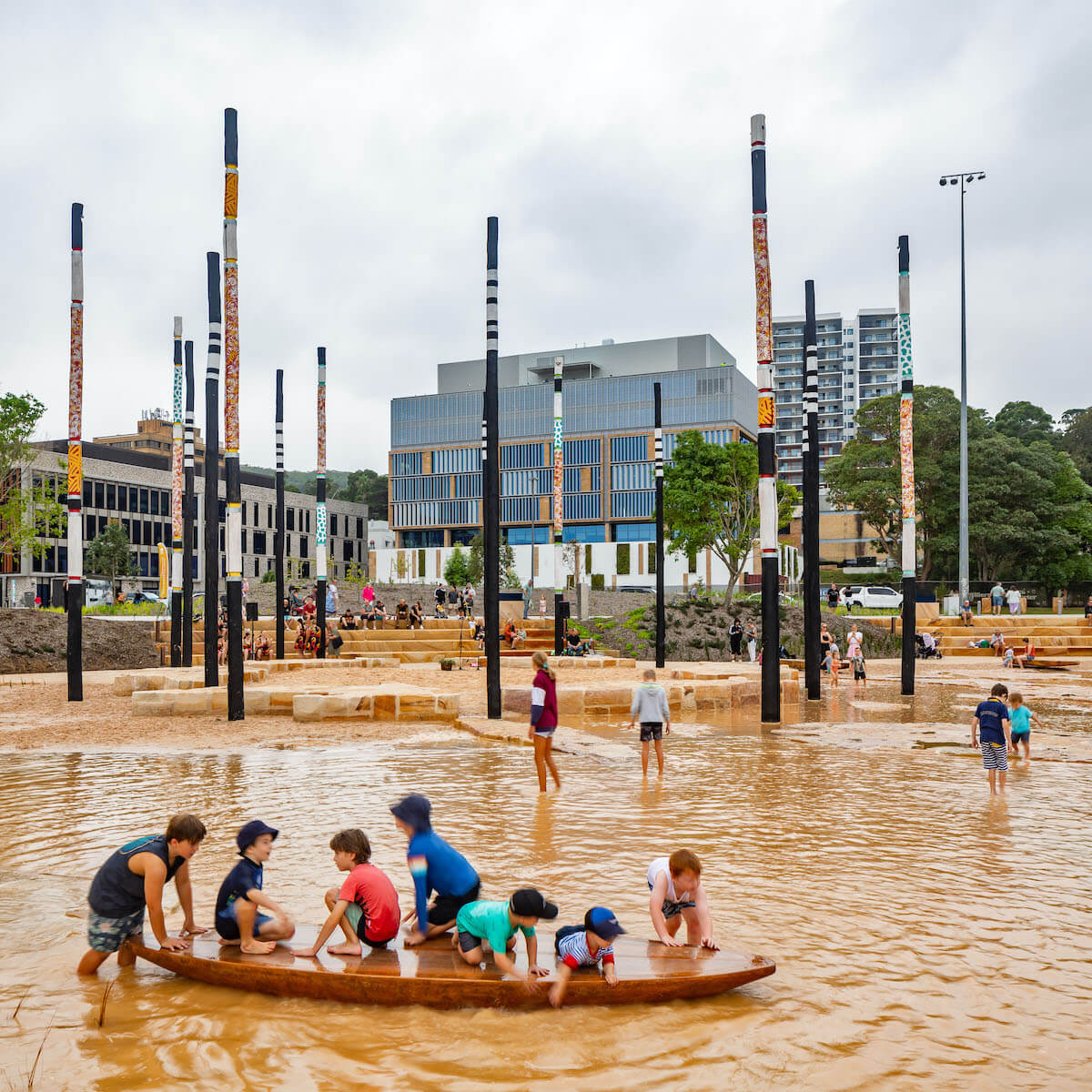 In awarding Gosford Leagues Club Park with the Indigenous Design Award, the Good Design Awards Jury commented: "This project is a tour de force in integrated design thinking and has delivered a new public space that is clearly loved by all ages who use it. It draws culture and creativity into the space and creates a place for the community to be healthy and active. Elements including the 'Tidal Terrace', 'Seed Pod' play towers and the 'Fish Trap' demonstrate real innovation. Its application is not just local but global. The intent was to deliver connection to Country, to community and to the environment. This has been achieved completely and is a testament to the collaboration between client, consultant and community.
ABOUT THE INDIGENOUS DESIGN AWARD
The Indigenous Design Award is proudly presented by RMIT University and recognises and celebrates the important contribution that Australia's Aboriginal and Torres Strait Islander designers make to Australian Design across the spectrum of design disciplines and practice.
This award welcomes nominations of Indigenous individuals as well as projects where at least one member of the design team identifies as Aboriginal or Torres Strait Islander.
RMIT and Indigenous Community representatives evaluate nominated submissions and select the overall winner for the Award based on specific evaluation criteria. MORE INFO