To design is to push away from stagnation – to dig deep, discover, learn, listen, think, iterate, adapt and evolve. It's why, within the ever-evolving landscape of design, innovation remains at the forefront of creative exploration. It sees each passing year bring with it a wave of fresh ideas that push the boundaries of what's possible, even within spaces and around products that were seemingly tried and true.
In other words, to design is to rally against the common cliché of; if it ain't broke, don't fix it. It's to take action to make good things better, as much as it is to push boundaries in unforeseen ways in unlikely places. While the Australian Good Design Awards recognises both, this article explores projects and products that have been rewarded time and time again as they progress.
These designs have embraced change, adapted to new challenges and redefined their nuanced spaces with each iteration. Delve into the fascinating realm of design evolution as we follow the iterative journeys of two incredible products.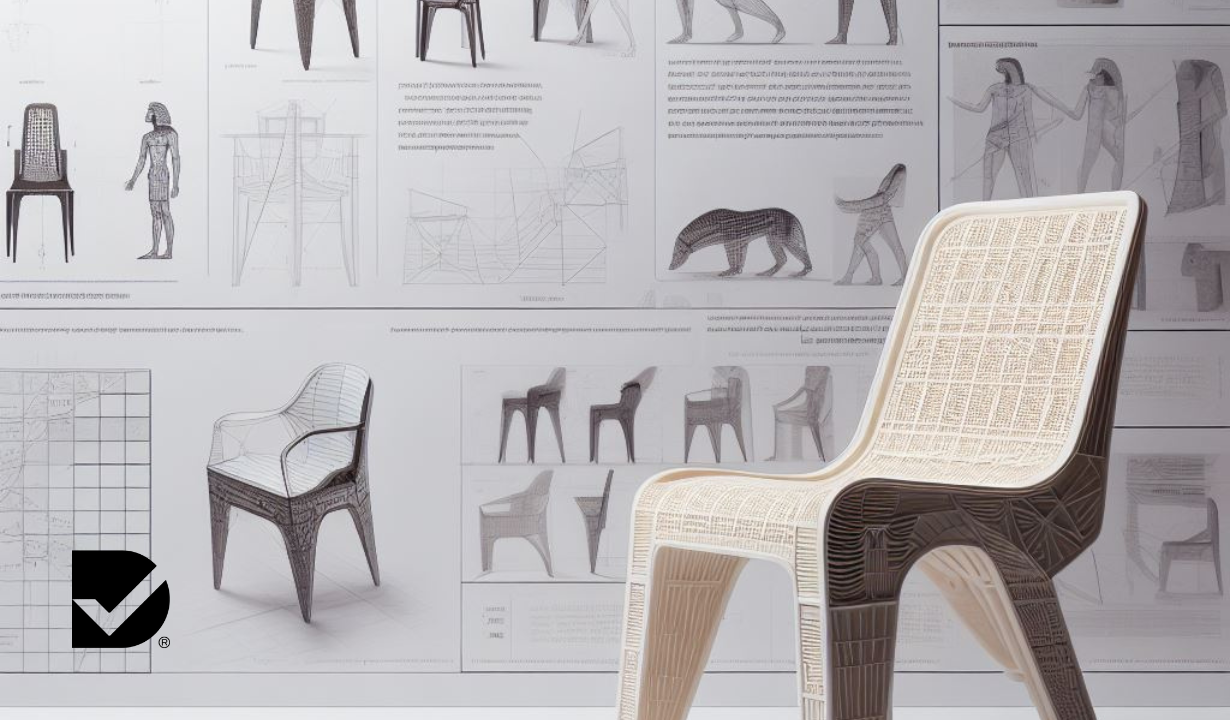 ---
XBOX
Microsoft Device Design Team
First introduced to the gaming world in 2001, the Xbox encompasses a renowned line of video game consoles and associated gaming services developed by Microsoft. Over the past 20-odd years, multiple generations of consoles have come and gone, including the Xbox, Xbox 360, Xbox One, and the latest Xbox Series X and Series S.
Microsoft has leant on a rich history of innovation and a strong focus on both hardware and software with every Xbox iteration. Normalising built-in hard drives, embracing online multiplayer, integrating multimedia experiences and offering 4K console gaming experiences are all innovations that have helped shape the way millions of gamers around the world enjoy interactive entertainment.
Xbox One S
2017 Good Design Award Gold Winner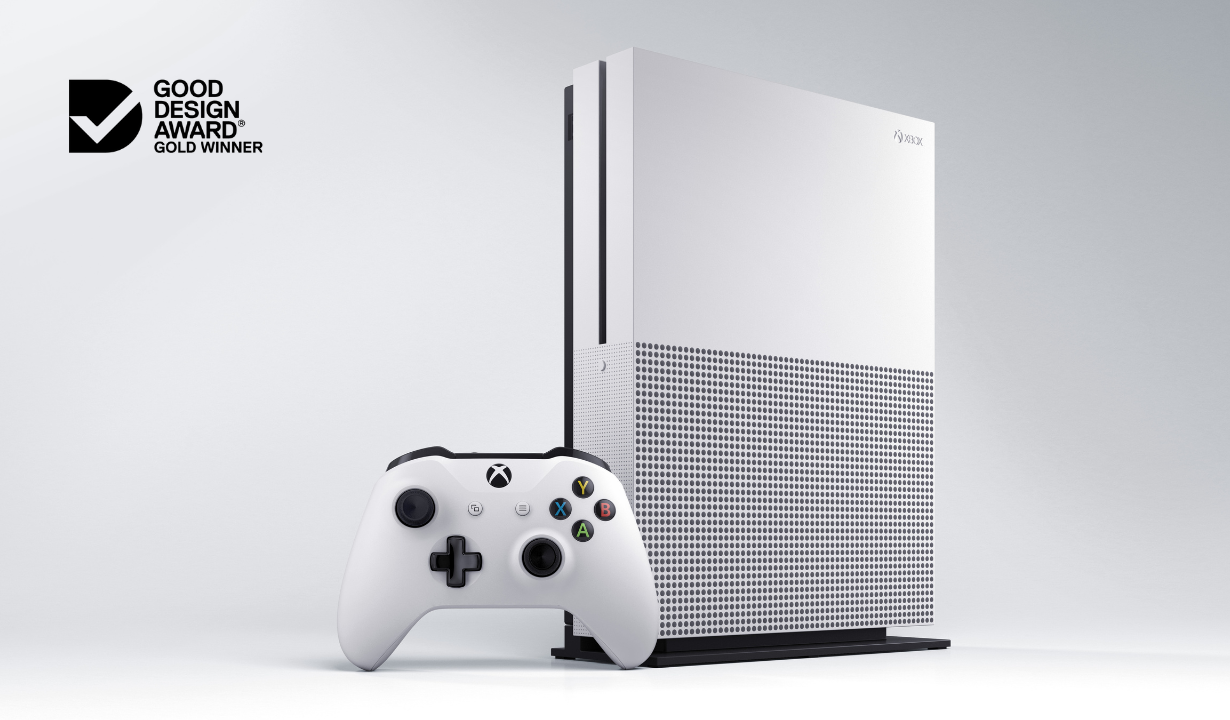 The Xbox One S was the first gaming console of Microsoft's to be entered into the Australian Good Design Awards. Marked as the "ultimate gaming and entertainment system" in the eighth generation of gaming consoles, the Xbox One S was capable of 4K HD Blu-ray and video streaming, High Dynamic Range and was 40% smaller than the original Xbox One.
Through an innovative design approach and a complex injection moulding process, the primary housing enclosure was moulded out of one seamless, unibody part. This not only reduced product cost, it also reduced assembly time, increased product quality by removing part breaks and created an iconic, beautiful design. The Xbox One S and Wireless controller have been designed for years of reliable, maintenance free use. In addition, at end of life, all components are labelled for recycling.
Xbox Series X
2021 Good Design Award Gold Winner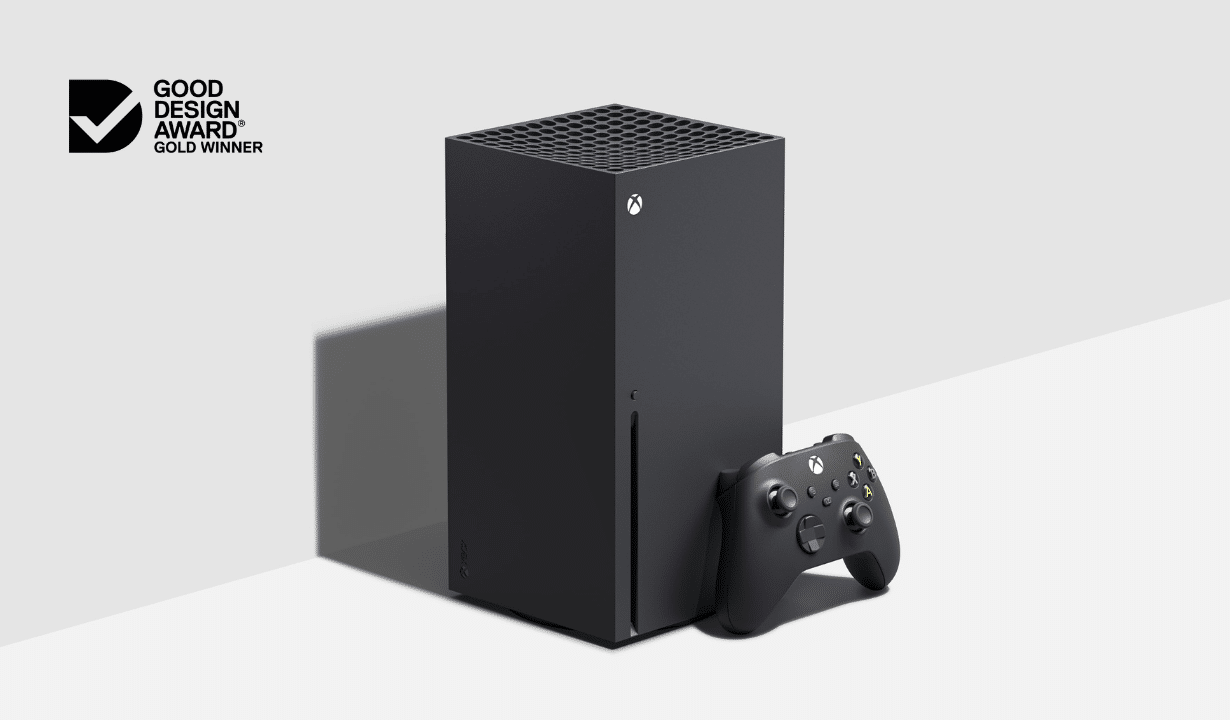 The Xbox Series X was dubbed by Microsoft as the "most powerful next-generation [ninth] console" that empowers developers to deliver on their creative visions and dreams. Implementing a processor that was far more powerful than anything the team had worked on previously, the Series X delivered a new level of fidelity, immediacy, precision and accuracy never before seen in console gaming.
Its nuanced form is a direct result of collaboration between design and engineering minds, architecting the internal components "from the inside out". It saw the team split the motherboard and orient it vertically under a single axial fan to cool both sides at once. This decision radically reshaped the device – instead of the flat, set-top box look of most modern consoles, it birthed an upright system with a massive exhaust at the top.
Xbox Series S
2021 Good Design Award Winner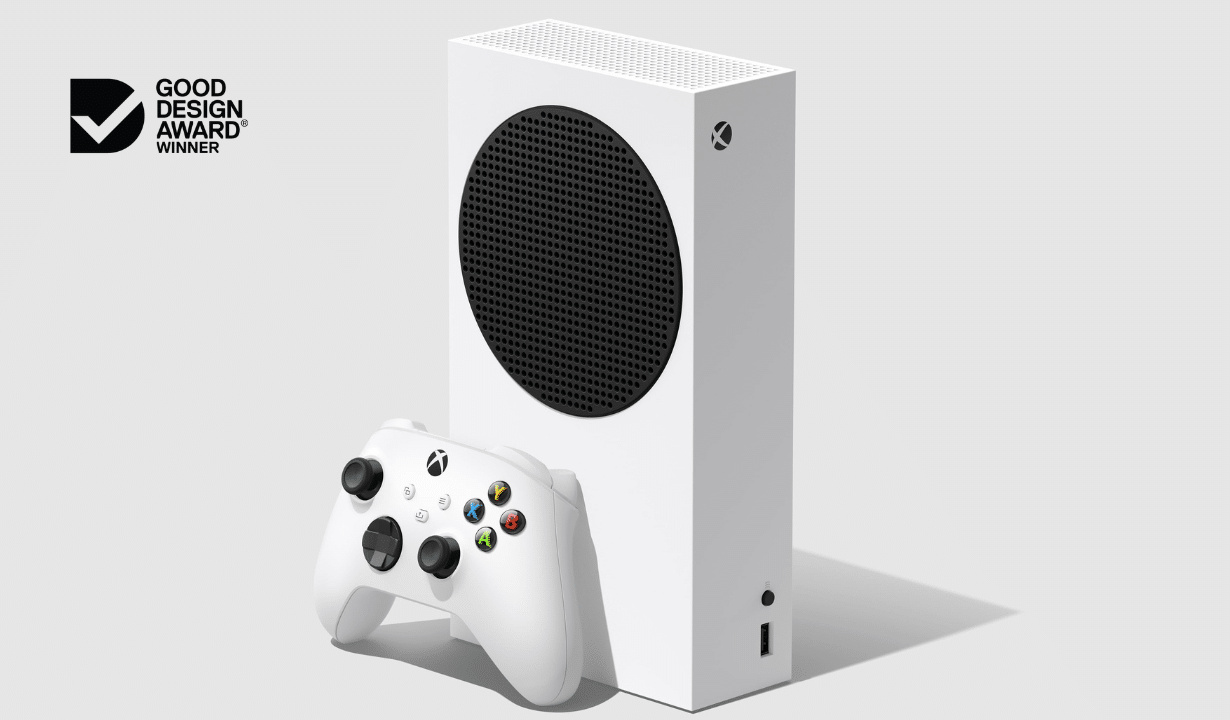 The Xbox Series S is the second console the Microsoft team designed in the ninth console generation. Whereas the goal of the flagship Xbox Series X was to be the ultimate showcase for power and high fidelity in video games, the goal of the Series S was to bring all the other benefits of the new chipset in a compact, modern factor and with an affordable price tag.
The console conforms to the fact that most gamers download their content, so the decision to make the console all-digital, with no optical disc drive, was a natural one. Removing that component let the design and engineering teams reshape the architecture of the console dramatically. With that freedom, the team made the choice to shrink the depth of the console from front to back, reducing its depth by three inches from its predecessor, the Xbox One S. This results in a console that can go more places in your home, has easier to access cables and can be more easily transported.
---
Blackmagic Studio Camera
Blackmagic Design
Since 2002, Port Melbourne's Blackmagic Design Pty Ltd. has grown to become a worldwide leader in creative video technology. Its founders lean on a fabled history within the post-production editing and engineering space, uplifting a real passion for perfection in their innovative range of broadcast and cinema hardware, video editing software, network storage devices and graphics accelerators. The Blackmagic Design team took out the 2021 Good Design Team of the Year Award and have received countless Australian Good Design Awards over the last two decades.
The Blackmagic Studio Camera is one of Blackmagic Design's flagship innovations. Designed for live production and broadcast workflows, it's become a beneficial studio and live event tool. These ultra-portable cameras offer professional results at a fraction of the cost and are now used all over the world.
Blackmagic Studio Camera
2015 Good Design Award – Best in Class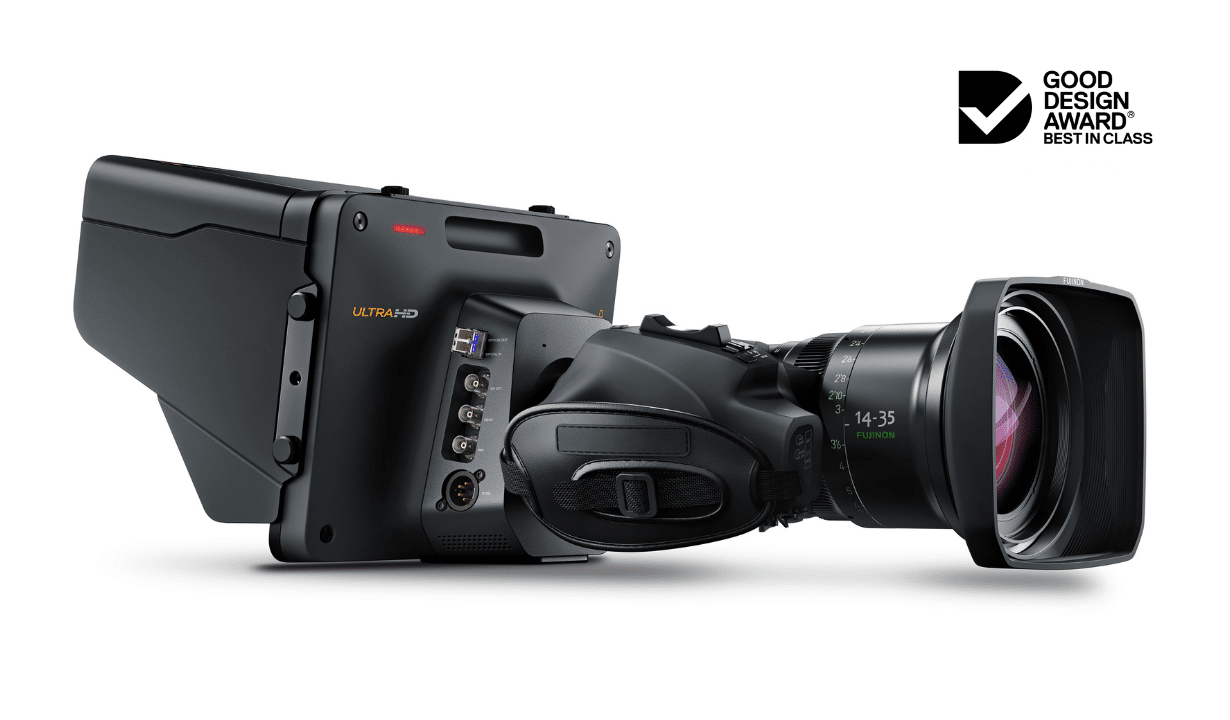 A major challenge of live broadcast productions is the incredibly high cost of equipment and cabling for large multi-camera shoots. Cumbersome and complex, typical broadcast cameras can weigh over 20kg and cost up to $50,000. Blackmagic Design sought to challenge the status quo with the Blackmagic Studio Camera in 2014 – the world's smallest broadcast camera with the world's largest viewfinder and all the functionality of a high-end broadcast camera for one-tenth of the price.
Controlled remotely via a Blackmagic ATEM live production switcher, users have full lens control, and the ability to simultaneously colour balance multiple cameras in real-time with Blackmagic's free colour correction software. This ensures high quality, consistent footage across an entire live production.
Blackmagic Studio Camera (2021)
2022 Good Design Award Gold Winner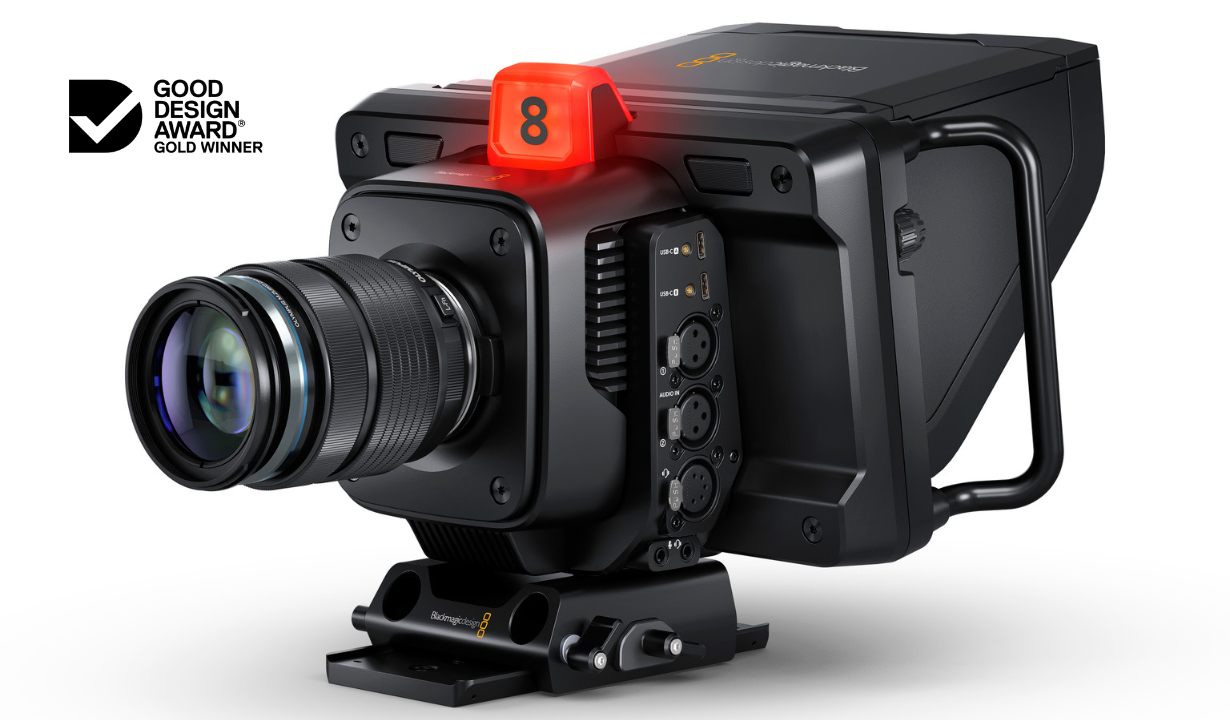 The 2021 variation of the Blackmagic Studio Camera follows in the footsteps of its predecessor, presenting the world's most advanced, self-contained broadcast camera at a price under $2000. Its tech was upgraded to match the highest modern specs, including a 4K cinematic image sensor. While the camera was still designed specifically for live concerts, sporting events and television, the new iteration was developed in-line with the podcast times, offering a compact, high-quality live recording solution to those sharing ideas in basements, warehouses, bedrooms and offices all over the world.
For less than the cost of a mid-range DSLR, the 2021 Blackmagic Studio Camera integrates professional image quality, cutting edge professional broadcast technology into an ultra-compact, durable, all-in-one design. Made from just three major parts, its advanced Carbon Fiber Polycarbonate composite body is 50% lighter than die-cast metal, possessing comparable strength, rigidity and finish for a fraction of the cost.
Blackmagic Studio Camera 6K Pro
2023 Good Design Award Winner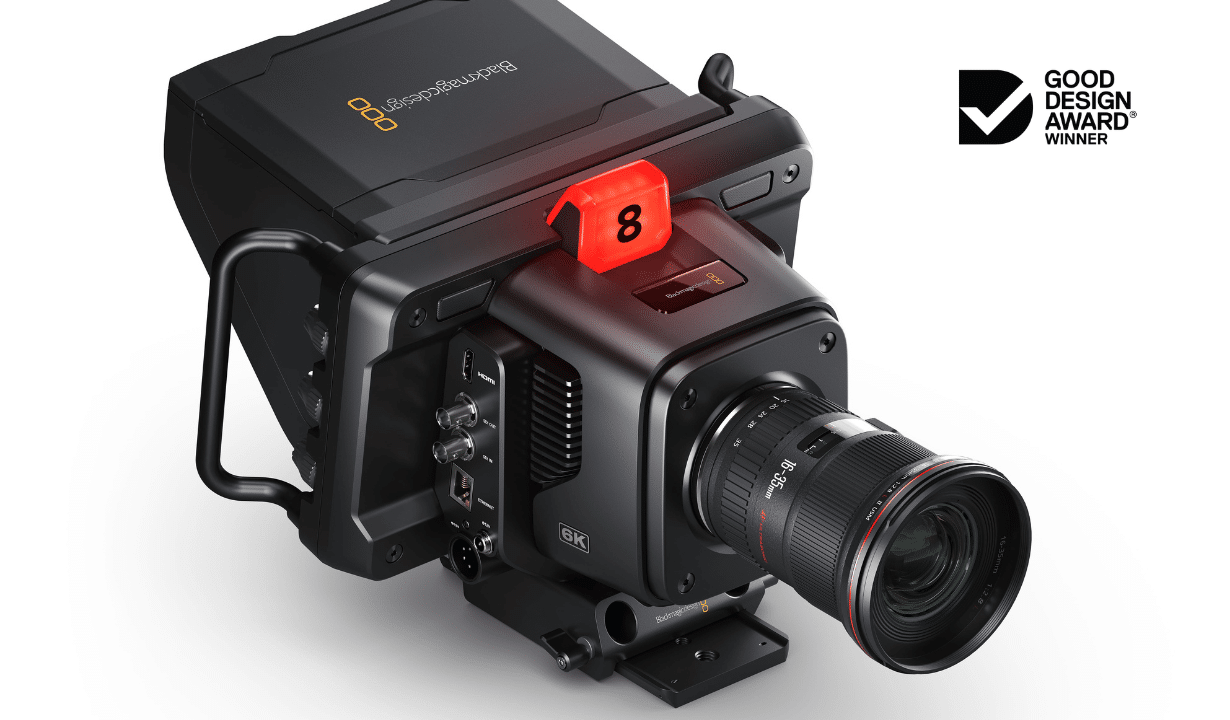 The Blackmagic Studio Camera 6K Pro steps Studio Camera family up an incredible notch, offering a more powerful cinematography solution that features an EF lens mount, a larger 6K sensor for improved colorimetry and fine detail handling, ND filters and built-in live streaming via Ethernet or mobile data. It shares the same compact design as the 2021 variant with a lightweight carbon fibre reinforced polycarbonate body, large integrated 7″ HDR viewfinder and powerful broadcast connections.
Innovating even further alongside the modern live streaming space, the 6K Pro allows operators to use the camera remotely from anywhere in the world and generate a H.264 HD live stream that is sent over the internet back to the studio.
---
Explore past and present Good Design Award Winners in the Good Design Index
Dive into the Good Design Index to be inspired by innovative projects from 2015 until now.