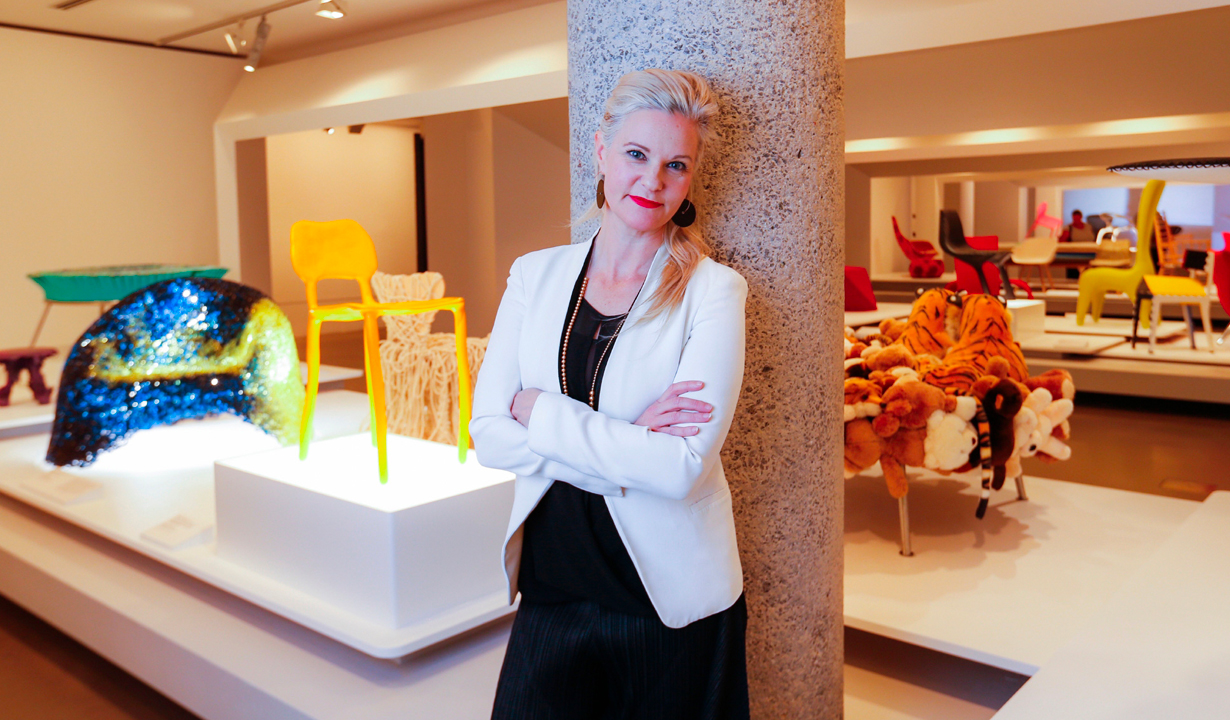 2021 Women in Design Award – Simone LeAmon
Published on: 14 October 2021
Share
Story by Freya Lombardo.
This year's Women in Design Award has been accepted by Simone LeAmon – one of the country's foremost design creatives.
2021 marks the third year of this prestigious Award, created to address the significant gender imbalance within leadership roles in the design industry.
Considering the stark figures coming out of the design industry with women barely accounting for 17% across executive leadership roles, the Women in Design Award seeks to recognise and celebrate women who have made significant contributions to the industry and hopes to encourage a more diverse and equal representation within leadership roles and in the design and creative industries in general.
Dr. Brandon Gien, CEO of Good Design Australia said "The Women in Design Award recognises women at the top of their field and celebrates women who have made significant contributions to the design industry, with a view to encouraging more diversity moving forwards. I am thrilled that Simone has been recognised for her life-long passion and unwavering dedication to the design profession in Australia."
Simone LeAmon has been described as 'petite, pragmatic and ever philosophical', yet she has become a towering figure in Australia's design landscape. She juggles a rigourous and witty creative design practice with the demands of consulting, teaching, public speaking and her career-defining role as the National Gallery of Victoria's Hugh D.T Williamson Curator of Contemporary Design and Architecture.
The NGV department is the first of its kind for an art gallery in Australia and LeAmon has co-curated an extensive program of acquisitions, exhibitions and events that showcase Australian and international contemporary design with vigour, including the delivery of the annual Melbourne Design Week and the upcoming 2023 edition of the blockbuster Melbourne Now.
What distinguishes LeAmon amongst her contemporaries is her uncompromising commitment to communicating the importance of design by championing its practitioners and celebrating their collective, creative output. Championing the importance of design and creativity, and the work of our creative communities for nearly three decades, her field of influence extends far beyond our shores.
In a conversation, what shines through is LeAmon's resilience, tenacity and a deep humility – all underpinned by one characteristic she says is quintessential for any designer – curiosity.
GDA: What might people be surprised to learn about you? Maybe something you wanted to be when you grew up? Or something you discovered about yourself? Perhaps something you learnt from someone special that has guided you?
SL: For many years, I dreamt of becoming an architect like my father. I changed my mind when I was told by a secondary school teacher that I didn't have the mind for it. In fact, I struggled with math, and it took me years to read and write satisfactorily. I was too embarrassed and humiliated to confide in anyone, subsequently, I threw myself into drawing and making things. While I don't have any regrets, I think of this teacher often and how (at the time) I decided to believe them. This memory still informs much of what I do today, particularly when speaking to young people, teaching, curating and working with others. Everyone has a story.
GDA: Can you tell us about the time that design became important to you? Was there a lightbulb moment or was it a gradual growing appreciation?
SL: At the age of ten, my parents gave me a sewing machine and I drove it like a high-performance vehicle. I designed and made clothes for myself, my family, school friends and sold accessories at the local market. There was no doubt in my mind that I would be the next Coco Chanel – or Jenny Kee! The realisation that I could express my ideas through the creation of clothes was a revelation. I discovered the transformative power of design and a love of craft and materials.
The context of the body and appreciating that not all bodies were the same, informed my earliest understanding of designing for others. This culminated in my first design commission, a brief from a beloved uncle who had lost his arm due to cancer. He asked for a shirt with a detachable right sleeve and no buttons. I recall the gravitas of his request. The desired outcome was a durable shirt that allowed him to dress himself. Following several prototypes, I presented him with the shirt. I'll never forget the expression on his face.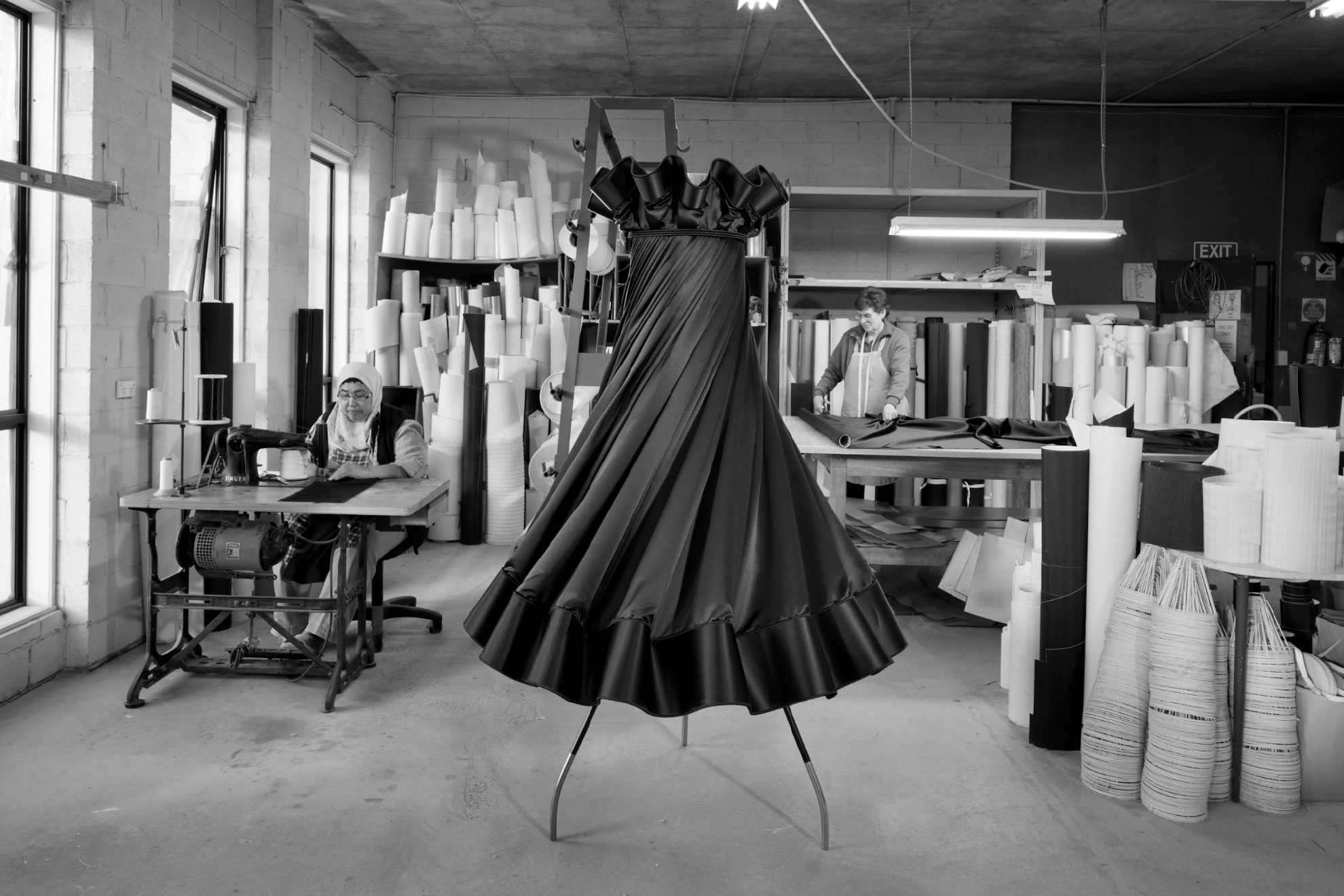 GDA: What were the objects, designs or built forms that resonated with you as you started to appreciate design? And why?
SL: My father is a gifted architect and I grew up in a house that he designed (and built) on a large bush block in Eltham. This brick, split-level residence (circa 1970) features cathedral ceilings, glass walls, a seemingly endless corridor, a galley kitchen, and custom-designed furniture. While informed by the design ideas of the time, it is full of quirky details such as an absence of door handles (now amended due to family pleading).
Family life revolved around this house. My mother always had an opinion on how something worked, and my father always had a measured, ideas-led response. Listening to and processing these conversations ­– on utility and aesthetics – resonated deeply.
GDA: What were you like as a student of art, then design?
SL: Earnest. Enthusiastic. Driven.
GDA: Tell us about what's memorable across your own practice? What gets you excited and in the zone?
SL: Putting one's creativity to work and unlocking opportunities for the joy and benefit of others.
GDA: For you, what are the hallmarks of great design?
SL: Great design is of the time yet points to the future, respectful and mindful of its precedents. Design is a human tradition and because of this, it is encumbered upon designers to understand how their ideas, actions and decisions affect others and the world. Great design is grounded in context. It is not timeless nor enduring – it is evolving.
GDA: What makes a great designer?
SL: One of the defining characteristics of a designer is curiosity. You can't afford to design by rote anymore. The formulas that were handed down to us from the 20th century have delivered some extraordinary things but also presented some extraordinary dilemmas.
Through curiosity, designers can link into the fields of science, technology and the humanities to practice in a truly interdisciplinary sense which allows us to conceive of things differently.
We can do this while also acknowledging traditions and knowledge systems that are vitally important because of the intelligence they have to offer.
GDA: What do you feel are the major challenges facing the design sector?
SL: There's a responsibility for designers to interrogate what the future may hold.
I think that design operates on so many levels and there is a growing awareness that the decisions that designers, manufacturers and enterprises make in the formation of a delivery of design play an enormous role in shaping our lives, and therefore come with great responsibility.
We went through a period, certainly over the 90s and early 2000s where human-centred design was at the fore and I think we're now traversed to a territory that is earth-centred or planet-centred.
We now realise that we're not just designing for people. The stakes are higher. This is something that has become all the more pertinent.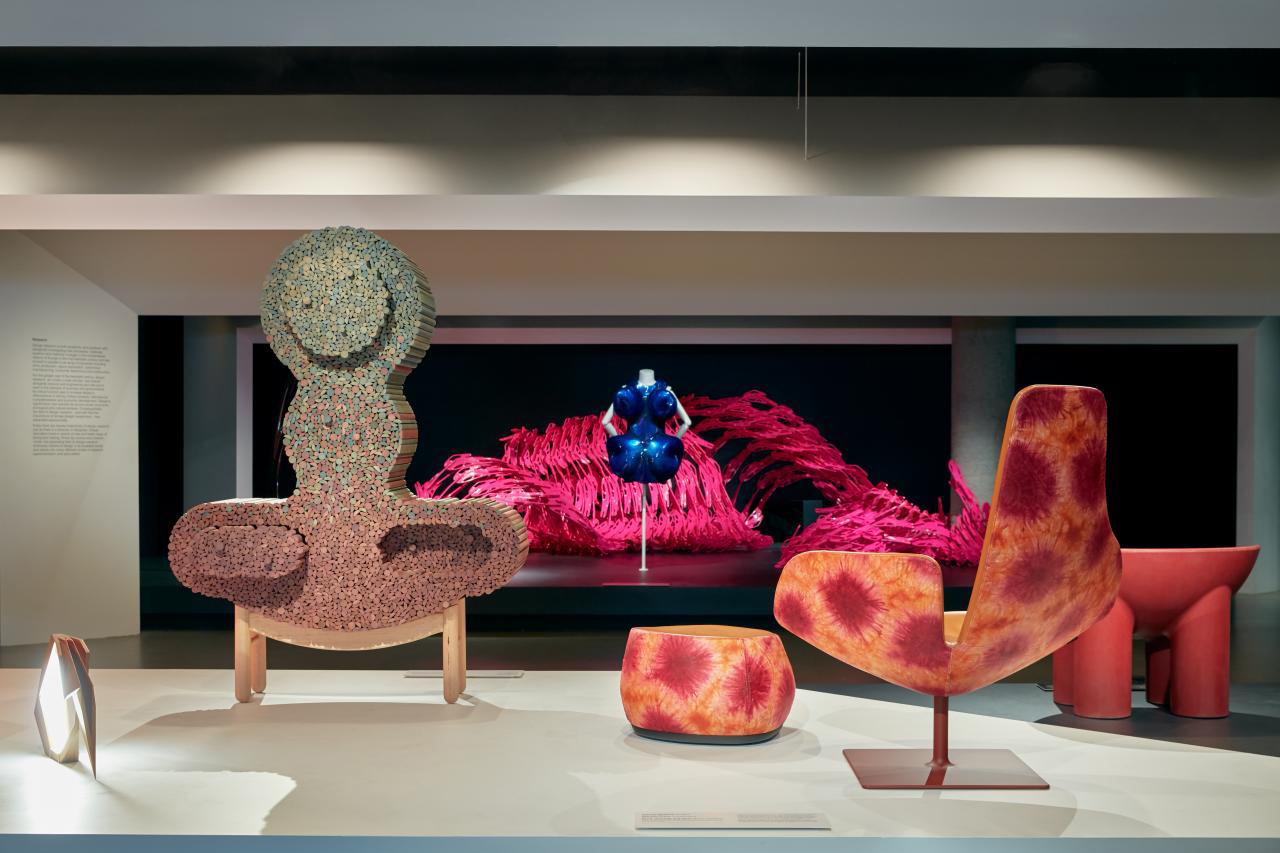 GDA: Can you call out any recent examples of great design that have captured your attention and deserve recognition?
SL: It would be disingenuous to single out specific projects and perhaps what impresses me more is community action and collective support. It's all about people working together to transform our cultural space in ways that inspire and inform our commercial sector to pivot and innovate.
I get really inspired by the work that many of our younger designers are doing. And I also think that speculative design that aims to ask questions and test assumptions and propose different ways of doing things is incredibly important. It's exciting that in Melbourne we now have this growing culture of speculative design practice, which is the great R&D engine of design itself.
Daring to imagine to do things differently is essential.
GDA: You've been in the design and creative industries for three decades, how have they changed and diversified? If design is an international language – like music – we can have a cross-cultural dialogue through the lens of curiosity and craftsmanship and daring to do things differently that can enhance lives and respect the planet.
And therefore, it seems the field should be equally open to participation from both genders – or all genders. So how can women be best supported and recognised?
It's fascinating isn't it? When I reflect on that, I often wonder if the fact that I'm a female has informed my career. Has it shaped my practice in any way? Did it afford opportunities or deny me opportunities? I don't really think I conducted the first 20 years of my practice really being concerned with any of those things. I didn't really think of what it meant to be a female trying to chart a career in the sector but I think it did start to become present when you looked towards other female practitioners from whom you might seek some guidance or advice.
I was very very fortunate that I met the extraordinary Susan Cohn when I was in my 20s and she became an incredibly influential figure in my world, and a mentor. She had this high-flying international career and produced great work. She fulfilled an incredibly important role in my career development.
However, when I did embark on trying to work internationally, I was painfully aware that there was an uneven ratio of males to females. I wanted to understand the scenario statistically and I discovered that the retention rate in professional practice was the nub of the issue, because in many western democracies there was an equal ratio of males and females studying design.
So, I quickly understood that the impediments must be in practice itself and in the industry itself. I guess it's something that I'm still conscious of to this day. There is a multitude of reasons – some of which are quite obvious, and some which are latent – but I think rather than try to solve the problem I just took it upon myself to encourage any young person – male or female – in their design pursuits, and I've always taken a particular interest in promoting young female designers.
It has really driven me to be constantly involved in teaching and it also motivates me to try to provide opportunities to showcase other female designers. A large part of my work at the gallery is being very vocal to ensure there is equity in the opportunities that we provide – between designers of all types – and especially with women.
GDA: What has surprised you most about your career so far?
SL: Number one would be that a career is a work in progress. I think you can have all the aspirations and the ambition in the world, but it's about how you meet the opportunities that are presented.
I have forged a career that has been about saying 'Yes' to lots of things in the understanding that there's a lot of learning to be had. I could have said 'no' to lots of things, especially when friends and family might have good-naturedly questioned my motives. I remember often hearing 'Why are you doing that? You're not going to earn any money from it'. But, I think a lot of that self-directed, self-funded work has probably delivered the greatest learnings and outcomes upon which it has been possible to build and adapt.
This modus operandi has allowed me to pursue opportunities that technically I may not have been qualified for. I'd think to myself, 'Goodness, I haven't received formal training in half of these things that I do'. And it's something I often speak to young people about. We live in a time where to be adaptable and flexible, and having the willingness to collaborate, are really important because the concept of specialisation is being challenged.
It's not enough to do a good job. I think it's more important to identify the things you care about if you really want to make an impact or arrive at a point where you genuinely want to make a contribution. You have to extend yourself to do the best that you can. That's something that I'm very mindful of.
So yes – a career is very much a work in progress.
GDA: Can you give us an example where you found yourself in that stretched zone?
SL: I never imagined I would become a curator of contemporary design and architecture. Certainly, at a time when curators seemed to be people who have not one but several PhDs, people who have charted a career through an academic enquiry or a scholarly field and become domain experts.
But coming from practice and being a practice professional, I recognised that there was a distinct lack of dialogue and critical examination of the design that was being produced in this country and I really wanted to see design considered in that light.
Architecture seemed different. We have had many people who have made sure there is a critical dialogue on our built environment and built heritage. But when it came to the design and manufacture of things, and even extending to designer-maker culture and contemporary craft, it seemed to be treated perhaps a bit more lightly.
GDA: What propelled you into the role of curator?
SL: I think my training and induction and participation in the world of visual arts alerted me to the fact that – goodness me – these people invest and site their work in really hard conversations and philosophy and critical theory and I was curious about why that wasn't necessarily appearing in the design space.
Really it was out of a desire to want to see it exist that I started to curate independent shows and write about design. I am by no means an extraordinary writer but I would put my hand up to write about design for Australian publications. And it was about gaining the confidence to have a voice too.
And has been important to understand that writing and having a voice – just like designing and making – when you put it out in the world it is open to analysis and criticism. One has to build a really thick skin, but at the end of the day, it's all about trying to encourage conversation.
I guess all that activity led me to the doors of the National Gallery of Victoria.
GDA: What would be a few of your most proud moments?
SL: One of my proudest moments was when I delivered the Design Wall for the 2013 NGV exhibition Melbourne Now. I'll never forget standing up in front of the NGV's philanthropists and directorate at a high-profile event where Tony Elwood launched his vision for Melbourne Now. The dinner was set in front of the Design Wall that featured some 700 objects and I was asked to get up and speak about the designs featured. Suddenly I was talking about power tools and eskies and door handles, and passionately trying to communicate to these people about the creativity and the sheer genius that goes into each of these humble everyday objects.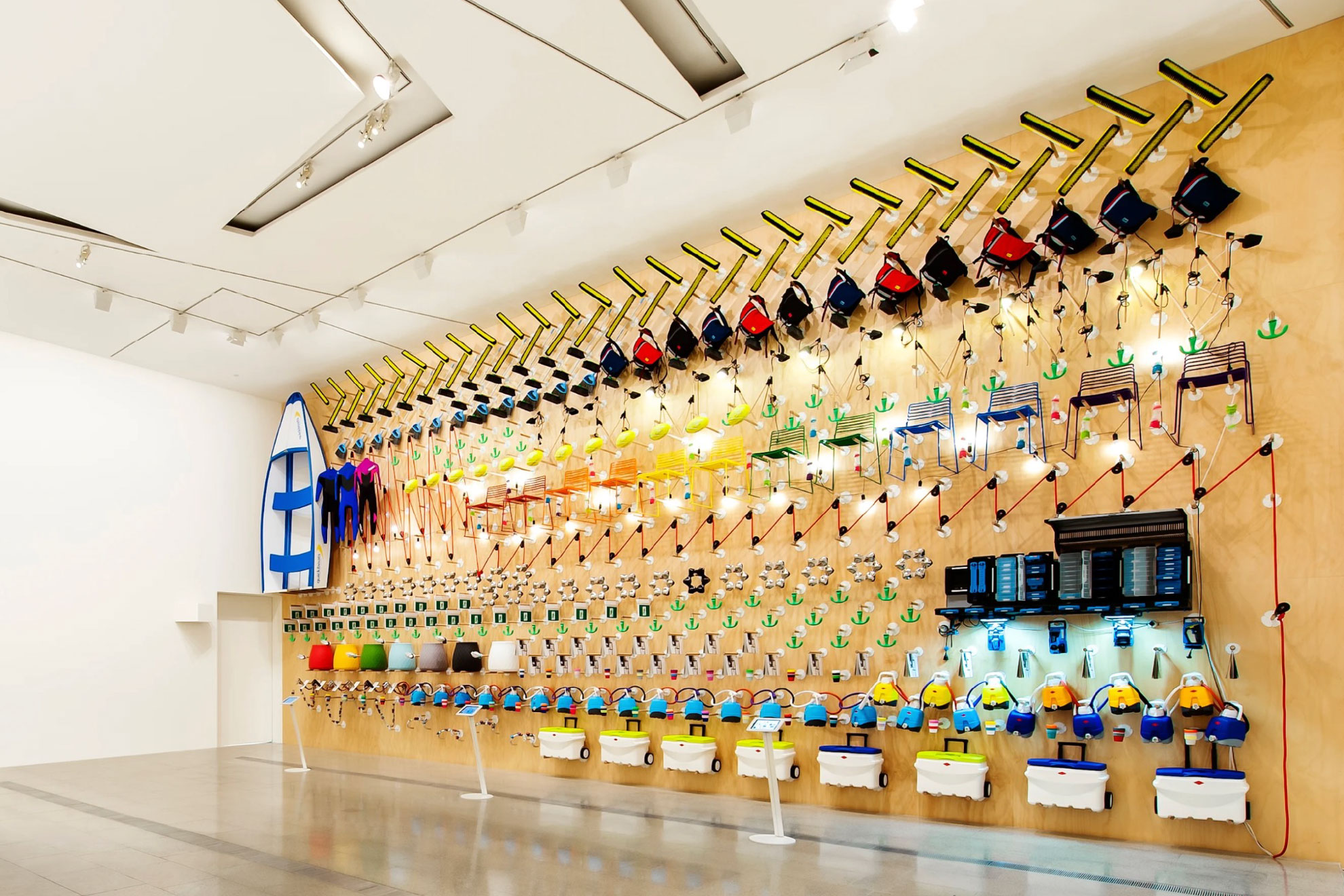 I guess it was my equivalent of a TED Talk because I felt there was a lot at stake!
The fact that they were all designed and manufactured in Melbourne was impressive. And I wanted to alert the audience to the fact that we are extremely privileged and we should be proud that we live in a city where this activity takes place.
That was quite a moment!
Melbourne Now 2023 has just been announced and I'm embarking on Design Wall Mark II. It's what preoccupies much of my time, going on that deep dive to understand what's been designed and made here over recent years. And it's an opportunity to again embrace that community of designers who often aren't celebrated for the work that they do because it rests behind somewhat humble, everyday objects that don't scream design.
My other incredibly proud moments include:
Seeing the NGV Department of Contemporary Design and Architecture and Melbourne Design Week evolve and grow.
The occasions when I receive a phone call from an excited student sharing news that they were accepted into their design course, of choice.
This Award!
GDA: What does being recognised with Good Design Australia's 2021 Women in Design Award mean to you?
SL: Being honoured with Good Design Australia's Women in Design Award is such a surprise because I didn't realise I was nominated. It's hugely significant to me – in more ways than one.
When you're the practitioner and the creative, you invest a lot of yourself in the work that you do and receiving accolades for that work and the value you derive for your clients is really important, but there's something even more meaningful about being recognised for a contribution to the sector where you're enabling others to do their best work.
Cultivating an environment where design and creativity is valued, where there are opportunities to participate and contribute to the sector is paramount. There is much work to be done to ensure that there is a culture that can deliver these opportunities, ones that inspire others to do their best work.
The vitality and prosperity of the Australian design community, its capacity to chart opportunities, unlock value for culture and enterprise, and deliver benefits for people, communities and the planet is my passion. Equally, is my desire to see women and people from diverse backgrounds both participate and be recognised for their work in design.
GDA: How can this recognition help boost the profile of other women in design?
SL: I hope this Award sets forth the thought – "If she can do it, so can I."
By recognising the contribution women make to design, we are better placed to encourage an environment of participation.
I receive so much joy from seeing others achieve their goals and their dreams. Certainly, over the last years, that phone call you place with a designer to say that their work has been acquired by the NGV for the collections or that we'd like to work with them on an exhibition or that we'd like to commission them for a project – I put my younger self in their shoes as a creative – and it's genuinely rewarding to see their reactions and be part of their success.
---
Discover more about Good Design Australia's 2021 Women in Design Award recipient, Simone LeAmon here.