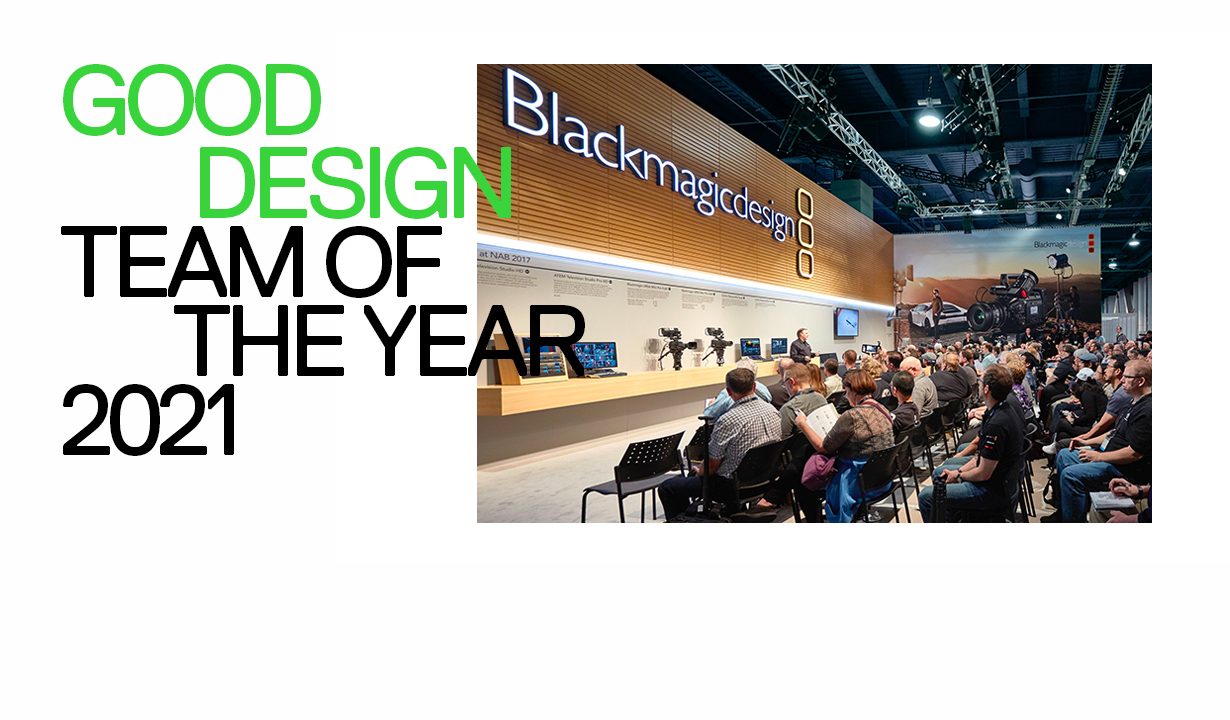 GOOD DESIGN TEAM OF THE YEAR BLACKMAGIC DESIGN
Published on: 15 October 2021
Share
Feature by Freya Lombardo
WHERE IMAGINATION MEETS INGENUITY: THE SUCCESS STORY BEHIND-THE-SCENES AT BLACKMAGIC DESIGN
You've seen Ninja Kidz latest video Dinosaurs Take Over Our HOUSE, yes? The one with mad action scenes full of 12 foot long dinosaurs and live snakes! This latest effects-laden upload from the global YouTube sensations rocketed to nearly 11 million views within weeks, adding to the billions of views across the mini-movies on their channel.
Director and producer Matt Oliveira chose Blackmagic Design's Pocket Cinema Camera 6K Pro to shoot the footage of Ninja Kidz dad Shane Myler and his four children Bryton, Ashton, Paxton, and Payton (all aged between 10 and 16) tackling prehistoric beasts with their trademark black-belt moves and stunts.
When asked why the Pocket 6K Pro was a perfect camera for this shoot, Oliveira was quick with an enthusiastic response. "I absolutely love the colors and the dynamic range that these cameras are capable of reaching. And even though we had it rigged almost like a full cinema camera, the size and the lightweight of the whole rig allowed us to move much faster with a small crew and know that we were capturing a cinematic picture."
Transferring the footage directly into Blackmagic's DaVinci Resolve Studio allowed Oliveira's editor to complete colour grading – a process Blackmagic design has streamlined and simplified. "I love how easy the post-production is when working with Blackmagic cameras," says Oliveira. "No matter what I shoot in, it's always a delightful process in post. The flexibility to push the image is incredible and the simplicity to color Pocket Cinema Camera 6k files is a lifesaver."
Whether it's shooting and editing YouTube videos, small screen gems or Hollywood blockbusters, the film and television professionals using Blackmagic's products and solutions to create movie magic echo Oliveira's sentiments, singing their praises in chorus. Not only do they appreciate the hardware for flexibility and image quality, they are grateful for the seamless interface between production and post-production platforms like DaVinci Resolve and Fusion that are fast and deeply intuitive, which saves precious time and resources.
For over 35 years, Blackmagic Design has created the world's highest quality video editing products, digital film cameras, live production switchers and real-time film scanners for the feature film, post-production and television broadcast industries. Their products have been used to produce a multitude of feature films, including Rocketman, Avengers Infinity War, Deadpool, Jurassic World, Captain Marvel, as well as major television shows including Ozark, Game of Thrones, American Horror Story and The Big Bang Theory.
In that time, Blackmagic Design's products have received over 50 Australian Good Design Awards (!!) – and countless international awards – attesting to the quality and innovation of their industry-leading solutions. Each award is a testament to the vision of the company and more so to the team behind the scenes who collaborate to bring products of uncompromising excellence from ideation to market domination.
As one of its highest honours, Good Design Australia has presented Blackmagic Design with the prestigious 2021 Australian Good Design Team of the Year Award.
CEO of Good Design Australia, Dr Brandon Gien commended the Blackmagic Design Team on receiving the Award, "Everything Blackmagic Design does, from the innovative products they design, their approach to service design, digital design, engineering design and experience design is meticulously considered and executed from the user's perspective. They are the quintessential Australian success story and design is not only in their name, it's embedded deep into their DNA. We need more design-led businesses in Australia like this who are setting the global benchmark for others to follow. I'm thrilled they've been recognised with this honour."
In a conversation with Blackmagic Design's Director of Product Design and Engineering, Simon Kidd shares his insights on what drives his team to creative excellence and how he and the team have shaped a collaborative design-led culture. What emerges is a picture of technical prowess and invention that is constantly evolving, all in reverent service of film and television practitioners who push creativity to greater heights by coupling imagination with Blackmagic's ingenuity. It is a craft that is rewarded by absolute brand loyalty amongst an ever-growing pool of practitioners.
GDA: Congratulations again, Simon. Over 35 years, Blackmagic Design has won more than 50 Australian Good Design Awards – and numerous international awards – for product excellence and innovation. This doesn't happen by accident. It's driven by commitment and collaboration between teams.
The 2021 Good Design Team of the Year puts you and your colleagues deservedly in the spotlight. What attracts designers and other specialists to Blackmagic Design in the first place?
SK: Blackmagic Design is a special place where people get to work on some of the most progressive, exciting and innovative technology developments in Australia – if not the world. Designers are drawn to our design-led culture and the opportunity to play a critical role in the creation of these industry changing products.
GDA: How have you built your dream team and what talents does it comprise?
SK: Over the last 14 years under our CEO Grant Petty's direction we've built an in-house industrial design capability of more than 70 designers from scratch. Starting small, enabled us to grow the team and build our own expertise in-house. We also had the freedom to develop systems, processes, and design philosophies that were specifically tailored to suit the needs of the rapidly expanding and evolving business. Today the team spans the globe with offices in Melbourne, Hong Kong, China, Amsterdam and the UK.
We like to bring 'T' shaped people into our team. People who have a core strength, such as Industrial Design, but who also show a deep empathy and understanding of other related functions such as user interaction, engineering, manufacturing and even quality control. This makes them incredible designers because they understand, at a very early stage in the design process, the impact that every decision has on the final product.
GDA: How do you engender a commitment to innovation, quality and improving the user experience of your products across your team? Can you give us an end-to-end example?
SK: We have a strong product focus, the entire team is committed to delivering the absolute best product we can for the customer. It really is a relentless pursuit to make the product the 'absolute best'. To do this we've integrated design into every part of the product development process and designers play a critical role in the product's creation.
Many businesses fail to unlock the full potential that designers can bring to their product development processes. Instead, their role is often quarantined to styling around pre-determined packages of technology. I'm a firm believer that designers have a great deal more to offer. At Blackmagic Design, Grant Petty our CEO has given the design team a voice from the outset. This enables us to leverage the real value designers bring to the table. They are involved from the initial idea, through the early stages of a product's evolution, right through to mass production.
GDA: Can you tell us a bit about the culture at Blackmagic? What makes it a unique place to work?
SK: The Blackmagic Design team has a collaborative design-led culture. We have a tight-knit team that has worked together for a long time. We bounce ideas off each other to quickly solve problems and come up with the best solution. The process is fluid and we move fast.
Uniquely, we've developed some key pieces of intellectual property around the 'process' of Industrial Design; this has enabled us to drive product development cycles with far greater speed and efficiency than many other brands in the space. This speed has allowed us to be first to market with many new technologies, in well-designed high-quality products, and this has been rewarded with loyal customers who really appreciate what we do.
GDA: How has your team adapted through the pandemic while keeping to the roadmap and ensuring excellence during this challenging time?
SK: The team has done an incredible job and they are to be commended on their superhuman efforts over the last two years! Perhaps winning this Award during COVID-19 is even more significant than other years as it proves that our design process can hold up and continue to deliver a pipeline of products despite a global pandemic.
There was unprecedented demand for our products during the global COVID-19 lockdown. Our products helped many consumers, institutions and even mainstream media react quickly to the crisis. Medical facilities, universities and schools used a wide range of Blackmagic Design products to facilitate safe, ongoing education, including the broadcasting of surgical procedures and lectures to off-campus students.
From a design point of view, our approach focused on the simplification of professional broadcast technology to make it accessible to a new and inexperienced user group. This meant rationalising products to their core functions, simplifying their use and reducing cost to improve affordability.
GDA: What inspires your team/team members?
SK: We're inspired by the creative people who use our products. I think there is a privilege in creating for a creative industry – they appreciate the effort. Prior to Blackmagic, the industry was dominated by bland utilitarian design that was forced on users in overly expensive and complicated products. We've changed that.
Our end users are highly creative, and often highly technically skilled people. There are similarities with Industrial Designers. We want them to enjoy using their products and appreciate the thought we've put in – much the same as we do.
GDA: What does it mean to the team to see Blackmagic's products and solutions used to shape popular and critically acclaimed feature films and television shows/series?
SK: There is a real sense of pride when you see creative people using the products that we design to fulfill their own creative vision. Whether they be an Independent Videographer or Cinematographer on a Hollywood feature film, you always feel inspired by their work.
Blackmagic Design products have been used on countless Hollywood movies including many OscarTM award-winning productions. When you design the tools that are used to make these movies, you get a deep understanding of the effort and hard work that goes into creating a motion picture. It's a collaboration of a large creative and technical team working under intense pressure toward a common goal. Interestingly, it's like designing a product. People just see the outcome, but when you understand the process that was required to get there, you have a greater appreciation of the end result. So, it's very hard not to 'appreciate' a lot of the films you watch.
GDA: Can you tell us how you foster an atmosphere of innovation? How are ideas conceptualised, socialised, iterated, tested and proven?
SK: We make products for a highly technical, professional industry so understandably our customers have very high demands. Not only do our products need to be well designed, of great quality and be very reliable, they need to specifically cater for the user's workflow. To achieve this, we spend a great deal of time studying the way they work and the environments they operate in.
If you take designing a camera for example, this is an incredibly complex process and it takes a significant amount of refinement, prototyping and testing to put together a really great product. You need to understand the exact requirements of the user and design quite precisely around these.
Ergonomics and balance need to be spot on, controls – buttons, dials and keys – need to be in exactly the right position and the user interface needs to be a seamless part of the design. These are professional tools and their use becomes almost innate for many operators so the human-machine interface is critical, the camera almost becomes an extension of themselves.
GDA: How do you celebrate a win? In general, and particularly with this one?
SK: We consider the Australian Good Design Team of the Year Award to be the one of highest accolades in professional design – so the first thing we'll do is congratulate the entire Blackmagic Design Team on this significant achievement!
It will be disappointing not to celebrate the win at the annual Good Design Award Ceremony in Sydney – over the years it's been one of the highlights of our calendar! Nonetheless, I'm sure once things get back to normal in Melbourne we'll find an inspiring way to celebrate this incredible win!
---
Visit Blackmagic Design website here.