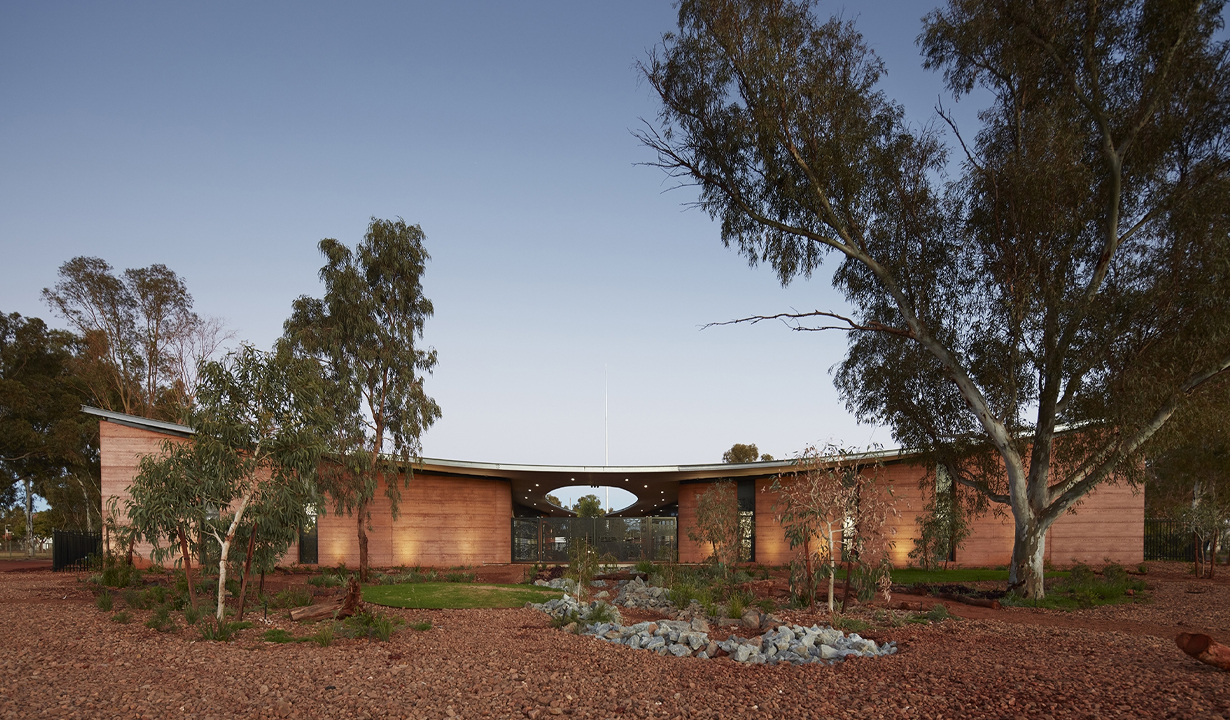 2021 GOOD DESIGN AWARD FOR SUSTAINABILITY
Published on: 12 November 2021
Share
Puntukurnu AMS Healthcare Hub wins coveted 2021 Australian Good Design Award for Sustainability and puts wellness at the heart of the community in Western Australia's remote Pilbara.
Feature by Freya Lombardo
Imagine that you suffer from chronic kidney disease, with a high risk of kidney failure, among other complications. Now imagine that it's a baking 50 degrees Celsius in the shade, and you're more than 1200 kilometres from a major city hospital offering the haemodialysis you desperately need. You're not a fan of flying and it's a 14 hour trip by road. Even though you're becoming increasingly unwell, the prospect of leaving home and family is unnerving at best and terrifying at worst.
This scenario would be daunting for most people to contemplate. Until recently, it has been a harsh reality for the seriously ill or injured amongst the Martu desert communities in Western Australia's inland east Pilbara region for whom leaving Country and community can be deeply traumatic.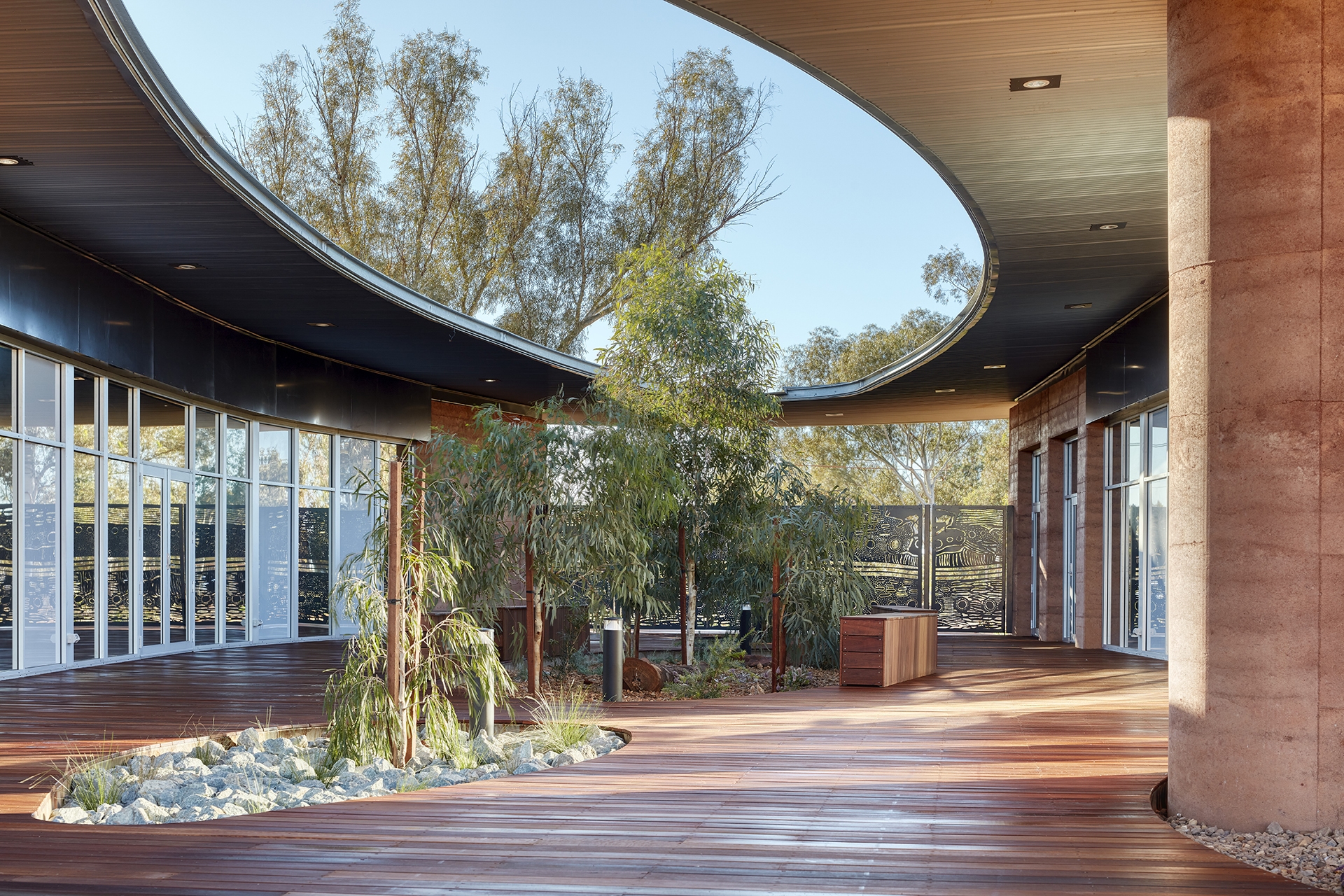 Trust is the foundation of healthcare and aboriginal communities have long had a distrust of clinics, hospitals and medical institutions as well as those who typically offer care. It's hardly surprising that, amongst the Pilbara's people, presentation rates for clinical care have been stubbornly low while potentially preventable hospitalisations run high. This makes Aboriginal controlled community health services vital for addressing the significant health and social issues that disproportionately affect Aboriginal people.
To remedy the situation, not-for-profit Puntukurnu Aboriginal Medical Service (PAMS) commissioned Sydney-based architecture practice Kaunitz Yeung Architecture to design an innovative Healthcare Hub in Newman, one of Australia's most remote towns. This would be the first primary healthcare facility of any type to be constructed in the largest inland town of the southern Pilbara, offering general practice, immunisations, chronic disease management, acute care, dental, child / maternal care, rheumatic heart disease management and haemodialysis. Social and emotional wellbeing, sexual health advice and allied health are also available. For the first time, the people of Kunawarritji, Punmu, Parnngurr, Jigalong and Newman have on Country access to a broader range of community-aligned health services.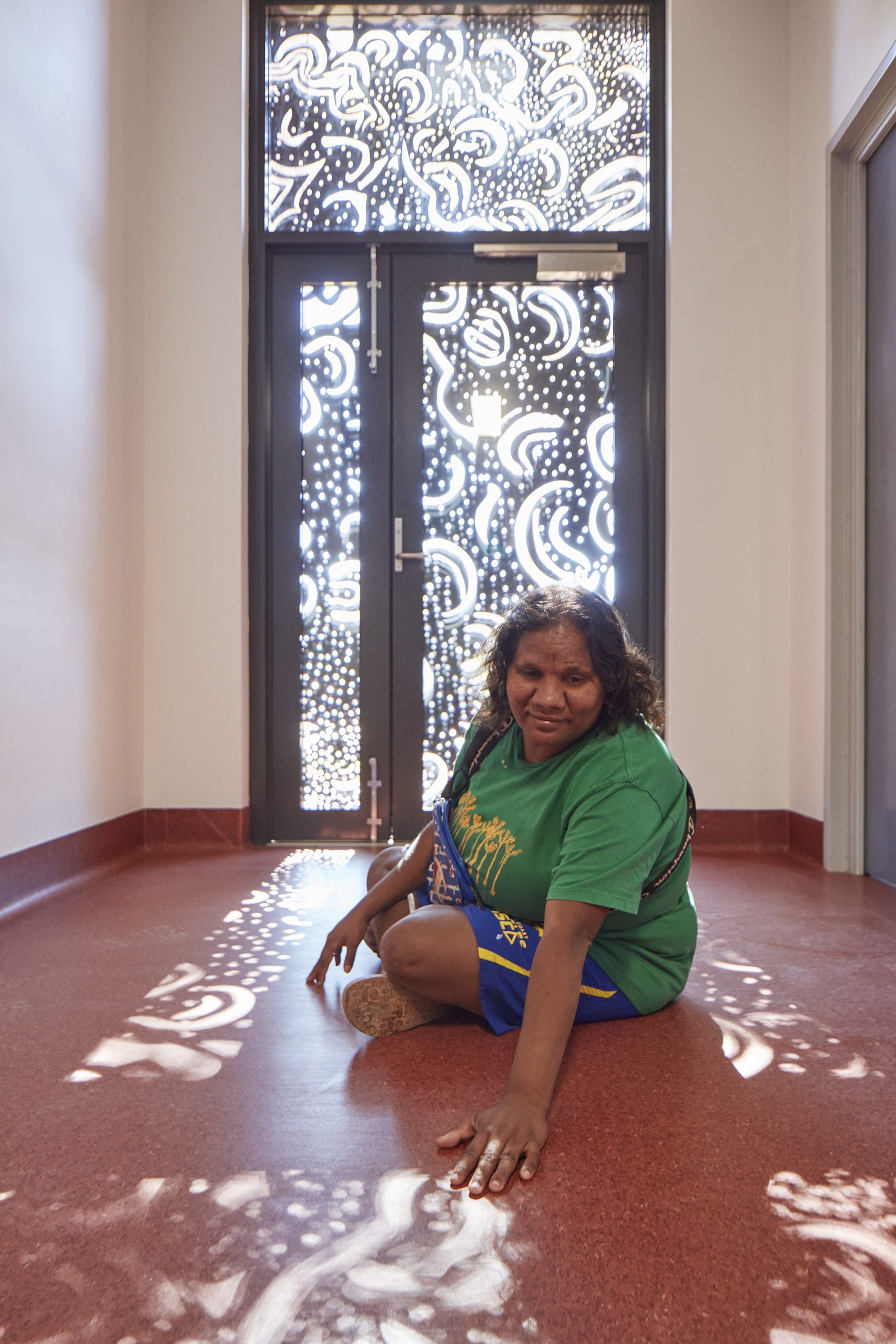 A fundamental aspect in improving Indigenous health overall is exploring the relationship between land and wellbeing. Given this project is Kaunitz Yeung Architecture's third collaboration with PAMS – and the Nyiyaparli, Nibali and Martu communities – meant the team already had a solid footing on which the architecture could challenge standard clinical design and champion sustainability to deliver a state-of-the-art facility for highly culturally appropriate healthcare.
For David Kaunitz Founder and Director of Kaunitz Yeung Architects, humanising the architecture and de-institutionalising the healthcare experience were foremost in conceptualising the design. Sustainable initiatives were embedded from the outset. In-depth community consultation and an iterative co-design process were the cornerstones of Kaunitz Yeung's approach to the $8million purpose-built facility, which is funded by the Commonwealth Department of Health.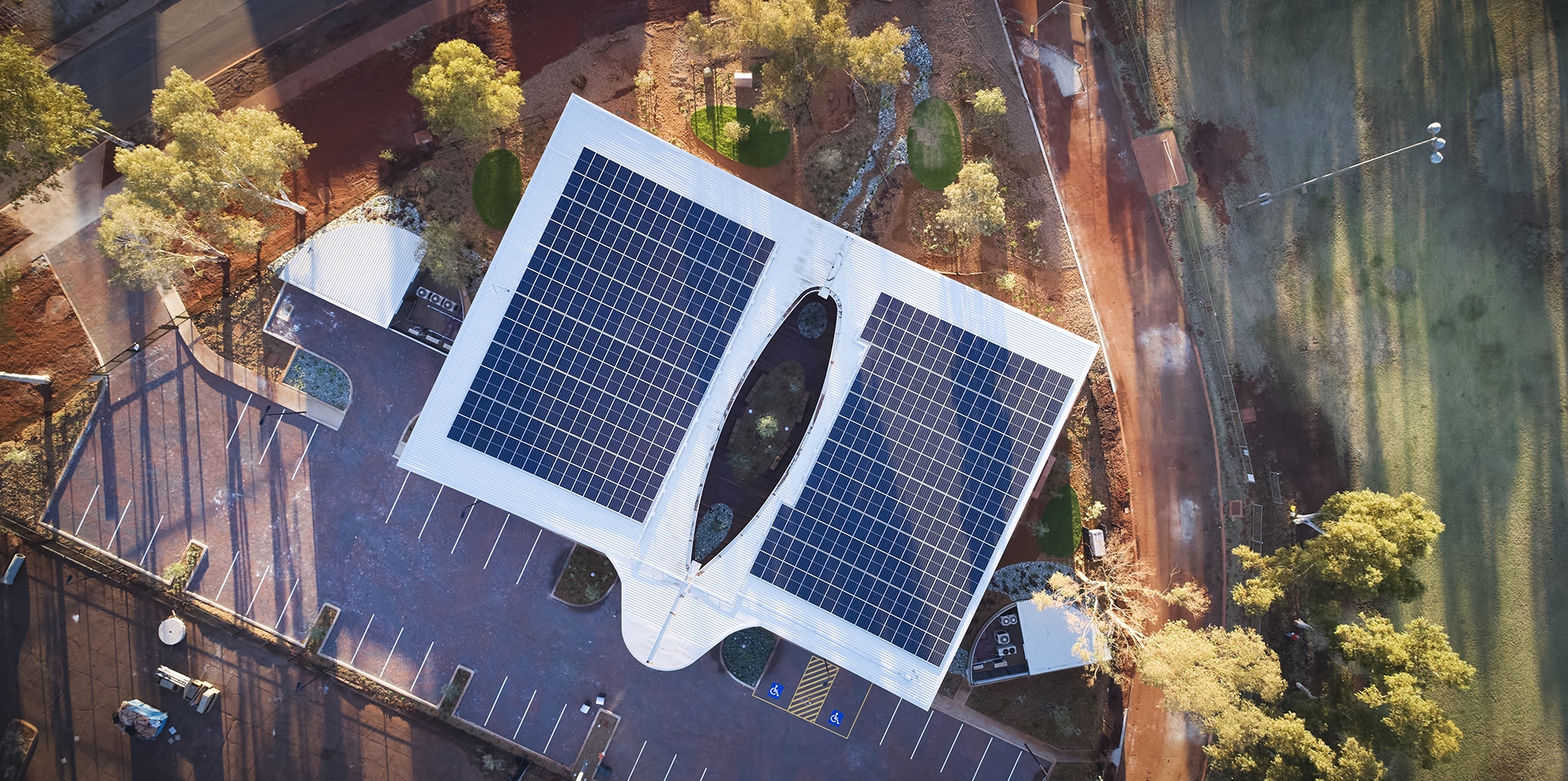 "Sustainability is the core value of this project and can be seen through the use of local materials, endemic landscaping, integrated art from country and the photovoltaics that almost solely power the building. These and other elements enable the building to be the physical embodiment of PAMS' community centred approach to healthcare", explains Kaunitz. "It is only through thorough and meaningful consultation that the connection to people, culture and Country can manifest in a communal place that puts wellness at the heart of the community".    
"We spent a lot of time in the community not making assumptions, listening to local people and repeating the process, providing forums and both formal and informal opportunities for every voice to be heard," said Kaunitz. "This fine tuning resonates with community and enriches the architecture, making it subtly more appropriate to people, place and culture."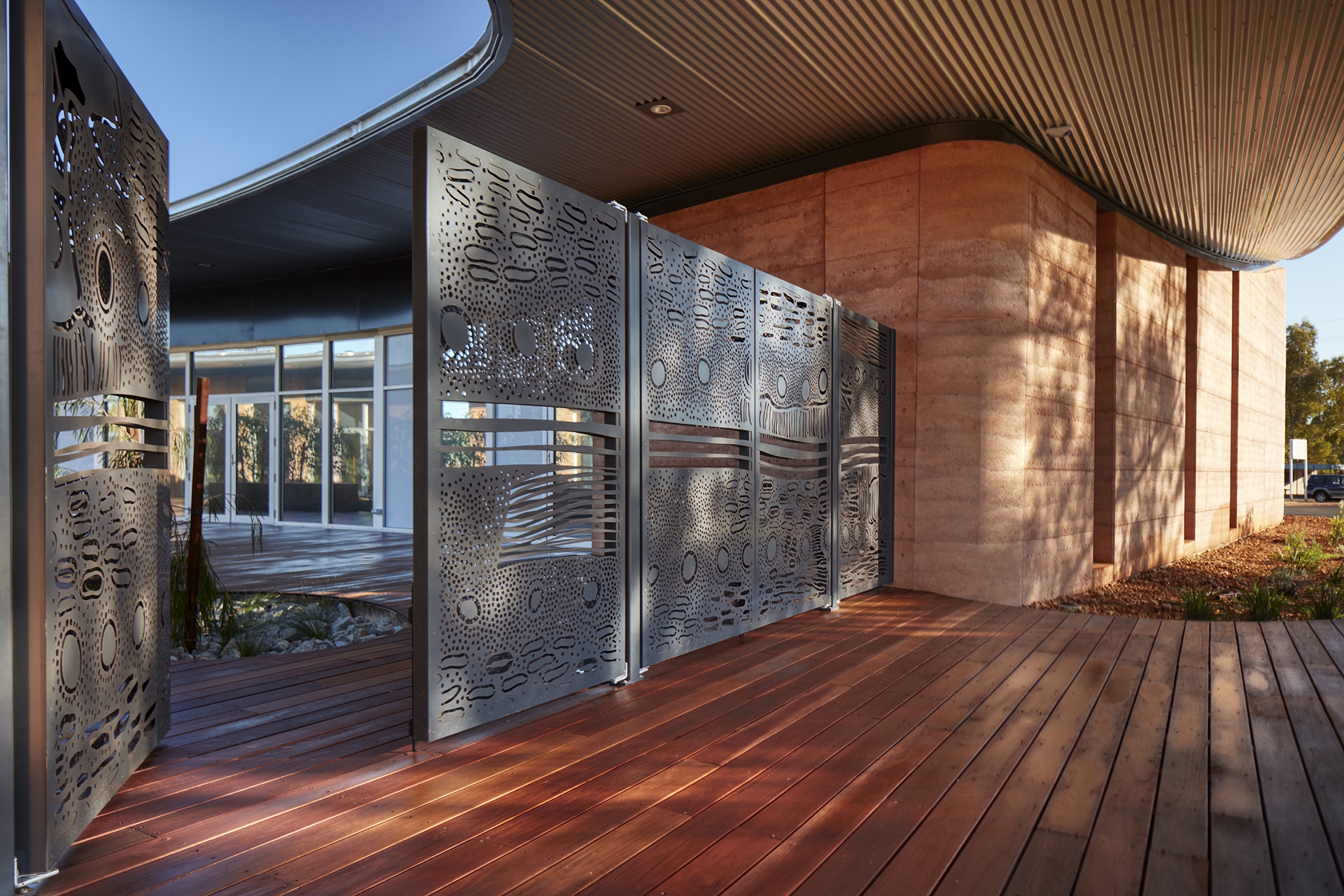 Minimizing the large costs and negative mental health impacts when Martu and Niaboli people leave Country and family for treatment in Perth was a major driver for the project. Conceived with the aim of increasing presentation rates – on Country – the Puntukurnu AMS Healthcare Hub has already become a place where Aboriginal people feel comfortable, connected, and respected.
"Central to this is keeping the community on or close to Country where they can maintain their family and cultural connections and avoid the dislocation that travelling 1200km to Perth can cause. It can not be overstated how important keeping individuals – and particularly elders – on country is to the wellbeing of the community as a whole," explains Kaunitz.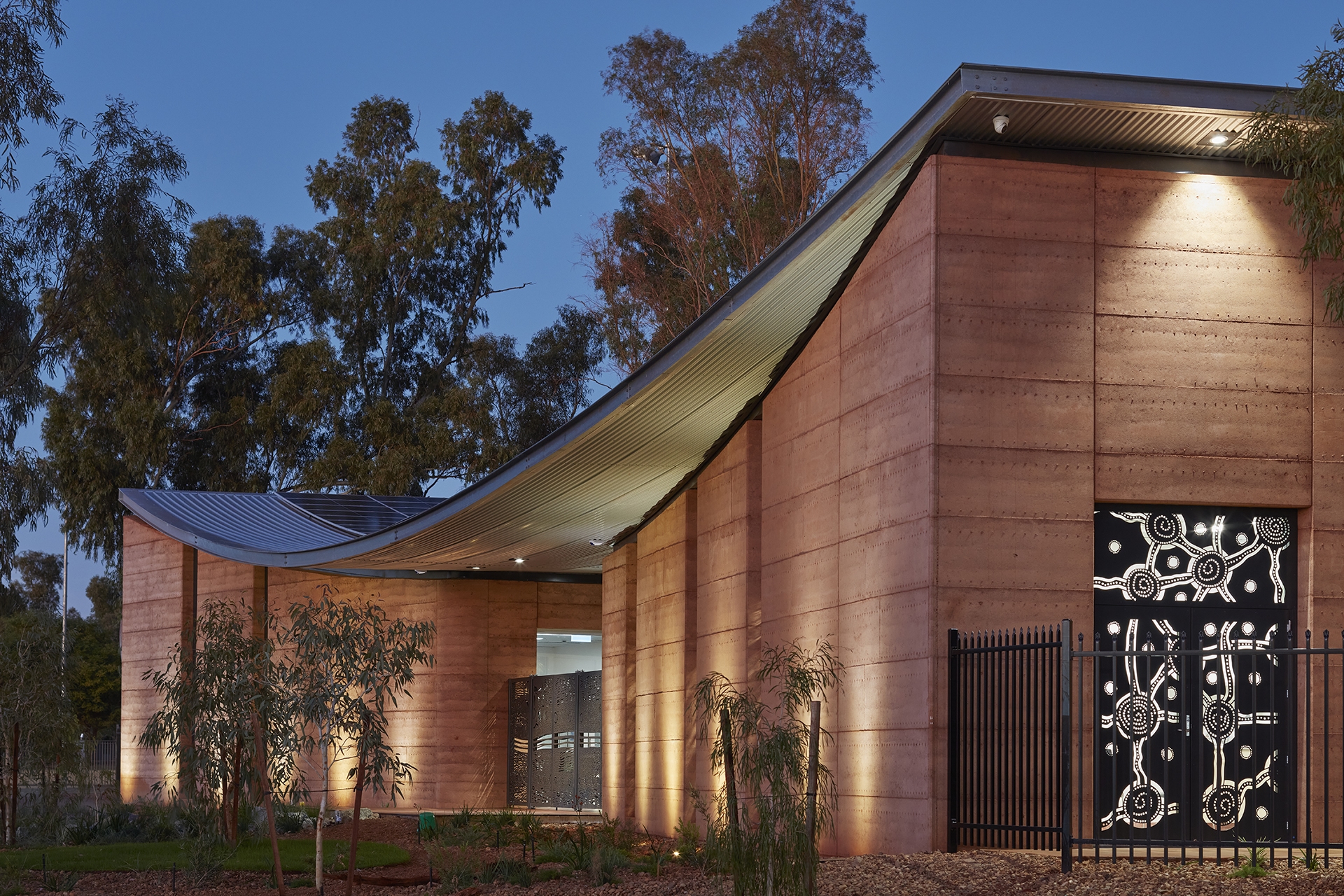 The result is sustainable architecture so deeply rooted in place and imbued with humanity as to engender community ownership. Puntukurnu Aboriginal Medical Service Healthcare Hub Newman succeeds in shifting community perceptions around healthcare from treating sickness to promoting wellbeing. An outcome that has been achieved by involving Aboriginal people and respecting / reflecting their values, culture and Country.
It also opens a powerful and poetic dialogue on wellbeing and equality between Indigenous and non-Indigenous people, setting a new benchmark in reconciliation through the cross-cultural shared exchange of ideas, values and aspirations.
ARCHITECTURE
The building itself is organised around an open, central courtyard that is both welcoming and calming. Butterflied in plan, the two wings extending either side separate the health clinic and administration. Distinctive red, rammed earth clads the exteriors. The material is Country, which naturally signifies belonging for local people.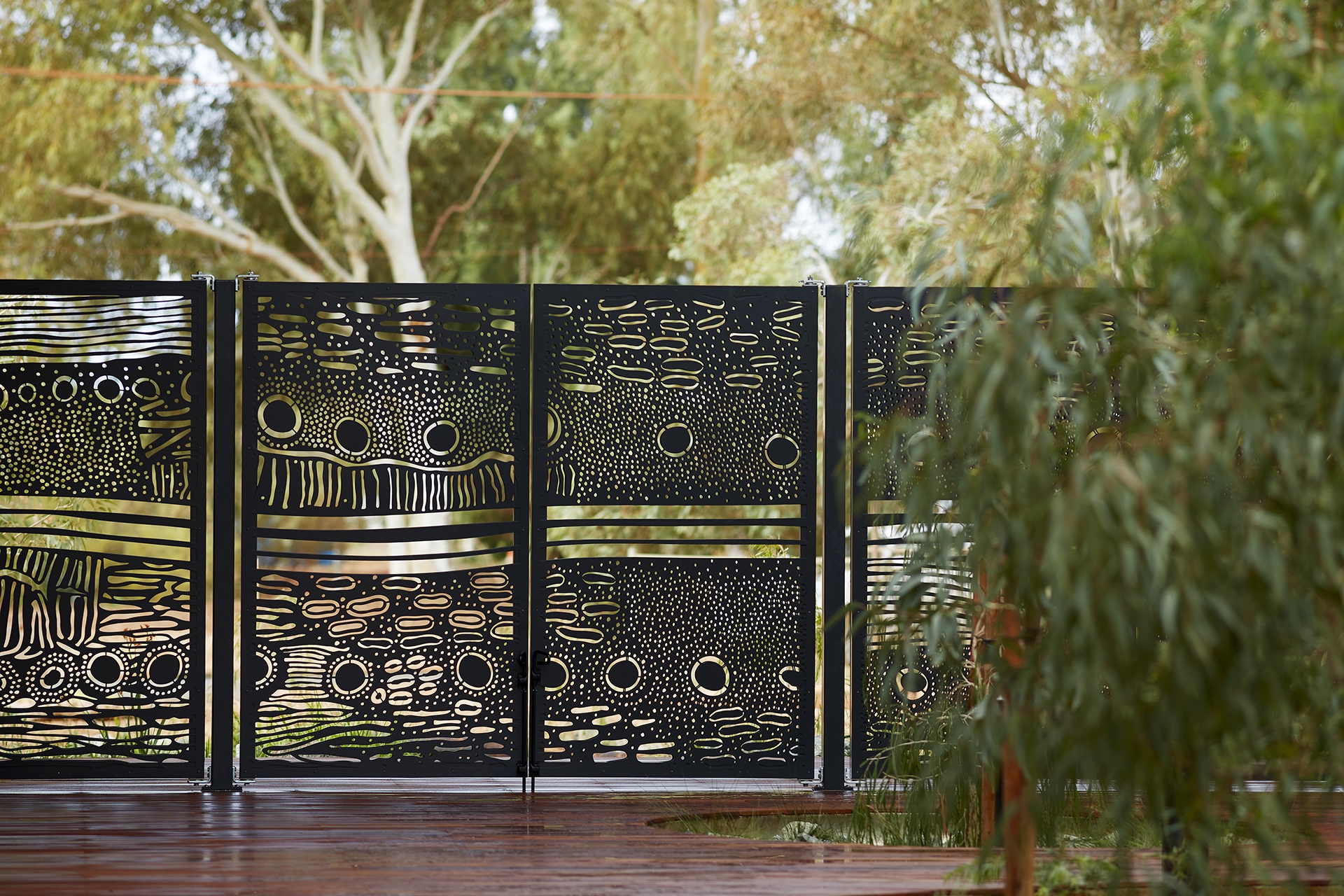 Artwork by 19 artists representing the five communities is integrated throughout the building, which engenders an intuitive connection for local people. Depicting cultural beliefs and dreaming, their 'drawings' are inscribed in art-screens that form window protection on most windows and the entry gates. By day, the screens filter light into the rooms causing changing projections humanise the building and its spaces within.
At night and lit from within, the screens become a beacon of culture into the community. A projection of ancient and complex cultures building a brighter future. With this, the architecture plays an important role in uniting diverse communities around the PAMS Healthcare Hub and creating a relevance for each of them.
SUSTAINABILITY
The materiality and landscaping, including mature trees, are key elements of the sustainable approach to the project. Rammed earth significantly reduces embodied energy and improves building performance. Sourcing all earth from site avoided importation and transportation of materials over long distances.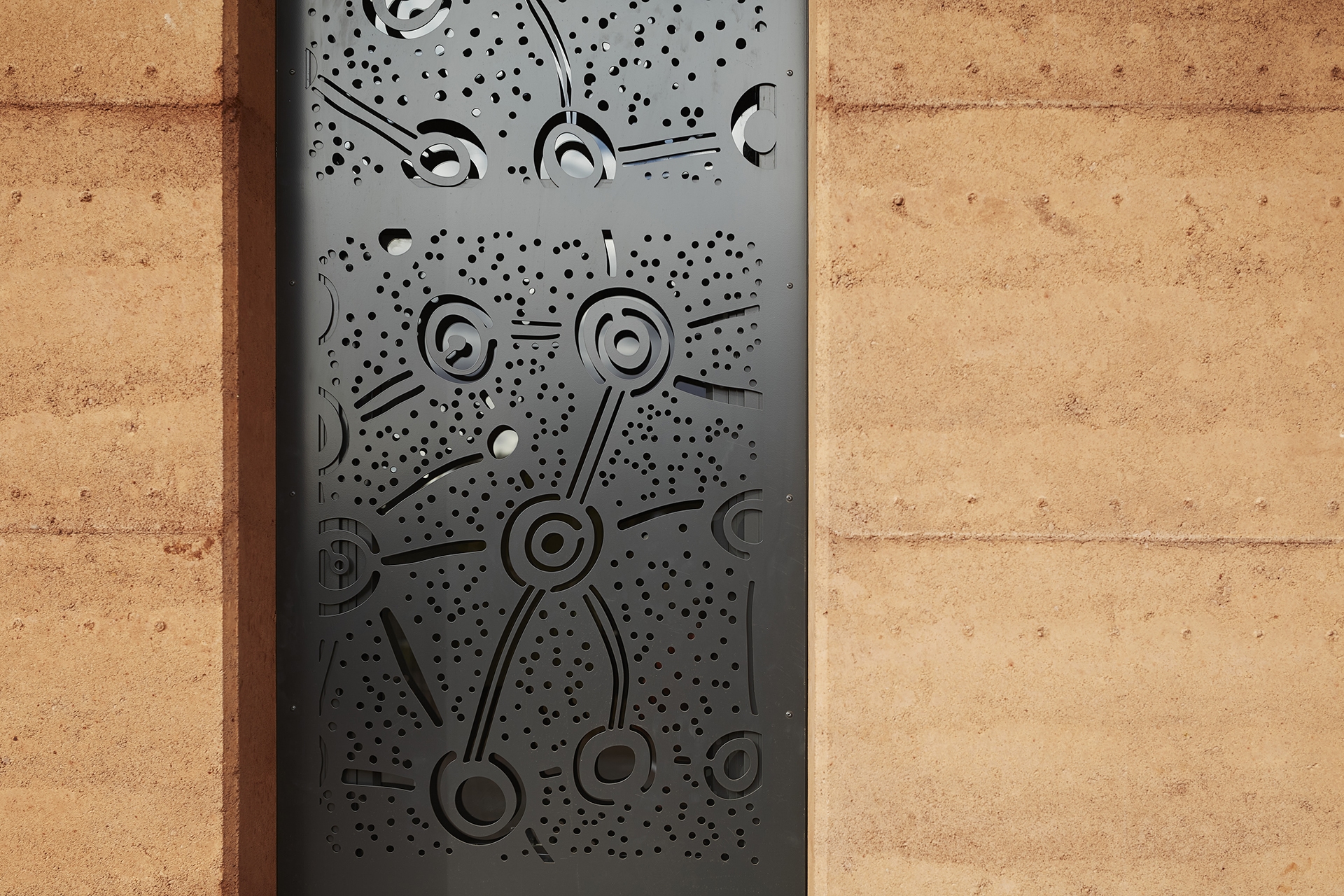 Sensitive landscaping ecologically repairs the degraded site with endemic species and shades the building.
As one of the driest places in Australia, Newman basks in over 330 days of sunshine a year. The 150kW rooftop voltaic array provides 100% of the building's electricity when the sun is shining and more than 85% of all its power needs.
ENVIRONMENT AND PUBLIC REALM
Landscaping is integral in contextualizing and connecting the building to Country. Over 2000 local endemic plants were used to create low maintenance, robust and relevant landscaping. Most importantly, the new unfenced public park formed in front of the building enables outdoor waiting, which can significantly ease anxiety and is preferred by many Indigenous people. This is also the first time a public park has been created in Newman under the ownership of an Aboriginal organisation.
REFERENCES
https://www.abc.net.au/news/2020-08-01/remote-indigenous-health-centre-opens-in-newman/12499876
https://www.abc.net.au/religion/our-story-is-in-the-land-indigenous-sense-of-belonging/11159992
https://architectureau.com/articles/healthcare-on-country-in-the-remote-pilbara/#
https://archello.com/project/puntukurnu-aboriginal-medical-services-healthcare
https://worldarchitecture.org/architecture-projects/hgffv/puntukurnu-ams-healthcare-hub-project-pages.html