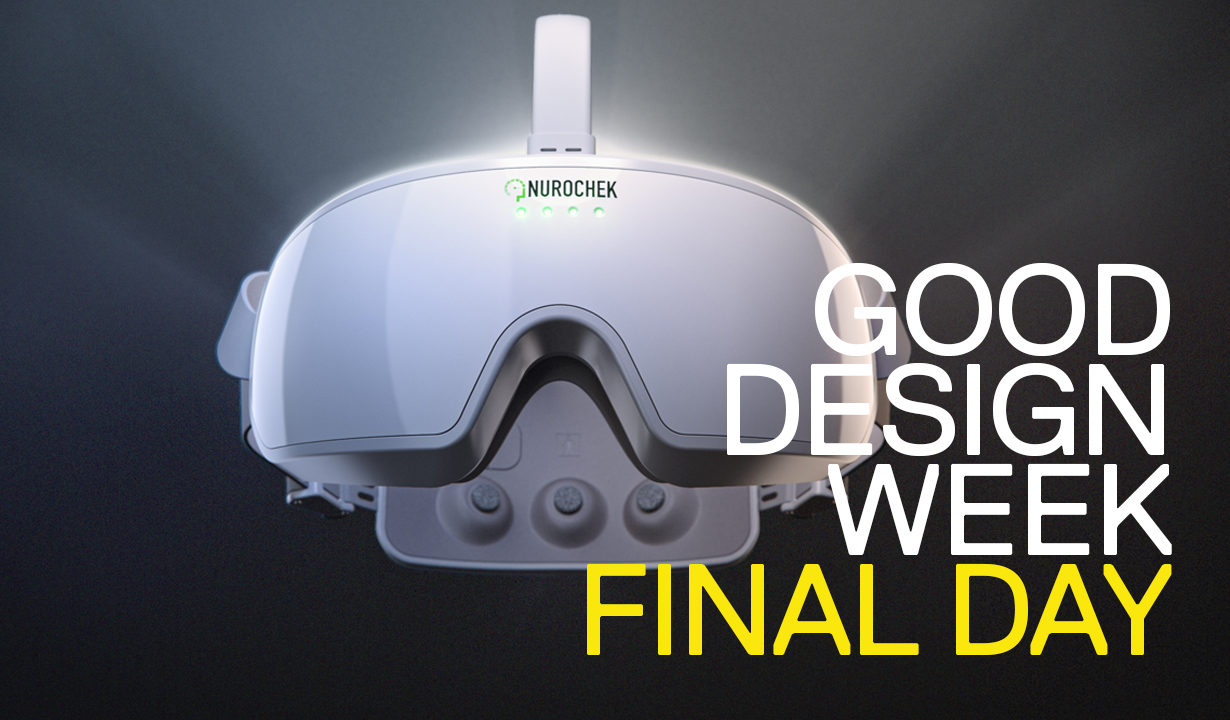 2020 GOOD DESIGN WEEK-FINAL DAY
Published on: 11 September 2020
Share
2020 GOOD DESIGN AWARD OF THE YEAR, GOOD DESIGN AWARD FOR SUSTAINABILITY + GOOD DESIGN TEAM OF THE YEAR
Welcome to the final day of the 2020 Good Design Week. Today we announce the coveted 2020 Good Design Award of the Year, Australia's highest design honour, the Good Design Award for Sustainability and the Good Design Team of the Year for 2020.
CEO of Good Design Australia, Dr. Brandon Gien gives us an overview of these prestigious Awards and we also hear from the teams behind these amazing projects.
2020 has no doubt been a difficult and challenging year for everyone in our Good Design community. We hope you have enjoyed the Good Design Week and found the Award-winning projects as inspirational as we have. Congratulations to all the designers, architects, engineers and innovators behind these brilliant projects and finally, a special thank you to our Good Design Awards Jury who gave up their time and expertise to evaluate all these incredible design innovations.
Hopefully, when our world goes back to 'normal' we can celebrate these achievements with you all in person.
Until then, best wishes from everyone at Good Design Australia.
---
2020 GOOD DESIGN AWARD OF THE YEAR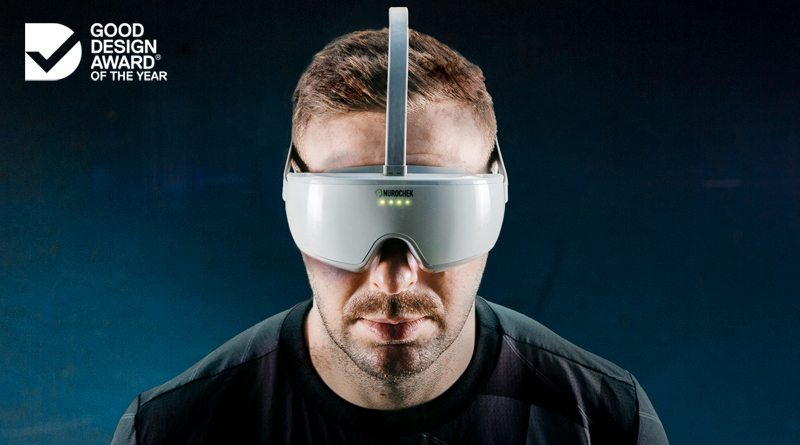 An Australian designed, world-first portable medical device, capable of revolutionising the assessment of brain health, has won the country's most prestigious and coveted design prize – the 2020 Good Design Award of the Year.
Headsafe's Nurochek system provides on-demand data to trained medical practitioners allowing them to make an objective assessment of potential injuries, such as concussion, within two minutes.
The wearable device, which fits numerous head sizes, uses sophisticated technology normally only accessible in hospitals, to transmit independent and objective data to a smartphone. It can instantly measure the brain responses of athletes, providing doctors with immediate analysis, potentially avoiding the need for time-consuming clinical tests.
Created by award-winning Industrial Design consultancy 4Design and Electronics by LX Group in Sydney, the Nurocheck system reduces the guesswork and ambiguous testing around brain health. It allows for data to be compared over time to provide historical snapshots of each user, whether they be teenagers or professional athletes.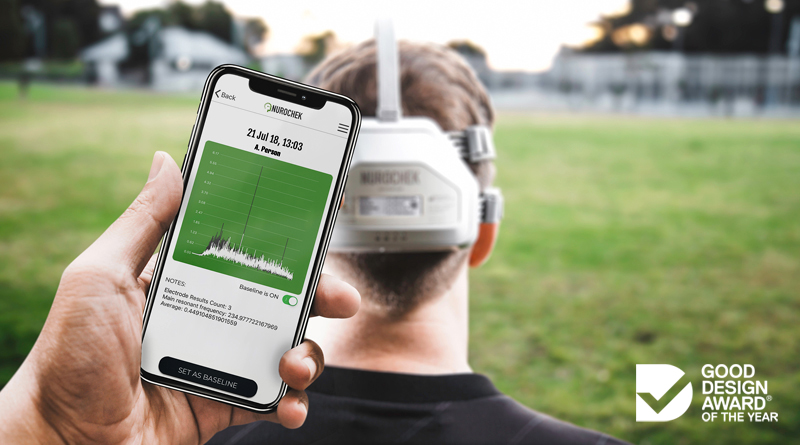 Now in its 62nd year, the annual Good Design Awards is the nation's oldest and most prestigious design awards and has been recognising and rewarding excellence in cutting edge design and breakthrough innovation since 1958.
The Awards recognise design excellence across broad sectors and industries and cover everything from the design of products we use each and every day, the services we interact with, the places and spaces we occupy, to the design of the processes and systems that underpin business, industries and economies right through to projects in the social innovation space.
The program celebrates the best in design and architecture across 11 main design disciplines spanning 28 categories. More than 50 design experts from Australia and around the world assessed a record 825 submissions this year.
CEO of Good Design Australia, Dr Brandon Gien, said the panel of domestic and international judges, were incredibly impressed with the potential impact Headsafe could have across a variety of sectors to improve health outcomes for people all over the world.
"This product is the Holy Grail for design excellence in every sense. It literally could have a transformative and long lasting impact across the globe.
Like all ingeniously well-designed products, it transcends superlatives and serves as a shining example of Australian ingenuity and brilliance. Importantly, it exceeds expectations with respect to our three overarching criteria for assessment: Good Design, Design Innovation and Design Impact.
The Nurocheck system was simply a stand out winner this year and joins a fraternity of other Good Design Awad of the Year recipients including the Tesla Model S (2015), Flow Hive (2016), Facett (2018), Inventia Rastrum 3D Bioprinter (2019).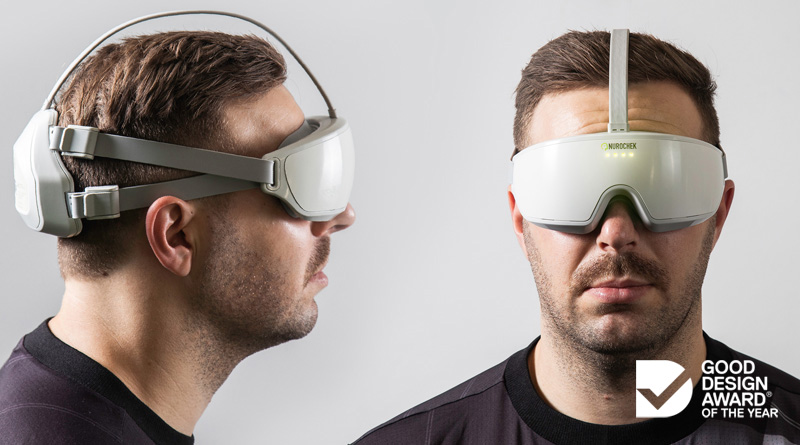 The Good Design Awards Jury praised the Nurochek System: "This is a super innovative product that has the potential to really change the lives of people who experience head injury, and those who are first attenders. The design is easy to understand and the UX has been well considered. The multi-size approach ensures that sporting clubs get maximum use from the device at a very competitive price point.
This product solves a real need by providing objective measures to assess the likelihood of concussion from sporting accidents. By recording a baseline state, there is the potential for determining the progress of health of the player.
This design has significant beneficial impact in terms of improved player lifespan both in and out of the game. The Industrial Design is highly resolved and finished with excellent choice of materials and ergonomics. Overall, this is a world-class product that will make a very positive impact on our lives, well done."
---
2020 GOOD DESIGN AWARD FOR SUSTAINABILITY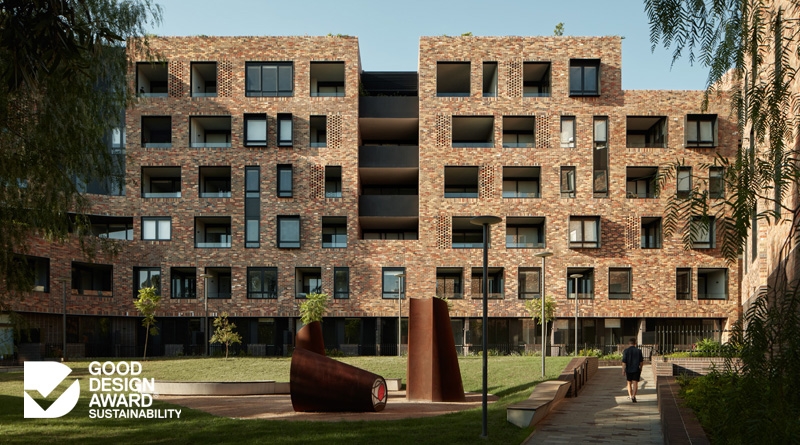 The uniqueness of the Sydney site for Defence Housing Australia cannot be understated. Arkadia, designed by Breathe Architecture and DKO Architecture, is made up of four buildings with four identities and four communities – tied together with wonderful elements that are environmentally and socially sustainable.
Arkadia is the first building in the country to be built with nearly half a million recycled bricks, an almost entirely carbon-neutral skin. Arkadia uses recycled materials and passive solar-design technologies to stand as a beacon to a low carbon future.
At its heart is the use of half a million recycled bricks – an extremely rare feat in any building of its size. The buildings serve as a reminder of the sites' industrial past and form a protective wall to the busy Sydney Park Road to the south. They share a rooftop and open out to the north to embrace a new park to share with the residents of Huntley Street beyond.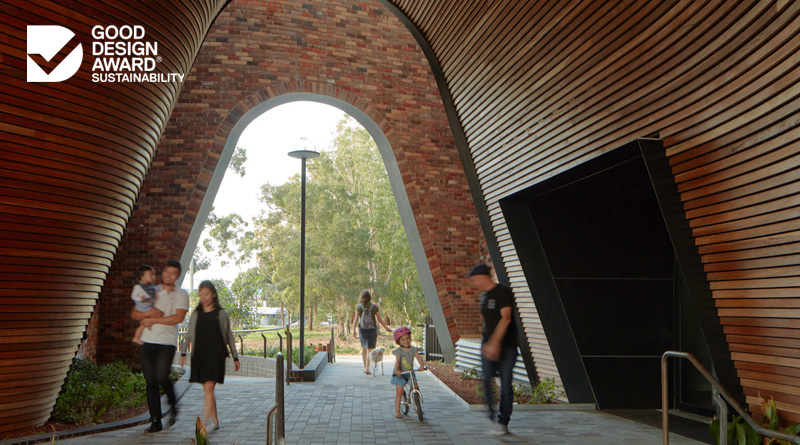 "Our world is crying out for cutting edge-design innovations that are solving problems, improving our quality of life and helping our planet move towards a more sustainable future for us all. The Arkadia development is an inspirational example of outstanding form and function, using technologies of the present to evoke memories of the past while being true to all the elements of sustainable design," said Dr Gien.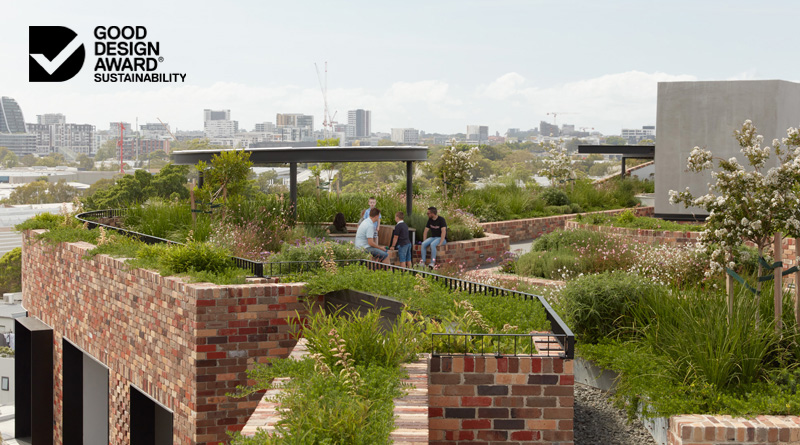 Good Design Awards Jury praised the Arkadia project: "This is exceptional design on all levels. It is truly innovative and applies strong environmentally sustainable principles and is a real game-changer for defence housing. The design decision to occupy this site with four separate buildings, identities and communities allows a high-density development to offer a sense of smaller scale ownership.
The references to the site's past ensures the development sits well in its context. Eschewing trends for glass walls taking in any kind of view, this project takes a more subtle approach to shading and protected openings, intended to reduce the overall energy use. The use of recycled bricks further reduces the buildings carbon footprint while creating a space for residents and community to enjoy for many years to come.
Overall, an inspirational benchmark for sustainable design practice at a time when our world needs it most."
---
2020 GOOD DESIGN TEAM OF THE YEAR
The 2020 Good Design Team of the Year Award has been awarded to Design+Industry, Australia's leading Industrial Design consultancy. The Good Design Team of the Year is a special honour bestowed annually to a design team who consistently perform at the highest level in the annual Good Design Awards. The Award recognises a design team that has made a positive and tangible impact in establishing and maintaining a design-led culture within their organisation.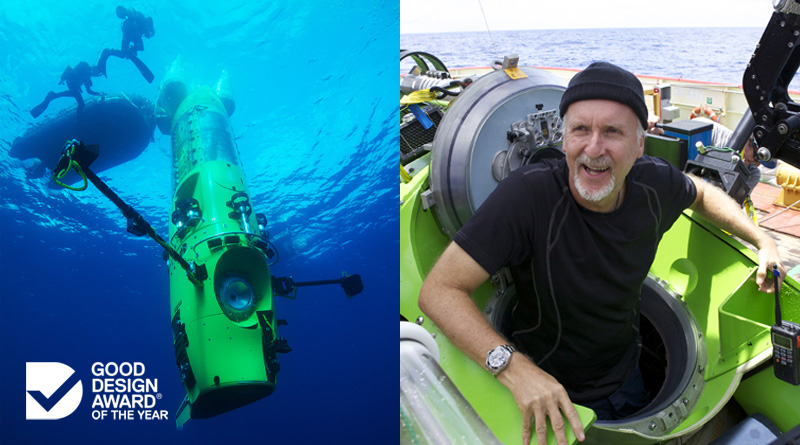 Design+Industry (D+I) is Australia's most awarded Industrial Design and Product Development company receiving a host of Australian and international design awards including the coveted Good Design Award of the Year for the Deepsea Challenger in 2012, designed in conjunction with Hollywood Director, James Cameron. D+I was selected by James Cameron and Ron Allum as the Australian Industrial Design Team to develop the cockpit layout for the Deepsea Challenger's record dive to the bottom of the Mariana Trench, the deepest point in the ocean (deeper than Mount Everest is high).
On receiving the Award, Murray Hunter, Founder and CEO of Design + Industry said, "This award validates the ongoing excellence the team creates on an everyday basis. It makes us all very proud and it is an honour to accept it, thank you Good Design Australia."
More recently, D+I took out the 2019 Good Design Award of the Year for their work on the Inventia Rastrum 3D Bioprinter designed for Inventia Life Science. The Rastrum 3D Bioprinter is a revolutionary 3D bioprinting platform based on drop-on-demand deposition.
Driven by the needs of biomedical researchers and tissue engineers, D+I set out to develop a precise, safe and intuitive platform for the 3D printing of living cells. With applications in cell-based research and regenerative medicine, Rastrum has the potential to revolutionise biomedical research.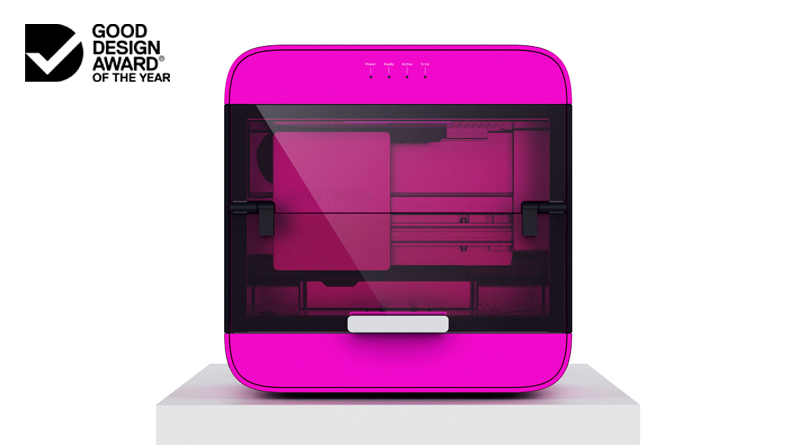 D+I has been driving business success through design in global markets for more than 30 years and is one of the few ISO 13485:2016 Certified Industrial Design and Product Development Consultancies in Australia. With more 50 industrial designers and mechanical engineers working out of their Sydney and Melbourne studios, they develop innovative product design and engineering solutions for companies striving to deliver world-leading medical devices, business equipment and consumer products.
Dr. Brandon Gien, CEO of Good Design Australia said, "D+I sets the bar for design excellence in Australia. Their team of design experts are globally recognised for their innovative and ground-breaking approach to the design process. They have a proven track record of tackling the most challenging of projects and embedding good design principles at the epicentre of everything they touch. I can't think of a more worthy design business in Australia to be recognised with this prestigious honour."
MORE ABOUT D+I HERE
---
GET SOCIAL
We are celebrating the 2020 Good Design Week and this year's Award winners through our various Social Media Channels so be sure to tag the following: #GoodDesignAus #GoodDesignAustralia #gooddesignawards #designawards